50 Years of Air Racing
Over half a century, a devoted few created the unique culture of Reno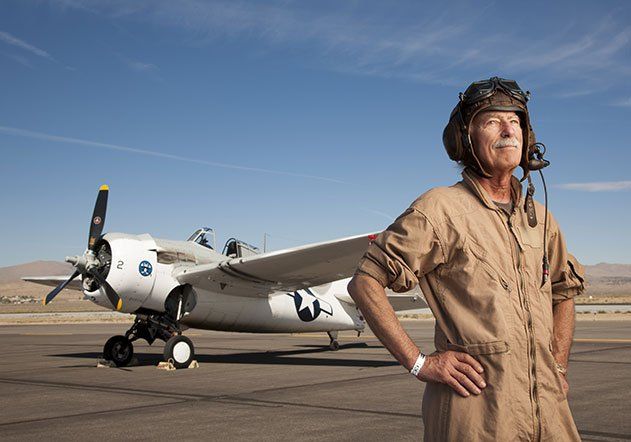 In 2011, even Reno Air Racing Association President and CEO Mike Houghton didn't know whether the National Championship Air Races would make it to the event's 50th anniversary. During the 2011 event, pilot Jimmy Leeward crashed his Mustang into the crowd, killing himself and 10 spectators and injuring many more. For most of what remained of that year, says Houghton, he was focused on "the personal tragedy." Was there a question that Houghton himself would continue? "Sure there was," he says. "It was part of the process of dealing with it." But by January 2012, Houghton had made his decision. The push, he says, came from the fans, including many who had been injured in the accident. They reached out to Houghton personally, encouraging him to keep the air races going.
The Reno air races, the last closed-course air racing event in the world and the longest running in history, are a $6 million spectacle bringing into the state of Nevada $85 million every year. The event, to be held this year from September 11 through 15, is a crisply organized show with a small—about 200,000—inordinately passionate audience. The source of that passion is hard to pinpoint.
As in all competitive sports (and teams here have a hyper-developed spirit of competition), fans have loyalties and favorites. At the main event on Sunday of race week—the one that gives Reno the claim to "world's fastest motor sport"—the crowd is intensely engaged. With a handful of souped-up warbirds screaming around an eight-mile oval at 500 mph 50 feet off the ground, who wouldn't be standing? And to this crowd, with its strong patriotic streak, historic World War II fighters are almost holy.
The fans return because of history of another kind. Over 50 years, the races at Reno have built a dramatic narrative of wild surprises, wins-by-a-nose, dazzling comebacks, and broken hearts. And the racing tradition reaches back even further, to 1929, when national champions competed in Cleveland, Ohio, and all the way back to 1909, when Glenn Curtiss, stunning the Europeans and even surprising himself, won the world's first air race, in Reims, France.
The momentum of history has helped the air races survive, but their continuation remains an against-all-odds proposition. Raceplanes have been retired because the sport is too costly. An Unlimited race engine alone can cost a quarter of a million dollars—more than twice what a raceplane owner can expect to collect if his entry wins. Can the association find replacements?
In June, RARA announced the new Unlimited & Warbird Racing class, to usher in, according to Houghton and veteran race pilot Matt Jackson, an era of cooperation. Behind the news is a long feud: Unlimited pilots have complained that they assume most of the risk but have no say over how the event is run. When they threatened to boycott the race to protest changes in the course that the Federal Aviation Administration had imposed after the Leeward accident, the promoters formed the new class—but extended the entry deadline, hoping most pilots would re-up. Crisis averted.
Despite the disagreements, high costs, and calamity, the races go on, and there can be only one reason. Here they are: the people who, over the last 50 years, have made Reno history.
Pictured above: Every Kid's Favorite Mustang
Miss America looks like a beauty queen, in the red-white-and-blue paint scheme made famous by thousands of plastic scale and radio-controlled model airplanes that delighted budding airplane fans in the 1970s. Neurosurgeon Brent Hisey of Oklahoma City, Oklahoma, has cared for and raced the historic P-51D since 1993, continuing the story of an airplane that original owner Howie Keefe immortalized in his memoir Galloping on Wings with the P-51D Miss America.
Darryl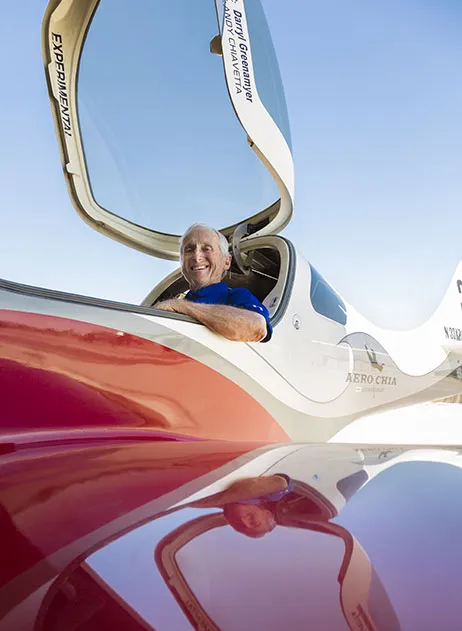 Say that single name at Reno, and everybody knows who you mean. In the early days, Lockheed test pilot Darryl Greenamyer owned the Unlimited class, winning six of seven races held between 1965 and 1971 in his Grumman F8F-2 Bearcat, Conquest 1. The airplane is now on display in the Smithsonian Institution's National Air and Space Museum. In 1977, Greenamyer returned to take the Gold again in the RB-51 Mustang Red Baron.
Greenamyer's champion Bearcat is famous not only for spanking Mustangs at the air races, but also for evening a score with a contemporary fighter, the German Me 209, which in 1939 set a world speed record: 469 mph. That milestone stood for 30 years—until 1969, when Greenamyer flew Conquest 1 to 482 mph.
After grabbing the piston-engine speed record back from the Germans, Greenamyer set out to win the jet altitude record back from the Soviets. In 1977, Alexander V. Fedotov flew to 123,520 feet in a MiG-25 Foxbat. To beat Fedotov, Greenamyer built an F-104 Starfighter from pieces from what he estimates were a dozen scrapped -104s. Who would even do that? Only Darryl Greenamyer. It took him 13 years.
He first set a low-altitude speed record of 988 mph (this, at an altitude of 100 feet; again, who…?). The record still stands. Four months later, on a test flight before his altitude attempt, a gear problem forced Greenamyer to eject before his F-104 homebuilt crashed.
In 2002, Greenamyer came back to Reno—in a kit-built Lancair Legacy 2000. He snagged the gold in the Sport class four years in a row.
The Buck Stops Here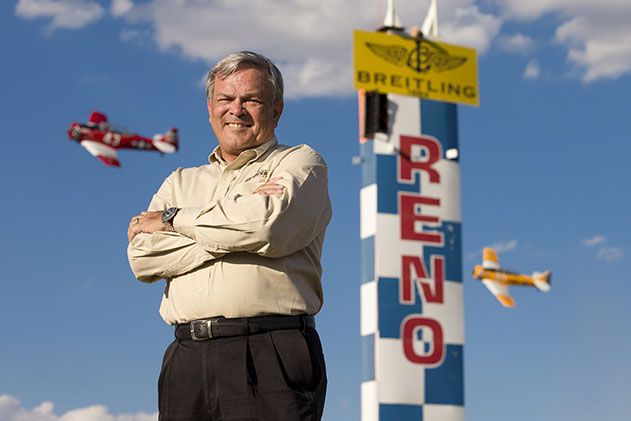 In 1998, the Reno Air Racing Association board of directors recruited Mike Houghton to fix an event that had become a deepening money pit. "We needed to develop a turnaround plan. Fortunately, that's what I'd done for most of my career," says Houghton, who came to Reno after turning around a division of United Airlines. Last year, he oversaw a $6 million fundraising effort—one-third to pay for high-risk aviation insurance. Houghton jokes: "We are not-for-profit, and we do that very well." Last year, the fundraising almost fell short; a last-minute contribution from the state of Nevada saved the 2012 event, Houghton says. Others say it was Houghton who saved it. "After 2011, if not for Mike Houghton, the races would be gone by now," says race pilot and former astronaut Hoot Gibson.
In a sport that has seen its share of tragedy, Houghton has been for 15 years the sympathetic friend who delivers bad news to family members and the calm spokesman who steps up to the microphones to face reporters. He says that running air racing is itself like running a race—a hurdle race: "You go over each hurdle, and then you're dealing with the next one, and the next one."
Torch Passed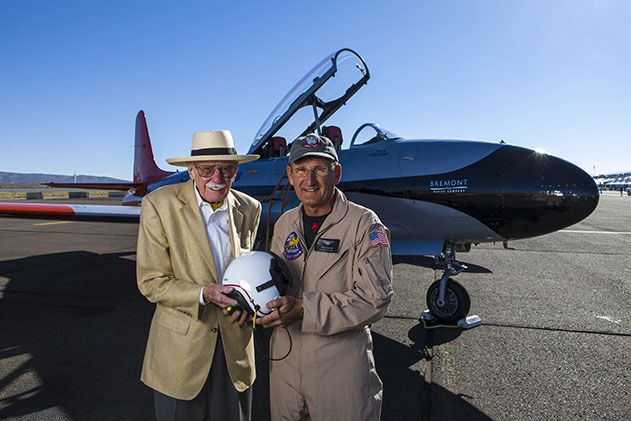 No two Reno pilots are more famous—and more admired—than Bob Hoover and Steve Hinton. Fifty years ago, it was Hoover, flying his P-51 Ole Yeller, who led the Unlimited-class warbirds from Stead Field around Peavine Mountain, giving them the chance to form up abreast for the race. Hoover, known around the world for his aerobatic performances, invented the call "Gentlemen, you have a race!" which Hinton, today's pace plane pilot, still uses to signal the racers to break formation and go for it. In Hoover's autobiography Forever Flying, he tells of his first flights at Reno and many other adventures, including an escape from a World War II German prison camp in a Focke-Wulf Fw 190—the first time he'd ever climbed into the type. At 91, Hoover is still signing copies of that autobiography outside his motor home at the races.
Flying the T-33 jet trainer owned by the Planes of Fame Air Museum in Chino, California, museum president Steve Hinton orbits above the race, just as Hoover did, ready to offer advice or encouragement should a pilot call a mayday. Hinton is a two-time Unlimited Gold winner himself: In 1978, flying the P-51 Red Baron, he became the youngest pilot to win the Gold Unlimited, a title his son Steve took from him in 2009. Engineers had installed a Rolls-Royce Griffon engine with contra-rotating propellers in the Red Baron, and in 1979 Hinton nudged it past 499 mph to claim a world speed record. That year, Hinton gave race fans a terrible fright when he crashed the airplane. (The YouTube video of the crash, 4 minutes 50 seconds into "1979 Reno Air Races Pt.2," is one of the most dramatic ever made at the races.) Hinton broke his back and leg, but returned in 1985 to win a second championship, in the Super Corsair.
If a movie were ever made of Hinton's life—hey, Hollywood, there should be—he could play himself. He's flown airplanes in more than 60 films.
In Case of Emergency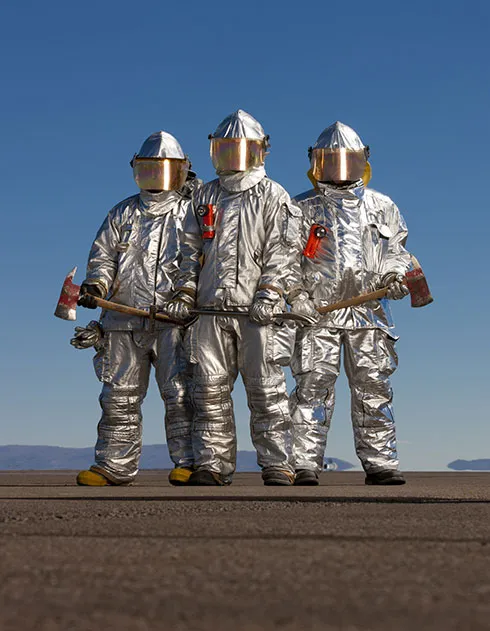 Between 80 and 100 firefighters and other emergency professionals are on hand at Reno-Stead Airport during the air races. Every other year, emergency response teams conduct a mass casualty drill. Medical response teams and fire and emergency responders from the Nevada Air National Guard, the airport authority, Washoe County, and the city of Reno meet in a classroom to discuss how they'd respond to a bad day.
Emergency Services Director Tim Spencer, a division chief of the Reno Fire Department, conducted a drill months before the Leeward accident based on a scenario he devised: a jet racer crashing into the media area. "In terms of the numbers of casualties, the scenario was very close to the actual accident," he says. "It was almost a rehearsal."
That's why, on the event's worst day, emergency responders were able to get 55 critically injured people to the hospital within 62 minutes and keep the crash from being deadlier than it was.
The Sultans of Speed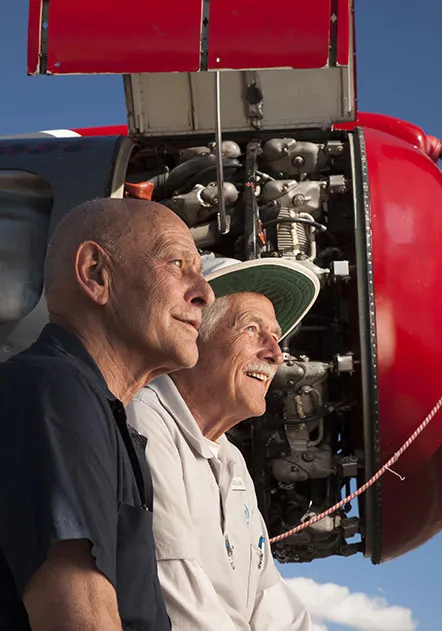 In 2003, hotshot pilot Skip Holm flew the modified P-51 Dago Red to a Gold win and a course record of 507 mph. Dago Red's crew chief that year was Bill Kerchenfaut, but don't ask him about that race. "The only race I care about is the next one," says Kerch, as he's known among Reno insiders. Maybe that's why he has more Unlimited wins—13—than any other crew chief in the history of air racing.
Kerchenfaut's next race is the 2013 return of the Mustang Voodoo, whose team he has led since 2009. That year Team Voodoo was headed for a second place finish when the engine quit. In 2010, the team had a good chance for a win, but high winds cancelled the race (a first in Reno history). The following year was the Leeward crash, and in 2012, owner Bob Button had put the Mustang up for sale. For Kerchenfaut the four-year string of events "was very frustrating, because we never got the chance to try what we thought would work." This year, they get the chance.
Voodoo's cooling system was designed by Pete Law, a Lockheed Skunk Works thermodynamics engineer who was enlisted by Darryl Greenamyer to work on his Bearcat and on his 1969 speed record attempt (see "Secret Pete," Sept. 2012). That's when Law and Kerchenfaut met, and they've teamed up at Reno ever since. Of Greenamyer, Kerchenfaut says, "I learned so much from that guy. What a leader. He'd get everybody in the crew together and say, 'We need to go this much faster. How do we do it?' He knew how to utilize his people. He was interested in everybody's ideas. Isn't that what a team is about?"
Kerchenfaut points out that it takes more than a great airplane and a great pilot to win an air race; it takes a great crew. "The relationship of the team members, how everybody works together toward the goal—that's really important," he says. The only reason to put in hundreds of hours on a race team, says Kerchenfaut: the people.
More Medals of Honor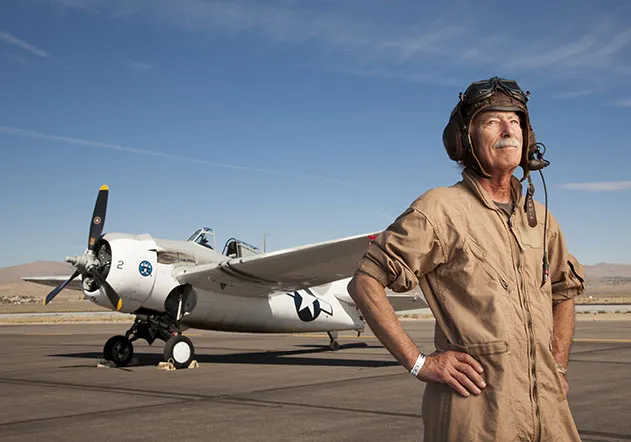 302 miles per hour. That's the top speed of Air Biscuit, Tom Camp's FM-2 Wildcat. "Just enough to get in the race, just to fly last place," he says. That would be last place in the Bronze race, the slowest of the Unlimited class, and that's okay with Camp.
"There's no reason to try to make it go any faster because it won't, and it doesn't matter because the closest airplane is 20 mph an hour faster, and no matter what you did to it, it won't go 20 mph faster—maybe if you zoom-dived it from about 10,000 feet. You might get to 320 before it hit the ground," he says.
Every person at Reno who races or works on raceplanes will tell you there's no money to be made in racing, but coming from Tom Camp, president of the traditional Unlimited class and a guy who makes his living as an accountant, the statement has more credibility. "And there's less margin in being a first place finisher than being a last place finisher," he adds. Entering the Wildcat in the race has gotten him just enough money—from the fees the association pays for each heat the airplane flies—to cover his entry fee, insurance, gas, and three hotel rooms for himself and his friends. "There's nothing left," he says contentedly. "There's no income to pay tax on."
As Unlimited class president, Camp was the one who relayed the pilots' position to the race promoters: The person in command of the airplane must have the authority to deviate from FAA limits in any way necessary to avoid an accident. The issue is over who gets to judge the pilot's action—pilots or regulators. In June, Camp was awaiting an FAA ruling and hoping that he'd be there in the pits come September with Air Biscuit.
Camp deprecates his stocky little Wildcat, even though it's a General Motors-built FM-2, "the wildest Wildcat," lighter and faster to climb than the Grumman F4F. It's slow, he says, it's heavy, it's unmaneuverable. "If you dove down at a 5,000-foot runway and initiated an aileron roll at the threshold, you'd complete it at the departure end," he says. "It would take you a mile to get around. That's the roll rate."
But talk about the airplane long enough and he'll tell you that World War II pilots flying Wildcats were awarded more Medals of Honor than those flying other types. "I don't know how those guys had the success rate that they had with that airplane. The Hellcat had a better kill rate, the Mustangs went further, but…" Pilots. They love the airplane they fly.
What Color is Rowdy? Orange!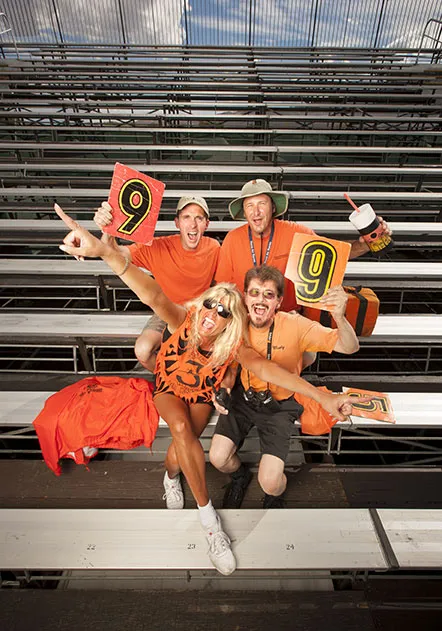 It started as a goof in 1986: A couple of buddies held up numbered cards, as judges do at the Olympic games, to express their opinions of a racer's performance. And they may have called out and cheered a little louder than people in other sections of the general admission grandstands, and they certainly cheered louder and sometimes with different language than the more genteel crowd in the reserved seats. Year after year, more like-minded (and -voiced) fans joined the original two, Bob Lewis from Idaho and Jack Pinmentel from California, in Section 3 of the grandstand seats. In 1987, Lewis started selling orange T-shirts, and a boisterous institution was born.
Tiger and the Kid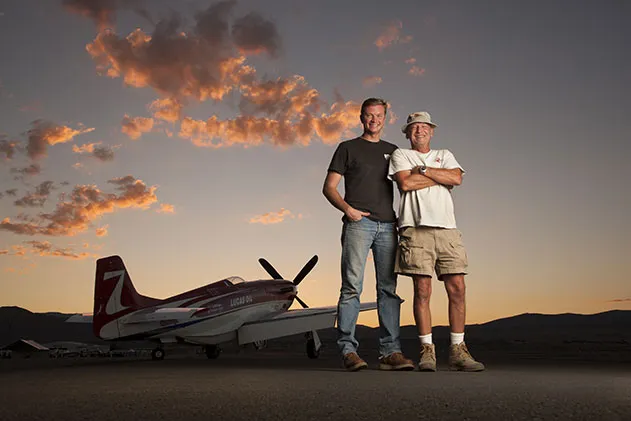 "If you really want to go fast," Bill "Tiger" Destefani says, "get yourself a Mustang."
With 22-year-old Steve Hinton at the controls, Destefani's Mustang Strega went fast enough—477 mph—last year to win the Unlimited Gold race, for a record-setting 11th time (Hinton's fourth). Runner-up for most Gold wins: the reconstituted Grumman Bearcat Rare Bear, with eight. Between 1987 and 2008, Destefani himself flew Strega to seven wins. The only other name to appear seven times under "champion" on the Unlimited Gold trophy: Darryl Greenamyer. "There's been hills, and there's been holes," Destefani said after his 2008 win, which ended an 11-year hole.
Destefani partnered with Frank Taylor on Dago Red, which debuted at Reno in 1982 and right off the bat won the Gold. Racing for the first time that year in his own Mustang, Mangia Pane, Destefani came within inches of collecting both first and second prizes; he slid by the checkered flag right behind Dago Red pilot Ron Hevle, but, rookie that he was, he cut inside of two pylons; the time penalty knocked him from second place to fifth. He never again cut a pylon in a final race.
In the mix-and-match game of the air races, Hinton will be back this year flying a different Mustang: Voodoo.
A Flying Museum
One of the great challenges facing the Unlimited class is that the number of people willing to pay the millions required to prepare an airplane for competition is dwindling. In the column of people who have helped the class survive, inscribe the name of Rod Lewis, the Texas oilman whose collection of 26 perfectly restored warbirds includes the world-famous P-38 Lightning Glacier Girl, pulled up in pieces from an icy Greenland grave; the world's only airworthy F4F-3 Wildcat; a Mustang; a Corsair; a B-25 bomber; and four F6F Bearcats, the formidable Rare Bear among them. Last year, Lewis fielded three raceplanes in the Unlimited races: Rare Bear, the Hawker Sea Fury 232, and the Grumman F7F Tigercat Here, Kitty, Kitty, which Lewis himself flew in the 2012 qualifying heats. (Sanders brothers Brian and Dennis also fielded three Unlimiteds last year.)
In last year's Silver Unlimited race, pilot Stewart Dawson held Here, Kitty, Kitty at 359.2 mph, finishing fourth of seven. No one expects a Tigercat to claw its way to a trophy, but what a gift Lewis gives race fans: As expensive as it is to simply parade that big, twin-engine beauty, gleaming in Navy blue, around the race course, the sight of it in the air helps fans justify the price of admission.
Mixmaster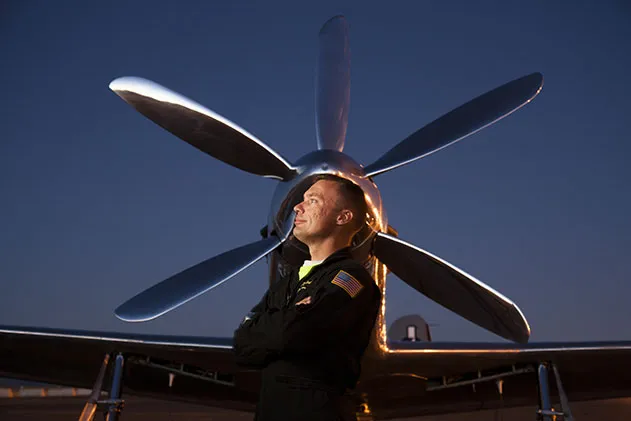 Swedish-born pilot Thom Richard, president of Warbird Adventures and the Kissimmee Air Museum in Florida, flies the one-of-a-kind P-51 Mustang Precious Metal. The raceplane, which Richard owns with two silent investors, is the third at Reno to have the body of a Mustang and the head of a Shackleton, so to speak. Thanks to the British aircraft manufacturer Avro, which specified that its Shackleton maritime patrol aircraft have four Rolls-Royce Griffon engines with 13-foot-diameter contra-rotating propellers, surplus Griffons are around for the endlessly resourceful U.S. engineers devising new ways to power P-51 Mustang racers. Precious Metal is the only one still pulled around the pylons by the six mesmerizing blades.
Acknowledging that his raceplane "has a checkered past" (its original owner, caught up in a drug-smuggling operation, served time in prison) and that running in the Unlimiteds "is an extremely difficult thing to do"—he's been working on the airplane for 18 hours a day for the last three months—Richard says, "We're planning to be in front. You can't do this sort of thing unless you think you're going to win."
First Family of Air Racing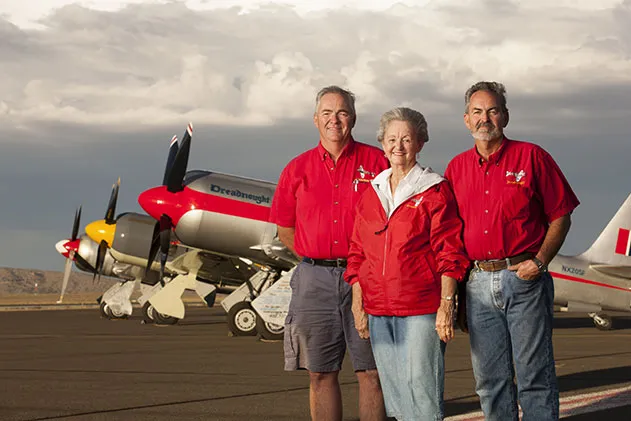 In 1983, Frank Sanders brought to Reno his wife Ruth, sons Dennis and Brian, and a dual-control Sea Fury in which he had put a 28-cylinder Pratt & Whitney R-4360 engine; he was the first Sea Fury owner to do so. (Hawker built the airplane at the end of World War II with Bristol Centaurus engines.) Ever since, Sanders and Sea Furys have been synonymous. It all started, says Brian Sanders, with a favor done for a friend.
In the 1970s, when Frank Sanders was a Mustang pilot, a friend asked him to store a badly damaged Sea Fury and parts at the Sanders family Arizona ranch. When the friend was killed in an airplane crash, Sanders faced a dilemma: what to do with his late friend's airplane. He decided to restore the Sea Fury in his friend's memory, thinking he'd fly it for a year and then sell it, put off by the size of the thing and the fuel it would guzzle. "Nothing drives technology like a war," says Brian Sanders, "and nothing against a Mustang, but a Mustang comes pretty early in World War II. Everything they learned [about aerodynamics and power during the war] is embodied in the Sea Fury and the Bearcat. The Sea Fury has 1,000 more horsepower than the Mustang. And when Dad started flying the Sea Fury, he said 'That thing is a fighter.' It's faster, it climbs faster, it accelerates harder." That Sea Fury, today racing as 232, is owned by Rod Lewis and flown by Hoot Gibson.
It was the Sanders' third Sea Fury that turned heads at Reno: Dreadnought. It came from Burma in teak crates in 1979. In 1982, they decided as a family to race it. "We worked 15-hour days on it every day," says Brian. "We took Christmas off that year, but we worked on New Year's." They painted it in Hawker's racing scheme.
"It was comical when we showed up at the races," Brian remembers, "because there was Strega, Dago Red—with their cut-down canopies, and clipped wings, and Rolls-Royce Merlins. And we show up with this battleship, Dreadnought, which has full-length wings, a bulletproof windshield, two-seat dual-control—you know, with the big-block Chevy on the front of it."
Between 1983 and 1986, Dreadnought was the top qualifier and twice won Gold.
Brian says, "The Chino kids said it was like pulling up to the light in your Ferrari, and somebody pulls up next to you in a station wagon with groceries and kids in the back—but it's got a 454 in it and blows you away."
The Astronaut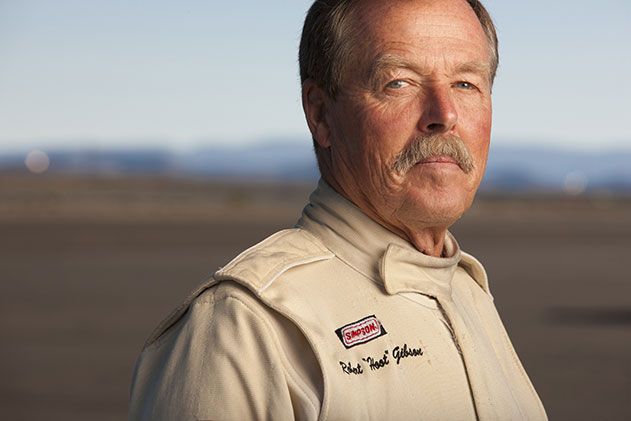 A commander of four space shuttle missions and pilot of a fifth, Robert "Hoot" Gibson has flown a good deal faster than the 456.7 mph that put the Sea Fury 232 in second place in the Unlimited Gold race last year, but he could not have had any more fun doing it. "I think I wanted to be a race pilot from the time as a kid I saw Clark Gable in the movie Test Pilot on late-night TV," says Gibson.
Gibson started racing in the Formula One class—for aircraft powered by a Continental 100-horsepower engine—where the top speeds are around 250 mph. Many of the competing aircraft are built by their pilots, including Poly Dynamite, the fabric-and-steel-tube Cassutt that Gibson built. In 1998, Gibson moved over to the Unlimited class, racing the Sea Fury Riff Raff, and he also flies an L-39 in the Jet class.
On the first few space shuttle missions, Gibson flew a NASA T-38 as a chase plane when the shuttles came in to land. He practiced by chasing an SR-71. That's one race he didn't win.
Relentless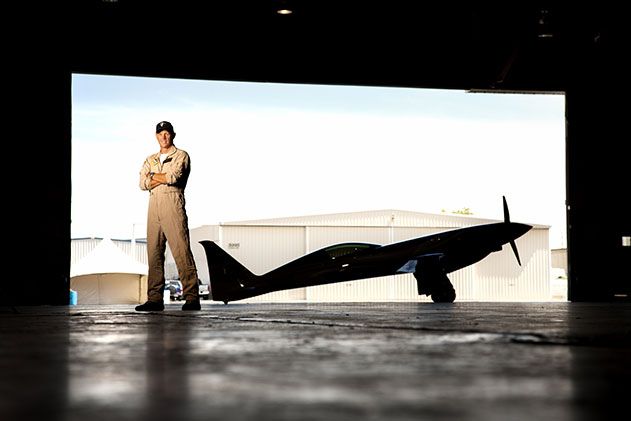 It's one of those airplanes that looks fast even at rest. Designed by Jon Sharp, the Nemesis NXT is a slippery, composite speedster built to race. Kevin Eldredge first entered his kit-built Nemesis Relentless in the Sport class in year 1998. Last year, he flew it to a qualifying speed of 341 mph.
'That's Racing'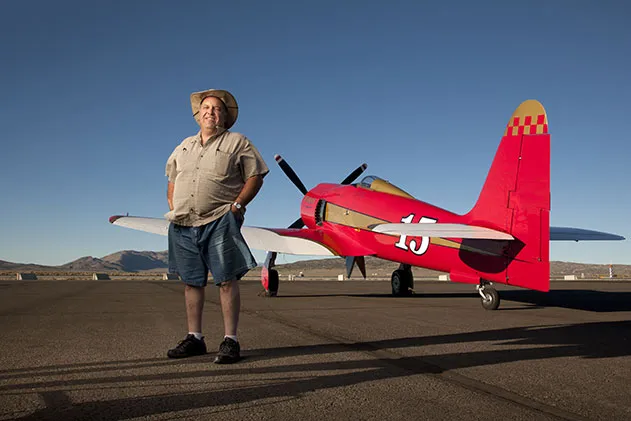 "If it was easy, they'd calling it 'winning,' " says Matt Jackson, who has flown more Unlimited raceplanes than any other pilot in the history of Reno. He's talking about 2012. "I had a top contender last year in Furias"—an estimable Sea Fury. "And to have that gear problem and to have to tear it up to get it down, it was a heartbreaker." Furias is not returning this year.
Jackson, who owns a restoration and aviation maintenance business at Van Nuys Airport in California, started coming to the races when his dad was a mechanic for a Formula One team. He was six years old. In 50 years of racing, he has missed only four. "I've had the privilege of flying some of the greatest raceplanes of all time," he says, including Rare Bear, when it was owned by Lyle Shelton, and the belly scoop-less Mustang Stiletto. "The owners are my friends," says Jackson, who doesn't get paid for racing. "We'd show up for the two weeks in September, even if they didn't have a race. It's like family."
A father of eight (he thinks he has at least two future pilots in the brood), Jackson brings his children to the races just like his dad brought him. "They all come to Reno during race week," says Jackson. "If Daddy's in the hunt, they all show up. Especially if I'm in the Gold race on Sunday."
This year, the kids will have good reason to come watch. Daddy's flying Strega.
"Here's my golden opportunity," he says. "The number one contender at Reno."
Catch Him If You Can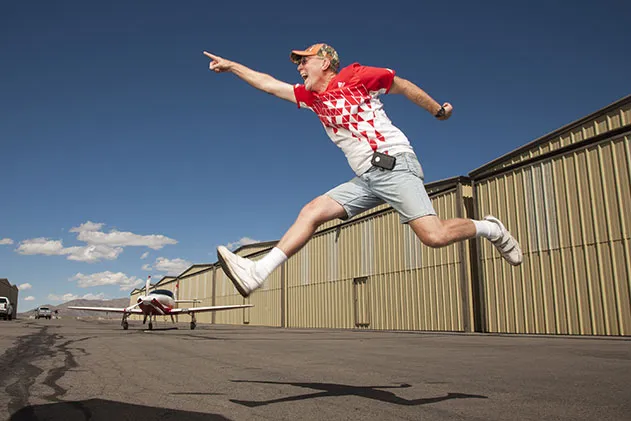 Dave Morss races a P-51A, Polar Bear, in the Unlimited class and his own Lancair Legacy, Martin's Legacy, in the Sport class. Over his 33-year history at Reno, Morss has competed in 222 races in five classes, and holds a record—most laps flown—that is unlikely to be broken, especially since he's still competing in two classes. After a race a few years ago, Morss, a general aviation test pilot and FAA designated airworthiness representative, was watching a video of one his Mustang flights and saw the Canadian Snowbirds aerobatic team jets parked on the ramp. He turned to his wife Karen and said, "Were the Snowbirds there?" His wife explains: "Most years I write a short story about Reno for his website. That's when he finds out what went on for the week!"
Linda Shiner is the editor of Air & Space/Smithsonian.
Caroline Sheen has been at Air & Space since the premiere issue. As the photo editor, she enjoys reviewing the work of other photographers, but as a photographer, she thrives on being on the flightline at airshows, in the pits at Reno, and flying in vintage airplanes.
Photographer Robert Seale counts among his favorite subjects the legends and heroes of aviation, and his bucket list includes Chuck Yeager, Bob Hoover, Bill Dana, and Joe Engle.