Five Lighthouses Where You Can Be an Overnight Keeper
Programs from Massachusetts to Alaska allow volunteers to try their hand at the job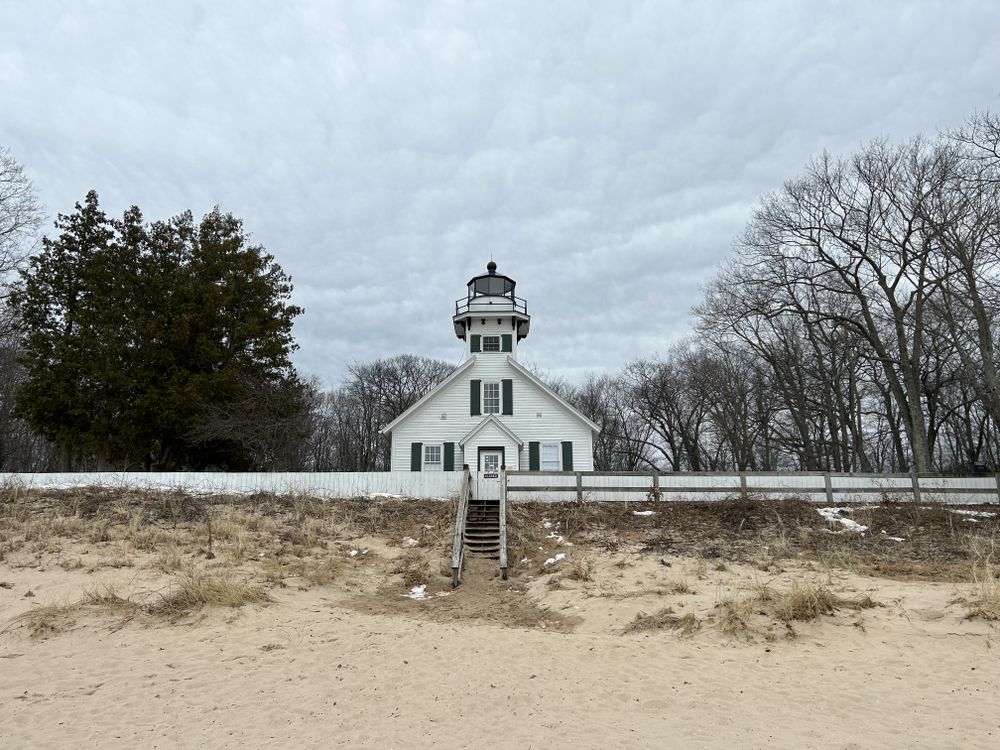 Looking out over the west arm of Grand Traverse Bay, a part of Lake Michigan, I felt a sense of calm. Strange really, since these cold, deep waters are home to dozens of well-preserved shipwrecks, vessels from the late 1800s and early 1900s that became the victims of unpredictable storms while shipping lumber and other maritime commerce. Yet I felt secure standing beside the fifth-order Fresnel lens, a beacon that once shone up to 13 miles from the lantern deck atop Mission Point Lighthouse, lighting the way for many lost sailors.
"I call it catching the lighthouse bug," says Jeremy D'Entremont, historian for the United States Lighthouse Society, referring to the reasons millions of people visit U.S. lighthouses annually. (North Carolina's Cape Hatteras Lighthouse alone has approximately 500,000 visitors per year.) "Lighthouses were built for nothing but altruistic reasons, helping to aid navigation and to save lives and property. They've got hundreds of years of history, and they tend to exist in some really beautiful and dramatic places."
No wonder U.S. lighthouses that offer "volunteer keeper" programs tend to get booked up months, if not years, in advance.
There are just under 800 lighthouses currently standing in the U.S., a number that can slightly fluctuate depending on a person's definition of "lighthouse." (Some counts include unofficial lights, meaning they've never been listed as Coast Guard navigational aids and are more like sculptural pieces, such as the Robert Manning Memorial Lighthouse in Empire, Michigan.) According to D'Entremont, about half of these lighthouses are active. In many cases, the Coast Guard maintains the lights but doesn't have a budget to care for the structures, so local nonprofits, federal agencies like the National Park Service or private citizens step up to purchase or manage them. This often includes bringing on volunteers to help with the upkeep, greet visitors and even stay overnight—all opportunities that drew me to Michigan's Mission Point Lighthouse, perched on the tip of Old Mission Peninsula 17 miles north of Traverse City, for two days in April.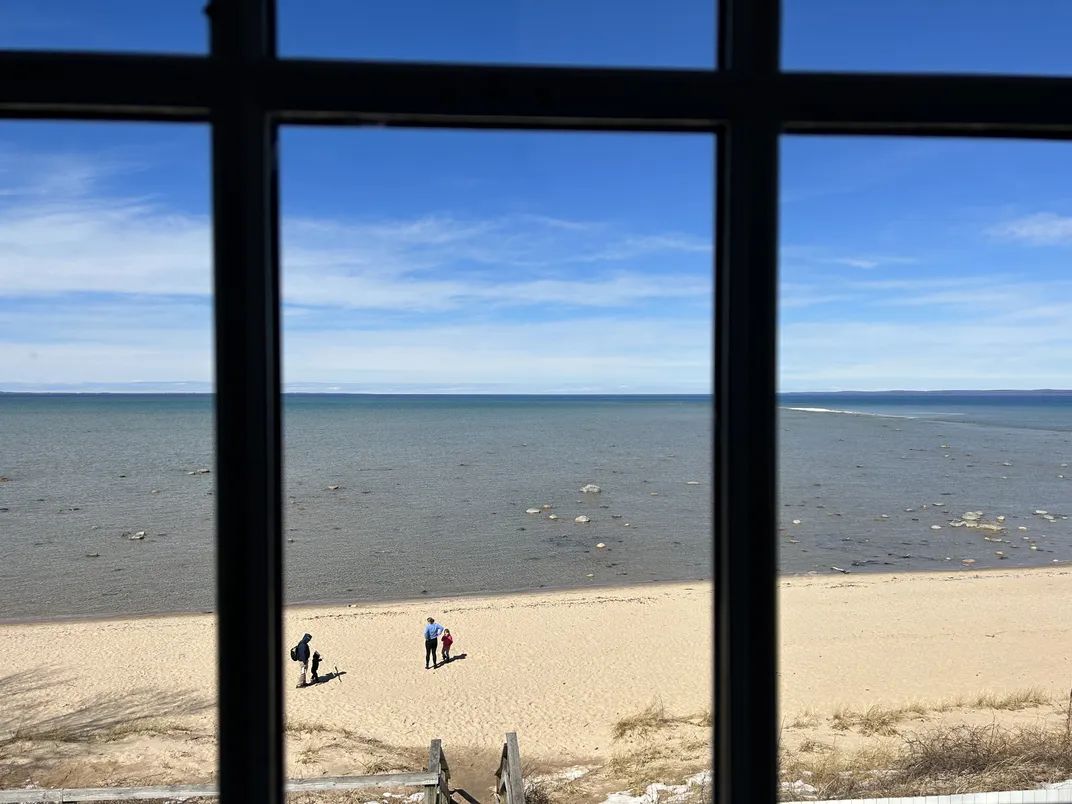 As it turns out, Michigan is home to more lighthouses than any other state​​—about 129 of them. This is due to its position among four of the five Great Lakes: Superior, Michigan, Huron and Erie. It's likely also the reason it hosts the bulk of the country's volunteer keeper programs—more than a dozen of them, from the DeTour Reef Light on the northern end of Lake Huron to St. Helena Island Light Station in Mackinac County, two miles offshore from the Upper Peninsula.
But while my own experience included a little light housekeeping and some yard work, the responsibilities of actual lightkeepers—before automation in the 20th century made the job obsolete—were much more demanding. Not only was their job to help guide ships to port at night and during foul weather, including thick fog and heavy storms, but they also had to trim the wick of the tower lantern—first fueled by whale oil, and later kerosene—every four hours, without removing the burner from the lens. To ensure that the light reached its full distance, lightkeepers also continuously cleaned the tower windows, keeping them from indoor soot and outdoor dirt. They were often quite isolated from the rest of the world and occasionally took a physical hand in saving lives, often at the risk of their own. My toughest work was removing all the carcasses of Asian lady beetles that had slipped into the lantern deck for warmth.
Still, despite the many differences between being an actual keeper and a volunteer keeper, it's impossible not to feel some sort of connection to those who came before. For me, volunteer keeping was an opportunity to enjoy (though some might say endure) a similar type of solitude and bask in the history of such a storied place.
During my free time, I walked the lighthouse grounds, which include a thickly wooded forest of oak and cedar trees, and a stretch of beach where the lake churns up deposits of Petoskey stones (fossilized bits of coral with a unique hexagon pattern). Back inside, I took advantage of the silence to read and write, then spent time perusing the on-site museum. There, I learned about Sarah Lane, Mission Point's first and only (official) female keeper; studied a display of nautical knots; and examined a chart of Michigan water levels from 1937 to the present day, which lighthouse manager Ginger Schultz updates annually. As for my volunteer work, whenever I would complete a task—whether it was sweeping the living room floor or picking up garbage outside—I'd proudly mark it off on a photocopied worksheet that had been left atop the dining room table.
While volunteering itself isn't complicated (especially in the off season), summers can get busy. "I need people who are high-energy for May to November," says Schultz. "They're going to be meeting hundreds of people every day, and the more experience they have with the area and volunteering is a good thing." Starting annually on May 1 at Mission Point, volunteer keepers help to run an on-site gift shop stocked with small souvenir items, including magnets, stickers and plush snowy owls reminiscent of the ones often seen around lighthouse grounds during winter, and collect admission fees for the museum and tower. Together, the fees and the gift shop bring in approximately $200,000 a year—a substantial amount that goes directly toward the continued restoration of the lighthouse and grounds.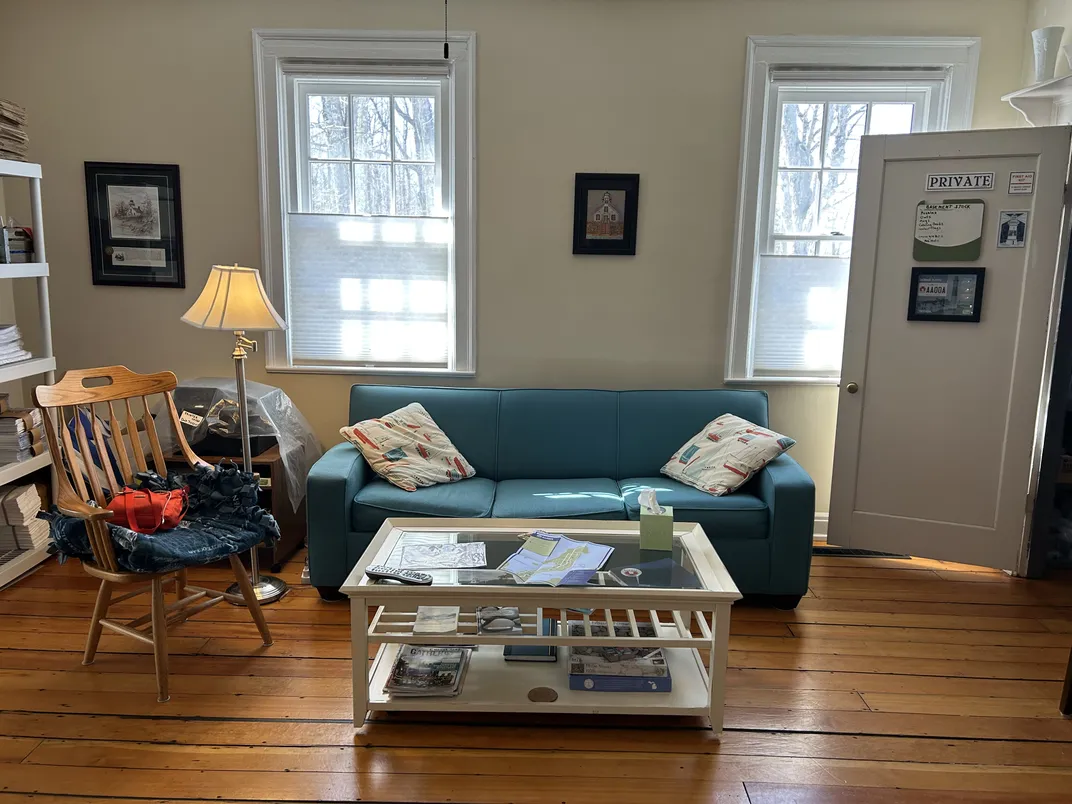 Many lightkeeper programs require volunteers to pay a nominal fee to help with expenses and commit to an overnight stay of anywhere from a couple of nights to a week or more. Duties differ at each place, and accommodations run the gamut from plush and multi-floor on-land spaces to rustic offshore towers that are completely off the grid. At Mission Point Lighthouse, the living quarters are part of the lighthouse itself and feature a fully equipped kitchen, dining room, ensuite bedroom with two single beds and a cozy living room with hardwood floors and modern amenities, like TV, cable and Wi-Fi.
"The quarters themselves aren't historically correct," says Schultz. "But the exterior walls of the house and the tower, that's all solid and original. There are even spots in the stairway trim where you can see the original square nails used before 1890."
Historic or not, they offered the peace and respite that I'd been needing. On my second night at the lighthouse, a massive storm blew across the lake and peninsula; rain beat hard against the windows, and thunder boomed loudly overhead. It was the perfect climax of any lighthouse experience, but rather than watch Mother Nature's antics from the tower, I decided to stay curled up in the comfort of my bed. Official lighthouse keepers didn't have such luxury.
Other lighthouses where you can volunteer
Influenced by a variety of factors, including cost, local materials and the eras in which they were built, lighthouses come in a range of architectural styles and exist everywhere from sandy beaches to wave-pummeled piers.
They don't all share the same creature comforts (some stays can be extremely rugged), and each lighthouse experience is a unique one—a trait that makes volunteering at these historic structures almost habit-forming.
Borden Flats Lighthouse; Fall River, Massachusetts
Keepers of Borden Flats Lighthouse, perched on a reef in the middle of Massachusetts's Taunton River, require a bit of physical fitness. To reach this historic brick-and-cast-iron tower, volunteers catch a boat 1,500 feet offshore to the lighthouse, then climb a vertical steel-rung ladder up the side of a caisson—the watertight retaining structure that serves as the base for the structure itself. Once here, you're entirely off the grid, meaning no cable or Wi-Fi, though solar panels and batteries provide enough electricity to power lights and charge cellphones.
Established in 1881, the lighthouse is five stories tall, four of which are the actual living quarters, brimming with antique furnishings and plenty of lighthouse paraphernalia. Today, the structure itself is privately owned, though members of the U.S. Coast Guard still oversee the tower's active LED optic.
But while bed linens, blankets, bottled water and an outdoor grill are provided, the closest shower facilities are the nearby Borden Light Marina, which are open May through October. Keepers are also required to bring their own food and drink, though many preorder fresh seafood (think everything from prepared lobster rolls to oysters on the half-shell) from the assistant lightkeeper's local seafood market.
Duties are minimal: Simply leave the lighthouse in the same condition that you found it, with clean dishes and sheets on the beds.
Nights start at $549 for up to two keepers. The lighthouse is closed from January through March.
New Dungeness Light Station; Sequim, Washington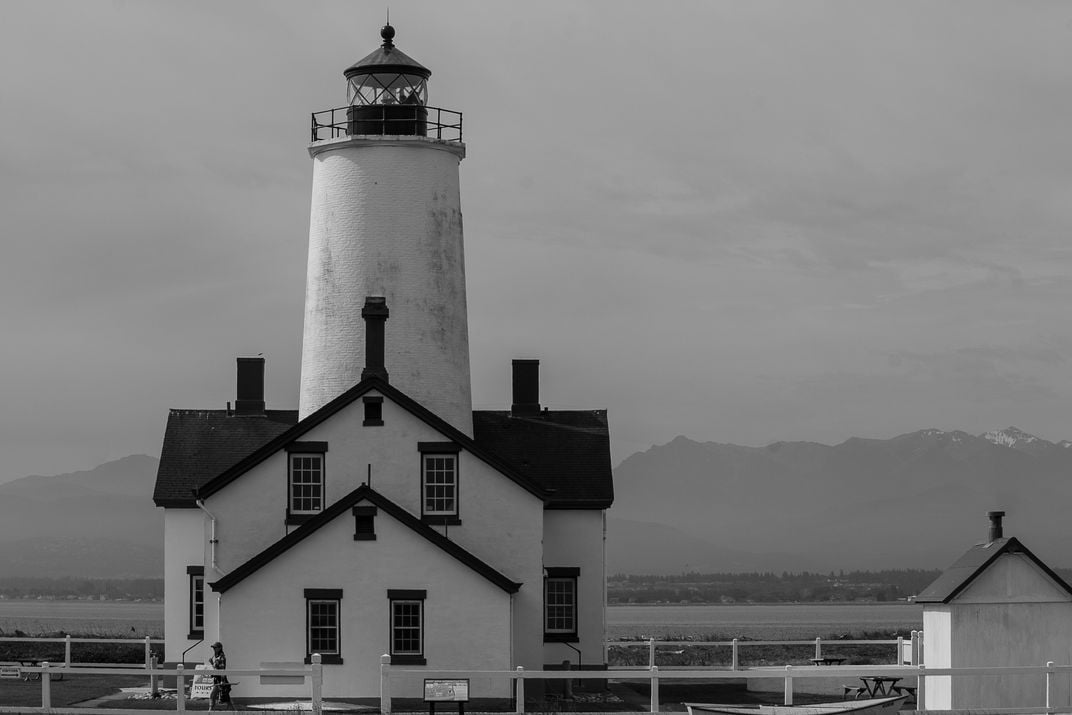 Situated on the end of the longest natural sand spit in the country, the still-active New Dungeness Light Station is unquestionably remote. But while most visitors reach this 63-foot-tall brick, sandstone and stucco tower (built in 1857, it's Washington's second-oldest lighthouse) via a five-mile hike through Dungeness National Wildlife Refuge, volunteers can catch a ride in one of the New Dungeness Light Station Association's four-wheel-drive vehicles.
Once here, you'll bed down for a week at a time in the neighboring two-story Keeper's Quarters—either reserving the entire space or booking a single room and sharing the quarters with other volunteers. New Dungeness requires four adult keepers at a time but allows eight in total. It's then up to everyone on site to split the tasks, which range from raising the morning flag to leading guided tours.
Linens, along with TV, internet and some comfy digs—including a ping-pong table and a library nook—are provided, but volunteers are required to pack in food and drink.
Something to note: Volunteers must first become a member of the New Dungeness Light Station Association ($35/person, $50/family), with fees of $470/adult per week, or $2,820 for the whole house.
Pottawatomie Lighthouse; Washington, Wisconsin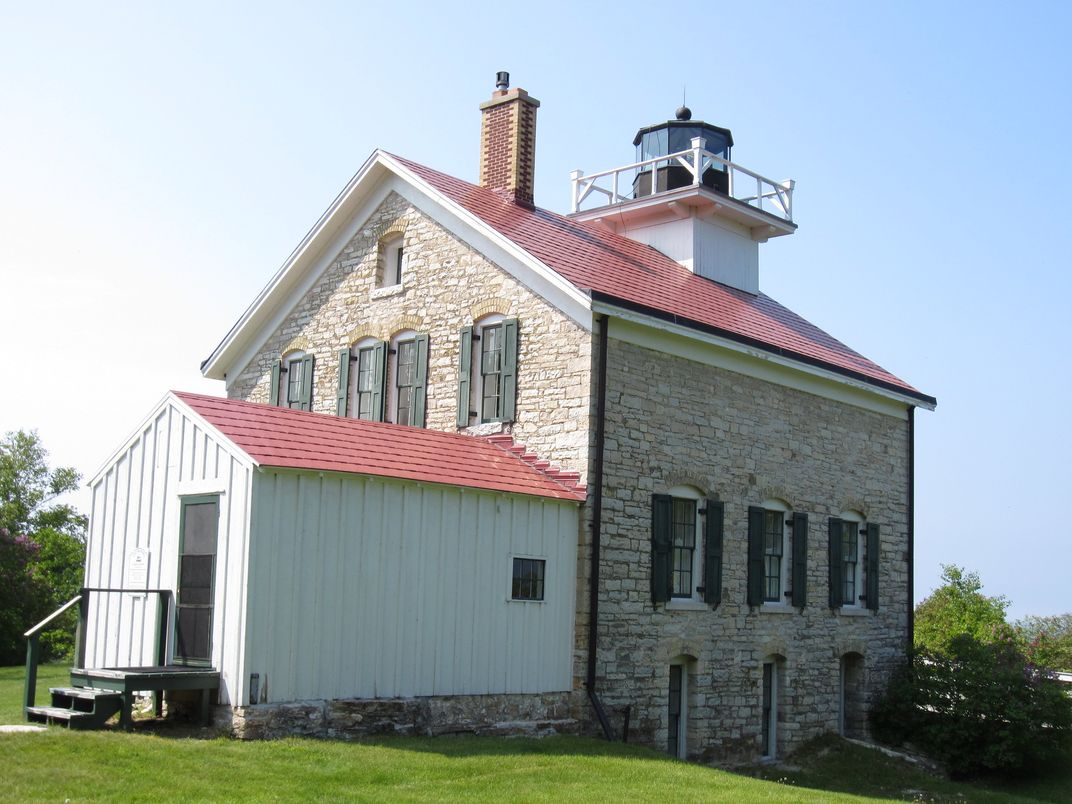 Wisconsin's Door County has one of the highest concentrations of lighthouses of any county in the country. Perched on a bluff on the uninhabited Rock Island overlooking the waters of Lake Michigan, Pottawatomie Lighthouse, with its square limestone tower rising out of an attached keeper house, has been here since 1858. It replaced the original 1836 structure, which was demolished due to poor construction.
Volunteers arrange their own transport to the island each Sunday morning from late-May to mid-October, and they must bring their own food and drink, but the weeklong overnight stays are free. Responsibilities include giving tours, selling lighthouse- and island-related merchandise, and basic cleaning, though the beachfront and hiking trails beckon keepers during their off time.
Pottawatomie Lighthouse has three bedrooms, each with a full-size bed, to choose from—accommodating six adults (or a total of nine, with children). It's early 20th-century living at its best, meaning no electricity or plumbing; an outside solar pump provides fresh water. However, there is an outhouse, which also happens to be Door County's oldest-known standing structure.
Volunteers can apply through the nonprofit Friends of Rock Island.
Five Finger Lighthouse; Five Finger Islands, Alaska
As one of the first two government-owned lighthouses opened in Alaska in 1902, Five Finger Lighthouse has helped myriad ships navigate the state's legendary Inside Passage, including prospectors who flocked to the area during the Klondike Gold Rush.
While fire destroyed the original lighthouse in December 1933, a new Art Deco-style tower—the same one in use today—replaced it as part of President Franklin D. Roosevelt's Public Works Administration less than two years later. Constructed of reinforced concrete to withstand the coast's turbulent waters and rapidly changing weather, it still operates as an active navigational aid.
Because of this, Five Fingers has dedicated volunteer keepers on site April through September, but the lighthouse also opens three guest rooms (with a combination of bunk beds and singles, for a total of nine people) simultaneously.
While volunteering isn't required for an overnight stay, the nonprofit Five Finger Lighthouse Society—which owns and maintains the property—encourages guests who'd like to contribute their skills to pre-arrange duties with the group beforehand.
Linens are provided, but bring your own food and drinking water. The lighthouse has no heat, so layers are a must.
Fees run $100/person per night, and guests must secure their own transportation to the rocky islet Five Finger Lighthouse calls home.