The True Story Behind Plymouth Rock
Curator Larry Bird weighs in on the significance of Plymouth Rock—and the two pieces in the Smithsonian collections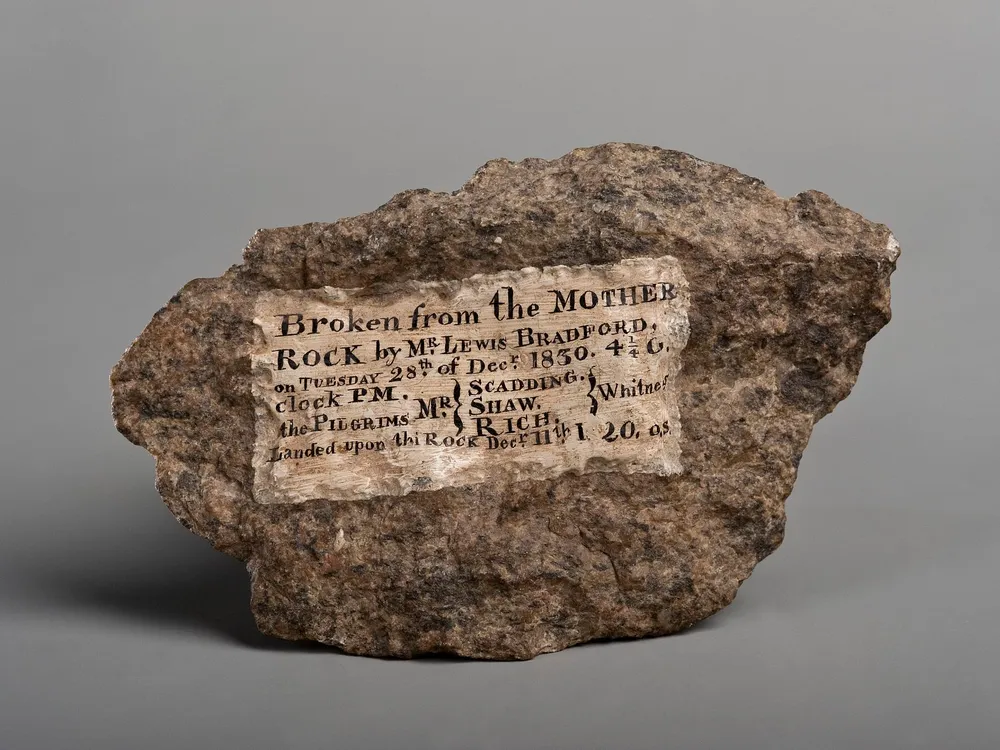 Plymouth Rock, located on the shore of Plymouth Harbor in Massachusetts, is reputed to be the very spot where William Bradford, an early governor of Plymouth colony, and other Pilgrims first set foot on land  in 1620. Yet, there is no mention of the granite stone in the two surviving firsthand accounts of the founding of the colony—Bradford's famous manuscript Of Plymouth Plantation and Edward Winslow's writings published in a document called "Mourt's Relation."
In fact, the rock went unidentified for 121 years. It wasn't until 1741, when a wharf was to be built over it, that 94-year-old Thomas Faunce, a town record keeper and the son of a pilgrim who arrived in Plymouth in 1623, reported the rock's significance. Ever since, Plymouth Rock has been an object of reverence, as a symbol of the founding of a new nation.
"It is important because of what people have turned it into," says Larry Bird, a curator in the National Museum of American History's division of political history. "To possess a piece of it is to look at a historical moment in terms of image making and imagery. We choose these moments, and these things become invested with values that continue to speak to us today."
In 1774, Plymouth Rock was split, horizontally, into two pieces. "Like a bagel," writes John McPhee in "Travels of the Rock," a story that appeared in the New Yorker in 1990. (Bird considers McPhee's story one of the best pieces written about the rock.) "There were those who feared and those who hoped that the break in the rock portended an irreversible rupture between England and the American colonies," writes McPhee. Actually, the upper half was transported to the town square where it was used to rile up New Englanders to want to gain independence from the Mother Country. Meanwhile, over the course of the next century, people, wanting a stake in the history, slowly chipped away at the half of the rock still on shore.
The National Museum of American History has two pieces of Plymouth Rock in its collection. "The one that I like is painted with a little affidavit by Lewis Bradford, who is a descendent of William Bradford," says Bird. "He paints on it the exact moment of time in which he chips it from the 'Mother Rock.'" The label on the small, four-inch by two-inch rock reads, "Broken from the Mother Rock by Mr. Lewis Bradford on Tues. 28th of Dec. 1850 4 1/2 o'clock p.m." The artifact was donated to the museum in 1911 by the family of Gustavus Vasa Fox, a former Assistant Secretary of the Navy.
Much larger, weighing in at 100 pounds, the second hunk of rock was once part of a 400-pound portion owned by the Plymouth Antiquarian Society. The organization came into possession of the rock in the 1920s; it bought the Sandwich Street Harlow House, where the stone was being used as a doorstep. The society ended up breaking the 400-pound rock into three pieces, and the museum acquired one in 1985.
"Like a Lincoln fence rail piece, a tiny piece of Mount Vernon or even a piece of the Bastille, Plymouth Rock is part of who we are as a people," says Bird.