Why do airline seats have to be in an upright position during takeoff?
The rules are confusing, but the safety concern is real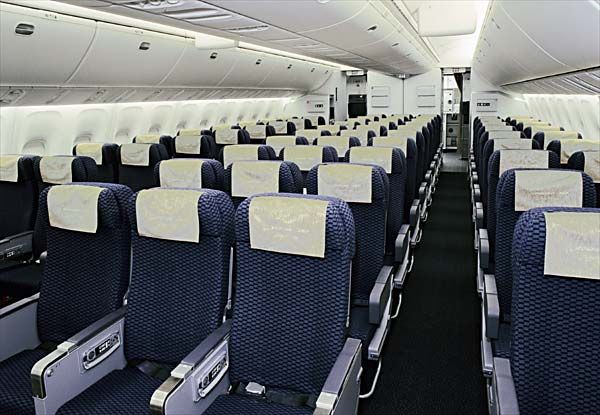 The rules imposed on airline passengers continue to generate confusion. After reading Bobbi Barlow, of Daytona Beach, Florida, asks:
"Can you explain why the seat backs must be in their most upright (and uncomfortable) position during takeoff and landing? Can it be possible that the three inches or so it moves affects the safety of the person occupying the seat or the person behind them? The science behind this escapes me, and I would so love an answer!"
There are two main reasons why flight attendants pester people to keep those seats up—to keep injuries to a minimum during a crash and to clear the maximum amount of space for a quick exit.
The science is pretty basic, as explained by Brian Manning, a flight attendant for Mesa Airlines. "When the seat is up, it is locked. When the seat is back, it's not locked. In the event of an emergency, an unlocked seat has more force during impact, and the thrusting forward of that seat can cause passenger injury."
Like a catapult, the farther back the seat, the greater distance your head would travel during an impact, and the more force would be generated. Those three inches can add to the whiplash effect.
Also, Manning notes, people sitting behind a seat that is reclined or unlocked will not be able to brace properly. And yes, there are proper ways of bracing. In the late 1980s the FAA researched various ways to prepare the body for impact, using test dummies.
Before an airliner is certified, the manufacturer has to demonstrate that it can be evacuated quickly. For this reason, Section 121.311(d) of the Federal Aviation Regulations requires seat backs that can be locked into position. Having passengers weave around jutting seats as they shimmy into the aisle simply wouldn't do.
"Since most accidents occur during takeoff and landing, it is for the safety of everyone onboard the aircraft to have all seats in their upright and locked position," says Manning.
But don't feel too bad, Bobbi—even airline employees get confused about these rules. An FAA safety bulletin issued in 2002 reads, "It has been brought to our attention that flight attendants were being advised that it was not necessary to place the seat backs in the fully upright position for takeoff and landing, because 'upright' has never been defined." The bulletin notes that airplane seats have been designed to meet FAA standards, with safety in mind—but only when passengers put them upright. "When reclined to any degree, they are not in the upright position for emergency evacuation," the bulletin clarifies.
Glad they cleared that up.