Why did the Enola Gay's tail markings change?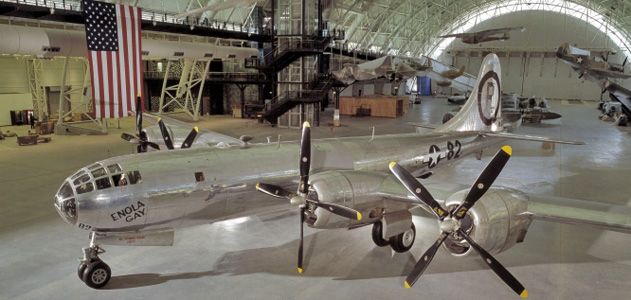 Stan Harris of Brighton, Colorado, writes with a question about the Enola Gay, the Boeing B-29 Superfortress that dropped an atomic bomb on Hiroshima, Japan, on August 6, 1945.
Harris says he has three pictures of the bomber on Tinian island in the Northern Marianas (its takeoff point for the bomb run), and "in each of the pictures, it has a different fin flash on the vertical stabilizer. The three are: a black letter P, a circle-R, and a circle-arrow. Which is correct?"
For the answer, we turned to Robert Krauss, historian for the 509th Composite Group, the unit that carried out the nuclear bombing missions at the end of WWII. It was part of a ruse, according to Krauss. He writes: "The original tail markings of 509th B-29s was a forward-pointing arrow in a circle. The tail markings of other Marianas-based bomb groups (which used letters) were substituted prior to August 6 to avoid easy recognition of 509th planes. The Enola Gay tail marking was changed from the circle-arrow to circle-R, which was the marking for the 6th Bomb Group, 313th Wing, North Field, Tinian."
Krauss notes that while three B-29s of the 509th did have a square-P tail mark (which stood for the 39th Bomb Group, 314th Wing, North Field, Guam) while on Tinian, the Enola Gay was not among them. "The use of a square-P as a tail marking entailed painting a black square [and] leaving a white P in the center of the square," he writes. The Enola Gay and other 509th bombers also had the last two digits of their serial numbers painted on the nose and on the fuselage near the tail. The Enola Gay is number 82.
It's possible, Krauss says, that the Enola Gay might have had a P on its tail when it flew as one of 13 B-29s performing weather and radiological reconnaissance missions in Operation Crossroads, the atomic bomb tests at Bikini atoll in July 1946, "but not during its time on Tinian." If that's the case, Harris' P-tail photo may well be of the bomber on Kwajalein atoll, in the Marshall Islands, the takeoff point for the B-29s that flew in Crossroads.
But if it ever carried a P on its tail, the bomber eventually returned to the circle-R, which is what it sports today on display in the National Air and Space Museum's Steven F. Udvar-Hazy Center in northern Virginia.