Where is the Wright Brothers' Patent?
It appears to have, uh, gone missing.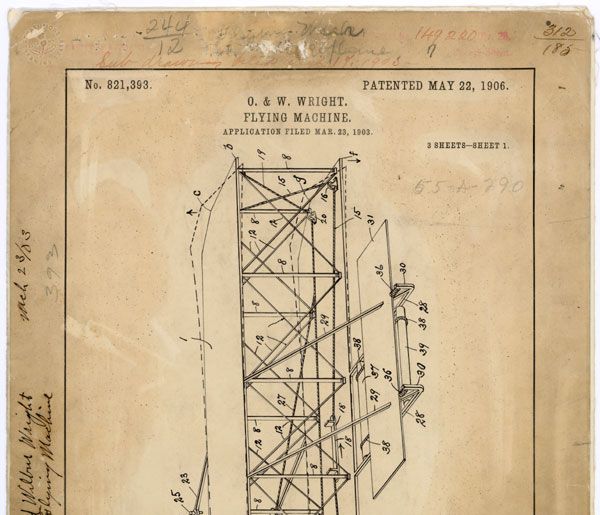 Mitchell Yockelson, an investigative archivist for the National Archives Recovery Team, says that the Wright brothers' patent for their 1903 Flying Machine, application number 821,393, is among several aviation-related items lost or stolen from the Archives over the years, including a Charles Hubbell print of the 1912 Fokker Spider (Anthony Fokker's first airplane) and Army Air Forces Nagasaki and Hiroshima target maps from 1945.
Yockelson is a member of a team formed by the Archives' Inspector General that tracks down and recovers items pilfered from the vast collection of largely federal government documents, photos, and artifacts. The Archives Recovery Team has prosecuted several cases in which the perpetrators were jailed and the items recovered. But the Most Wanted list includes civil war swords, a large portrait of Franklin Delano Roosevelt, Eli Whitney's cotton gin patent, and telegrams signed by Abraham Lincoln.
From 1969 to 1980, the patent file for the Wright Flyer was passed around various National Archives offices, and it spent some time at the National Air and Space Museum. The document was returned to the Archives in 1979, and somebody there remembers laying eyes on it in 1980, says Yockelson. When curators began planning a commemoration of the Centennial of Flight, in 2003, the patent file had vanished.
What might it fetch on eBay, where missing items regularly turn up? "Millions, I assume," Yockelson says. "No, wait: actually, it's priceless."