This Drone Can Save Your Life
Just ask the hiker it helped rescue in 2013.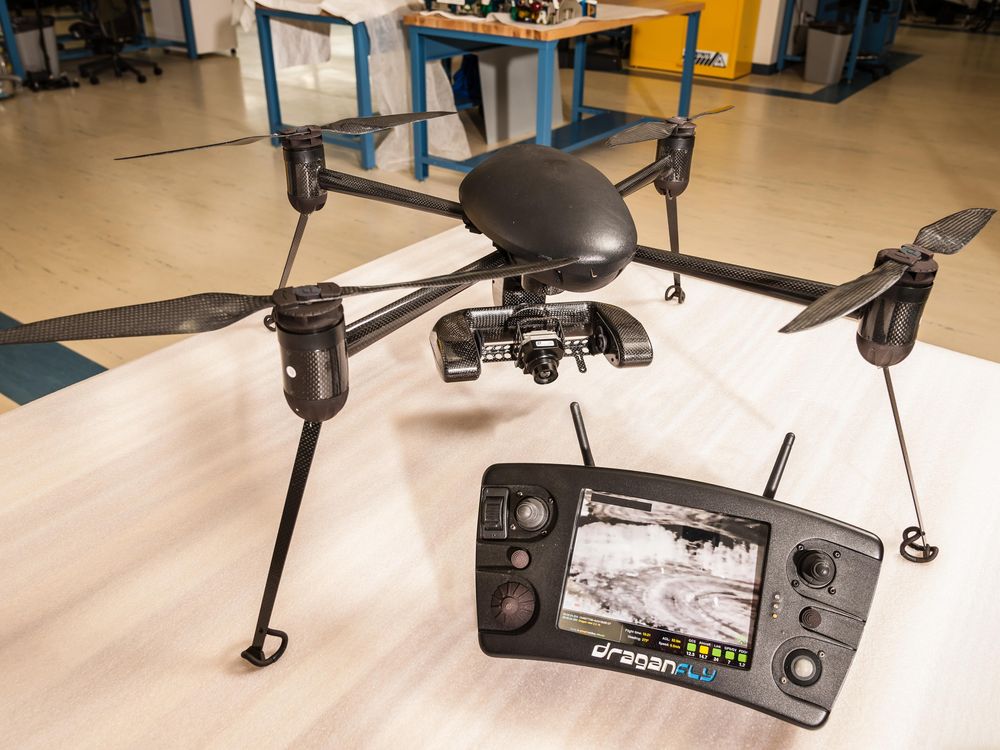 The civilian drone is now routinely appearing in the news, usually either for some new (and often impractical) application—such as beer delivery—or for posing a hazard to air traffic, spectators at sporting events, or backyard sunbathers. As a curator, I sometimes find it a challenge to keep pace with an up-and-coming technology, especially given the Museum's preference for seeing where the chips (i.e., historic significance) ultimately fall before committing scarce exhibit and storage space to new artifacts. However, in the case of the Draganflyer X4-ES, the decision was a no-brainer.
This Draganflyer quad-rotor, produced by Draganfly Innovations Inc. of Saskatoon, Saskatchewan, was the first public-service drone to save a human life. Corporal Doug Green of the Royal Canadian Mounted Police operated it in the middle of the night on May 9, 2013, to locate someone who had suffered a head injury in an automobile accident and wandered away in subfreezing weather without sufficient clothing. Ground teams and a helicopter team equipped with a night-vision technology had failed to locate the individual. Unlike the helicopter, the Mounties' Draganflyer was equipped with a remarkable innovation: an uncooled Forward Looking Infrared (FLIR) camera that weighs all of 260 grams (0.8 pound). Built by FLIR Systems, Inc., the drone's thermal imaging quickly did what the helicopter crew's night-vision goggles could not, and located the individual—in the later stages of hypothermia, missing his shoes and clad only in pants and a T-shirt.
Founded by Zenon and Christine Dragan in 1998, Draganfly Innovations has become one of the leading suppliers of public-service drones in the United States and Canada. The reasons are obvious. They are rugged and easy to fly, and can be prepped for flight in under a minute. While Draganflyers are more expensive than most hobbyist models by an order of magnitude (a unit costs around $30,000), they are cheaper than nearly all military models. The Mounties continue to garner headlines with Draganflyers, finding a family lost in the woods in Nova Scotia this past September. That province's branch of the Mounties operates five Draganflyers. Saskatchewan owns 11: three in its forensic collision program and eight in the forensic identification program. Its greatest utility at present is for documentation and investigation of multi-vehicle collisions, where the aerial perspective speeds the Mounties' investigation process without loss in accuracy.
"The use of the Draganflyers in our units has already proven valuable in two major court cases," says Green.
The Canadian origins of the Draganflyer, and the historic nature of this aircraft's operational "first," are no coincidence, as the small drone industry is in a state of flux. While the United States and Israel traditionally dominated the military unmanned aerial systems industry, other nations are leading in civil drone innovation (see "Brought to You by Drones," p. 22). France's Parrot has been dominating the market for what might be considered training drones. China's DJI has rapidly become the leading player in the enthusiast and light commercial photography markets. Japan's Yamaha has been ahead of the field in agricultural drones, and Draganfly has been a favorite of law enforcement.
With a low population density and plenty of rugged terrain, Canada is ideal for testing small drones. This is not to say American manufacturers aren't innovating, but the competition is fierce, and the slow pace of FAA regulation has placed the American market at a significant disadvantage.
While the market for hobbyist and light commercial uses has exploded, even without clear regulations, U.S. police departments have been slow to adopt drones. Negative public reactions that involve issues from privacy concerns to the "militarization" of law enforcement have dampened enthusiasm. However, the advantages of small drones over conventional helicopters and other forms of monitoring, particularly in a hostage crisis, disaster response, or other emergency will likely overcome this ambivalence.
With the addition of the Draganflyer, the National Air and Space Museum has taken an important step in documenting what is the most significant aeronautical revolution in decades. The ability to deploy low-cost aerial platforms with capabilities that rival a million-dollar helicopter and FLIR system is opening aviation to many new users, from real estate agents and wedding photographers to industrial inspectors and search-and-rescue units.
Like most revolutionary technologies of the past century, the drone poses challenges for society, such as safety and privacy. These are not insignificant issues. Hobbyists have long had the potential to interfere with aviation, with radio-controlled aircraft, model rockets, and even kites, but serious incidents were exceedingly rare. The proliferation of small drones and operators unfamiliar with the aviation environment is resulting in daily reports of near collisions. In the fall of 2014, Amazon was selling 8,000 small drones a month, many to people with limited awareness of the hazards associated with flight. We are clearly at a turning point in the ways in which we use airspace. For this reason, the National Air and Space Museum's collecting of the Draganflyer as its first non-military small unmanned aerial system marks a significant milestone in the Museum's collections as well as the history of aviation.