The Laser Threat
Authorities struggle to shut off the beams aimed into cockpits.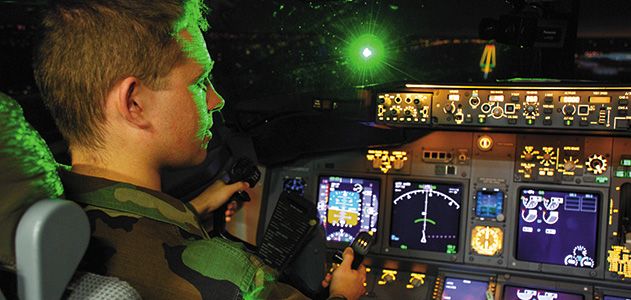 When the police officers arrived at the front door of Kimberly Rogers' home in Compton, California, in September 2011, she asked, "Am I in trouble?" Indeed she was. The officers suspected the 27-year-old had aimed a laser pointer at a Los Angeles County Sheriff helicopter and perhaps even a Southwest Airlines flight on approach to Los Angeles International Airport.
According to the arrest report, when confronted, Rogers pulled the pointer from her back pocket and gave it to the officers. But it was too late. She was charged with a felony under a new law intended to remedy an escalating problem. (Rogers pleaded no contest and was sentenced to five days in jail, three years probation, and 180 hours of community service.) In her small way, Rogers had contributed to California's dubious distinction as the state with the most reported laser attacks on aircraft.
She is also an example of what some critics say is a slow and merely reactive effort to conquer the laser threat. In the United States, laser attacks on airplanes have been reported since the mid-1990s, according to Van Nakagawara, now retired from the Federal Aviation Administration's Civil Aerospace Medical Institute, but the threat has grown 13-fold since the FAA started tracking laser attacks on aircraft in 2006. That year, the agency set up a website for pilots or anyone else to report laser attacks (faa.gov/aircraft/safety/report/laserinfo/), and received 384 reports. Last year, the number had grown to 3,482. Last summer the FAA reported more bad news: From January 1 to August 1, 2013, reported laser attacks grew by 22 percent over the same period the year before (from 1,868 to 2,282). The agency estimates the total for this year could reach 4,254.
In 2004, after studying a number of these cases, Nakagawara concluded the incidents were a threat because of "the distraction and temporary visual impairment they often cause for flight crew members." He was concerned that pilots were being targeted at the exact point when the distraction is most threatening: "at low altitude during critical phases of flight." Green lasers are especially harmful because the eye is most susceptible to damage from light in the yellow-green part of the spectrum.
Laser pointers typically are used by lecturers, by amateur astronomers pointing out stars and constellations, and by those in the construction industry measuring or establishing level surfaces. Federal regulations limit the pointers to an output of five milliwatts, but enforcement has been lax, and plenty of pointers on the market are brighter.
Each day when she arrives at work at FAA headquarters in Washington, D.C., and checks her email, agency spokeswoman Laura Brown knows her inbox will contain news of as many as 10 to 12 laser strikes from the previous night. On a typical Tuesday last spring, for example, her email included reports of attacks on a medevac helicopter in Ohio, a C-130 military transport flight off the coast of California's Ventura County, and a Delta Air Lines MD-88 on approach to Indianapolis. She adds that in summer, high numbers of attacks occur in beach and resort communities. The reports, which help Brown prepare for calls from the media, become part of the agency's tally of laser strikes.
People who hit aircraft with lasers can now be prosecuted under two federal laws. One, which went into effect in 2012, makes shining a laser at an aircraft punishable by up to five years in prison and a fine of $11,000. The other, long on the books, makes interfering with a flight crew punishable by up to 20 years and a $250,000 fine. Three persons have been sentenced so far this year for laser attacks, and nine were convicted last year, according to the FBI, which coordinates the federal response through its Laser Strike Working Group National Initiative. Members, including the FAA, U.S. Coast Guard, Federal Air Marshal Service, and Air Line Pilots Association, meet quarterly to discuss how best to combat the threat.
Supervisory Federal Air Marshal George Johnson, who is in the group and works with FBI liaison agents at major metropolitan airports, says passage of the new law "is significant. Our message is: Violators will be prosecuted to the fullest extent possible. If you see someone pointing a laser at an airplane, call 911."
In Los Angeles, where there were 541 attacks on airplanes in 2012, the campaign against lasers has a combat feel to it. Federal and California prosecutors have been aggressive in bringing charges, and the Los Angeles County Sheriff's Aero Bureau has one of the most concentrated anti-laser programs in the country. The command center is in a small office at Long Beach Airport.
"The sheriff has offered to be the 24/7 point of contact" for nine airports and even more helipads in the sprawling county, says Sergeant Morrie Zager. He explains how local authorities and the national working group collaborate to address the problem. Pilots have been told that when their airplane is attacked by a laser, they should contact air traffic controllers, who will call the Aero Bureau. If the attack occurs outside the bureau's jurisdiction, the bureau will contact the area's appropriate authorities.
"Within a minute or so of an aircraft being struck, the phone is ringing," he says. "We will send law enforcement to investigate and put ourselves up as bait and try and apprehend the suspects."
On a Wednesday evening last July, an L.A. County Sheriff Eurocopter AS 350 carrying deputies David MacNair and Ken Dailey in the front seats and me in the rear lifted off from the Long Beach helipad. We were in the air less than 10 minutes when the dispatcher notified the men that an airliner on approach to Los Angeles International Airport had been hit with a laser. MacNair turned the aircraft hard to the east to where the light was believed to have originated: the garden of an apartment complex. Above us, a long line of airliners on approach stretched eastward.
To tempt the laser user on the ground to try another attack, we were going to present ourselves, a lower and slower moving target. The Eurocopter was equipped with technology for imaging and determining street location, and police cars were nearby to move in if the attacker tried again. "We've got about a 75 percent arrest rate of people who target us," Zager told me earlier in the day.
In truth, I was ambivalent about being the lure: eager to experience firsthand the subject of the story, but nervous about the potential danger. I need not have worried. There was no further laser action around LAX that night. Still, both MacNair and Dailey say they regularly experience laser attacks when flying, and they keep protective eyewear nearby.
The FAA's Brown attributes some of the huge increase in laser attack statistics to the fact that it's now easier for pilots to file a report. And according to Samuel Goldwasser, a retired professor of computer and information science at the University of Pennsylvania and the author of the online guide Sam's Laser FAQ, "the cost of green laser pointers has dropped to the point where almost any nutcase can buy one." The pointers sell on the Internet for as little as $9. At the same time, "So far, there doesn't seem to be any increase in regulation [of sales] or enforcement, which means the problem is only going to get worse."
In his job as chief pilot for the Glendale-Burbank Police joint air support unit, Sergeant Steve Robertson has repeatedly been hit with lasers. Once in the 1990s his eyes were temporarily damaged to the point that he missed work for a week. He says that in his experience, the FBI's profile of the typical culprit—males in their teens or in their 30s—is spot on. "They think it is a real live video game," says Robertson.
Zager describes three general types of laser attackers: "There are...boneheads who are shining them in the sky and may inadvertently strike an aircraft; those who are targeting aircraft with the purpose of trying to disorient the flight crews; [and] criminals who are possibly targeting police and fire and public safety because they don't like the government."
One example of the latter: Glenn Stephen Hansen, a software engineer from St. Cloud, Florida. According to Hansen's federal plea agreement, he repeatedly shined lasers at airplanes departing Orlando International Airport because he thought officials were ignoring his complaints about airport noise. In one attack, in March 2012, Jerry Egel, a pilot with AirTran (now part of Southwest), was taking off when he was "struck in the face by a bright green laser" at 400 feet. Egel told authorities the laser tracked the plane for nearly a minute, requiring him to take evasive maneuvers. Hansen pleaded guilty to attacking Egel's airliner and was sentenced to six months in prison.
The problem is not confined to the United States. "It's a worldwide phenomenon," says Patrick Murphy, a laser expert whose safety website is considered the authoritative voice on the issue. The website tracks what governments around the globe are doing, linking to statutes in Australia, Canada, and the Philippines that make directing laser beams at airplanes a crime.
The Laser Institute of America publishes articles in its newsletter and issues press releases about the hazards of illuminating aircraft with lasers, but education director Gus Anibarro admits that the people who really need this information are unlikely to see it. Probably no more than five percent of the attackers are intentionally trying to do harm, Anibarro estimates, and most "don't know the law, but there is no coordinated effort to educate this ignorant majority."
At the FAA, "we've tried to be as proactive as possible, but we don't have the money to do a marketing campaign," says Laura Brown. The agency's efforts consist of participating in an informal, internal task force and in the FBI's working group, and running the laser report website.
Alan Roy, Safety Committee Chair­man for the Southwest Airlines Pilots Association, says not enough attention is being paid to prevention. He suggests that "those who are caught pointing lasers at aircraft help educate the public as a requirement of their sentencing."
Goldwasser agrees that authorities must reach out to those tempted to misuse lasers. While laser pointers aren't going away, "you can make information available the same way as with other health issues," he says. "You have to make sure this is covered as early as elementary school. You tell them, 'Don't shoot bright lights into the sky and at planes.' "
Last summer, after a season of attacks on Coast Guard aircraft in Los Angeles, in Atlantic coast communities, and in Puerto Rico, some officers in beach resorts in Georgia, South Carolina, and Maryland went visiting shops that sell lasers as novelty items. "We asked them not to sell the lasers and they complied," says Lieutenant Commander Shana Donaldson of the Coast Guard's aviation safety division and a member of a laser systems safety working group that includes the FAA, the Department of Defense, and the Food and Drug Administration, which regulates lasers and radiation-emitting devices.
The action was prompted in part by a July 2012 incident in South Carolina. Giuseppe Chillico and Keith Crook were sailing off the coast of Myrtle Beach when their catamaran capsized about four miles out at sea. As the sun set and the men struggled against high waves and stiff currents, the 49-year-old Chillico was relieved to see a Coast Guard helicopter begin to search for them. Then it flew off. It came back a second time but again broke off. This time it did not return.
"Every time they would go out," Donaldson says, "they were getting hit by lasers. They decided the risk was too great to the air crews."
Around midnight, after eight hours in the water, Chillico and Crook finally swam ashore, about 20 miles north of where they'd gone in. They were exhausted but unhurt. "Thank God we were strong enough to get out of that situation," Chillico says. "But for someone else, the helicopter might have been the difference between life and death."
Donaldson says the Coast Guard has a risk assessment policy that helps it determine whether to continue to fly search-and-rescue missions in areas of laser activity. Airlines do not have that flexibility, which is why they and the FAA need to do more, according to Tom Anthony, director of University of Southern California's aviation safety center. Lasers, he says, are "the same as any other hazard that will do damage to a pilot or an aircraft or the passengers," and need to be mitigated as part of an airline's safety program.
From 600 feet above sprawling Los Angeles, the task of protecting the skies from lasers seems enormous. Getting the message to people like Kimberly Rogers is turning out to be a lot harder than anyone anticipated. "I don't think the prosecution and publicity thing is working," Murphy the laser expert told me. "We're not even sure what the total answer is."
Christine Negroni is an aviation and travel writer whose work appears in the New York Times, the International Herald Tribune, and Executive Travel. She writes the popular blog Flying Lessons and hosts the travel site gohowknowhow.com.