The Changing of the Guard
Ten years after 9/11, what life is like in an Air National Guard unit.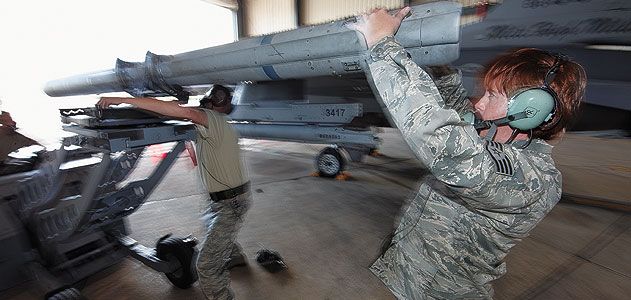 Football season at Denver's Mile High Stadium began as it always does: loudly. As fireworks burst overhead, four F-16Cs cut through the sky in tight formation. To the flight lead, Major Bill Orton of the 120th Fighter Squadron at Buckley Air Force Base in Aurora, Colorado, the mission was routine. He and his wingmen landed at the base, then drove to the stadium for the half-time show. The flight, however, would go down as one of Orton's most memorable—that Giants-Broncos game took place on September 10, 2001, the end of an era for Orton, his squadron, and other squadrons like his across the United States.
The 120th, which 10 years later still flies the same Block 30 F-16Cs, is not an Air Force squadron but an Air National Guard squadron, one of dozens based throughout the country, and one of just 23 that still fly the Fighting Falcon, or "Viper."
Each day, members of the 120th carry out the Aerospace Control Alert, or ACA, mission, a national security task performed almost exclusively by Guard units. In addition, Guard units also train for and fly combat missions over Iraq and Afghanistan, where they are deployed every 18 to 24 months.
THE ONLY TRAFFIC
I recall driving to work on September 11, 2001. As I approached the base, there was a news break that a "small" aircraft had crashed into one of the [World Trade Center's] twin towers. I thought nothing of it—probably just bad weather and an inexperienced pilot. After getting to work, we turned on our TV to watch some of the highlights of the Monday night football game. The news showed a second not-so-small aircraft had just crashed into the other tower. Within a few minutes there was a building announcement to call Command Post. I stood next to our wing commander, Brigadier General Wayne Schultz, as he received a call from NORAD directing him to get armed F-16s over Cheyenne Mountain immediately. General Schultz looked at James Fogle, our current Operations Group Commander, and me, and said to get in the first available jets and begin a Combat Air Patrol over Cheyenne Mountain. The FAA had just implemented SCATANA [Security Control of Air Traffic and Air Navigation Aids], where all aircraft in the U.S. were grounded.
There wasn't time to load air-to-air missiles for our aircraft, so we launched with 20-mm bullets only. I will never forget checking in with Denver departure control, normally a busy frequency, and the controller saying, "You are the only traffic in the state of Colorado; you are cleared all altitudes. Thank God you're here."
Soon a KC-135 tanker showed up, as well as an AWACS [airborne warning and control system] aircraft. Shortly after coming on station, the AWACS controller directed me to intercept a slow-moving aircraft heading to Denver. I proceeded from Cheyenne Mountain back to Denver at nearly supersonic speed and intercepted a small aircraft in the vicinity of the Jefferson County airport. I made radio contact with the pilot on tower frequency and directed him to land. The tower controller stated that he knew the pilot and that he wasn't a terrorist. The pilot of the small aircraft had no idea what had happened; he had been airborne since before the events began that day.
For four hours, James and I stayed over Cheyenne Mountain and Denver until we were relieved by two other jets (we launched again within 30 minutes of landing). By this time we had between four and six aircraft airborne, and we maintained this presence 24/7 for the next four days. I will never forget, after launching the second time that day, looking down at my house. I was performing a Combat Air Patrol, fully armed this time, over my hometown. That was the first time I realized things in the United States would be forever changed.
—Lieutenant Colonel Tim Conklin, Commander, 120th Fighter Squadron
AIRLINE INTERCEPT
One day in 2009, after completing training, we were heading home and we got a call from Denver Center [the same center that controls civilian aircraft] to contact Western Air Defense Sector. I contacted WADS, and they told me to work through air traffic control and intercept a Southwest flight. [The air crew] had not been in radio contact with any controlling agency for a while—at least 20 minutes. No controlling agency could get in touch with them. By the time I got back to ATC [air traffic control], we were just a few miles out, and within seconds we intercepted them—we were head-on with the 737. So I pulled up alongside the airliner, and could see faces start to crowd windows. I worked forward and got line abreast with the cockpit. Was probably about 1,000 feet lateral separation and made visual contact with the pilots in the cockpit. It was funny, because they were just sitting there. I could see the captain and the copilot just talking and the copilot jumped up and pointed to me excitedly. Then I gave a "phone" signal with my hand to my head, saying "call ATC on the radio." And life was good. One of the things they are most concerned about is losing contact with an airliner. Did they lose cabin pressure? Are they hijacked? When an aircraft is NORDO [no radio], there is no faster way to find out if something is wrong than for us to get up to that aircraft.
—Major Brett Berringer, Standardization/Evaluation Officer
ON ALERT
We originally lived in 909, which was a hangar, during time on duty. Then we lived in two double-wide trailers for nine years. Now we have state-of-the-art crew quarters. When the horn goes off, all of the lights turn on in the building, the power is cut in the kitchen, the doors open, and everyone runs to their aircraft—pilots and crew.
—Master Sergeant Mark Bond, Crew Chief
IT'S ABOUT SERVING
Domestically, we have taken on everything from the homeland defense mission to supporting the Democratic National Convention and the president's numerous trips to town. We have supported Air Force Academy graduations and celebrations with protection and fly-bys. We have supported aerial flybys for every national military holiday, as well as [provided] support for the local sports teams [predominantly the Denver Broncos and Colorado Rockies flybys]. Last year I escorted Josephine Kater Robinson, a World War II WASP [member of the Women Airforce Service Pilots], as she received her Congressional Gold Medal. We speak at numerous schools and provide tours and support for the local community. The mission is not just one of flying jets and deploying in support of our country. It's about serving.
—Major TenEyck LaTourrette, Assistant Weapons Officer
NOT A ROLLING STONE
Many people don't realize there's a difference between the Guard and active duty when it comes to hiring. On active duty, you'll be moving to a different base every three years or so. In the Guard, you remain with the base that hired you.
There have been two significant changes to the Guard since the time I was hired 20 years ago. First, the Guard was transforming from a second-string reserve force with older, hand-me-down equipment to a first-string operational force using current-generation equipment. The second change was immediate: The day before 9/11, the typical Guard unit was one-third full-time force, two-thirds traditional, part-time Guardsmen. Now the typical unit is two-thirds full-time status and one-third part-time Guardsmen.
—Lieutenant Colonel Scott Van Beek, 140th Wing ACA Officer in Charge
WILDLIFE ON THE PROWL
A typical day as Wing Chief of Safety includes checking the Air Force Safety Automated System, which keeps track of reports and ongoing investigations. Usually I hear right away if there is an emergency on the Crash Net [the red phone that rings all over the base].
We are constantly working on BASH [bird/wildlife aircraft strike hazards]. We have the USDA working with us. BASH is a big issue Air Force-wide because birds damage so many airplanes, and this damage costs millions of dollars. We used to have prairie dogs running around and crossing the runways, and they would get hit by airplanes—we'd run over them. And then you have the raptors living in the trees swooping down to pick up dead and injured prairie dogs—and so the birds cause a strike problem for launching and landing aircraft.
In Sioux City, Iowa, there was a low-level flight over Nebraska, and a pelican hit the canopy of an F-16 and the pilot barely ejected. The cost was $26 million.
A lot of these issues you don't think about as a pilot, but you need to have a clear runway. You can't have prairie dogs racing across the runway and birds chasing after them when you're launching F-16s and other military aircraft.
—Lieutenant Colonel Mitchell Neff, 140th Wing Chief of Safety
OPERATION MOO
A few years back, southeastern Colorado was hit with a huge blizzard. Thousands of cows were stranded in the deep snow with no chance of ranchers reaching them. Colorado teamed with Wyoming, and C-130s were brought down from Chey­enne to air-drop hay for the cattle. The issue was locating the stranded herds. Our wing commander directed us to fly a four-ship [formation] that morning over southeastern Colorado and use our targeting pods and GPS to pinpoint the location of the stranded herds. We were able to locate almost every herd in an area the size of Vermont and get this data to the C-130 crews. They were a little skeptical at first until they arrived at the first set of coordinates and a large herd awaited the desperately needed hay. We affectionately called this event "Operation Moo."
—Lieutenant Colonel Tim Conklin, Commander, 120th Fighter Squadron
MEMORIES OF 9/11
We took off on 9/11 with training rounds only. My game plan was to try and knock off the tail of the aircraft with my airplane if we were called to intercept another airliner; nobody knew if there were going to be more attacks, or where they'd be. Maybe I could survive an ejection after ramming my aircraft into the tail section of the plane. We didn't know what was going on, or how widespread it was. Back then, we weren't a homeland defense unit. We trained to go places like the Middle East. I was thinking, "Is someone going to give me clearance to take this airplane out?" And then "How am I going to do that?" And then "Who is on that airplane? Americans." This was right as it happened—the [twin towers] had just fallen.
—Colonel Jim Fogle, 140th Operations Group Manager
HAIL TO THE CHIEFS
Some of our crew chiefs have been working on the same jet since they arrived at Buckley Air Force Base in 1992. They know that jet better than the folks at Lockheed Martin.
—Major TenEyck LaTourrette, Assistant Weapons Officer
NOT YOUR DADDY'S AIR GUARD
The requirement for the Air Guard used to be one weekend a month, but that has changed. As an experienced pilot, I'm required to fly a minimum of six sorties a month. We are scheduled for eight sorties a month on average, to account for maintenance or weather cancellations. We have a two-day drill weekend every month, and then add in alert shifts and other training requirements and you have turned a one-weekend-a-month job into a 10- to 12-days-a-month commitment. In the Guard, it is the families that have felt the changes the most since 9/11.
The biggest misconception is what we do in our job. A normal sortie lasts a little over an hour, but prior to that we put in an average of two to 10 hours mission-planning that sortie. While we're flying, the aircraft records what we're seeing through the head-up display and the radar tapes. After we fly home, we debrief the mission. Everyone flying in the mission gathers and we all look at each other's tapes from the flight. The debrief takes anywhere from two to 10 hours. Most folks think that we go out and joyride for an hour. In reality there are about 20 hours of additional work that goes into that one-hour sortie.
One of the misconceptions of "alert" is that we just sit there and wait. Our top priority while we're on alert is making sure that we're ready to go and the aircraft are ready to go when that klaxon goes off. In order for this to happen, the jets have to be run, maintained, loaded, swapped, and prepped at regular intervals so that they can be ready to go on alert. Our maintainers do a great job of keeping our 25-year-old jets in tip-top shape, but every day that we don't fly, we have requirements to go out and do checks and prep work on the airplanes ourselves to make sure they're ready to go when we're scrambled.
—Major TenEyck LaTourrette
LOCKED AND LOADED
When the horn goes off, we treat it as a real-world situation, even if it's practice.
Weapons are inventoried daily, even if they don't move—even the inert ones used for training. Everything has to be accounted for, down to the last round of 20-mm bullets. If there is one missing round, we search every aircraft.
—Master Sergeant Mark Bond, Crew Chief
THE FUTURE
After 9/11, I was essentially working two full-time jobs, one at United Airlines and one at the Guard. When I was furloughed a year later by United, that meant I had only one job, and my family would again know what I looked like.
For now it's a good balance, but by the end of 2012, things will get interesting. 9/11 and the economic downturn allowed many of us to put our civilian careers on hold to fill the 9/11 tasking. Employers have been very accommodating, because if their employee came back they would have to lay off someone else, so they would rather let us stay on leave. But there's a storm brewing. The Air Force had a need for UAV pilots [operators of unpiloted aerial vehicles], so they involuntarily transitioned current fighter pilots, and downplayed the fighter track to new graduates from the academy. They're now facing a fighter pilot shortage. The airlines are slowly hiring again. When the airlines are hiring, pilots leaving active duty increases. The age-60 [retirement] rule has delayed airline retirements, because the [new] rule allowed pilots to stay for another five years. That five-year period will be over at the end of 2012, and mandatory retirements will skyrocket. That is when the airlines, short on pilots, will make [Guard] pilots come back. And the Guard units will look to fill the empty positions from a fighter pilot pool that does not exist.
—Lieutenant Colonel Scott Van Beek
COMBAT TOURS
All but two of us have been to combat in this squadron, and those two will get combat experience in 2012 when we go to Afghanistan. So we've dropped bombs and strafed targets—and watched enemy combatants die—and we have also watched friendly troops on the ground die. That's the hardest thing, watching our guys on the ground die under enemy fire.
Here we know that about every 18 months we're going to get deployed. I'm going to be deploying with people I've flown with for 15 years, so we're really comfortable with each other. That's something really unique about the Air National Guard.
I've had five deployments over to the Middle East, from Northern Watch [an operation in support of the Iraqi no-fly zones that took place from January 1997 through March 2003] to Southern Watch [an operation in support of the Iraqi no-fly zones that took place between August 1992 and March 2003] to Operation Iraqi Freedom 1 and Operation Iraqi Freedom 2. We have some pilots who have had nine combat tours.
—Lieutenant Colonel Bill Orton, 140th Operations Support Squadron Commander
Writer and photographer Ed Darack (darack.com) is the author of Victory Point: Operations Red Wings and Whalers — The Marine Corps' Battle for Freedom in Afghanistan (Berkley Trade, 2010).