The Bone Yard Project
Street art revives ancient airplanes.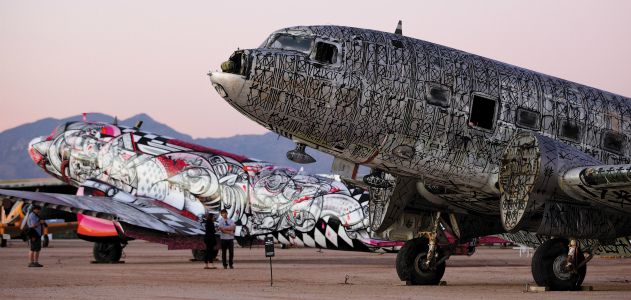 Street artists are a resourceful bunch. They typically use whatever's at hand to create site-specific artwork. Rarely have they found at hand such monuments of industrial design as the scrapped military airplanes they were invited to transform as the basis for an Arizona art exhibition.

"Round Trip: Art from The Bone Yard Project" at the Pima Air & Space Museum in Tucson, Arizona, features a Lockheed VC-140 Jetstar, a Beechcraft C-45 Expeditor, and a handful of Douglas Super DC-3s, all with fresh makeovers by street artists Nunca, Retna, How & Nosm, Saner, Bast, and Faile. The exhibit opened in January and runs through May 31.

Artist Andrew Schoultz drew inspiration from his Jetstar, a former CIA spyplane, and covered it with graphic paintings of spinning eyes. By working with the old airplane in the Pima bone yard, he says, "I felt like I was doing some type of top-secret project, which felt special."

"Round Trip" is the second installment of the project. It started with "Nose Job," a collection of airplane nose cones painted by dozens of street artists and exhibited last year in East Hampton, New York. Many were transported to Pima to join a few new pieces for display as a tribute to the nose art popularized during World War II.

The Bone Yard Project provides the "canvases" for street artists, who are accustomed to painting walls, buildings, and other huge surfaces outside. "An airplane is just the most massive and insane example of this practice," says Schoultz, who emphasizes a widely shared love of reclaiming discarded objects through art. When one of the bone yard denizens is repainted, "it gets a brand-new life instead of being destroyed, and becomes something to inspire" one more time.

See the gallery above for more airplanes turned into art.
Toothy Grin
Artist Andrew Schoultz paints a toothy grin on his Lockheed VC-140 Jetstar.
Nose Cones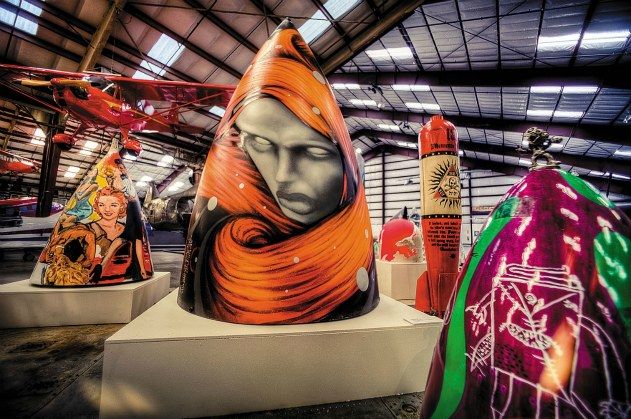 Paying homage to World War II-era nose art, a selection of nose cones were brought to Pima from the first installment of The Bone Yard Project, in New York. More than two dozen artists contributed these "hybrids of sculpture and painting." Left to right: Works by artists Walter Robinson, Tristan Eaton, and J.J. Veronis.
Stencils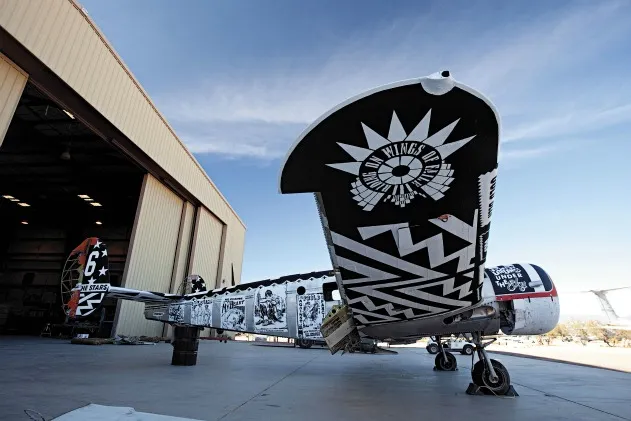 Brooklyn duo Faile stenciled a C-45 Expeditor.
Skull and Eagle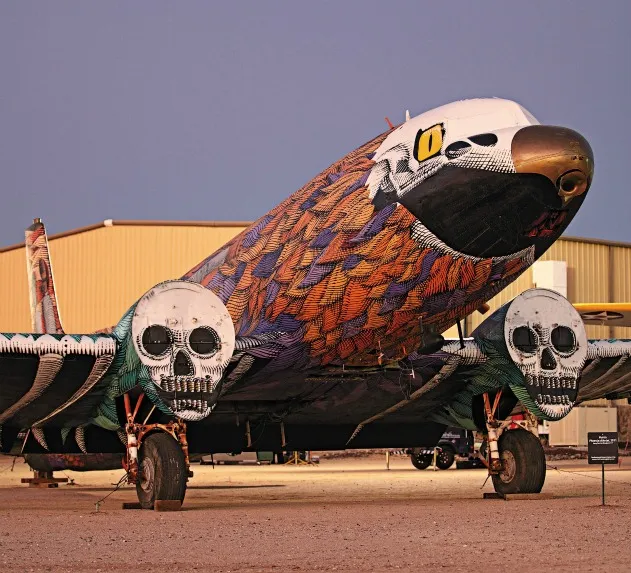 Brazilian artist Nunca used an eagle and skulls to render his thoughts on flying his Super DC-3.
Screen Print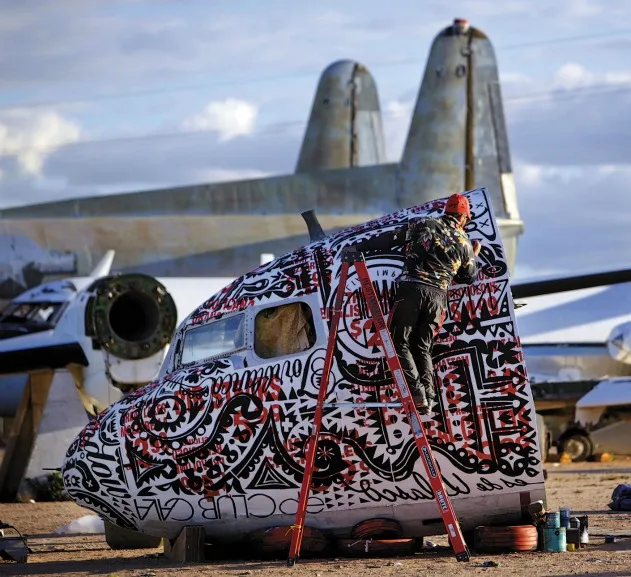 Brooklyn-based Bast works on a C-47 cockpit, displaying his background in screen-printing and collage.
Hanging On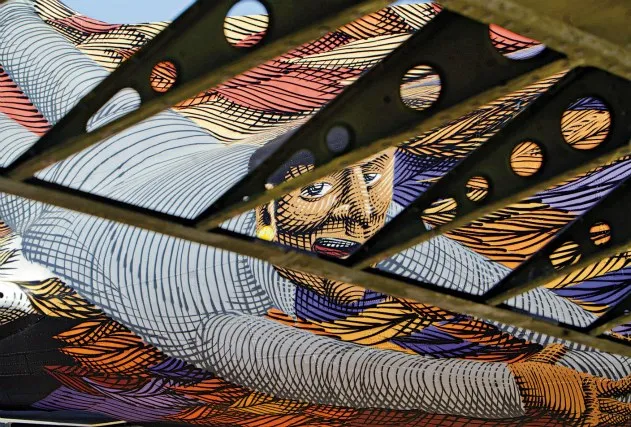 An illustrated man hangs onto the fuselage for a ride on Nunca's Super DC-3.