The 727 That Vanished
A case pursued by the FBI, the CIA, the U.S. Departments of State and Homeland Security, CENTCOM, and the sister of Ben Padilla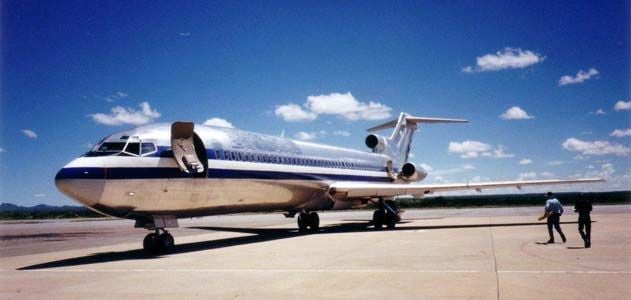 Seven years after her brother disappeared from Quatro de Fevereiro International Airport in Angola, Benita Padilla-Kirkland is trying to persuade the FBI to re-open his case. She believes she has the "new information" agents told her they require. But she suspects that the agency already has more information than agents will admit to.
Kirkland's brother, Ben Charles Padilla, a certified flight engineer, aircraft mechanic, and private pilot, disappeared while working in the Angolan capital, Luanda, for Florida-based Aerospace Sales and Leasing. On May 25, 2003, shortly before sunset, Padilla boarded the company's Boeing 727-223, tail number N844AA. With him was a helper he had recently hired, John Mikel Mutantu, from the Republic of the Congo. The two had been working with Angolan mechanics to return the 727 to flight-ready status so they could reclaim it from a business deal gone bad, but neither could fly it. Mutantu was not a pilot, and Padilla had only a private pilot's license. A 727 ordinarily requires three trained aircrew.
According to press reports, the aircraft began taxiing with no communication between the crew and the tower; maneuvering erratically, it entered a runway without clearance. With its lights off and its transponder not transmitting, 844AA took off to the southwest, and headed out over the Atlantic Ocean. The 727 and the two men have not been seen since.
Who was flying 844AA? Had something happened to make Padilla take that desperate chance? Or was someone waiting inside the airplane? Leased to deliver diesel fuel to diamond mines, the 727 carried 10 500-gallon fuel tanks and a few passenger seats in its cabin. Less than two years after the 9/11 terrorist attacks, the 727's freakish departure triggered a frantic search by U.S. security organizations for what intelligence sources said could have been a flying bomb.
Retired U.S. Marine General Mastin Robeson, commander of U.S. forces in the Horn of Africa when 844AA went missing, says word of the 727 "came up through the intelligence network." According to Robeson, U.S. Central Command (CENTCOM) considered moving U.S. fighter aircraft to Djibouti on the Red Sea coast, where the Combined Joint Task Force shares a base with the French military. Robeson continues: "It was never [clear] whether it was stolen for insurance purposes…by the owners, or whether it was stolen with the intent to make it available to unsavory characters, or whether it was a deliberate concerted terrorist attempt. There was speculation of all three."
Speculation that the theft of 844AA posed a terrorist threat ended, though it's unclear why. Perhaps National Geospatial-Intelligence Agency technicians saw signs of a crash in satellite imagery—debris or an oil slick in the Atlantic, for example—or evidence that a large aircraft had landed on one of a half-dozen unpaved, 8,000-foot runways in the Congo, north of Angola. Agency spokesperson Susan Meisner would not comment, saying that the NGIA was not the lead agency in the case. (A CIA spokesperson also declined comment, as did a spokesperson from the Department of Homeland Security. FBI agents also refused comment, citing national security concerns.) Perhaps the speculation ended more gradually, after weeks without clues or sightings stretched into months. The disturbed hornet's nest of a global security alert—the searches, bulletins, and interrogations—quieted, and in 2005, the FBI closed its case. I have filed Freedom of Information Act requests with the CIA and FBI and have followed in at least some of the FBI's footsteps, interviewing the people who flew 844AA to Angola and worked with it there, hoping to understand how a 727 could just disappear.
"IT REALLY WAS in beautiful condition," Keith Irwin says of the airliner he acquired in Miami in February 2002. Irwin, 57, a South African entrepreneur who ran a series of information technology companies and, until 2000, a small tourist airline with flights from South Africa to Mozambique, had come to Miami to pick up a different aircraft altogether. Representing a joint venture with a South African company called Cargo Air Transport Systems, Irwin had arranged to lease a 727 and two flight crews—pilot, first officer, and flight engineer—for a year. The air transport company had signed a contract to supply fuel to diamond mines in Angola, where a long civil war had made transporting goods by road almost impossible. The 727, therefore, was to have been delivered with fuel tanks installed in the cabin. The joint venture was backed by a single investor, who had deposited $450,000 in a U.S. bank. Irwin's job was to manage the flight operations, but the deal for the airplane fell through. Irwin ended up with fuel tanks and no airplane.
That failure stranded six crewmen who had assembled in Miami. "The guys then were desperate for work," says Irwin. "Most of those guys had not flown in a long time because of the 9/11 story. I said, 'Look, I can take you on if we can find another aircraft.' " And Irwin met Maury Joseph, president of Aerospace Sales and Leasing, Inc. Joseph owned three 727s that had recently been retired by American Airlines. "All three aircraft were almost in mint condition," says Irwin. "American Airlines had a very good maintenance program."
New deal: Joseph sold 844AA to Irwin for $1 million and change. According to his records, he received a down payment of $125,000, and says he stipulated that the balance be paid within 30 days. He agreed to remove the passenger seats from the cabin and to allow Irwin to take the airliner to Africa. Irwin says he cannot remember the details of the agreement, but recalled it to be a lease arrangement. In any case, the joint venture made only two payments and defaulted.
Though the two men now differ over the terms of the contract, they agree on one detail: As a condition of the agreement, Irwin was required to take along one of Joseph's employees, Mike Gabriel, whose job was to make sure that the deal was concluded. "I gave Mike $10,000 and told him to fly with them," says Joseph. "Stay with the plane till you get the money, and then come on home, and if not, bring the plane home."
On February 28, 2002, with most of the passenger seats removed and the 10 fuel tanks loaded, 844AA, still in the livery of American Airlines, with a blue stripe down the side and an AA logo fading on its tail, took off for Africa.
Because Irwin's partners had not arranged a landing permit, it took two weeks for the crew to make their way to Quatro de Fevereiro International Airport, where they arrived on March 14. Irwin, who had not worked in Angola before, realized immediately that the deal was in trouble. The company hiring his partners for deliveries, Kuwachi Dundo, was supposed to pay $220,000 when the airplane and crew landed, but instead the company's representative made excuses. (Irwin lost almost $140,000 in the first deal and had burned through the rest of the $450,000 by March.)
The crew endured accommodations in a dismal apartment without electricity or drinkable water, near an open sewer. (Gabriel and Irwin didn't stay with the crew; they had rented an apartment in the back of a house owned by an Angolan air force general.) The only one of the men not troubled by the circumstances they found in Angola was Mike Gabriel. Gabriel, a dealer in aircraft parts and engines, had spent a considerable amount of time in West Africa, and was accustomed to the AK-47s the men saw everywhere, including stacked up behind the bar of a club they frequented. Most worrisome to the crew was that they were required to surrender their passports on arrival. Irwin explains that Kuwachi needed the passports to obtain Angolan licenses for the pilots and flight engineers.
"I was scared to death. I really thought I was going to die," says Art Powell, one of the flight engineers with the project. Powell had been to Angola before and had spent a year working in Nairobi, Kenya, but this experience was different. He felt intimidated by the people who had hired the crew for the fuel-delivery job. His anxiety was intensified by the presence of a local "helper" who toted an AK-47. The helper was a guard whom Mike Gabriel says he hired because the crew repeatedly voiced concerns about safety.
When Kuwachi got wind of the crews' unrest (several crew members have admitted that they were planning to steal the aircraft to escape to South Africa or return to the States), the company refused to return the passports. Irwin and members of the crew went to the U.S. Embassy; only then were the passports returned.
By Angolan regulations, Irwin says, 844AA was controlled by the clients who hired it. Prohibited from flying the aircraft out of the country, Irwin booked airline seats and flew the crew members to South Africa. From there, two of the men immediately flew home to the United States. One says he is still owed $17,000. The other four crewmen, still hoping for the money they'd been promised, stayed on.
By April, Irwin was extricating himself from the deal made by Cargo Air Transport Systems and had found a new backer, an Angolan who arranged deliveries for a different client. Irwin and the remaining crew returned to Luanda and began flying the shipments for the new company. Mike Gabriel placed the total number of flights made at 17.
"It's the most dangerous flying in the world," says a crewman who asked that his name be withheld because he fears for his career. A U.S. Air Force veteran, he likened the deliveries to flying into a combat zone. When they approached the airfields, the crew tried to stay at an altitude above small-arms fire for as long as possible, then spiraled down to land.
"I've been a [flight deck crew member] for 30 years," he says. "For me, it was an opportunity to make a couple of bucks... and when everything started falling apart, I probably hung on twice as long as common sense dictated. But I had too much invested at that point to bail out."
Many of the runways, says Mike Gabriel, aren't paved and aren't like the ones U.S. crews are accustomed to. "On some, you land uphill, then go downhill, then uphill again," he says.
At one airstrip, the anonymous crewman says, just before 844AA arrived, a 727 flying for a competing company crashed on landing and skidded off the runway. Although the crew survived, he says, some local residents were killed. "We gave [the other flight crew] a lift out of there but not before going over to their airplane and stealing some parts that we needed. That's when I decided it was time to go home."
Before he left, he says, a "big African showed up with a briefcase full of hundred-dollar bills. It was payday." Besides paying the crew, the money was supposed to pay off accumulated airport fees and fuel costs.
"After that," the crewman says, "I created a family emergency…. I said, 'My mother is sick.' " He promised he'd return in two weeks and left. "I had no intentions of going back, of course. I didn't get anywhere near full pay, but I got enough that I could pay my bills and make it not completely worthless."
By the end of April, all of the Americans except Mike Gabriel had left.
Irwin hired a local crew and continued to deliver fuel to the mines, but he was ready to leave too. The civil war in Angola had ended. Competition among fuel haulers, Irwin says, had intensified, and he was growing more uncomfortable with the delivery deals. His partners were claiming part ownership of the aircraft, but Maury Joseph had not been paid. Joseph, meanwhile, sent a crew to swap an engine from the 727. Finally, Irwin says, he was being followed—by a local man named Antonio, who, Irwin believes, was working for one of his partners. "I would turn around," Irwin says, "and spot Antonio watching me from a car."
Irwin began wedging a chair under the door handle of his hotel room "just like you see in the movies." One night, he heard a key card slide into the slot on the door. The lock released. "I started yelling and whoever it was ran," he says. The hotel security guards questioned the night clerk and learned that he had accepted a bribe to provide the key card. Irwin left the country the next day and didn't go back.
Maury Joseph fired Mike Gabriel some time that spring. "He kept convincing me that next week, next month…," Joseph says, referring to the outstanding balance owed on the airplane.
In May 2002, the only part of the original 844AA project left at the Luanda airport was 844AA.
THE SON OF A FLORIDA MILLWRIGHT, Ben Charles Padilla Jr. was always mechanically gifted, says sister Benita Padilla-Kirkland, and from the time he was a boy, he loved airplanes. In his mid-20s he learned to fly and became certified as an airframe-and-powerplant mechanic. He lived in south Florida with two children, one his own, and a fiancée of 15 years. (Efforts to contact her were unsuccessful.) Though the two weren't married, Padilla gave her power of attorney in his absence and made her the executor of his estate, according to Padilla-Kirkland, and left her almost everything in his will.
"He certainly knew the airplane," says Maury Joseph. Padilla was a freelancer, who had worked for Joseph on two jobs before traveling to Angola to repossess 844AA. Padilla had worked extensively in Africa. He helped Joseph ferry a 727 to Nigeria for a sale and during the negotiations stayed to explain the aircraft systems. "If you said, 'Go to Cambodia and do this' or 'Go to Indonesia and do this' or 'Go to South America and do this' he would do it. [When in Nigeria] I was with Ben daily for a month or more," says Joseph. "You become fairly close to somebody when you're with them day and night." Joseph trusted him.
But another employer formed a different opinion. Jeff Swain, who works near Miami in international aircraft sales and leasing, had hired Padilla in the late 1990s for an airline he was operating in Indonesia—and fired him. "We had certain standards of conduct we expected from flight engineers," Swain says, adding, when pressed, "He was too involved in chasing the local girls. It was an unstructured environment, and he just went bad." Swain says that after Padilla was fired, he stayed on in Indonesia for two months and racked up a $10,000 bill that he told the hotel the airline would pay. "We finally had him deported," says Swain.
Padilla once showed Swain a photograph of a woman with small children and told him it was his wife in Mozambique, but Swain says, "I never believed it was real. Ben was always marveling everyone with his bullshit stories." One of Padilla's friends also saw a photograph of a wife, but insists that she lived in Tanzania. Another acquaintance was told that Padilla had a wife in Indonesia.
Benita Padilla-Kirkland says she's heard the stories, but believes her brother would have told her if he'd had another family. She doesn't doubt the relationships, but is convinced that Padilla was helping to support people he'd befriended. "There might have been more than one of those situations," she says.
WHAT IN FEBRUARY 2002 had been a retired airliner in excellent condition had by fall become a junker worth only the price of its engines. And Maury Joseph found a buyer for them: Jeff Swain. Swain says that Irwin and the crews had ruined the airplane. "It would never be of any value again," he says. "You can't put water tanks full of fuel in an airplane and expect it to be good. Totally stupid. But it had really good engines on it—maybe 1,000 cycles since new."
In November 2002, Joseph and Ben Padilla flew to Nigeria to deliver a 727, and Joseph hired Padilla to fly to Angola the following April to pay the outstanding fines and hire mechanics to return the 727 to service. "If [the company that contracted for fuel deliveries] wasn't paying Mr. Irwin, you can assume he wasn't paying anybody," says Joseph. "He probably hadn't paid the fuel bill. He didn't pay the navigation fees, the landing fees, and certainly wasn't paying the parking fees at the airport. So all of those became things that we had to resolve and I had to pay all those."
Padilla worked with Air Gemini, a Luanda-based airline that operated a repair station. The return-to-service process was progressing steadily, according to Joseph, and in May 2003, acting as Joseph's agent, Padilla hired a pilot and copilot from Air Gemini to help him deliver the aircraft to Johannesburg, South Africa, where Joseph was waiting with his new customer. A day or two before the aircraft was to leave Luanda, Padilla made plans with Air Gemini to take the aircraft from the company hangar out to the main runway, where he intended to run the three engines up to full power for a systems check.
Late in the morning on May 26, when Joseph and Swain were expecting 844AA to land, Joseph took a call from an Air Gemini employee, who demanded to know why another crew had flown the airplane out of Luanda. "He was kind of hard on me," Joseph says. After the shock wore off, he telephoned the U.S. Embassy in South Africa to report the disappearance, then called his wife back in Florida to tell her to call the FBI. From Washington, D.C., the Department of State, notified by the U.S. Embassy in Angola, sent a message to every American embassy in Africa: Alert aviation officials that an airliner has been stolen, and call every airport with a runway long enough to handle a 727.
For the U.S. government, fraud was one theory that could explain the aircraft's disappearance. "Part of the intelligence was that the airplane was in a bad state of repair," says General Robeson. "That was one of the speculations, that it was an insurance fraud situation. You know, 'Oops, my plane was hijacked/stolen by terrorists and now I can do an insurance claim on it.' So, that was probably as valid of an explanation when all was said and done as anything. But we just left it as an unknown."
Among intelligence officials, the suspicions of fraud may have been aroused by knowledge of an incident in Maury Joseph's past. During the 1990s, Joseph was CEO of a cargo airline named Florida West (which later went bankrupt). The Securities and Exchange Commission charged him in a civil case with falsifying financial statements and defrauding investors. The court imposed a fine and barred Joseph from acting as an officer in a publicly held company.
But Joseph, when contacted by the FBI, volunteered to take a lie-detector test, and Swain, who was there when Joseph took the call from Air Gemini, is certain that Joseph had nothing to do with the airplane's disappearance. "Look, nobody was more amazed by this situation than Maury," Swain says. He describes Joseph as utterly confused by the information that the airplane was gone.
The suspicion that Ben Padilla could have played any part in an insurance fraud angers his younger brother. "If anybody would say to me that my brother was involved with this," says Joe Padilla, his voice tightening, "they're full of it. 'Cuz I know my brother. He's not gonna do nothing crooked. I know that for a fact." He is convinced that more than one person was already on board, waiting, and that they forcibly took the aircraft, and killed Ben and John Mutantu.
"I keep hoping against hope that maybe he's tucked away somewhere," says Benita Padilla-Kirkland. The new information she passed along to the FBI was a possible sighting of the aircraft, one of many reported over the years.
Mike Gabriel believes the airplane crashed in the Atlantic Ocean soon after takeoff. One crew member from the fuel delivery operation thinks the Angolan air force shot it down with a missile. A Luandan pilot says the word there is that the aircraft went north and vanished near Kinshasa, Congo. One of Ben Padilla's friends says the airplane was disassembled for parts in Bujumbura, Burundi, on Tanzania's western border.
Picking through the fragments of 844AA's history, I found a story of broken deals, disappointments, and betrayals, but no real clues to the aircraft's destination that day in 2003. We may never know for sure where it went. It is the largest aircraft ever to have disappeared without a trace.
Tim Wright is a writer living in Richmond, Virginia.