Astronauts, Your Ride's Here!
SpaceX and Boeing get ready to introduce their taxi service to orbit.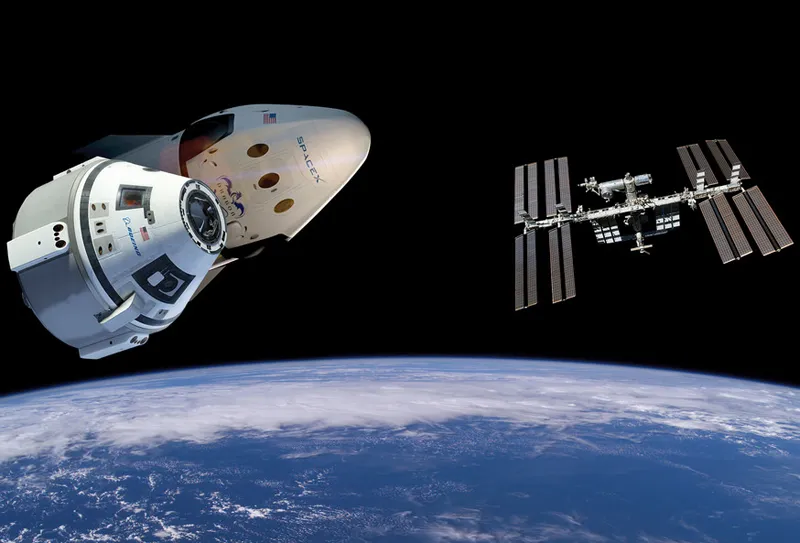 For more than seven years, U.S. astronauts have blasted into orbit from a Russian launch pad in Central Asia. Now Cape Canaveral is about to reclaim its position as center stage of the American space program.
This article appears in the feature series American Spacelines. Click to read more about the future of U.S. human spaceflight.
A pair of privately owned spaceships, Boeing's Starliner and SpaceX's Crew Dragon, are set to make their debut within the next few months (Update: The SpaceX Demo-1 flight is scheduled for March 2, 2019), ending NASA's post-space-shuttle reliance on the Soyuz to ferry astronauts to and from the International Space Station. For each new vehicle, a single, uncrewed test flight to the station will be followed by a second test flight with at least two astronauts on board. Each company has contracted for up to six additional taxi flights, during which the Starliner or Crew Dragon will dock with the station, remain attached for six months as a lifeboat for the crew, then return the astronauts to Earth.
Although the ships seem like a nod to the past—Apollo-style "capsules" instead of the spaceplanes astronauts rode to orbit for 30 years—NASA hopes this will be a smarter approach to space transportation. From now on, the agency will be buying tickets for its astronauts, rather than inventing, owning, and operating the spacecraft itself.
Which is not to say the vehicles were privately funded. NASA paid nearly all the development costs and ultimately will shell out more than $8 billion to Boeing and SpaceX to build and certify the new spacecraft, conduct two test flights, and provide up to six taxi flights each by 2024. That's way more than the $3.4 billion NASA paid for 64 Soyuz seats between 2006 and 2018. But Russian prices have risen sharply in recent years, and the agency expects seats on the new SpaceX and Boeing taxis will end up being cheaper.
What would a NASA shuttle veteran find different about these new spaceships?
Autonomy, for one. Both the Starliner and Crew Dragon will travel to the station and dock automatically, with no astronaut input. (The crew can take manual control if something goes wrong.) This greatly reduces the complexity and weight of onboard controls. Autonomy also simplifies training: Astronauts bound for the space station can focus more on the jobs they'll be doing in orbit.
The new vehicles should also be safer, with escape systems that—unlike the space shuttle—can propel the crew to safety in the event of a launch pad explosion. Designers are working to a challenging safety standard: a 1-in-270 chance of a fatal accident, as compared to the 1-in-90 chance calculated for the space shuttle by the time it retired in 2011.
As the Starliner and Crew Dragon begin operations over the next year, we'll explain more about how the vehicles work and what the new space taxi service means for NASA's astronauts.
Boeing Starliner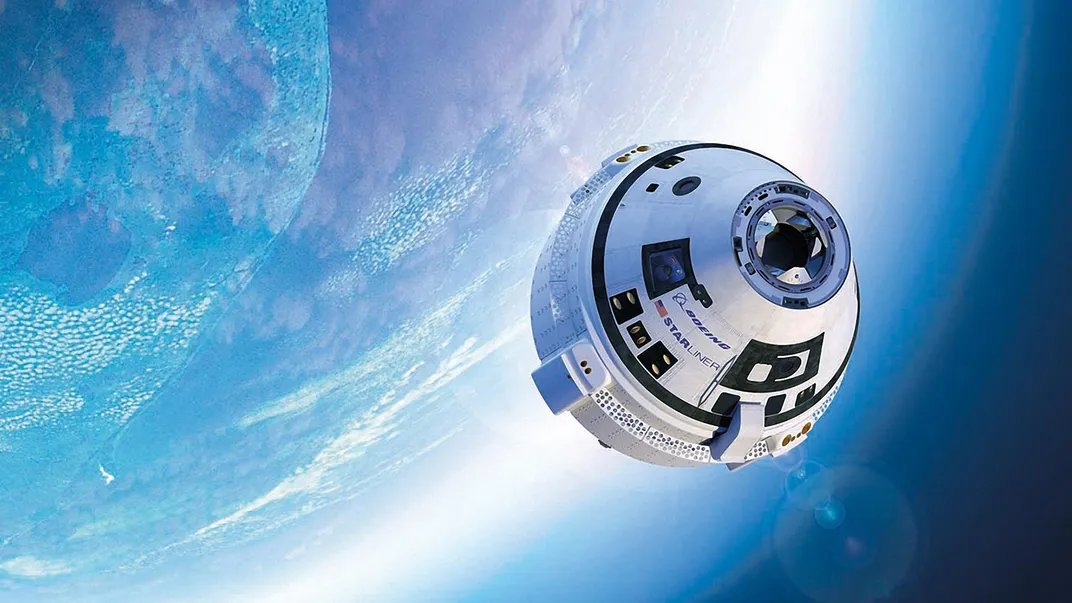 Price: Up to $4.9 billion
Heritage: Apollo, Space Shuttle Boeing and its corporate predecessors have long experience manufacturing space vehicles. North American Rockwell built the Apollo Command Module.
Seating Capacity: Up to 7 NASA required that each vehicle be able to transport four people to and from the station. A fifth seat is available on both vehicles. Each company advertises a seating capacity of seven.
Head / Leg Room: Diameter: 15 ft. Height: 16.6 ft. Dimensions include service (propulsion) module.
Engines: Aerojet/Rocketdyne Engines for abort and for maneuvering the Starliner in orbit are located in the disposable service module.
Reusable?: Yes Crew capsule can be reflown up to 10 times. Service module will be discarded after each flight.
Launch Vehicle: Atlas V 422 /Centaur Will be compatible with other rockets in future.
Launch Site: Cape Canaveral Launch Complex 41
Landing Site: Western U.S. Starliner will parachute to dry land, like Soyuz, and use airbags to cushion the impact. Landing sites at White Sands, NM; Dugway Proving Ground, UT; Edwards AFB, CA; Willcox Playa, AZ.
SpaceX Crew Dragon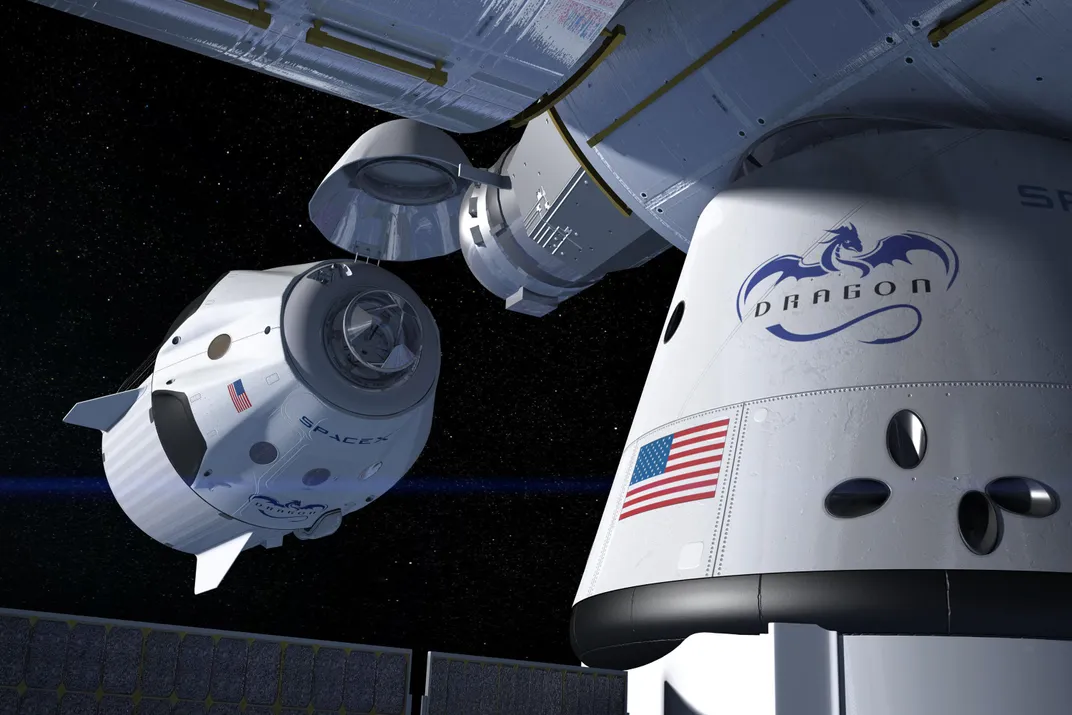 Price: Up to $3.2 billion Numbers for both companies include total NASA contract awards for developing, building, and certifying vehicles, two test flights, and up to six ferry flights to the ISS through 2024.
Heritage: Dragon Cargo Vehicle SpaceX has been launching supplies to the space station since 2012. Crew Dragon is based on the Dragon cargo craft.
Seating Capacity: Up to 7
Head / Leg Room:
Diameter: 12.1 ft. Height: 23.6 ft. Dimensions include Dragon's cargo "trunk."
Engines: SpaceX Draco / Superdraco Engines are onboard. Superdraco engines are used for abort only.
Reusable?: Yes, Dragons are reusable, although test flights will fly new vehicles. Cargo trunk is discarded after each flight.
Launch Vehicle: Falcon 9 Block 5
Launch Site: Cape Canaveral LC 39A (same pad used for Apollo 11 and the space shuttle)
Landing Site: Atlantic Ocean
This article appears in the feature series American Spacelines. Click to read more about the future of U.S. human spaceflight.