Simply the Best
Is there an airshow fan alive who doesn't know the legendary Bob Hoover?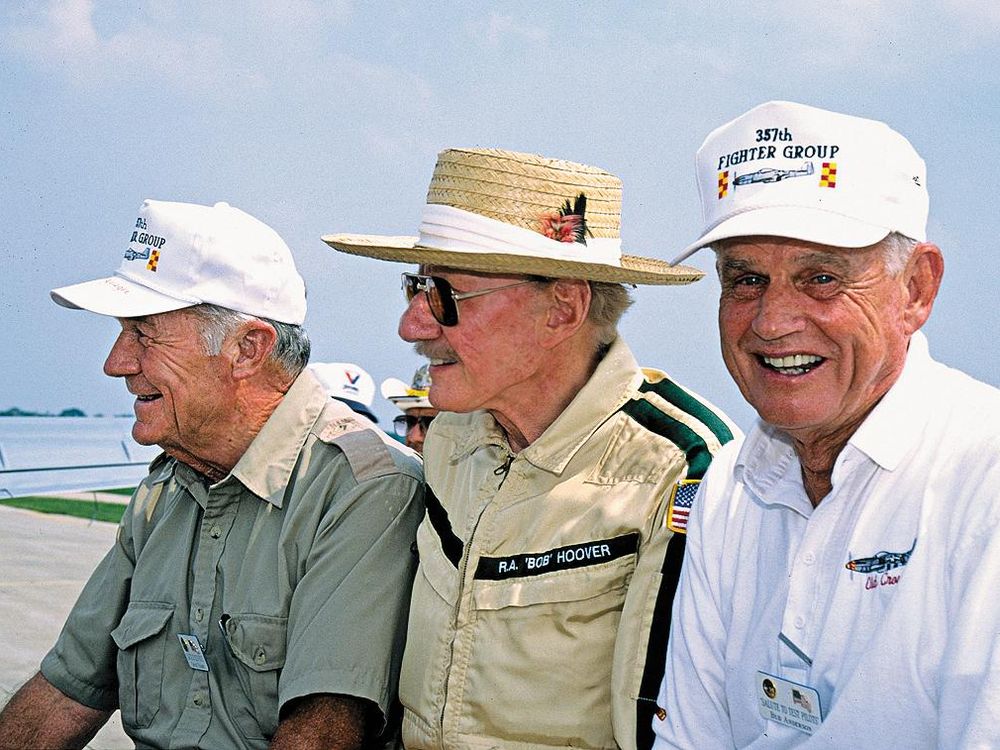 Update: Bob Hoover died on October 25, 2016 at the age of 94 near his home in Southern California. The story reflects this update.
---
THE FIRST TIME I saw Bob Hoover fly I was a new show pilot standing next to the great Curtis Pitts and hoping for words of wisdom. It was March 1972, and Pitts and I were watching the airplane he created perform at Miami's Tamiami Airport. The sky was a frenzy of tiny Pitts Specials panting through snap rolls and outside loops. It was noisy, and Pitts said nothing during the performance. Even after the airplanes landed and Hoover taxied out, Pitts was quiet—until Hoover, on takeoff, rolled the twin-engine Shrike Commander. It was as graceful and fluid as a cat stretching its back. The show tempo shifted from salsa to whipped cream. Pitts turned and grinned at me. "Have you ever seen anything so smooth?" he asked.
For the next 20 minutes, we watched North American Rockwell's big, beautiful cross-country transport flow through giant loops and vertical climbs, four-point rolls and half Cuban eights. Two engines roared, then only one, but the airplane kept dancing. When the second engine stopped, the roar became a glider's whoosh. The airplane swept past in a deadstick loop, followed by an eight-point roll, then waltzed down to the landing: LEFT two-three, RIGHT two-three, LEFT two-three—the wings banked steeply as one tire kissed the runway, skated, rolled, then lifted as the wings banked the other way, and that wheel skated, rolled…. "Now that's flying," Pitts said to me as Hoover, still without power, maneuvered up the runway and onto the taxiway, stopped precisely at show center, then climbed out in his business suit and waved his straw hat at the cheering crowd.
That Shrike and a bright yellow North American P-51 Mustang he called "Ole Yeller" were Hoover's signature showplanes, and he flew them all over the world. But they represent only two of the more than 300 types of aircraft he flew, many of those in aerobatic demonstrations. In 1938, when he was 16, he flew his first show, entertaining his family with a Piper J-3 Cub. By the end of his career, 62 years later, he had flown more shows for more people than anyone else in history.
"He was the one that everyone wanted," veteran airshow announcer Danny Clisham says. "He was able to take four distinctly different airplanes in one day and make them all dance in a different way from any other airplane."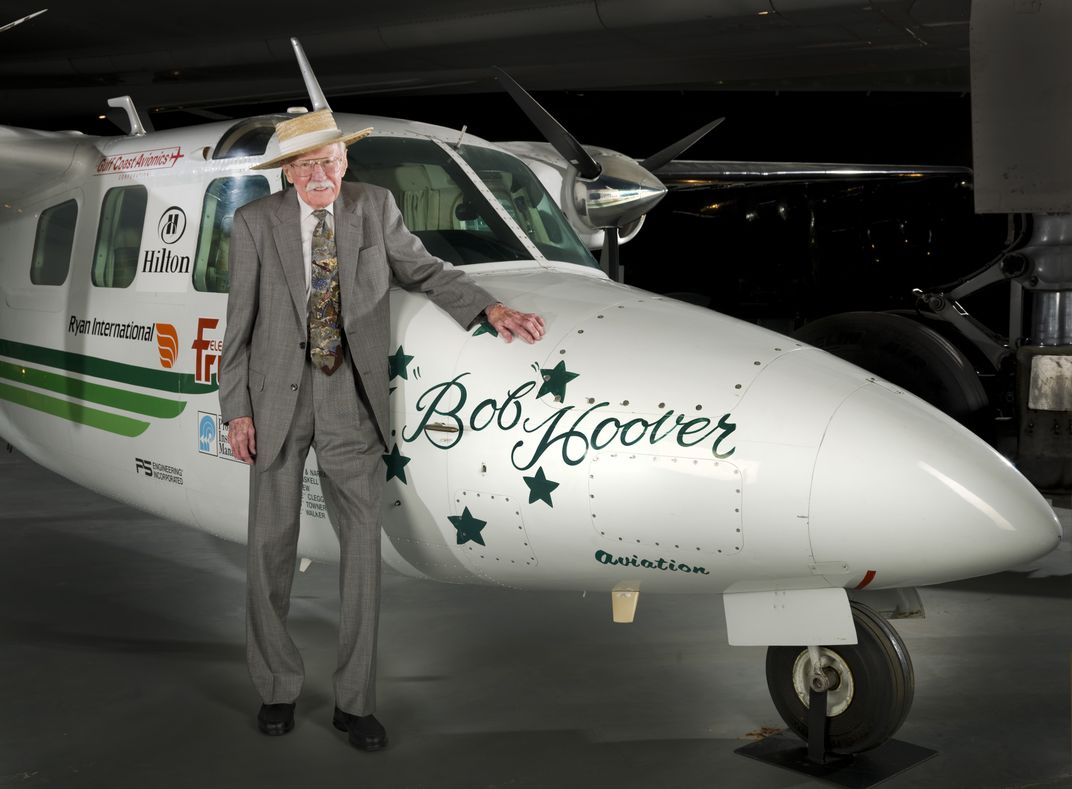 Even this past show season, he was still in demand. Through a speaker's bureau, he entertained audiences with stories revealing a skill so uncanny that it enabled him to perform low-level aerobatic demonstrations in dozens of types of airplanes the first time he flew them. Once, in Moscow, he was arrested for doing that because he upstaged the Soviet pilots in their own Yak-18s. During World War II, as a military test pilot evaluating aircraft delivered to bases in North Africa, Hoover entertained his fellow airmen by improvising an aerobatic routine in a newly arrived Lockheed P-38. Perhaps his most famous first-flight story takes place at the end of the war: After spending almost 16 months in a German prisoner-of-war camp, Hoover escaped, found a Fw 190, hopped in, and flew it to Holland.
After graduating from Army flight training in 1941, Hoover flew everything he could get his hands on. "Hell, I would fly an old Dodge truck if they put wings on the side," he wrote in his autobiography, Forever Flying. He had such confidence and curiosity that he learned things about airplanes other pilots hadn't figured out, such as why the Bell P-39 Airacobra tumbled—and how to recover when it did. In the 1950s, while he was working as an experimental test pilot for North American Aviation, he developed a dive- bombing technique for the F-86 Sabre and traveled to Korea to demonstrate the maneuver for pilots flying combat missions. He also taught them how to take off with heavy loads and from short runways. There had been several fatal crashes in the Sabrejet, and Hoover's demonstrations, by several accounts, saved many lives.
Still at North American when the company sold the Air Force the supersonic F-100, Hoover flew a demo for the U.S. Air Force Thunderbirds that convinced the team that the Super Sabre would be the perfect airplane for them.
Even with so many aircraft in his logbook, Hoover said he still regrets the one that got away: The Bell X-1S, and the 1947 flight that broke the sound barrier. He and Chuck Yeager were test pilots together at the Air Technical Service Command at Ohio's Wright Field when Yeager was chosen for the flight. Hoover was picked as his backup. He has always said that what cost him the spot was getting caught that year making two inverted passes in a Lockheed P-80 at an Ohio airport.
He and Yeager were good friends, dogfighting over Wright Field every chance they got. Yeager recalled the period in his 1985 autobiography: "In January 1946, the skies over Wright Field were finally quiet. That's because Bob Hoover and I were sitting in class at the test pilot school on base, taking a six-month course."
As a test pilot, already famous for flying, Hoover became doubly famous for surviving: Engines exploding, ejection seats failing, wings buckling, control rods burning through, and rockets firing through the nose of an F-86 he was flying—all could have been fatal. In many of the incidents, the airplanes should have crashed, but thanks to Hoover's luck and exceptional talent, he almost always got the aircraft back on the ground. In November 1950, assigned to test a new kind of F-86 control system, Hoover took off from Los Angeles, and the system immediately failed. The F-86 nose pitched straight up, and the airplane stalled and spun toward the runway. Thinking back on the incident today, Hoover says he thought to himself, "Oh boy, this is really going to hurt." The controls were stiff as concrete, but he began to work with what he could move: the rudder, throttle, speed brakes, and flaps. "I kept trying to find the sweet spot where the forces are exactly the same on the top and bottom of the horizontal stabilizer," he said.
For the next 40 minutes, he struggled to keep the airplane in that sweet spot. A number of times he almost crashed. But he was able to wrestle the F-86 inland to an 11-mile-long dry lakebed at Edwards Air Force Base in California.
In 1994, when he was 72, Hoover fought another kind of threat. Federal Air Surgeon Jon L. Jordan revoked his medical certificate, an action that suspended his solo flying privileges. Friends, fans, doctors, lawyers, and show pilots all over the world rallied to protest. Later, Jordan wrote, "Possibly in the entire history of the conduct of the airman medical certification program, no one decision has created more controversy." On October 19, 1995, the Federal Aviation Administration reinstated Hoover's medical.
In the interim, he passed the medical and flying tests for an airline transport rating in Australia and flew the Shrike Commander in shows there, but for several years "Ole Yeller" sat without him. The P-51 Mustang is famous for the torque of its 1,425-horsepower engine. When the pilot pushes the throttle forward on takeoff, or banks the airplane steeply for a knife-edge, or gives the fighter full power while its speed drops, it takes strong legs and lots of rudder to hold the nose straight. During his siege with the FAA, Hoover's leg muscles took a holiday from the 40 years they had been fighting the P-51's torque. After the hiatus, he flew "Ole Yeller" at Nevada's Reno Air Races in 1996, a year after he got his medical back. "When I landed, everybody said, 'That was the best flight you ever made,' '' Hoover recalled. "Colleen, my wife said, 'I bet you'll never sell that airplane now.' "I said, 'On the contrary. That was my last flight in the Mustang.' My knees were hurting so bad that I knew the time had come where I couldn't handle the torque. I broke both legs during an accident in my test flying career and they had gotten much worse with age, so I had been taking lots of exercise to get my knees more strength. The torque with the Mustang is really enormous, and when you're doing a knife edge, flying close to the ground, you boot the rudder even harder. It got my knees hurting so bad that when I landed, I couldn't get out of the cockpit."
Hoover sold the Mustang to John Bagley, founder of the Legacy Flight Museum in Rexburg, Idaho, who still flies it at airshows. In 2000, Hoover donated his Shrike to the National Air and Space Museum.
Hoover had flown the P-51 as the official pace plane of the National Championship Air Races from the very first race, in 1964, until 1990, and race fans loved him.
"At the Reno Air Races," says Danny Clisham, "he performed in four different airplanes, flew the pace plane, warmed up the crowd before the race, and entertained them [after the last race] when the Unlimiteds were landing. In four days, he would make 28 different flights."
That stamina had been Hoover's trademark from the beginning. His boyhood dream was to be a fighter pilot, but when he paid $2 for his first 15-minute lesson, he discovered something horrible: Flying made him airsick. For almost a year, every flight nauseated him. When he finally got to fly solo, he chose an unusual course and it has defined his life. He decided to loop, roll, and spin the Piper Cub until his stomach was conditioned. It worked. By the time he got to Army Air Corps training, he was the best aerobatic pilot anyone had seen, and it set the course for his one-of-kind flying career.