Why There Will Never Be Another Flying Pancake
The end of the Vought V-173.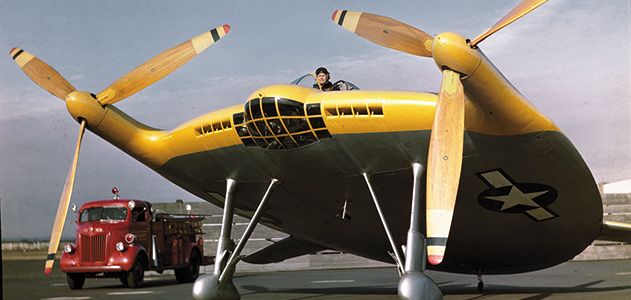 The two propeller shaft fairings emerging on either side of the round fuselage give the Vought V-173 a creepy sea-creature look. You wonder if designer Charles H. Zimmerman, an aerodynamicist at the National Advisory Committee for Aeronautics, had studied manta rays before attempting to design an airplane that could take off almost vertically from a Navy ship.
In the 1940s, the Navy was looking for a fighter that could be deployed from tankers, cruisers, and other ships to counter Japanese kamikaze and submarine attacks. The strange, flat, round vehicle Zimmerman offered got the inevitable nickname Flying Pancake.
With massive 16.5-foot-diameter wooden propellers driven by two 80-horsepower Continental A-80 air-cooled engines, the V-173 first flew on November 23, 1942, as part of a Navy program to test the lifting capability of short, stubby wings. The propellers were so large that the aircraft rested at a 22-degree-upward angle, forcing the pilot to look through the windows at his feet when taking off or landing.
One of the benefits of Zimmerman's design was that the entire aircraft generated lift. "In this case, the V-173 really is a flying wing," says Al Bowers, associate director of research at NASA's Dryden Flight Research Center in Edwards, California. "By having the propellers so very large and spinning at not-inconsiderable velocities as well, you wind up with very large gyroscopic forces. So it starts to actually behave a bit more like a helicopter, or in a modern sort of parlance, a V-22 Osprey. V-22 guys would totally relate to the way this particular aircraft operates."
Zimmerman's design could achieve a zero-roll takeoff with a 25-knot headwind, according to National Air and Space Museum curator Russel Lee; in essence, it could levitate off the ground or the deck of a ship. The aircraft's performance was due in part to the giant, counter-rotating propellers, says Bowers. "When you start blowing that amount of air with that amount of power over a fairly large wing area, you can generate a fair amount of powered lift and end up with very, very short takeoff and landing rolls...which of course the Navy would love to see."
The National Air and Space Museum acquired the V-173 from the Navy in 1960 and placed it in its restoration and storage facility. Tipped off by aerospace historian Jay Miller, who photographed the V-173 at the facility in 1970, a Vought executive toured the site in 2002 and saw the aircraft waiting its turn for restoration. He launched discussions that led to the V-173 being shipped in late 2003 to Vought's Grand Prairie facility near Dallas, where members of the Vought Aircraft Heritage Foundation began restoring it.
Built largely of wood, the V-173 was covered with cotton fabric that needed replacing. Like the original, the new cover the restorers gave it was sewn to fabric-covered ribs. Dick Guthrie, a 42-year veteran of Vought, was heading the restoration project at its completion. "We calculated about 81,000 hand stitches to do the whole airplane," he says. A tedious job that required curved needles, the work "drew a few pricks on your finger as you went. One fellow said he left his DNA all over the airplane."
Despite the aircraft's unique design, its restoration was fairly straightforward, Guthrie says, although reconnecting the control mechanisms for the flaps was difficult. "It was just in a very tight place. The process of connecting those things required an arm with two or three elbows."
In March 2012, the restored aircraft was transferred by flatbed truck to the Frontiers of Flight Museum at nearby Love Field, where it will be displayed for 10 years. "People see this airplane and they're flabbergasted," says Guthrie. "It's just one unique airplane."
The Pancake made more than 190 flights and accumulated 131 hours of flight time (with Charles Lindbergh taking it for at least one flight). The Navy saw enough promise that it ordered two XF5U-1s, enlarged all-metal versions with 1,350-horsepower Pratt & Whitney R-2000 radial engines and retractable landing gear. The first of the XF5U-1s had begun taxi tests when the Navy canceled the program in 1947. The V-173 was placed in storage in Norfolk, Virginia, and the Navy ordered the surviving XF5U-1s destroyed sometime after January 1949.
The Pancake was killed by the jet engine. "It was always going to be slower than a jet, and the jet was just then coming into practical use," says Lee. "The Navy could see that that was where development was going to go, as fast as the manufacturers and designers could make it happen."
Lee believes the Pancake's downfall was in part due to its peculiar design. While it "may be able to do one or two things really well, anybody who is going to design something for production or widespread use has to consider how practical it is overall," he says. "Having those motors buried in the fuselage center section complicates getting to them to work on them. The practical aspect has to be considered when you ask, 'Why isn't that configuration used more?' "
NASA's Al Bowers is more positive. "I think Zimmerman had something very specific in mind, and I'm sure he got laughed at. But I think he probably was onto something. And he probably found to a great extent what he was looking for. It's actually a concept that deserves a little more study and research."
Zimmerman, apparently, was unfazed by the program's demise. He went on to win the Wright Brothers Medal from the Society of Automotive Engineers in 1956 for his design work on vertical-takeoff-and-landing aircraft.