Navy F-35 Makes Its First Carrier Landing, With an Audience
New military airplanes don't come along as often as they used to.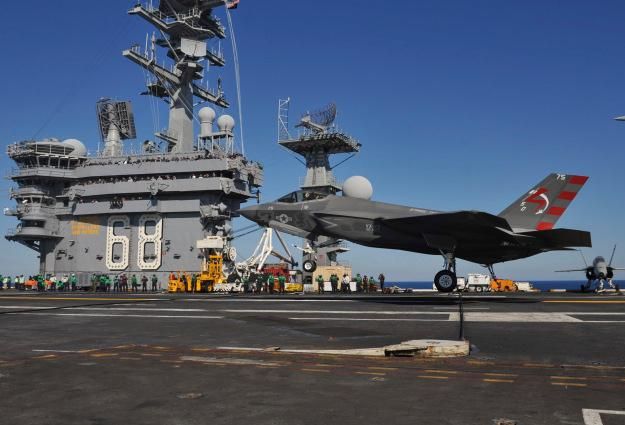 Yesterday the F-35C—the Navy variant of the Joint Strike Fighter— made its first arrested landings on an aircraft carrier off the southern California coast, an event well attended by, and partly staged for, the media.
Gone are the days when the Navy could replace its aircraft every ten years with new designs, and gone, too, are the days when engineers wondering about an unknown flight characteristic could say, Let's just try it and see what happens. Nobody wants to risk a crash in front of the media. So, with the Navy already having done extensive testing, redesigns and re- testing of the F-35, Monday's landings were more about running victory laps than about running experiments. 
The F-35 is unquestionably the most important U.S. military aircraft program today, and is on track to be the most expensive ever, by far. It is intended to replace virtually every tactical combat aircraft in the inventory, from F-16s and F/A-18s to AV-8Bs and A-10s.  The program deserves the attention it gets, but the trillion-dollar-plus price tag has generated a significant amount of sticker shock as well.
The Marine Corps' F-35B, a more complex vertical-takeoff-and-landing (VTOL) aircraft, made its carrier debut months ago (albeit sans tailhook). The Marine version is expected to be declared fit for combat sometime next year, even though its capabilities will initially be reduced for lack of the necessary software. The Navy's version won't be ready for another four years, but should be fully ready to rumble when it enters service.
Monday's  milestone came 35 years, almost to the day, after the F/A-18A made its first carrier landing, according to the Navy Times. A handful of those airplanes are still flying for the U.S. and other nations.
In fact, few expected the aircraft currently in service to fly as long as they have. The F-35 will replace remaining F/A-18As and most of the successor F/A-18C/Ds, which are flying in huge numbers even as E/F models keep rolling off the production line (though probably not for much longer). That's nothing compared to the ancient B-52s, KC-135s and C-130s—aircraft old enough to have been flown by three or four generations of crewmembers. Although KC-135s and C-130Hs have nominal replacements on the way (with the KC-46 and C-130J, respectively), the pace of change is slow, and is getting slower, thanks to life extension programs, rebuilds and modifications.
So the Navy can be excused a little bit of rodeo showmanship. After all, our grandchildren might be riding the same horse.