John Glenn: A Life in Photos
The passing of an American hero.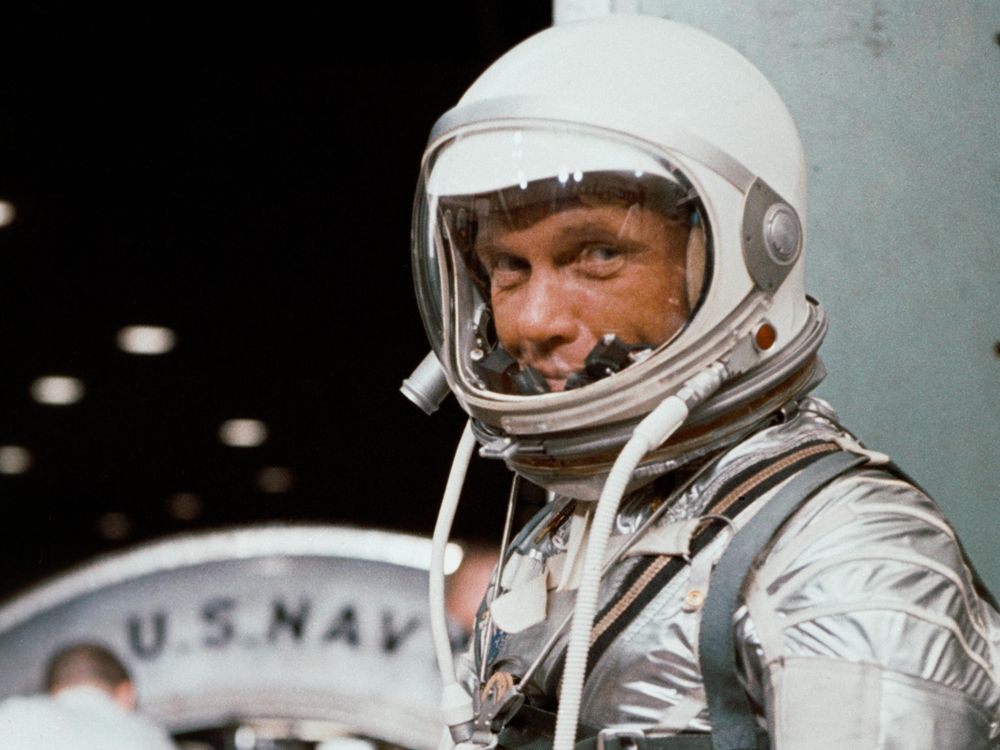 With a single, five-hour space mission in 1962, John Glenn, who died on December 8 at the age of 95 in his native Ohio, became an instant American hero, of a kind the nation hadn't known since Charles Lindbergh, and may never know again.
The first American in space, Alan Shepard, never reached the same iconic status. Maybe it was because Glenn's flight finally caught NASA up to the Russians (he orbited Earth three times, as opposed to Shepard's brief, up-and-down test of the Mercury capsule). Maybe it was Glenn's looks, or his easy charm with the press (Apollo 11 astronaut Mike Collins called him "the best PR man in the bunch.") Either way, for many Americans, Glenn was the astronaut, the one who did the most to create the stereotype of cool competence that sticks with NASA flyers even today.
With Glenn, it wasn't an act. For the most part, he was the person you saw—just as eager, just as optimistic, just as patriotic. He fought in two wars, worked very briefly for NASA, dabbled in business (at one time he was president of Royal Crown Cola), then started a long political career that included a run for President in 1984. And toward the end of his life, he made an improbable second flight in space, returning to the arena for which he was most famous.
See the slideshow below for a quick photographic survey of Glenn's life. You'll find much more detail in our 2014 e-book, John Glenn: America's Astronaut, by space historian Andrew Chaikin. Information about memorial services for Senator Glenn will be posted here and other sites.
Ohio Boy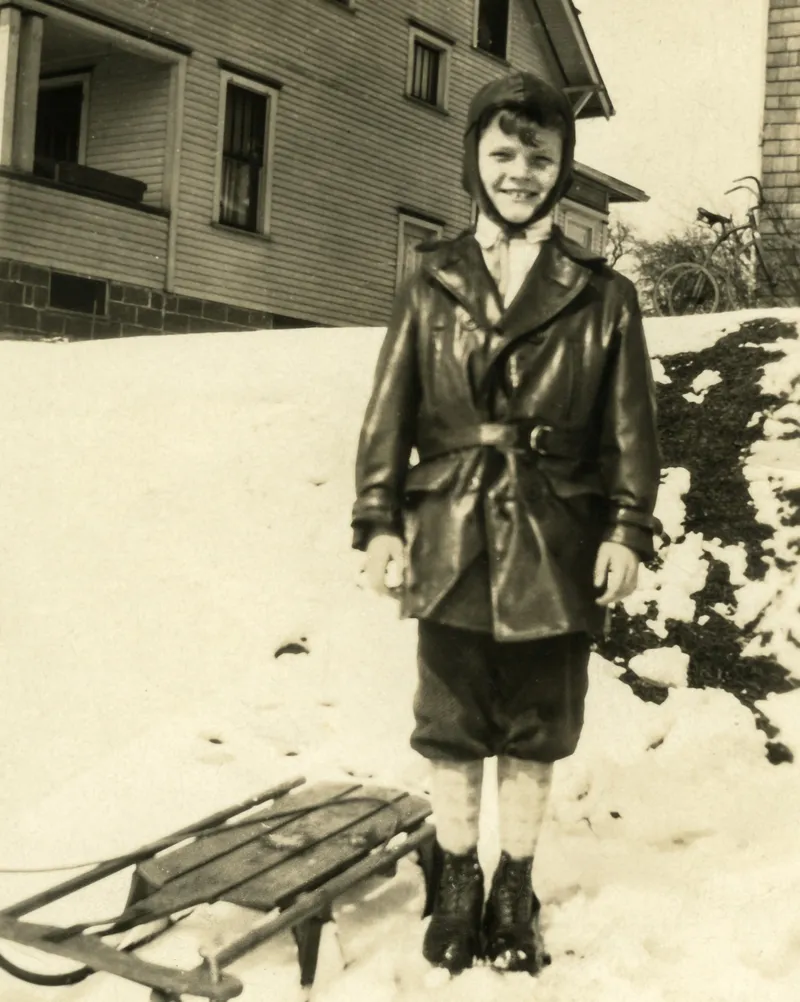 Glenn's boyhood in what he described as the "small college town" of New Concord, Ohio, was straight out of a Norman Rockwell painting. Although he wrote (in the 1962 book We Seven) "I did not think much about space as I was growing up," he was smitten with airplanes, and started taking flying lessons while still a teenager. "I was sold on flying as soon as I had a taste of it," he wrote.
Annie and John
Glenn married his childhood sweetheart Annie Castor (shown here in 1938) right after he joined the Marines in 1943 and shipped off to the Pacific, where he flew F4U Corsairs.
World War II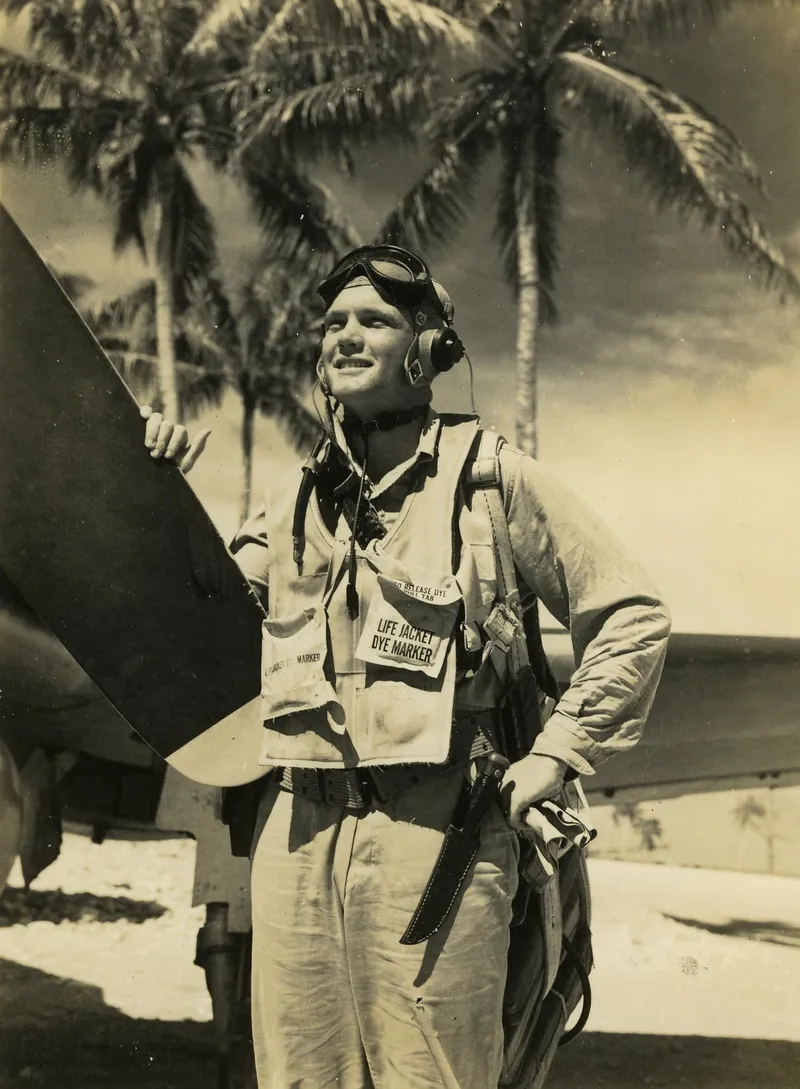 Glenn in the Marshall Islands with Marine Corps squadron VMO-155, in 1944. He flew 59 combat missions during World War II.
Korean War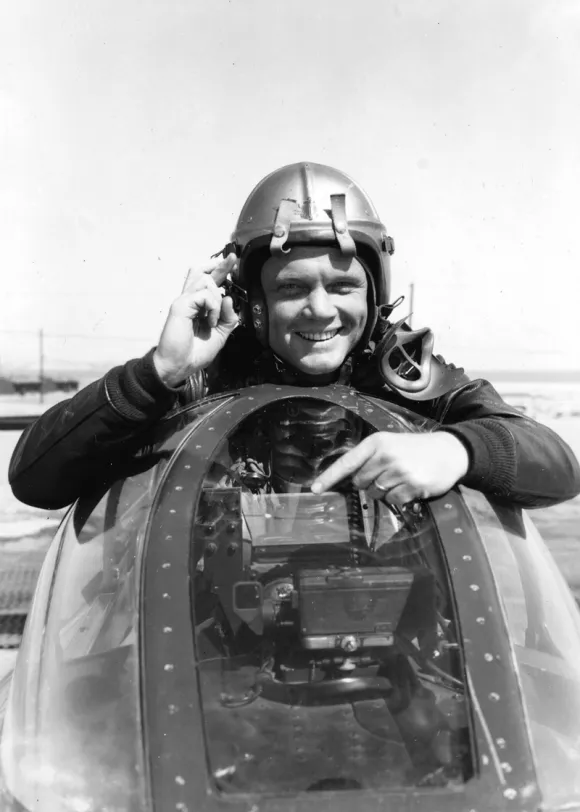 In Korea, Glenn earned the nickname "The MiG Mad Marine" for his eagerness to shoot down Soviet jets. Here he points to a bullet hole in the canopy of his F9F Panther in 1953.
Test Pilot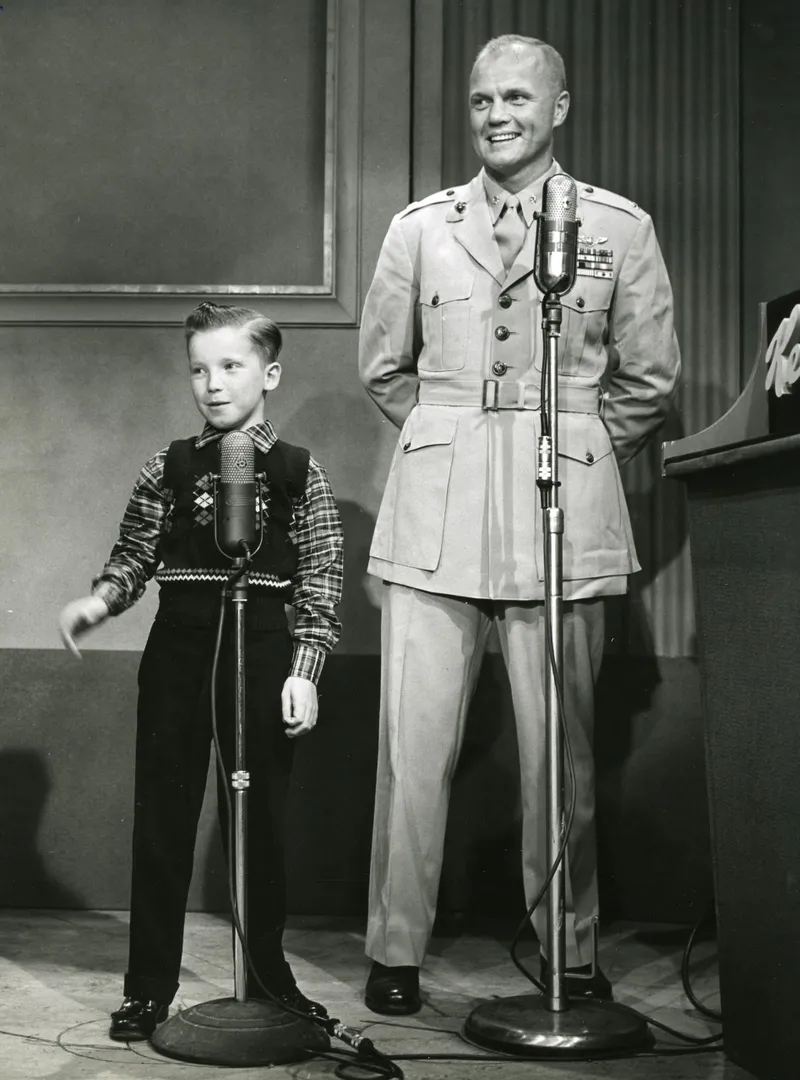 After Korea, Glenn went to Patuxent River, Maryland, home of the Navy's test pilot school. In July 1957, the 25-year-old Marine set a cross-country speed record in an F8U Crusader. Dubbed "Project Bullet," the flight won Glenn national fame and the Distinguished Flying Cross, and landed him an appearance on the TV show Name That Tune on October 8, 1957.
Mercury Astronaut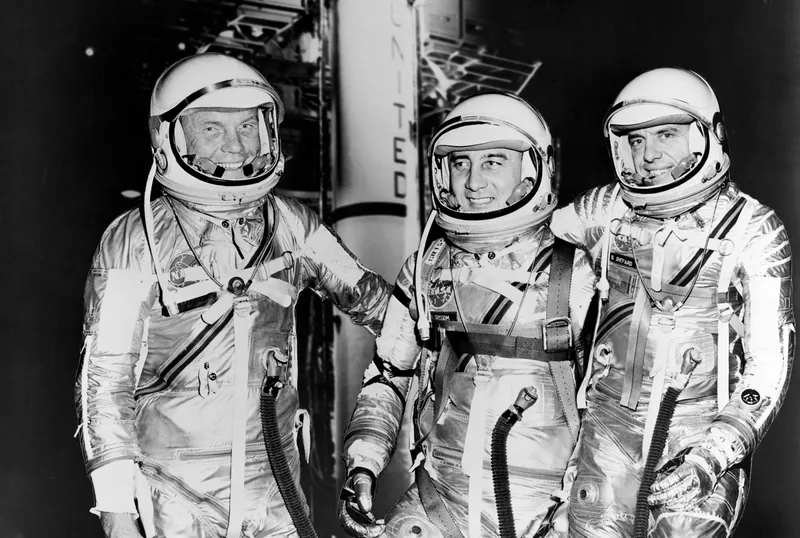 In 1959 Glenn joined six other top test pilots to become NASA's first astronauts, assigned to fly the single-seat Mercury capsule. Competition among the Mercury 7 was fierce, and the first assignments (which weren't revealed to the public) in January 1961 were a disappointment to Glenn: Alan Shepard (right) would make the first suborbital flight, and Gus Grissom (center) would make the second. Glenn would be their backup.
First American in Orbit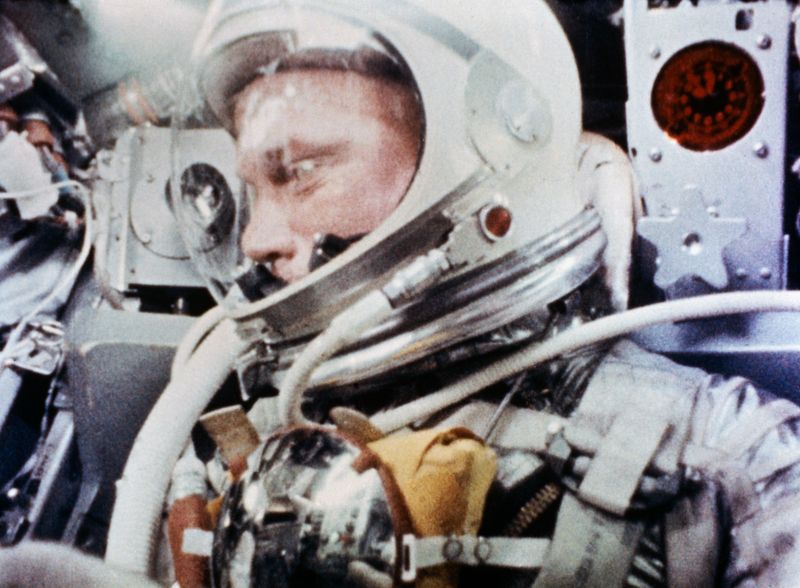 The real prize, though, turned out to be the first orbital flight, Mercury-Atlas 6, in February 1962. Despite some suspenseful moments during re-entry, when Mission Control worried that Glenn's heat shield might not stay attached, the flight proved that an astronaut could work for prolonged periods in weightlessness. The astronaut radioed to the ground (listen to audio of his mission here) "It just feels very normal, and very good."
Sunrise in Space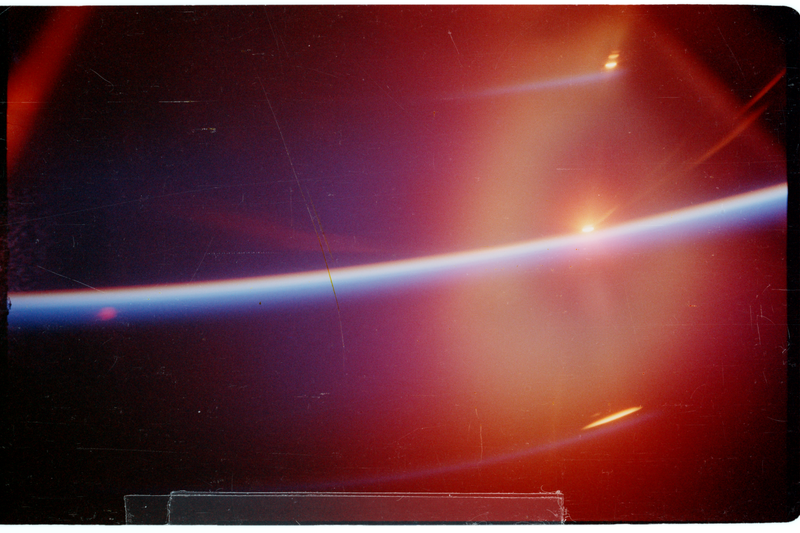 As the first American to orbit Earth, Glenn was the first to see multiple sunrises during his flight—which he photographed with a camera he had bought himself at a drug store just before the flight.
Politics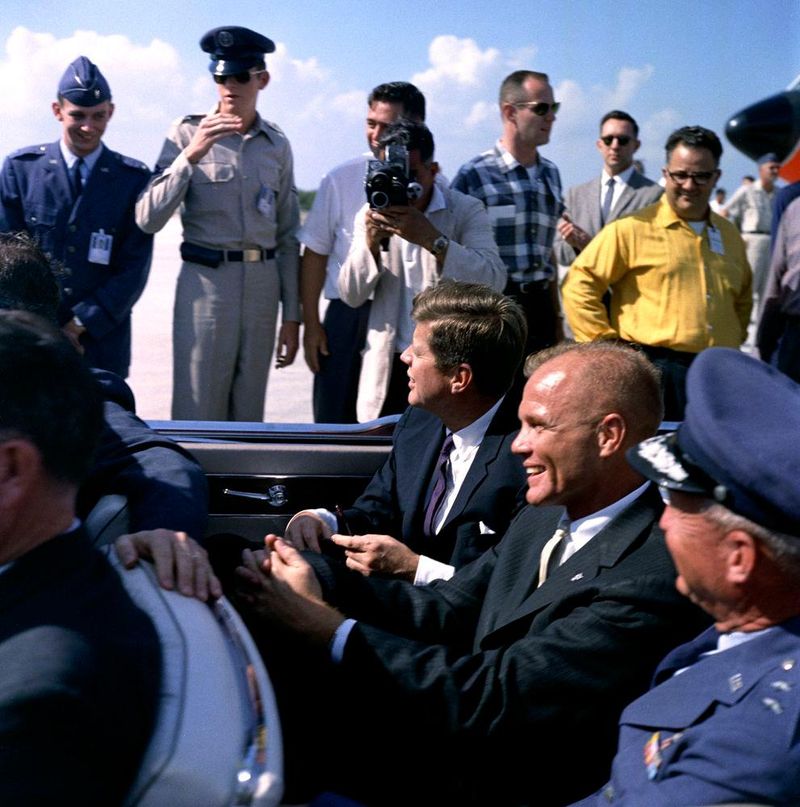 After his Mercury flight, Glenn (shown here with John F. Kennedy during a trip to Cape Canaveral to present the astronaut with the NASA Distinguished Service Medal) became close to both the President and his brother Robert. It was more than just Glenn's celebrity that drew the Kennedys. Both were genuinely interested in his spaceflight. Robert later became instrumental in getting Glenn into politics, and the two remained friends. Glenn was with the Senator when he was assassinated during his 1968 presidential run, and it was Glenn who told Robert Kennedy's children that their father had died.
Presidential Candidate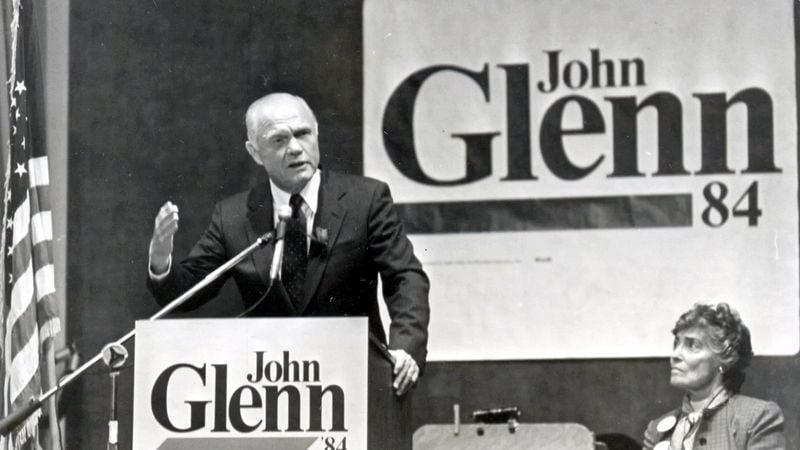 Glenn's fame as an astronaut helped him win a U.S. Senate seat representing Ohio, but did not translate into huge popularity as a presidential candidate in 1984. He lost the Democratic nomination to Walter Mondale. Early in the race, though, Republicans were worried that a bona fide hero like Glenn could pose a real threat to Ronald Reagan—according to political commentator Mark Shields.
Return to Space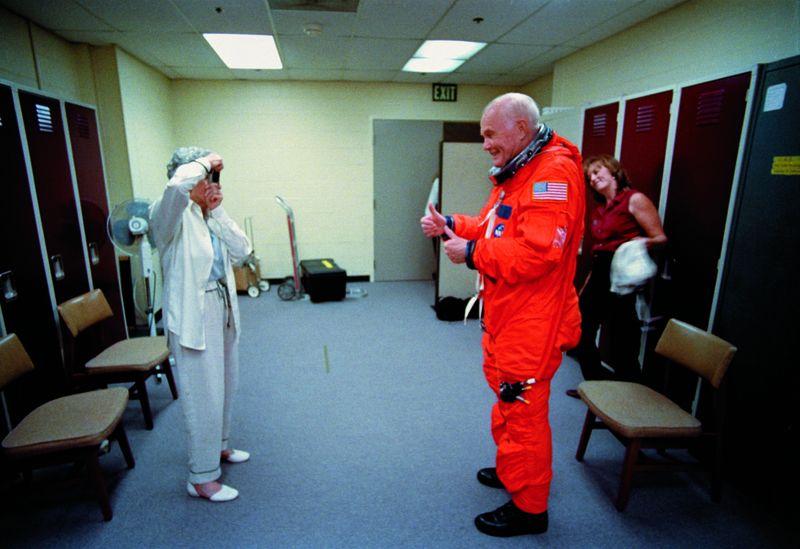 In the mid-1990s, Glenn lobbied NASA to allow him to fly on the space shuttle, on the grounds that he could serve as a subject to test the effects of weightlessness on an older astronaut. Even if the rationale was somewhat manufactured, Glenn's flight on STS-95 in 1998 was a hit with the public. Here Glenn's wife Annie takes a picture of her husband dressed for space.
The Oldest Astronaut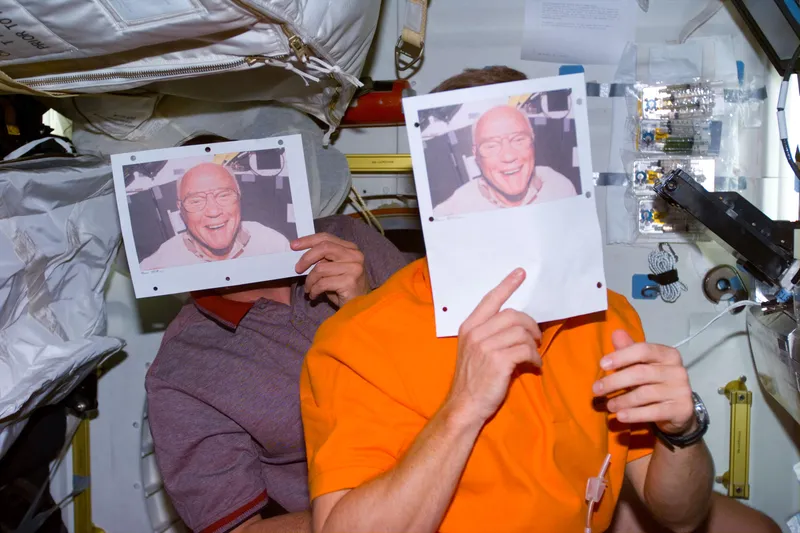 Not only did the much younger astronauts on STS-95 not mind Glenn taking a seat that might have gone to one of their colleagues instead, they loved the chance to fly with a childhood hero. Here mission commander Curt Brown and Steve Lindsey "dress up" as their favorite astronaut onboard Discovery, Halloween, 1998.
Retired Hero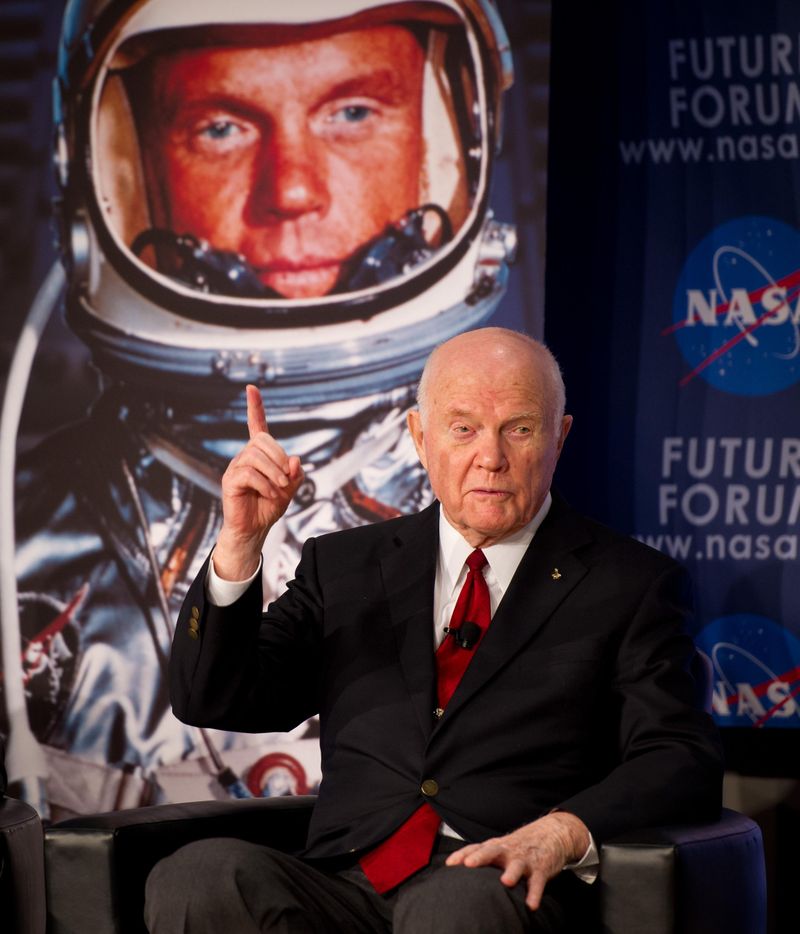 In his later years, Glenn was a popular speaker as well as a steadfast champion of space exploration. He remained as modest as he was at the time of his first orbital flight in 1962, when he wrote: "There is nothing superhuman about being an astronaut…. Space flight, like any other kind of flying, is simply the product of normal human skill and technical proficiency."