India Tests Prototype Astronaut Capsule
Another milestone on the path to human spaceflight.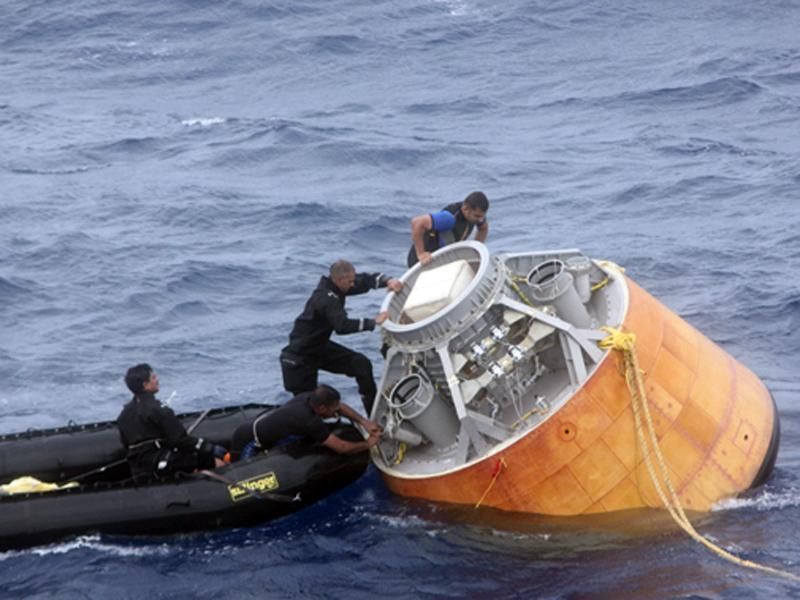 It's been a good year for India's space program.
Having safely placed the nation's first planetary spacecraft in Mars orbit last September, the Indian Space Research Organization (ISRO) yesterday tested the prototype of a new astronaut capsule—on a rocket large enough to someday carry humans into orbit.
The new GSLV Mark-III launcher lifted off from the Satish Dhawan Space Centre near Chennai (formerly Madras) for a short suborbital hop over the Bay of Bengal, with the CARE crew module as the payload. One purpose of this unmanned test, aside from testing the new rocket's performance in the atmosphere, was to prove out the crew module hardware and re-entry technology, including its parachute system. The test reportedly was a success, and the capsule splashed down and was recovered from the water by an Indian Coast Guard team as planned. (See more photos here.)
Strictly speaking, this wasn't the full Mk-III version of India's GSLV rocket. In years past, ISRO relied on Russian-designed liquid-fueled upper stages for its launchers, and has had some difficulty developing a liquid stage of its own. Last January the first homebuilt cryogenic stage made its debut, but the more powerful upper stage planned for the Mk-III version is not quite ready. So yesterday's test had a dummy payload in its place. India is hoping that the new Mk-III version will compete for international satellite launches that now go to rockets such as the Ariane and Falcon.
When it comes online, the Mk-III will be able to carry some 5,000 kilograms to a high geosynchronous orbit. It also is slated to carry the first Indian astronaut crew, whenever that happens. ISRO officials have given conflicting statements as to the timing of such a flight, which has not yet received government funding. Last month, in an interview with NDTV television, ISRO chairman K. Radhakrishnan estimated it would be seven to eight years before the technology is ready to send Indian astronauts into space.
Here's an excerpt with Radhakrishnan's discussion of human spaceflight; the entire interview is worth watching for an update on the Indian space program.
NASA has had two astronauts of Indian heritage, Kalpana Chawla (who was born in India) and Sunita Williams. But in more than 50 years of spaceflight, only one Indian citizen has reached space—Rakesh Sharma, on a Russian Soyuz spacecraft in 1984.
Here's an interview with Sharma from last year: