The Airport Terminal So Beautiful It's Reopening as a Hotel
Eero Saarinen's birdlike TWA terminal brought aesthetics to air travel.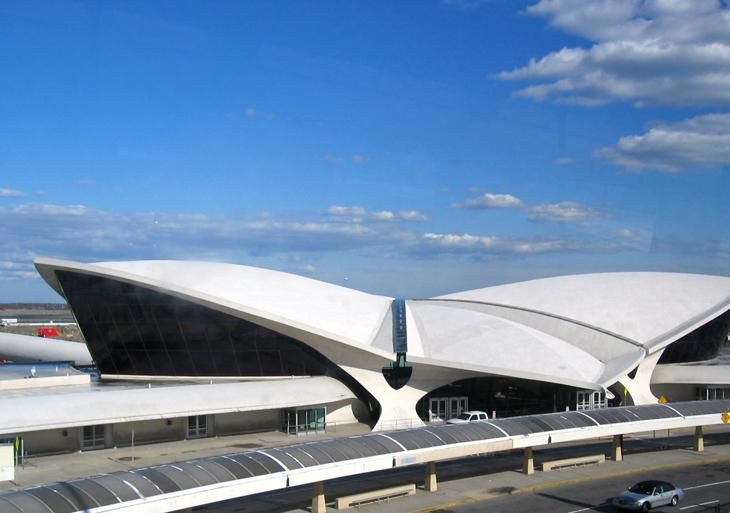 When structural engineer Abba Tor first saw mockups of the TWA Airport Terminal in architect Eero Saarinen's office, he didn't know what he was looking at. "I felt like a veterinarian who tries to define a unique animal," he told author Kornel Ringli in 2008. "Is it more like a horse, or maybe a camel?" The quote comes from Ringli's 2015 book Designing TWA, which tells the story of the building from its early planning through its closure. (Tor died on February 11 in New York at the age of 93.)
The terminal roof was originally meant to be one piece, uninterrupted by any joints. ("At that stage," said Tor, "it was nicknamed 'the flying brassiere.' ") Because the cement for the roof couldn't be poured as a single expanse, the workaround resulted in one of the terminal's loveliest aspects: a series of skylights along the four vaults. When the architects designed the buttresses, they first came up "with these eight vertical stilts," said Tor. "It looked more like a cockroach. It didn't express the idea of flight." The vertical supports were changed to four sloping buttresses, which became an essential part of the iconic design.
Before beginning his commission, Saarinen sent employees "equipped with notebooks and stopwatches" to newly opened airports, looking at improvements. As one critic said in Architectural Forum, "In the air the consumer may be treated like a king. But on the ground he still has to fight his way through a chamber of horrors." In hopes of softening the chamber-of-horror aspect, the team suggested that the terminal have divided concourses, so that incoming and outgoing passengers would be separated, and recommended that baggage be placed on conveyor belts rather than dropping down chutes. The finished terminal was one of the first with enclosed passenger jetways, a central public address system, and baggage carousels.    
The terminal ceased operations in 2001, after TWA went bankrupt and merged with American Airlines; New York's Port Authority declared it inadequate for contemporary aviation operations the same year. The building, reported Condé Nast Traveler in late 2016, is slated to re-open in fall 2018 as a high-end hotel featuring more than 500 rooms; at least six bars and restaurants; 40,000 square feet of meeting and event spaces; and a 10,000-square-foot public observation deck.