Bob Smyth, Grumman Test Pilot (1927-2012)
He flew the first flight of the F-14A Tomcat in 1970, but made bigger headlines when he had to eject from the aircraft just nine days later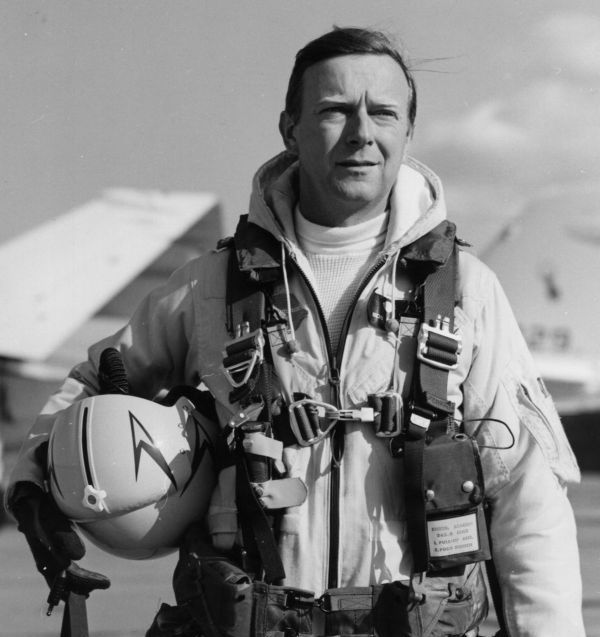 Robert K. Smyth learned to fly in the U.S. Navy, where he flew fighter aircraft from the F8F Bearcat to McDonnell F2H Banshees, one of the first carrier-borne jets. In 1952, he successfully completed the Navy's Test Pilot School and eventually left the service in 1955.
He soon joined Grumman Aircraft Engineering Corpopration as an engineering test pilot, flying the F9F Cougar, F11F Tiger and A-6A Intruder. He also contributed to the certification of the Gulfstream I, a pioneering twin-turboprop business aircraft that led to the Gulfstream II, which became the first of a long line of twin-jet Gulfstream aircraft.
Smyth was instrumental in the development of the Apollo Lunar Module during the 1960s, and in 1967 he was appointed Grumman's chief test pilot. He and Bill Miller crewed the first flight of the F-14A Tomcat in 1970, but made bigger headlines when he and Miller had to eject from the aircraft just nine days later. (Smyth spoke about his career at the National Air and Space Museum in 2007. You can watch an archived video here.)
He left Grumman to join Gulfstream Aerospace, which was no longer part of Grumman, in 1981 and set numerous records as vice president of flight operations. He retired in 1993 and moved to Florida, where he died on Tuesday at his home at the Leeward Air Ranch in Ocala. He is survived by his wife, Sally, who requests that friends remember her husband by contributing to the Hospice of Marion County.