B-25s Fly a Raid on Tokyo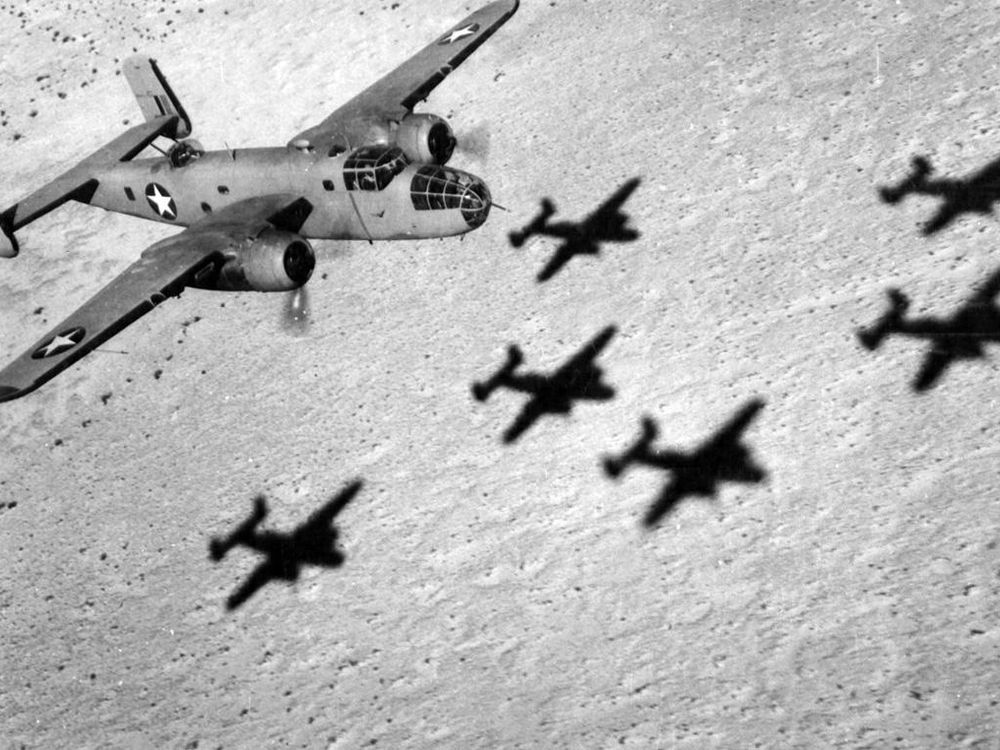 Serving in every theater of World War II, the North American B-25 Mitchell gave an important boost to the spirit of Americans at home in the dark days of early 1942. In April, after a series of stinging setbacks in the Pacific—the surrender of Wake Island, defeat in the battle of the Java Sea, withdrawal from the Philippines—Lieutenant Colonel Jimmy Doolittle led 16 B-25s off the USS Hornet on a bombing raid to Tokyo and four other cities. The raid was American improvisation at its finest—the B-25 wasn't designed to fly from an aircraft carrier—and so panicked the enemy that the Japanese military became obsessed with the carrier threat. The obsession could have led strategists to the mistake of the Midway attack.
The B-25's hallmark was versatility. It provided close air support, strafed Japanese tanks, destroyed bridges in Burma, transported troops, and attacked ships. In Europe, the Mitchell operated as a medium bomber, a class that First Lieutenant Robert L. Cunningham explained in the February 1944 issue of Popular Science: "In a heavy bomber, you fly far above the noise of battle, paste your target, and fight your way home. In the mediums, you are part of the battle itself, often roaring in 'on the deck,' pulling up sharply, and letting go with everything you have, within direct range of all antiaircraft weapons on the ground." The Navy and Marine Corps variant—the PBJ-1 patrol bomber—had a search radar. Many flew strikes during the Iwo Jima invasion.
Not as dazzling a performer as the Vought F4U Corsair or as fast as a Northrop P-61 night fighter, it was still a favorite of Marine aviators. In the 2014 book Untold Valor, aviator Bob Jardes said, "Pilots tend to categorize their birds as women, using such terminology as 'sweet' [and] 'sleek.' I can only characterize [the PBJ] as a 'mother-in-law'—dumpy, dependable, and loud."
Back to A History of WW2 in 25 Airplanes
Next: P-39s of the Cactus Air Force
Last: P-40 Warhawks and Flying Tigers