All the Way to Berlin with Mustangs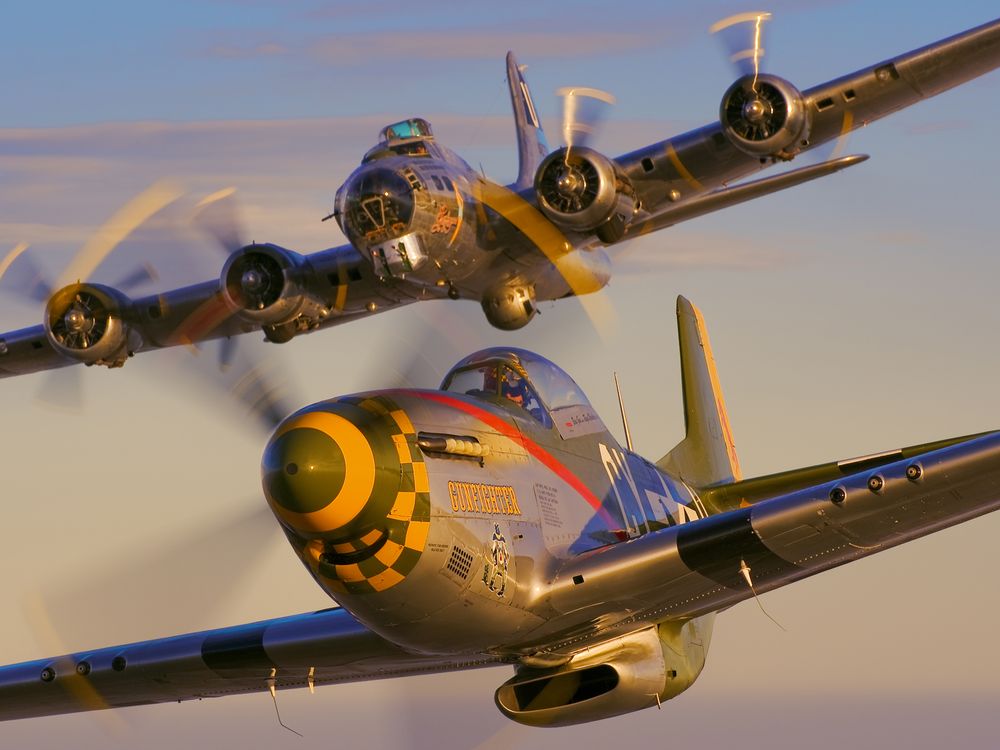 The Supermarine Spitfire could bob and weave, but North American Aviation's P-51 Mustang was the fighter that could go the distance—and it did, escorting B-17s and B-24s on bombing missions deep inside Germany. When outfitted with external fuel tanks, the Mustang could fly more than 2,000 miles without a refill, but with a top speed of 437 mph, it was more akin to a racehorse than a camel. Four Browning .50- caliber machine guns (increased to six in the P-51Ds) made the Mustang a prodigious dogfighter, though pilots rarely passed up the opportunity to strafe Luftwaffe airfields on their way home from escort missions.
In 1942, a British-initiated upgrade endowed the Mustang with the Rolls-Royce Merlin engine (built Stateside by Packard); its two-stage supercharger gave the P-51 power up high, where the bombers flew, and made it 50 mph faster.
In August and October 1943, the Eighth Air Force lost so many B-17s during raids that the Allies temporarily suspended long-range bombing. In 1944, newly arrived P-51s gave the Eighth the confidence to again strike deep. After General Jimmy Doolittle ordered fighter squadrons to hunt the enemy interceptors instead of flying close formations with bombers they escorted, P-51 victories rose.
Mustangs were the mounts of the 332nd Fighter Group, the first African American fighter unit, which flew escort missions in Italy during 1944. Commanded by West Point graduate Benjamin O. Davis, the Red Tails—a nickname based on the identification paint on their airplanes—shot down 111 enemy aircraft.
By D-Day—June 6, 1944—the Combined Bomber Offensive from England and Italy had broken the Luftwaffe. Barely able to replace lost aircraft, having to ration fuel, and only marginally able to train replacements for the pilots lost each month, its leaders transferred pilots from the Eastern Front, with little consequence. "I don't remember anyone who came to us from the East who survived," recalled fighter commander Kurt Buehligen to historian Christian Sturm in 1985, adding "these fellows simply had no real comprehension of what we were faced with in the air."
Back to A History of WW2 in 25 Airplanes
Next: B-17s and a Big Week of Bombing
Last: Mission to Ploesti: B-24 Liberators