Animals Aloft
Aviation can sometimes be downright inhuman.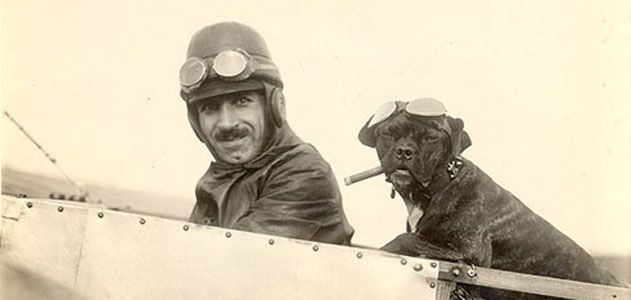 The National Air and Space Museum's Archives Division has more than 1.75 million photographs in its collections, a surprising number of which show animals, notes museum specialist Allan Janus in the introduction to his 2005 book Animals Aloft. Some of the animals were mascots and pets, a few were "passengers" or cargo, and still others served as test subjects. "Although men and women may have always dreamed of taking to the sky," writes Janus, "the photographic evidence suggests that we've also liked having our favorite companions and helpers nearby."

Consider, for example, "Monoplane" (pictured above), who took to the skies in July 1912 with his owner, Shakir S. "Dude" Jerwan, a pilot with the Moisant Aviation School in Mineola, Long Island. "Ah, for the good old days when you could light up on the plane and enjoy a smoke with the wind whistling through your fur," writes Janus.

Click on the gallery below for more images from the National Air and Space Museum's collections.
Kiddo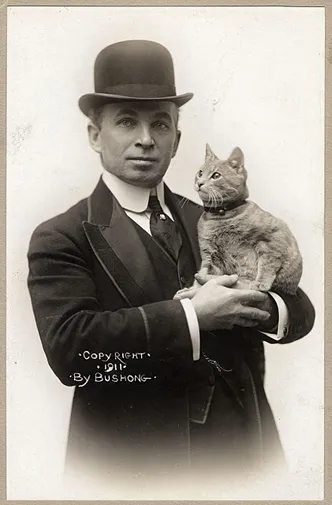 The first cat to cross the Atlantic by air was the diminutive Kiddo, shown here with Melvin Vaniman, chief engineer of the airship America, which took off from Atlantic City, New Jersey on October 15, 1910. "Initially," says Janus, "[Kiddo] didn't enjoy the experience, howling piteously and upsetting the airship's chief engineer. The America was the first aircraft to carry radio equipment, and Vaniman ordered a wireless message sent to [owner Walter] Wellman's secretary back on shore—so the historic first radio communication from an aircraft in flight reads: Roy, come and get this goddamn cat." Kiddo soon adapted, however, and spent a semi-content 71 and a half hours in flight. After his experience, Kiddo was briefly displayed in Gimbel's department store on plush cushions, before completely retiring from aviation to live with Wellman's daughter.
Chicks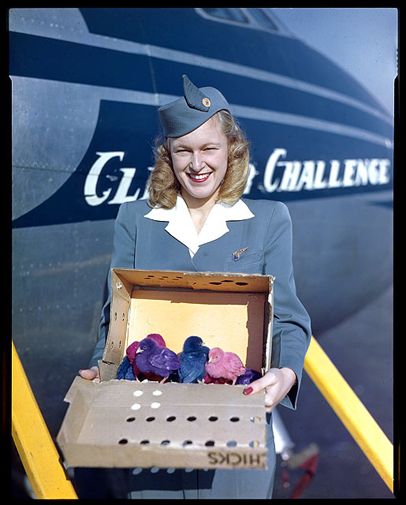 "Rudy Arnold began to specialize in aviation photography while working on the New York Graphic newspaper," according to Janus. "In 1928, he began his own business, working out of New York City airports. Arnold's photographs appeared in both aviation and mass circulation magazines, and in the house publications of the major aircraft manufacturers. Arnold captured an exciting period of aviation history in his pictures, but it wasn't exactly easy work, as he later explained: 'All through the early days of flying, I worked as an aerial news photographer, and today I've got the gray hair, scars, and shaky nerves to prove it.'" In this, one of Arnold's more sedate pictures, a Pan American Airways stewardess holds a box of brightly dyed Easter chicks.
Fowler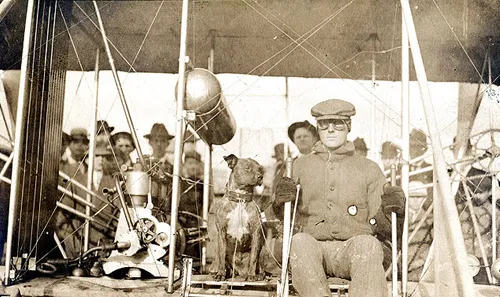 Robert G. Fowler attempted the first U.S. transcontinental flight in 1911, reports Janus, but was beaten by Cal Rogers in his Wright EX Vin Fiz. In this photograph, Fowler's unnamed canine passenger is securely restrained prior to a brief hop in a Wright Model B. Fowler later made an ocean-to-ocean flight across the Isthmus of Panama in a Gage Tractor Biplane, which he donated to the Smithsonian in 1950.
Cows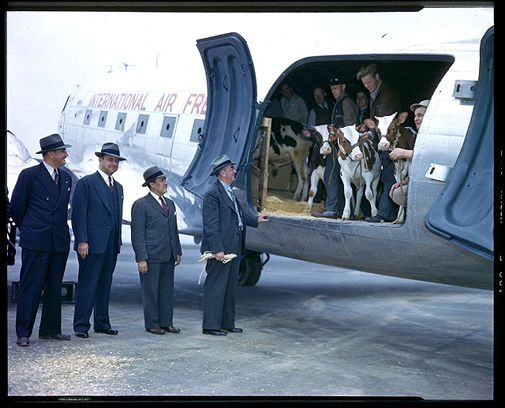 This Rudy Arnold photograph from 1946 shows a group of New York executives bidding bon voyage to a herd of Guernsey calves headed to Colombia aboard an International Air Freight Douglas DC-3A.
Woodchuck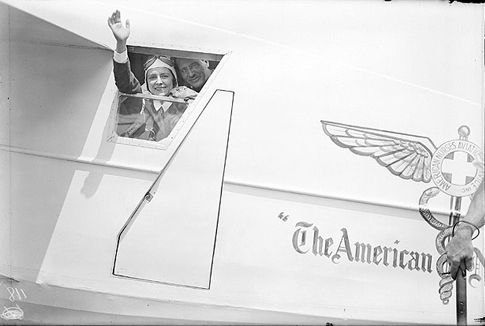 In this 1932 photograph, Edna Newcomer holds Tailwind the woodchuck as she waves from the Bellanca Skyrocket The American Nurse. Janus writes: "Dr. Leon Pisculli, also seen in the window, organized the nonstop New York-to-Rome flight to study the effects of long-distance flight on humans, and presumably, on woodchucks." Alas, the airplane went missing, and all passengers—human and woodchuck—were never seen again.
Baker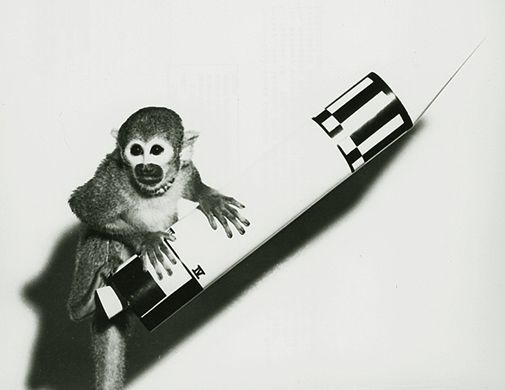 Animals also paved the way into outer space. Somewhat less known than the Soviet's dog Laika and the United States' chimpanzee Ham, a squirrel monkey named Baker was launched into space on a suborbital flight aboard a Jupiter missile on May 28, 1959. None the worse for his space trek, Baker lived to the ripe old age of 27.
Gilmore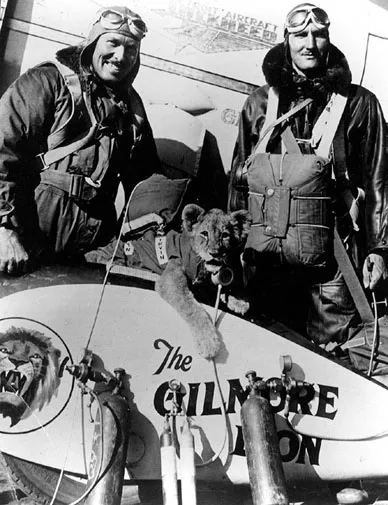 "Roscoe Turner," writes Janus, "winner of the Bendix Trophy and three-time winner of the Thompson Trophy, was a memorable figure of the Golden Age of Aviation. In 1930, Turner was flying for the Gilmore Oil Company, which used a lion's head as a trademark. Thinking that a real lion would help generate publicity, Turner adopted a three-week-old cub and promptly named him Gilmore." The cub—which liked to curl up in Turner's lap in rough weather—eventually logged more than 25,000 miles. In 1940 the not-so-small Gilmore was retired to a wildlife park; Turner paid his food bills for the remainder of Gilmore's life. "For a long time he paid my bills; now it's my turn," the pilot said. The man on the right is Donald Young, Turner's mechanic.