And Then There Was One
Ten airplanes that are the last still flying.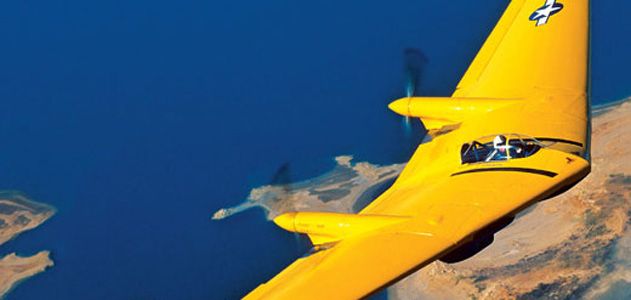 The slogan "Keep 'em flying" first appeared on War Production Board posters to inspire aircraft factory workers during World War II. To the delight of today's aviation fans, dozens of organizations have been formed with mission statements that include that very sentiment. Individual pilots have also taken up the cause, and although vintage aircraft owners don't restore and fly their airplanes at airshows out of altruism alone, many of them describe a sense of stewardship. Aviation, as a pastime, seems to inspire a commitment to preservation.
We have profiled 10 aircraft whose owners have devoted the time, effort, and money to keep them flying. Our definition of "flying" requires that each aircraft be certified airworthy by the Federal Aviation Administration in the United States or the Civil Aviation Authority in the United Kingdom, and the aircraft has to have some record of recent flight and the potential for future flight. The eclectic group of aircraft that follows is by no means comprehensive, and we invite readers to notify us of other aircraft that should be included.
—The Editors
Northrop Flying Wing
Northrop Aircraft built four one-third-scale N-9M flying wing prototypes in the early 1940s to prove the feasibility of its B-35 bomber. When that program was axed, the remaining prototypes were ordered destroyed. Planes of Fame Museum founder Ed Maloney liberated the last one by trucking it out of California's Edwards Air Force Base as scrap. After the little yellow airplane spent 30 years in storage, vintage aircraft restorer Ron Hackworth led a 13-year reconstruction. Working Saturdays in a succession of warehouses and hangars around southern California, volunteers rebuilt the mostly wood aircraft. In 1994, N-9MB took flight with former Planes of Fame president Don Lykins at the controls. "We had the benefit of advice from some of the original pilots," says Hackworth of those early flights, "so there were no surprises." Today, Hackworth regularly pilots N-9MB for Planes of Fame in Chino, California. "I've never flown it anywhere where the reaction was anything less than complete amazement," he says.
Grumman F4F Wildcat
They found it with one tire inflated, cockpit and flight controls intact, and a battery that could still hold a charge. By the standards of salvaged warbirds, the Wildcat was almost pristine, especially since it had spent 47 years on the bottom of Lake Michigan after a U.S. Navy training accident in 1944. Embalmed by the low oxygen level of the frigid lake water, "it looked like it had come back through a time warp," says owner/pilot Steve Craig. Grumman produced nearly 2,000 of the rugged fighters, but stout hardware is not the Wildcat's only legacy. "It's the heroism demonstrated by Navy and Marine pilots who flew F4Fs during the first two years of the war," says Craig. The only F4F now flying, NX12660 just does it: Last summer's airshow itinerary reads like a NASCAR tour. "People appreciate what it represents," says Craig. "It's literally a memorial."
Boeing 247
All-metal, low-wing, and streamlined, the 247 was the world's first modern airliner. The 10-passenger 247, with reclining seats, soundproofed cabin, and a 20-hour coast-to-coast timetable, launched air travel's golden era in 1933. Three decades later, NC13347 languished at a cropdusting airstrip in Taft, California, ingloriously deteriorating from insecticide exposure. In 1980 Seattle's Museum of Flight began a 14-year restoration. "We tore it apart and rebuilt it from the ground up," says Frank Leathley, a former Boeing engineer and a volunteer on the Boeing-supported project (see "One Good Year," Feb./Mar. 1997). Featuring vintage United Airlines "Mainliner" colors and a 1939 interior ("More legroom than you get today," says Leathley), the last 247 is flown by another volunteer, Boeing 787 chief project pilot Mike Carriker. "It's an appreciation of what it was once like to really fly," he says of the low, slow experience. When Carriker test-flies the 787 this year, he'll be captain of Boeing's newest and oldest airliners.
Sikorsky S-43
Known on Pan Am's island-hopping routes as "Baby Clippers," only two were privately owned: Harold Vanderbilt's opulent air yacht, and the stripped-down, flush-riveted N440, which was delivered to Howard Hughes in 1937. N440 was Hughes' pet plane; he used it to practice water landings in Nevada's Lake Mead and to give unlogged flight training to Hollywood starlets. He kept it ready 24/7 in a guarded hangar in Houston until he died. The late Ron Van Kregten, an aircraft collector, acquired the S-43 in 1977, and veteran pilot Jesse Bootenhoff began providing rare glimpses at fly-ins. The mystique of Hughes' amphibian captivated even seen-it-all Oshkosh crowds. "They were lining up so fast to get in, I couldn't get out," says Bootenhoff. Baby Clippers star in Art Deco travel posters, but the only one still flying maintains a low profile at Brazoria County Airport in Texas. "Most people have no idea one still exists," says Bootenhoff.
Cinema II Glider
For idle youth during the Great Depression, a 20:1 glide ratio was a positive economic indicator. Works Progress Administration vocational classes distributed kit versions of the Frankfort Sailplane Company's popular Cinema glider to unemployed teenagers across the country. After assembly, students got a paycheck—and flight time with an instructor. Only Dean Kramer's two-seat Cinema (made during the WPA era) still flies. NC24185 was grounded for 40 years before a revamp; it's now "as original and authentic as we can get it," says Kramer. When it came time to paint the glider, he followed the original color scheme of burgundy and silver. "It draws a good deal of attention in a lineup of basic-white modern gliders," he notes. Though his restoration of the sole surviving Cinema has earned international recognition, Kramer considers himself a temporary caretaker: "For me, bringing it back to life for the next generation is what it's about."
Vertol H-21
"That thing saved my life," Vietnam veterans occasionally tell Mark DiCiero. The first chopper in the helicopter war, CH-21B assault helicopters were sent to Vietnam as early as December 1961. Its stretched, bent fuselage inspired the nickname "Flying Banana." Bell UH-1 "Hueys" soon replaced Flying Bananas in the assault role, but H-21s continued to fly troop transport and medical evacuation missions. "It pulled a lot of people out of bad situations," says DiCiero. N64606 had already been written off by one major museum when DiCiero found it in 1989 in Chino, California. "They pretty much assured us there was no way we would ever get it flying, nor keep it flying," recalls DiCiero. Ten thousand restoration hours later, it became the first of a vintage fleet at Classic Rotors Museum in Ramona, California—and is still the last Banana flying.
F-86A Sabre
"The first of the first," Cliff Spink, who flies the last one, calls it. America's founding fighter jet, the 1948 A-series Sabre, debuted the swept wing, set a world speed record, then broke the grip of MiG air superiority in the Korean War. Later, more refined variants would feature fully power-assisted controls and a more advanced tail design, but the 554 A-model aircraft occupy a distinct niche: Jet-propelled combat was never so no-frills or hands-on again. Only no. 178, now designated G-SABR, still flies. Restored by former P-51 Mustang pilot Ben Hall in 1971, it was acquired by Golden Apple Trust in the United Kingdom in 1990. "You instantly sense that the airplane is a thoroughbred," says Spink. G-SABR is a Yankee star at European airshows, and Spink, a retired RAF air marshal, wants its airworthiness to endure for posterity. "It's not ours," he says. "None of these aircraft are. They belong to the future."
Boeing B-29 Superfortress
The enormous wings of N529B were shading a China Lake, California boneyard when Commemorative Air Force member Victor Agather learned of the bomber's existence in 1971. Agather had been looking for a B-29 to restore, and he was thrilled when fellow CAF member and commercial pilot Roger Baker spotted the B-29 during an overflight. Agather financed a four-year CAF restoration of the aircraft, and the restoration team christened the bomber Fifi after his wife. To underwrite its 400-gallon-per-hour fuel appetite, he proposed an unorthodox solution: public tours. "Nobody was doing that in 1975," says Agather's son Neils. The only Superfortress flying has paid its way ever since by thrilling thousands at airshows around the country. "People come and say, 'My grandfather flew one in the war. Can I sit where he sat?' " says Neils. After 30 summers, the four 2,200-horsepower engines are marginal, and continued airworthiness depends on a CAF fundraising drive for new powerplants. Fortunately, Texas industrialist Joe Jamison has stepped forward with $2 million, and Neils is confident more of Fifi's fans will pitch in: "Anyone will tell you, she's the queen of the fleet."
Gloster Gauntlet
When skeptics ask if the 70-year-old biplane is really airworthy, Jyrki Laukkanen replies, "It was this morning when I flew it here." Last of the open-cockpit British fighters, Gloster Gauntlets entered service with the Royal Air Force in 1936. After the Soviet Union invaded Finland in 1939, 25 Gauntlets were shipped through Sweden to bolster Finnish defenses. In 1976, members of the Finnish Air Force Technical Guild followed rumors of an abandoned warbird to a farm in Juupajoki, a municipality in western Finland. They found a Gauntlet in pieces—"hardly identifiable as an airplane," says Laukkanen. After an 11,000-man-hour restoration, OH-XGT, painted in the wartime markings of the Finnish air force (including swastika-like symbols, which at the time signified good luck in Finnish culture), became a photo-op favorite on the Finnish airshow circuit. Retired FAF fighter pilot Laukkanen has flown the somewhat finicky Gauntlet every summer for 20 years. "Flying it requires continuous attention," says Laukkanen, who has 1,300 hours in MiG-21s. "It keeps an old test pilot in sharp condition."
Percival Mew Gull
Tony Smith speaks of the Real Aeroplane Company's tiny, cream-colored monoplane as legend. "It's the Holy Grail of British air racing," says Smith, RAC's chief pilot and the only one entrusted to fly the racer. The Percival Aircraft Corporation produced a half-dozen Mew Gulls in its Gravesend, England factory in 1934, and the aircraft went on to dominate the field. The first civilian aircraft to exceed 200 mph, G-AEXF captured the King's Cup in 1938. Mew Gulls were prone to mishap, and only G-AEXF defied the actuarial tables by undergoing numerous rebuilds. The Real Aeroplane Company keeps the Mew Gull with the rest of its collection at Breighton Aerodrome in northern England. "The perfect harmony of the controls is just like a Spitfire," says Smith, who flies the Mew Gull at a speed of 290 mph. With its recessed cockpit providing virtually zero forward visibility, "landings and takeoffs," says Smith, "are a bit of a happening."