California's Camarillo Airport Is Nirvana for Small Airplanes
Just about any day is a good day at CMA.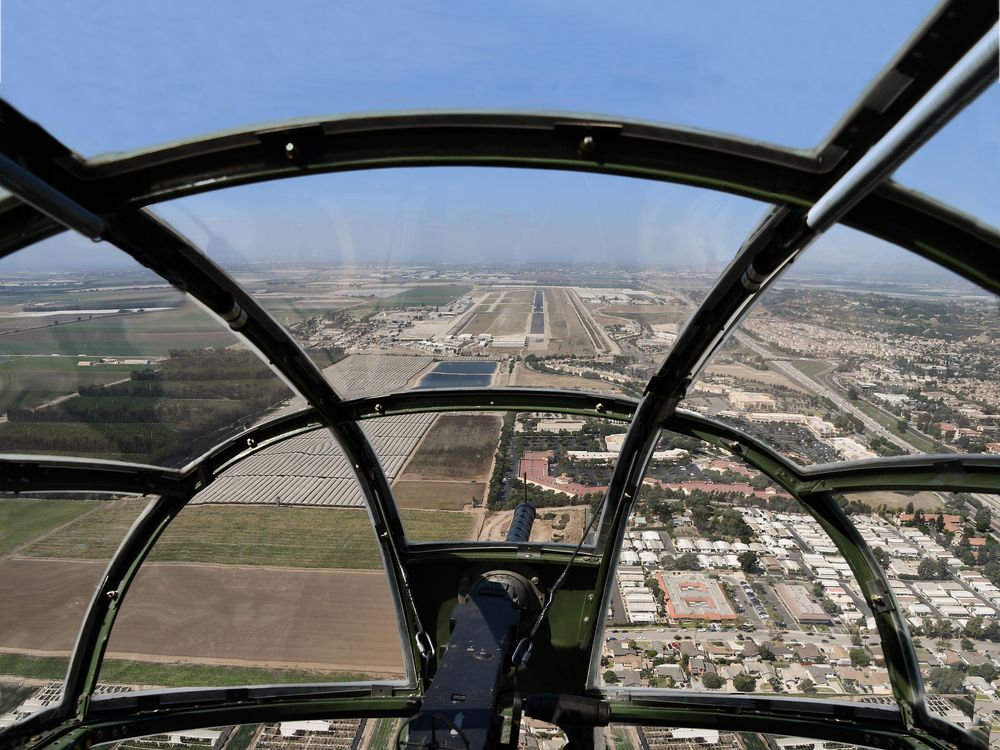 Flying into Camarillo, as I do often in my 55-year-old Piper Cherokee, is like touching down at Disneyland—if Disneyland were wholly dedicated to general aviation. It's not uncommon to find yourself cleared to land behind a restored World War II fighter, a home-built kitplane, a multi-million-dollar executive jet, a Cessna trainer with a young student behind the yoke, or some vaguely confused guy driving a Beech Bonanza who sounds over the radio like he's never talked to air traffic control in his life.
Any aviation-minded person who questions the existence of nirvana on Earth has never spent a day at Camarillo (CMA).
It's hardly the nation's busiest general aviation airport. That distinction, Federal Aviation Administration records show, belongs to Deer Valley in suburban Phoenix, which logged more than 600,000 takeoffs and landings between January 2018 and May 2019, triple the number at Camarillo. Nor is Camarillo the quaintest or most picturesque airport. Many others could claim either title. But Camarillo bustles, and it seems to have one of everything.
More than 600 aircraft are based at CMA, from the lumbering to lightning quick, from the exotic and exquisite to downright shabby. Camarillo has an Experimental Aircraft Association chapter with a membership three times larger than the national average. It's got county fire department and sheriff's helicopter bases, no less than four flight schools, and a separate airfield for the exclusive use of ultralights.
Indeed, Ventura County's Camarillo Airport may well be the epitome of American general aviation: a 650-acre melting pot of flying history and modernity, spiced with colorful characters who all share an abiding love of the air up there—along with some of the tastiest beef barbeque this side of Big Muddy.
More on the meat later.
If you want to know Camarillo better, jump into a borrowed golf cart and tour the flight line with private pilots Art and Martha Phillips. She is the past international president of the Ninety-Nines, a nonprofit group promoting women in aviation. He's a U.S. Air Force veteran who loves to fly aerobatics. The couple have based their Cessna 172 at the airport for 40 years. They seem to know pretty much everyone on the field.
"Back then, we used to call it 'Camp Camarillo,' " says Martha. "You'd come down to the airport, and here'd be all your friends. It's not like that as much anymore."
"It's grown up," says Art.
True enough. But unlike some other established general aviation airports in southern California, Camarillo has largely avoided becoming an impersonal concrete jungle. Flanked by verdant strawberry and vegetable fields, with the foothills of the Santa Susana Mountains to the north and the Pacific Ocean a long glide to the west, the airport maintains a welcoming, bucolic vibe hunkered on the northwest fringe of the decidedly non-bucolic Los Angeles sprawl.
Just ask retired U.S. Navy captain Tom Morgenfeld. A former chief test pilot for Lockheed's famed Skunkworks who logged nearly 1,300 flight hours developing the F-117 stealth aircraft, Morgenfeld has hangared his personal four-seat Mooney at Camarillo since 1991. "There's just a lot of nice people there," he says. "I dearly love the place."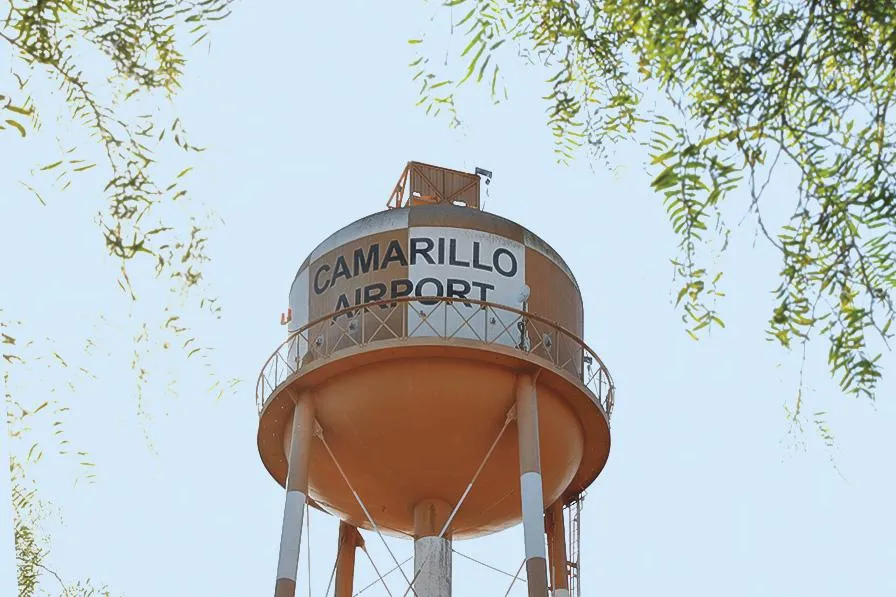 Camarillo's origins were hardly nice. Soon after the Japanese attack on Pearl Harbor in December 1941, crews began plowing a 5,000-foot runway to help train American fighter pilots bound for combat. The government dubbed it the Oxnard Flight Strip (not to be confused with Oxnard Airport a few miles to the west, where Howard Hughes field-tested his famous H-1 monoplane racer in the 1930s).
After the war, and after its runway had been lengthened to 8,000 feet (by 1958 it had grown to 9,000 feet), Oxnard Flight Strip became Oxnard Air Force Base, home to high-altitude jet interceptors tasked with defending the West Coast against Soviet bombers. But by 1969, the Pentagon decided to decommission the base. Few were happier with the decision than residents of Leisure Village, a retirement community located east of the runway where many had grown weary of being jarred awake at all hours by the thunderous operations of Northrop F-89 Scorpions and McDonnell F-101 Voodoos.
Those same noise-sensitive retirees, says Bill Thomas, a member of the Camarillo Airport Authority and a former Navy A-7 pilot, would ultimately help dictate the base's future after Ventura County officials sought to reopen the field as a civilian airport with regularly scheduled airline service.
"Because of Leisure Village, there was this huge political bloc vote," says Thomas. "You couldn't be elected to city council unless you could guarantee there was going to be no airline traffic into Camarillo."
The battle raged for years. The retirees dug in their heels. Finally, in 1976, a noise-abatement agreement was struck by which the runway would be shortened to 6,013 feet and the airport's use limited to general aviation only. In other words, no loud jetliners. Any conflict surrounding its birth as a civilian facility faded long ago, but vestiges of the airport's tense, cold war-era, military past remain.
"See that little shack over there in front of those hangars?" Art Phillips points out as Martha drives our golf cart. "That's where the [base security] was, and that's where the Air Force kept the alert fighters, ready to go."
The four hangars with their gaping front and back doors have since been reroofed and repainted a designer-ish blue and gray. Today, they shelter a variety of expensive private aircraft. One has been converted to include a spacious exercise room with a basketball net.
Such amenities were far from the mind of private pilot Mark Oberman in 1976, when he sought to open the airport's first fixed-base operation. The notion of running an FBO, Oberman says, sounded less like work than it did fun, so he and his wife, Janie, put in a bid.
No one else did.
"Ignorance, probably," Oberman laughs today when asked what compelled him to take the leap.
The Obermans established Camarillo's first flight school. They initiated an air taxi service to ferry cattle ranchers and deer hunters to the rugged, largely uninhabited Channel Islands off the nearby coast. They ran the Unicom, radioing wind and runway advisories to inbound airmen. They started a licensed Cessna service center and dealership. Eventually, they added executive jet charter service. Today, the couple's Channel Islands Aviation (or CIA as it's more commonly known on the field) employs about 50 people. Janie serves as vice president. Son Mike is director of operations. Daughter Sarah Oberman Bartush is director of business development.
Where there was once only one FBO at Camarillo, there are now four.
"This family has done more for the aviation culture of this community than just about anybody," says Del Kienholz, CIA's flight school manager. "This place was a ghost town in 1976. We're now a destination airport."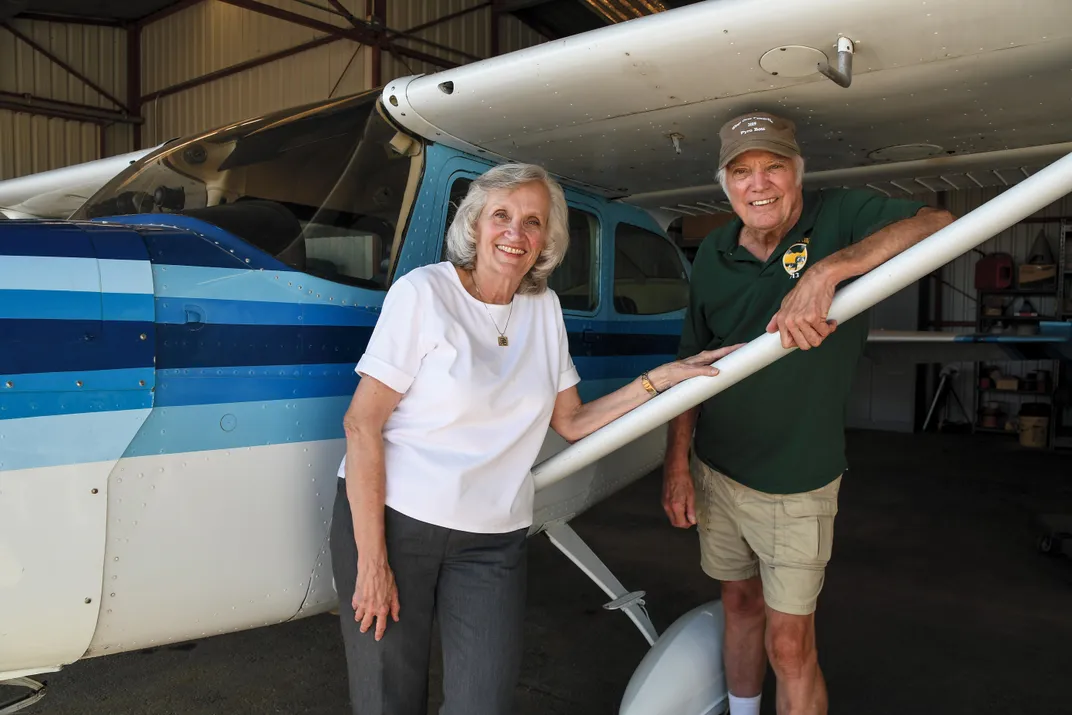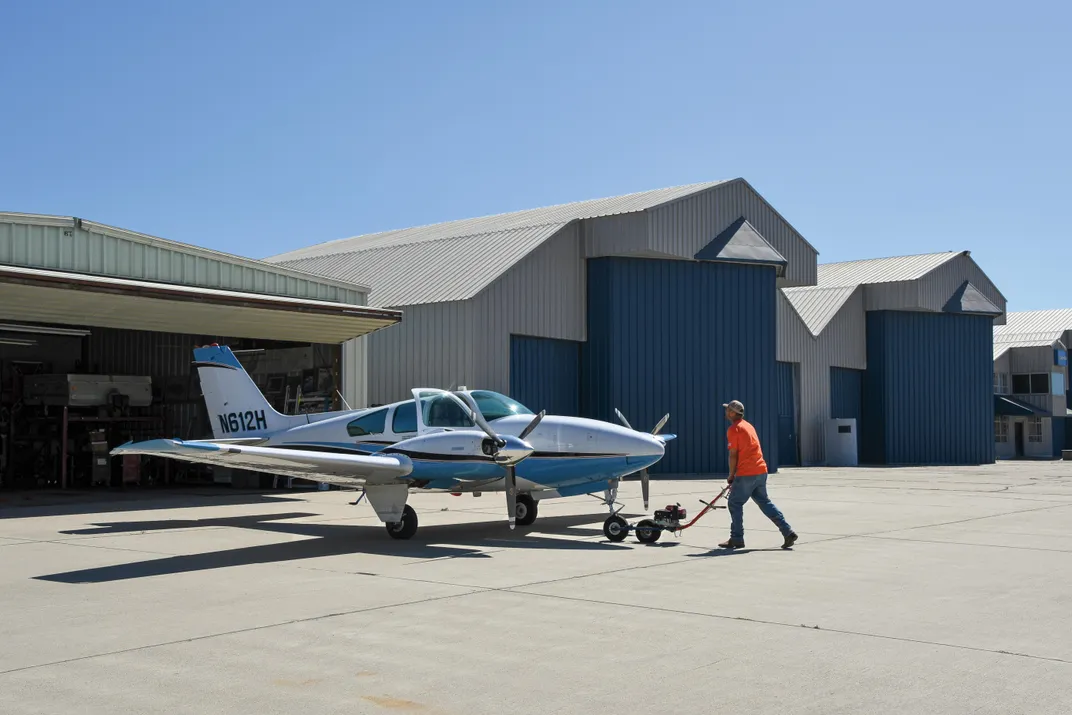 A big part of that draw can be attributed to the Southern California Wing of the Commemorative Air Force based at Camarillo, which maintains some of the finest restored World War II aircraft found anywhere, including a Grumman F6F Hellcat, Mitsubishi A6M3 Zero, and a Supermarine Spitfire. None of the wing's aircraft may be more revered, however, or more fussed over, than its twin-engine PBJ-1J—the Marine Corps variant of the B-25J Mitchell bomber.
The CAF's PBJ was built in 1945—too late to get into the fight—and sold as war surplus for $950. Continental Airlines used it as a trainer. An oil company relied on it as an executive transport. A brewery owner in Denver bought it. The old bomber changed hands more than a dozen times over the years, eventually falling into disrepair.
"The sheet metal was so corroded in places, you could push your finger through it," says Dan Newcomb, a private pilot, former police officer, and one-time Douglas Aircraft aerospace worker who learned how to buck rivets at Douglas from a real-life Rosie who'd helped build B-17s during World War II.
A host of Commemorative Air Force volunteers, including Newcomb and Marc Russell, a United Airlines Boeing 787 captain, would spend countless hours over 23 years getting their hands dirty restoring the PBJ. In 2016, it made its first post-restoration flight. "We reworked every inch of her," says Russell with obvious pride. "She's the queen of our fleet." He is also one of the PBJ's designated pilots.
Certainly, there are plenty of other reasons beyond an abundance of vintage airplanes to explain Camarillo's appeal among fliers and non-fliers alike. The airport's usually clear skies and balmy weather have something to do with it. So does CMA's proximity to the 119 stores of the Camarillo Premium Outlets shopping mall.
Then there's the show-biz factor.
Many luminaries who call the Los Angeles area home find Camarillo a particularly convenient place to fly into and out of in their chartered jets. The roads aren't usually as congested as those servicing other executive airports in the Los Angeles basin. Plus, it's more private. Read: no paparazzi. Two of Camarillo's most luxurious fixed-base operators, Sun Air Jets and Air 7, cater to celebrities seeking to avoid the limelight, but don't expect employees at either to dish celebrity gossip.
"No kissing and telling," says Air 7's general manager, Tom Magglos, with a wry smile.
An airport this close to L.A. will almost certainly host a resident celebrity pilot or two, and at Camarillo, that place is occupied by Caitlyn Jenner, who learned to fly after winning a gold medal in the decathlon as Bruce Jenner at the 1976 Montreal Olympics. The sports-legend-turned-reality-TV-star spent some 25 years based at Van Nuys, before purchasing a hangar here about three years ago for her 1982 Beech. She came in part because of Camarillo's particularly sociable atmosphere, she says. "Everybody's friendly," Jenner observes, "and everybody's got stories."
Tinsel Town aside, the airport's biggest draw is indisputably its Waypoint Cafe. When I first landed at Camarillo about 15 years ago—a milk run from my home 40 miles up the coast in Santa Barbara—the Waypoint was a no-frills greasy spoon featuring faded photos of old airplanes and $100 hamburgers that, shall we say, would never have been featured in Gourmet magazine. Then Tom Magglos' brother and sister-in-law bought the joint.
Jim and Linda Magglos had made a fortune selling Baja Fresh, a chain of Tex-Mex eateries that they'd started in 1990 in nearby Newbury Park. A Camarillo-based pilot, Jim was looking for a new challenge and decided he needed a reason to hang out more often near the two helicopters and twin-engine Cessna he owned at the time.
"He was bored," says his brother.
Down came the old airplane photos. The Waypoint was redone in a slick retro motif approaching something close to cool. The food quality improved immeasurably, and the crowds have grown exponentially ever since, especially on Wednesdays and weekends, when the Waypoint serves tri-tip, a cut of sirloin that is marinated and grilled over charcoal and mesquite.
Back in the day, Navy aviators in their green flightsuits would drive over from Point Mugu Naval Air Station, eight miles away, to chow down at the Waypoint, elbow-to-elbow with Los Angeles law enforcement helicopter crews. They're all still there, as are civilian birdmen like me who commonly grouse that the restaurant has become too popular for its own good. Mostly, though, it's now the non-flying general public that crowds the cafe. The Waypoint has become what may well be the most successful airport restaurant in all of California. "There's nothing comparable," says John Strauss, an Idaho-based commercial pilot who flies into Camarillo regularly on business and always makes a point to eat at the Waypoint. "We pilots fly for food, and this is the leader of the pack."
Affixed to a decorative boulder outside the restaurant is a bronze plaque with a quote from Amelia Earhart: "You haven't seen a tree until you've seen its shadow from the sky."
Camarillo is filled with people who share that opinion. People like retired space shuttle engineer Jack Vautin. One of more than a hundred active Experimental Aircraft Association members at Camarillo, Vautin bought a wrecked Piper J-3 Cub in 1999, and spent more than a decade rebuilding it. In the years since, some 130 kids have gone flying for free with Vautin in his pampered, immaculate Cub as part of the EAA's Young Eagles program, introducing them to the wonders of flight. At least two of his passengers, he says, have gone on to become pilots themselves.
In a nearby hangar you can find Norm Hall, who spent 17 years flying surveillance missions for the FBI and the past 23 years putting together a three-quarter-scale kit version of a P-51. "I'm 65 percent done," Hall muses, "and 125 percent to go."
He plans to paint his Mustang in the colors of a P-51 flown by his friend, Arthur C. Fiedler, a World War II ace who notched eight victories against the Luftwaffe flying with the 15th Air Force's 325th Fighter Group. Fiedler passed away in 2016 in Oxnard.
Some of Hall's buddies at Camarillo tease him that maybe if he devoted less time to playing softball in a 75-and-over league and more time to working on his airplane, he might just finish it before heading for that big runway in the sky. To his naysayers, he merely chuckles. "I'm a long way from getting it done," Hall concedes, "but I'm gonna give it a good shot."
Another pilot at Camarillo has already achieved her goal. Sheila Collier, who has a background as a bookkeeper, decided that flying helicopters for a living sounded way more exciting than accounting. When the flight school where she was taking lessons abruptly went belly-up—taking her hard-earned deposit with it—Camarillo's Ninety-Nines ponied up about $30,000 in scholarship money to help Collier finish her training. Today, she manages a flight school on the field where other aspiring chopper pilots can fulfill their dreams. "A flying oasis," is how Collier describes Camarillo.
Down the coast at Santa Monica, the airport is set to close at the end of 2028. Too much noise from private jets, the neighbors complained, too many off-field crashes. Encroached upon by ever-advancing suburban development, other small airports across California could be facing similar fates. CMA is not one of them.
"Camarillo has the potential to be a rock star," says Kip Turner, Ventura County's director of airports. "It's only just now getting wind beneath its wings."
Departing Runway 26, my little Piper gathers wind under its own wings and gains sky. I glance back, wondering how many stories of fliers and flying remain untold at Camarillo. It's all the excuse I need to plan a return flight.
That and the tri-tip.