Airbus Lands in Alabama
Half a century after the largest base closure in U.S. history, Mobile is once more an aviation town.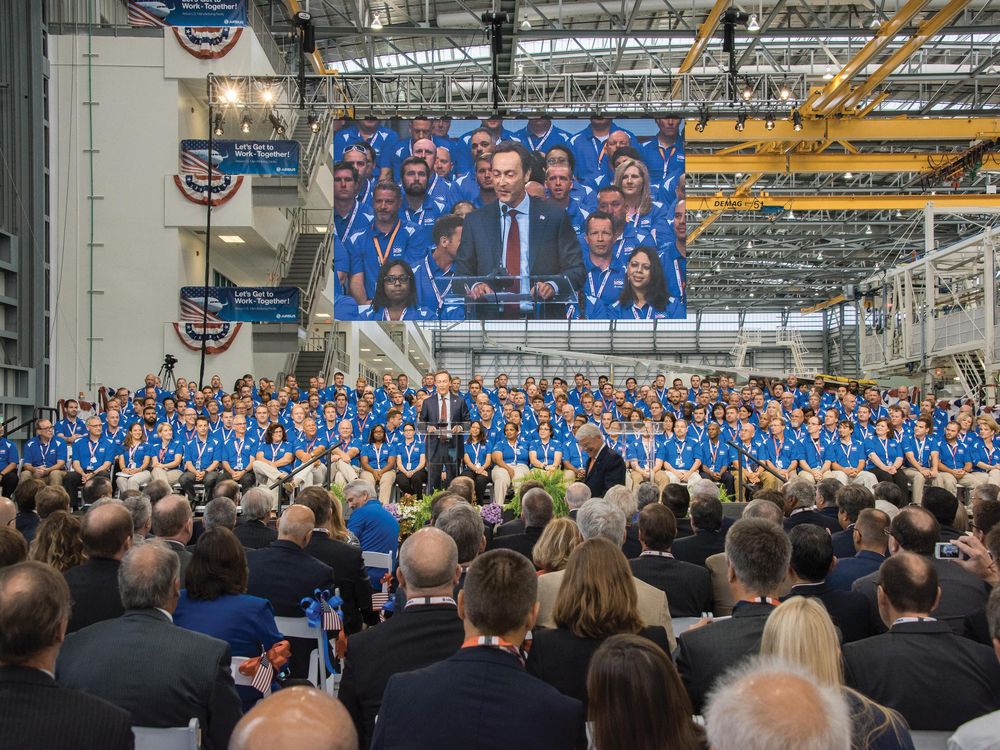 Natives of Mobile, Alabama, can tell you the town's old slogan: "A City of Perpetual Potential." In the latter decades of the 20th century, the words sometimes seemed to carry a ring of disappointment. It's an old phrase, dating back to when Mobile was a booming Gulf Coast port city.
But examine the history of Mobile's storied Brookley Air Field—its 9,600-foot runway leading straight to the 31-mile-long, 11-mile-wide Mobile Bay and its five estuaries—and you'll discover the city was also the birthplace of aviation inventors and dreamers. O.E. Williams, a pilot who invented the first reliable airspeed indicator around 1913, moved to Mobile and started an aviation school. He sold aircraft engines to the U.S. government before perishing in an airplane crash in 1917.
A generation later, 5,000 skilled laborers worked at Brookley Army Air Field to convert two dozen Pacific-bound warships into vessels capable of repairing and maintaining B-29s, P-51s, and a new type of aircraft: Sikorsky R-4B helicopters. Brookley was also where the Norden bombsight was recalibrated, enabling Allied squadrons to more accurately target the Third Reich's war machine and thus, some say, shortening the conflict in Europe.
So it feels like a grand turning of the wheel of history that after decades of struggle, a big aviation company has come to Mobile's aid, part of a broader regional renaissance in manufacturing, shipbuilding, and steel production. In mid-2012, Airbus, the gigantic European aerospace consortium, signed a deal to build A320-family passenger jets in Mobile. The agreement paved the way for the first commercial  aircraft factory ever built by a foreign manufacturer on U.S. soil.
A little more than three years later—September 14, 2015, to be exact—Lynyrd Skynrd's "Sweet Home Alabama" blared as Airbus officially opened its one-million-square-foot final assembly plant, located on 53 acres of grassy flatland at the former Brookley Air Field, now the Mobile Aeroplex at Brookley. The site, which has access to Mobile's port, two interstate highways, and five Class 1 railroads, is Airbus' only manufacturing hub in the western hemisphere. It's the next step in the company's "glocal" strategy, whereby the firm builds jets in Hamburg, Germany, and Toulouse, France, for the European market, and in Tianjin, China, for Asian customers. The Mobile plant, which initially aims to produce four jets per month, already employs more than 300 people. At its peak production capacity of eight jets per month, it could generate hundreds more jobs through the manufacturer's supply chain.
Airbus initially posted openings for 260 skilled workers; in response, about 18,000 Americans applied or inquired. The employees there now were trained at Airbus facilities in Europe, but the airplanes they're building are all slated for North American carriers. Allan McArtor, chairman and CEO of Airbus Group, Inc., North America, says the company will need to produce around 5,500 aircraft to satisfy the North American airline market over the next 20 years. About 4,700 of those will be single-aisle jets, like the ones under construction here.
That's good news for the residents of Mobile, who in 1969 weathered what was at the time the largest base closing in U.S. history. Some believe the closure of Brookley Air Force Base was President Lyndon Johnson's punishment to Alabama for supporting GOP candidate Barry Goldwater in the 1964 elections, while others suggested the move was aimed at Governor George Wallace, whose 1964 and 1968 presidential campaigns divided the Democratic Party. (The action predated by more than two decades passage of the Defense Base Realignment and Closure Act, intended to remove political considerations from base closures.) Whatever the case, 12,300 civilians lost their jobs. The local aviation industry didn't vanish completely: The aircraft engine builder Continental Motors has operated at the Brookley site since 1966, and VT Mobile Aerospace Engineering has had a facility there for 25 years. But the decades that followed the closure were marked by struggle.
In recent years Mobile has attracted $8.9 billion in capital investment and added 18,000 new jobs, with average salaries topping $55,000. Most of these have come from 39 foreign companies establishing plants or division offices on the Gulf Coast, where the cost of living—and critically, the cost of  hiring—is low.
Mobile Mayor William S. "Sandy" Stimpson schmoozed hard to make the Airbus factory happen. So did his predecessor, Mayor Sam Jones, who served from 2005 to 2013, and William B. "Bill" Sisson, a bespectacled Clark Kent type who leads the Mobile Area Chamber of Commerce. Sisson replaced another veteran negotiator on behalf of Mobile, Win Hallett, who left the chamber to go into private practice in 2013. Hallett went after the Boeing Dreamliner in 2003 and 2004, but ultimately withdrew. 
Sisson recounts four separate rounds of brokering before the Airbus deal finally came together. He attributes the eventual win to the cultivation of relationships with Airbus brass and the advantages Brookley offers: the runway, the port, more than 1,600 acres of fallow land. "Brookley is such an incredible asset, a freak of nature that has everything in it," Mayor Stimpson says.
There was also, says Sisson, a scrappy underdog spirit at work.
Growing Pains
In the early years of the 21st century, Mobile's spirit has helped attract several large industrial companies to the city: Austal USA shipbuilding, the German chemical company BASF, FedEx Ground, and steelmaker Thyssen-Krupp (now known as AM/NS Calvert). But it withdrew its bid for the Boeing Dreamliner fuselage project when the negotiating team decided Boeing was asking for too much: incentives and tax breaks worth between $200 million and $450 million, depending on whom you ask.
In any city, incentives are a huge part of the economic development game. But in the fierce competition to lure aviation manufacturers, cities will offer subsidies for new factories, employee training, and infrastructure upgrades, in addition to the usual tax relief packages.
Mobile could be a test case for an aggressive "New South" style of economic bootstrapping. With almost 196,000 residents, it's the third largest city in a state that historically has spent less on health care and education than many of its neighbors, but offers incentive packages worth hundreds of millions of dollars to court manufacturers and tech firms.
Mercedes-Benz located here in 1993, followed by Toyota, Honda, and Hyundai. In 2012 the New York Times reported that Alabama spends an average of $277 million every year on corporate incentives. (Texas spends more than $3 billion.) Critics have warned that the system robs the public of broader "foundation services" that could, if provided, improve overall standards of living while stimulating broad-based economic growth.
"There's no ironclad rule that economic incentives are always bad," says Wesley Tharpe, a senior policy analyst with the Georgia Budget and Policy Institute, a think tank that analyzes economic opportunity in the South. "But many states, particularly in the South, tend to over-rely on trying to land the big fish with these kinds of packages. That has meant that these states tend to under-invest in the building block institutions like adequate schools, broadband—the types of investments that strengthen overall economic growth."
The Alabama Department of Commerce expects Airbus to contribute around $409 million to the state's gross domestic product. A September 2015 story in the Alabama Press Register reported that Airbus has promised the state it will sustain 600 employees in three of the next six years. (Employees of MAAS Aviation, which operates the Mobile Aeroplex paint shop, count toward that total.) If Airbus doesn't hit those numbers, it must repay some of the money the state paid it as an incentive, the amount to be calculated based on the size of the shortfall.
The city is counting on the good times to stay good. In 2014, Mobile reorganized its system of secondary schools into specialized "academies" to boost graduation rates and prepare kids for college and high-tech careers. One of these special institutions is the Aviation and Aerospace Academy at B.C. Rain High School.
Downtown, the signs of Mobile's rebirth are everywhere. After "taking it on the chin in the recession of 2008," city employment is now back at around 94 percent, says Sisson. Carol Hunter, a communications director at the Downtown Mobile Alliance, a development group, says Mobile is experiencing virtually 100 percent rental occupancy and more than 91 percent occupancy in top-grade office space. "Young employees from European companies like to move downtown—lots of conversions of buildings to apartments," she says.
In 2007, the city reopened the historic Battle House Hotel, having added a 34-floor tower to the original structure. Last year, it lured Carnival Cruise Lines back to its cruise terminal and opened the spectacular Gulf Quest Museum, where visitors can pilot virtual riverboats and container ships and observe the effects of climate change on an enormous suspended globe.
Why, then, does Mobile need an aviation giant? One answer: Civic pride.
When Brookley was thriving, 17,000 people were maintaining the Air Force C-119 Flying Boxcar, the C-131 Samaritan, the F-84 Thunderstreak, and the F-104 Starfighter, among other military aircraft. When it closed, the city lost $95 million in payroll. Says Mayor Stimpson: "To have Brookley be the center of our resurgence nearly 50 years later, it's kind of poetic justice."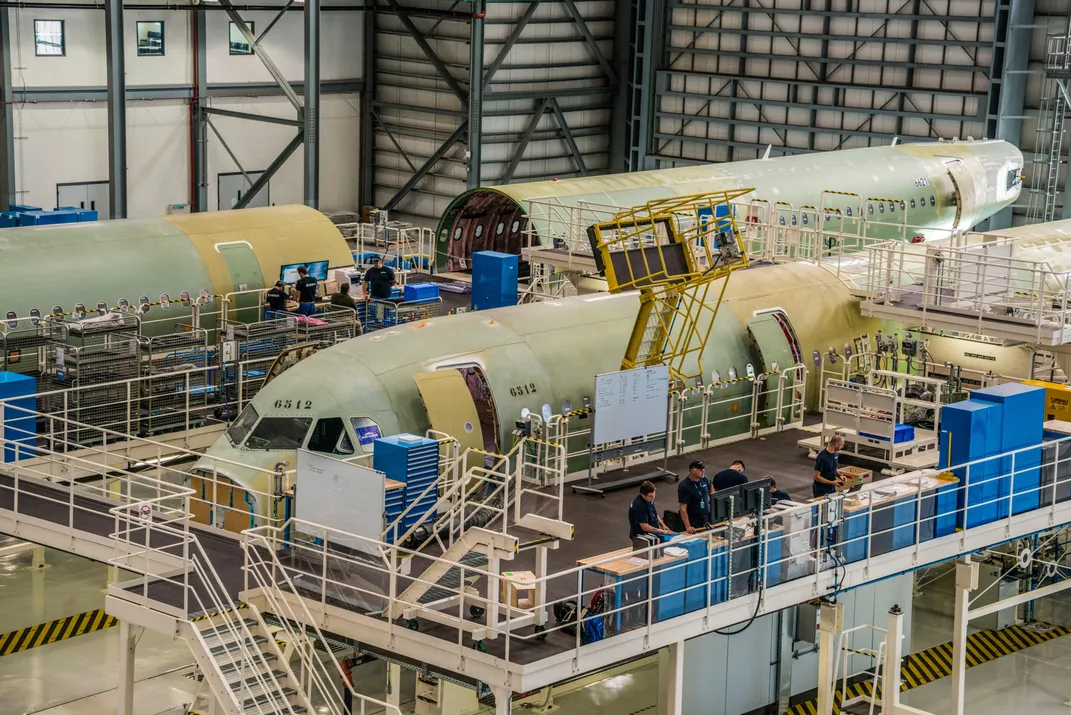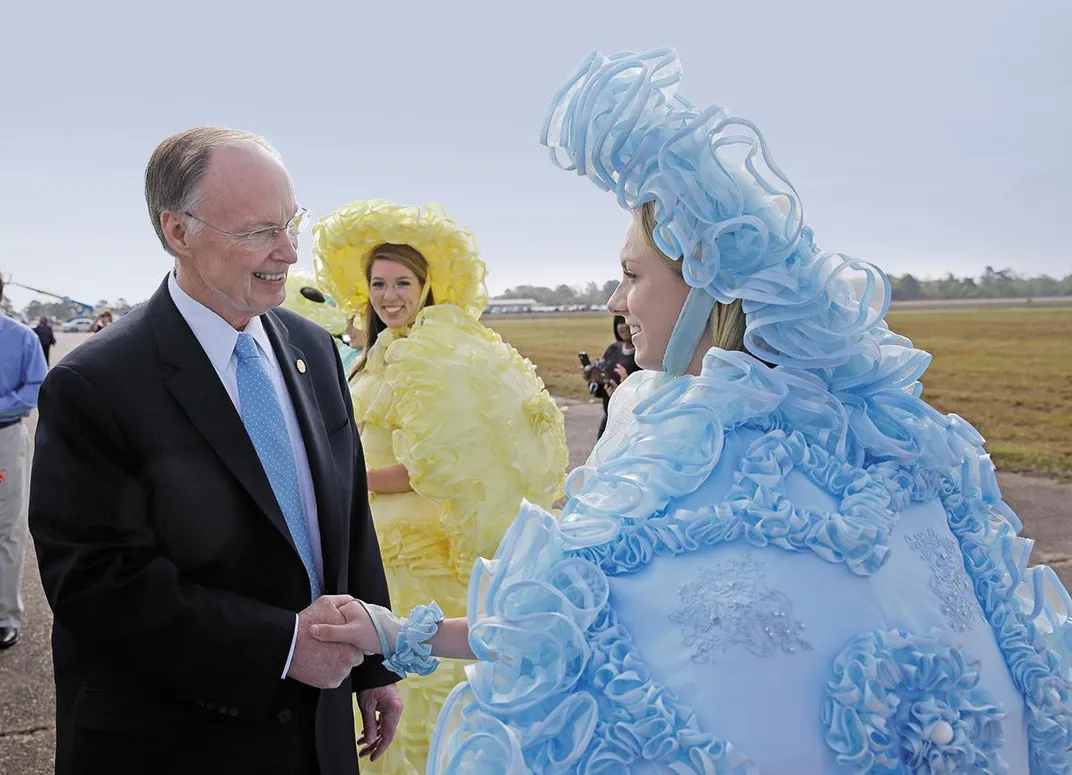 Knowing When to Fold
The first time Mobile tried to land Boeing, in 2003, it was competing with municipalities in 20 states.  "Many of the [Boeing] company officials thought Mobile was a superior location, but politically to put it outside the state of Washington was too much to bear," says Stimpson. Though Mobile made it to the finals, that first Dreamliner assembly project stayed in Everett, Washington, where Boeing already had a huge investment.
Washington's then-governor Gary Locke signed a $3.2 billion incentives package to keep Boeing and other aerospace companies in place, offering substantial tax credits and exemptions over a 20-year period. Boeing reportedly got another $32 million to pay for employee training and other goodies. In 2007, a former Boeing executive who now consults for the state on aerospace economic development, John Monroe, told the Seattle Times that the Dreamliner project failed to produce the levels of supplier employment and spin-off commerce officials had hoped for.
"Test run" is how Sisson describes that first competition for Mobile. In 2004, another Dreamliner fuselage manufacturing project appeared, this one run by Boeing partners Vought Aircraft and Alenia Aeronautica, an Italian company.
"We came out as [Boeing's] first pick in 2004," recalls Win Hallett. "But then the unions started kicking up. Boeing had promised an engineering center and a Center of Excellence to us, and during negotiations they took that off the table. But they still wanted more in incentives…. You have to know when to say no." He believes Boeing used Mobile to get more concessions from North Charleston. "As long as there are two parties competing, you're going to try to get more from one than the other," Hallett continues. "That's not unusual in economic development. But it became a one-sided negotiation."
Alabama withdrew, and North Charleston won that second bid. Vought-Alenia put up $560 million to build a 600,000-square-foot manufacturing plant at Charleston International Airport. South Carolina agreed to the complete $450 million incentives package the company wanted with a proviso that Boeing create at least 3,800 jobs and invest $750 million within seven years. A 2010 analysis by the Charleston, South Carolina Post and Courier estimated the state package actually exceeded $900 million in property and sales tax breaks and state bonds.
"Boeing's incentives were substantial," acknowledges Ryan Johnson, North Charleston's coordinator of business development. Boeing got property tax abatements for 30 years and arranged to pay a "fee in lieu of property tax" that works out to about six percent, which Johnson says is standard practice for economic development projects. (The normal manufacturing tax rate in South Carolina is 10.5 percent.) He points to a study by the Charleston Metro Chamber of Commerce that estimates Boeing's presence has pumped $11 billion into the region. The 8,200 Boeing employees "give back to our community, buy houses in our community, and their kids go to school with our kids," Johnson says.
Still, Sisson has no regrets about dropping Mobile's bid for Boeing. "Everyone felt we made the right decision," he says.
Tanker Warfare
In 2005, opportunity knocked in Mobile once more. Northrop Grumman and Airbus North America (then called EADS) had agreed to be partners in a bid to build the KC-45, a proposed replacement for the Air Force's Boeing-built KC-135 Stratotanker. That contract was worth up to $35 billion, with the manufacturers agreeing to deliver 179 aircraft over a 10-to-15-year span. Stimpson, then chair of the Mobile Chamber Board of Directors, began meeting with Ralph Crosby, then the president and CEO of EADS North America. (He retired at the end of 2012.)
Crosby had been tasked with laying out a North American production strategy so Airbus could grow its military and commercial businesses. He was a native of Charleston; his own mother lobbied him to bring Airbus to his hometown. 
After receiving proposals from more than 70 communities in 35 states, Crosby winnowed the competitors to five finalists, among them the Charleston area and Mobile. Mobile's deep port and easy access to Brookley struck him as ideal for moving tanker parts and equipment; there'd be no need to re-containerize components arriving by ship and drive them through a dense urban environment. 
In addition to the practicalities, he appreciated Mobile's style of recruitment. "The [then] governor of Alabama, Bob Riley, showed up at our offices with every member of congress from Alabama, both senators, Mayor Sam Jones…. It was clear that these people were hungry and enthusiastic and putting the best offer on the table."
In 2006 Airbus announced the creation of the Engineering and Design Center at Brookley, guaranteeing at least 150 engineering jobs, a figure that later rose to 230. Crosby said Airbus wanted to make a show of good faith to the community they'd chosen, one that would not be dependent upon winning the tanker contract; the center opened in 2007. A year later, the bid for the tanker project was submitted, and in February 2008, the DoD announced that Northrop Grumman and Airbus had won.
Laura McDonald, a former Air Force maintenance manager and mother of four who'd moved to Mobile as a civilian just before the recession hit, had been hoping for a miracle. "Everybody was so excited," she says.
The euphoria was short-lived. In March 2008 Boeing went to court alleging irregularities and unfairness in the Air Force bidding process. After a legal battle and rebid (in which Northrop Grumman dropped out as Airbus' partner), the $35 billion tanker contract was awarded to Boeing.
"I remember thinking, 'What are we going to do?' " McDonald recalls. "This was very bad news because Mobile has such a strong maritime community, but there was nothing in aviation here unless you wanted to work for a supplier…nothing on the scale the tanker would be."
Sisson recalls the response arriving in stages.  "We went from being elated to angry to deflated to feeling the opportunity had been stolen," he says. "I can just say that when it comes to those tanker projects, the fact that Boeing is an American company was a huge plus."
Sam Jones, a Navy veteran who had served aboard the Forrestal decades before he became Mobile's first African-American mayor, remained defiant: "We will build jets in Mobile," he said the night the Boeing award was announced.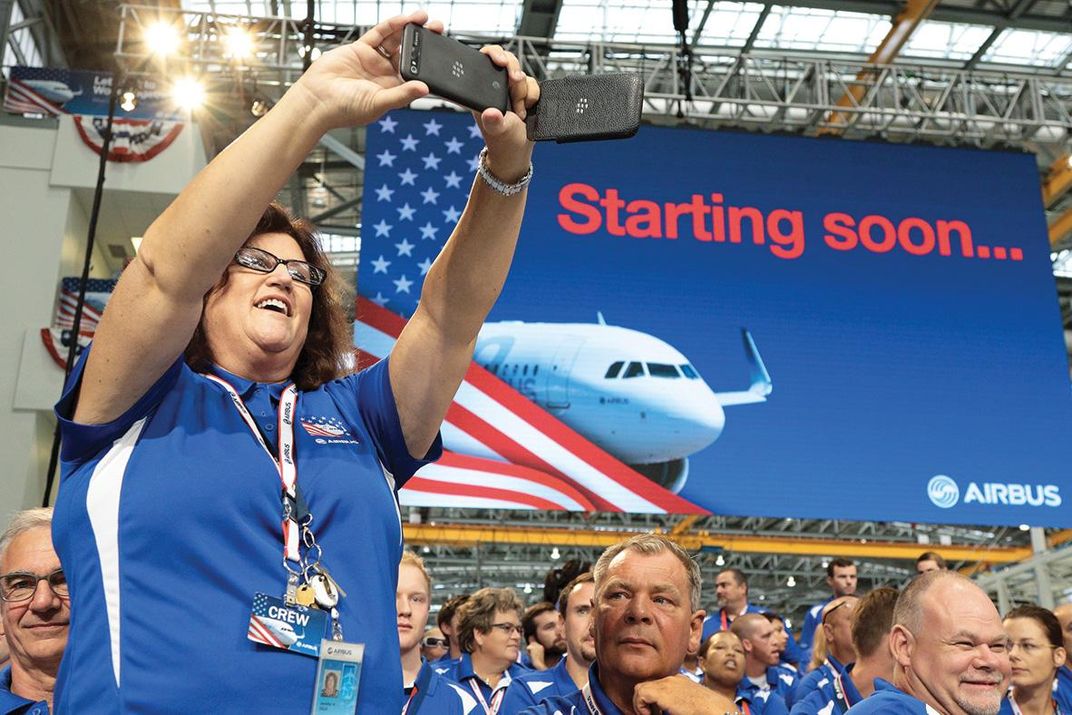 Fourth Time's the Charm
McDonald channeled her energy into studying for a graduate degree. From 2009 through 2011 she stayed home with her children; her husband, an aircraft mechanic, commuted to Louisiana, a five-hour drive, each week. McDonald sent out résumés, to no avail. "The only jobs I could find I wasn't qualified for—either medical professional or shipbuilding," she says. Reluctantly, she and her husband decided to move to Louisiana and put their house up for sale.
Mobile remained determined to land a commercial aircraft project. Governor Robert Bentley, Win Hallett from the Mobile Area Chamber of Commerce, new vice president of economic development Troy Wayman, and County Commissioner Connie Hudson all attended the 2011 Paris Air Show and met with Airbus Group CEO Tom Enders, Airbus North America Chairman and CEO Allan McArtor, Crosby, and several others.
"It became almost like getting family together over time," Sisson says. "And the conversation was like this: 'If you can make your business case for Airbus commercial manufacturing here, you can count on Alabama to be right with you.' "
Soon after, an incentives package north of $154 million was put on the table: $18 million pledged from the city of Mobile, $14 million from Mobile County, about $70 million from the state of Alabama, and $51.8 million from the Alabama Industrial Development Training program. Airbus would get a cash payment and some property tax abatements, among other perks.
In turn, the $68 billion international company committed to building a $600 million center at Brookley to construct the "classic" A320 series jets along with the "New Engine Option" variant, which is intended to provide a 15 percent fuel savings, by end of 2017.
It was the break Mobile had been fighting for.
"This was a labor of love," says McArtor. "We were at this a long time. It's an important project for the Gulf Coast, and the local community is just so enthusiastic to work with us. It's not about an incentive package either…. We were impressed with the success of the automobile industry in Alabama, the aerospace industry in Huntsville, and the willingness of the state to train high-tech employees."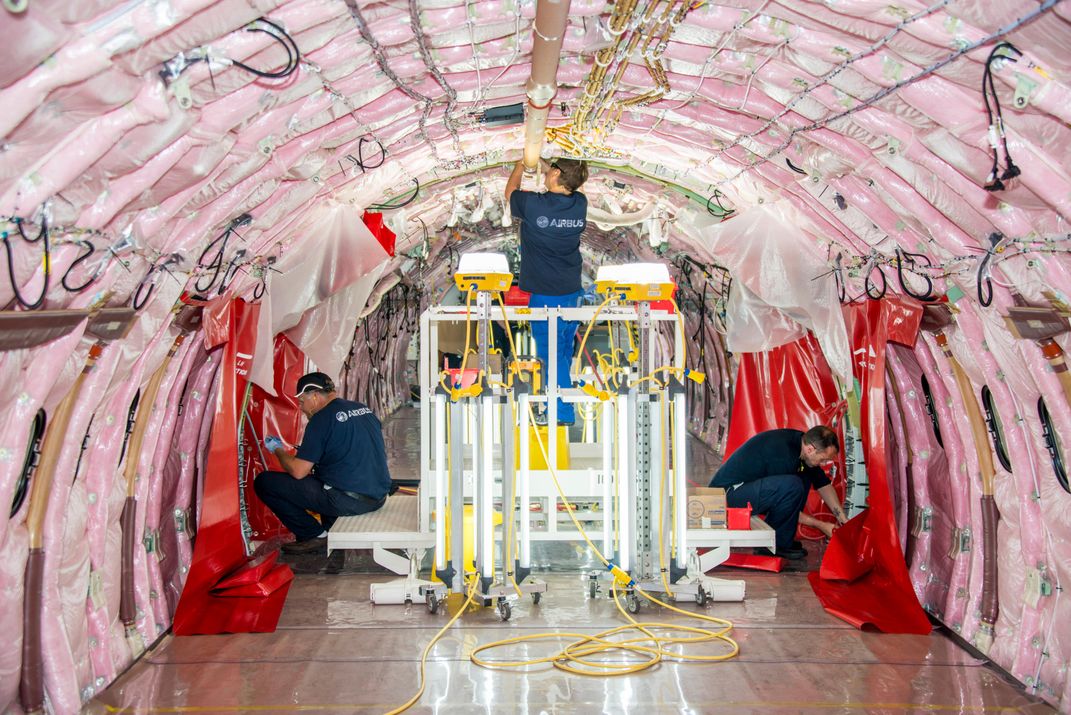 Dress Blues
At the grand opening of Airbus' Mobile plant last September, Laura McDonald was among the 260 recently-hired Airbus employees seated onstage in matching blue shirts. "I remember hearing in the early part of 2012 the rumors that Airbus was going to name Mobile as the site of a commercial facility," she recalled after the ceremony. "I have strong faith and we were all praying it would happen."
McDonald had been trained in Hamburg; she started her job as a delivery planner two months prior to the plant's official opening, coordinating operations checks between technicians and Airbus customers arriving to fly the aircraft. "Our house was on the market," she says, "but now this job came up. We're not going to move because there's so much room here for growth."
Another new hire seated onstage was Paul Hernandez, a fuselage inspector who, after graduating from Chicago Vocational High School, had specialized in aviation quality control and powerplants. Though already in his early 60s and a grandfather, Hernandez remained robust and youthful-looking. He was working at Segers Aero Company—a maintenance, repair, and overhaul facility located on the other side of Mobile Bay from Brookley—when he heard an Airbus recruitment ad on the radio in June 2014.
"I realized I had all the prerequisites for the job," Hernandez says. He too was shipped off to Hamburg for six months of training. Hernandez had never been overseas before, and the experience delighted him. He loved bicycling to work and meeting people in the same field from other countries. "You learn how others think," he says. "And with an open mind and open ears, you [discover] there are always things to learn from other people."
At the opening-day celebrations, the Airbus brass echoed Hernandez's upbeat sentiments. Executives Enders, McArtor, Barry Eccleston, and Fabrice Brégier all gave speeches. The hall was draped in red, white and blue bunting. "Today is a moment of pride…for all Airbus people everywhere," Brégier, president and CEO of Airbus, said. "Today shows that Airbus is becoming a truly global manufacturer—and a truly American manufacturer!"
The first jet assembled in Mobile, an A321 ordered by JetBlue, made a successful 3.5-hour test flight on March 21. Reached by phone in April, Win Hallett, the Mobile Area Chamber of Commerce vet, reflected on the more than 13 years he'd worked to bring an airplane-maker to Mobile.
"There are people in Washington state who said Mobile couldn't put a tricycle together the night before Christmas," he says. "It will be a great satisfaction to many people to see our first jet delivered on the 25th of this month."
At the opening day ceremony, Brégier and another new Airbus hire, Ryane Dedeaux, walked to an unfinished JetBlue tail cone and applied a label reading "This Aircraft Proudly Made in the USA by the Worldwide Team of Airbus." The crowd cheered.