Need a Satellite Link? Call the 117th Space Battalion
Sometimes a soldier's best friend is an IT guy with a satellite dish.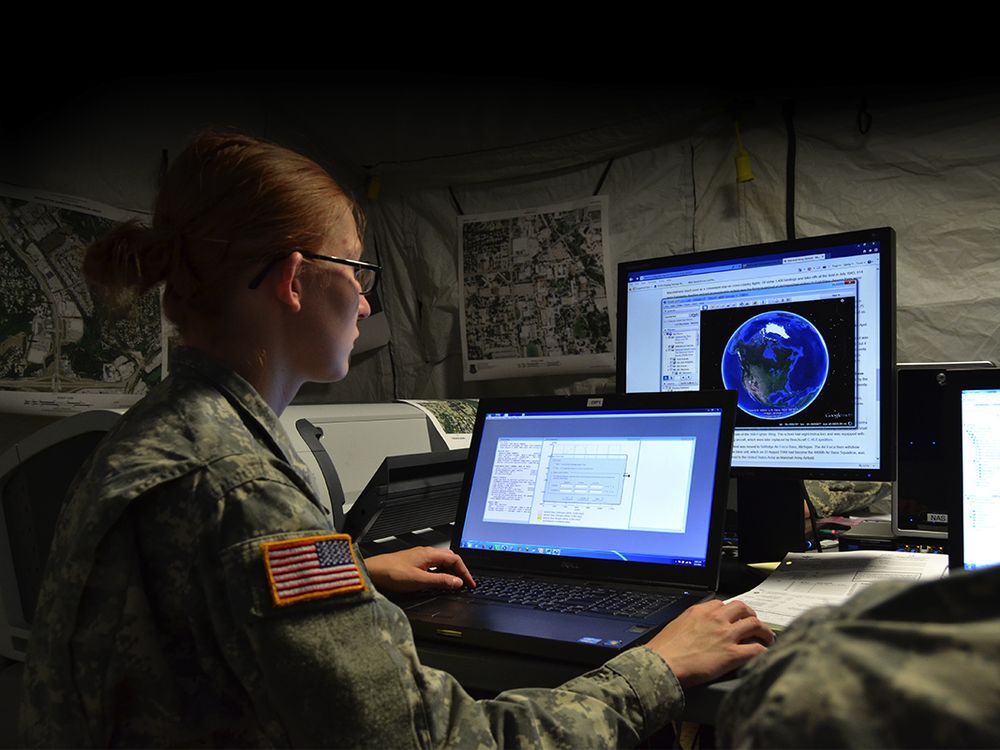 For two years, beginning in 2011, the U.S. Naval Criminal Investigative Service (NCIS) had been building a case against a group of Somali pirates operating in the western Indian Ocean. Just off the coast of Somalia, the group held two vessels: the Albedo, a 520-foot container ship they took captive in November 2010, and the Naham 3, a 160-foot fishing ship they commandeered in March 2012. Demanding millions in ransom, they held dozens of the ships' crew members hostage, starving, torturing, and in some cases killing them.
In May 2013, after amassing evidence against the pirates, NCIS personnel needed up-to-date satellite imagery of the ships, providing enough detail to clearly identify them and their exact positions. But the imagery had to be taken from unclassified systems so that during a future criminal trial, prosecutors could show the photographs to those without security clearances.
Unable to task the top-secret satellites of the U.S. National Reconnaissance Office, NCIS personnel contacted a seven-person team of specialists who provided the investigators exactly what they needed. Given a roughly-60-square-mile area of the Indian Ocean where NCIS believed the pirates may have anchored the ships, the team requested imagery from the WorldView-1 commercial satellite, operated by Colorado-based DigitalGlobe. "We were lucky to get several clear images free from fog, clouds, and weather, and started looking for anything that could possibly be the target," explains team member John Colin. With a resolution of 0.5 meter (at just under 20 inches, the highest the U.S. government allowed at the time for commercial imagery), Colin and Amanda Gibson, another team member, scanned the recent black-and-white images. Three faint white pixels caught Gibson's eye, and she zoomed in on them. "We found the boat!" Gibson said. The images revealed not only the Albedo but also the Naham 3, tethered with a mooring line to the larger container ship. The team passed the digital image files and geographic information to NCIS. "It took us just three hours!" says Colin of the satellite-based search.
Stationed at Naval Support Activity Bahrain, a U.S. Navy base in Manama, Bahrain, from May 2013 to January 2014, the team wasn't part of the U.S. government's intelligence agencies, nor any special operations group. Colin, a lieutenant, and Gibson, a sergeant, were members of a one-of-a-kind unit in the U.S. military: the 117th Space Battalion of the Colorado Army National Guard.
Unlike an Air Force squadron, a Marine Corps battalion, or an Army regiment, the 117th exists not for a single combat role or group of related roles but to provide the various capabilities of space-based assets—from communication to imaging. Lieutenant Colonel Martin Bortolutti, who was the 117th's commanding officer when the operation to locate the pirates took place, explains that "Army space capability" includes space-based assets not necessarily owned by the U.S. Army. "We can use those of other parties and agencies," he says, including imagery from commercial satellites, like DigitalGlobe's WorldView-1. Each of the team has a specific job, from geospatial engineer to computer network specialist.
During their 2013-2014 tour, the 117th's Commercial Imagery Team, designated CIT 4, stayed busy. "Our mission was to support all of United States Central Command [a military operations area spanning 4.6 million square miles and comprising 20 nations, including nearly all of the Middle East] with commercial satellite imagery," says Major Ben Howe, CIT 4's team leader for that deployment. "A big advantage of commercial imagery is that it is unclassified and sharable with other government agencies, civilians, and host nations." He notes that for most missions, half-meter resolution, although far bested by top-secret surveillance and reconnaissance satellites operated by the United States, is almost always sufficient.
Another mission had CIT 4 looking at every oil platform in the Persian Gulf to determine which, if any, were operating illegally, a request made by the six-nation Gulf Cooperation Council. The team first undertook a broad search, one that wouldn't be suitable for the WorldView-1 satellite. "That's like looking through a soda straw toward the ground and water; it would take an untenable number of images to cover the entire gulf," says Howe. For the initial survey, CIT 4 worked with the National Geospatial-Intelligence Agency, which, among other tasks, procures commercial, unclassified imagery for the U.S. military. Through the NGA, the team tasked a commercial synthetic aperture radar satellite to scan the Persian Gulf, the first time the whole body of water was scanned. Once they'd mapped the oil platforms, the team employed the WorldView-1 to view each one up close.
The scan showed something the team hadn't been looking for: that the Iranian government had extended a runway for its military aircraft and had constructed a number of bunkers on the island of Abu Musa, which sits at a critical point along the Strait of Hormuz. The 117th's work also proved critical for the construction of a clean water project in Yemen; the imagery they provided helped locate potential wells. The unit created an up-to-date series of detailed maps of the Somali coast for the French navy, and after a bombing, quickly provided time-critical imagery of the area surrounding the U.S. Embassy at Bani Jamra, Bahrain.
Although commercially sourced, some of CIT 4's products are used for classified purposes. Howe recalled the work CIT 4 performed for the Nelson Mandela funeral procession in December 2013: "I was talking with an extremely high-level Army staff member who was not going to be using the imagery directly. He was going to be giving it to someone else. And I didn't ask or even speculate just who that was. That's not my job."
I wondered out loud if the high visibility of the funeral made the procession a tempting target for terrorists, and hence created an international interest in placing counterterrorism units, such as those of the U.S. Army Special Forces or Navy SEALs, along the route.
Howe stared blankly and waited for a question he could answer.
In addition to the CITs, the 117th deploys teams that typically work with secret and top-secret space-based assets to support deployed U.S. military units. Called Army Space Support Teams, these groups assist troops in a number of ways. They provide accurate, highly detailed, laminated folding maps for field use. They monitor the military's global positioning system to advise on its reliability. Sergeant Jules Tallant, a geospatial engineer in the 117th who deployed to Afghanistan in 2012-2013, explains that GPS satellites' geometry is constantly changing, so the efficacy of the system for any location constantly changes. "We know where all the satellites will be at any time, so we can give a 24- or 48-hour model," she says. "Operations planners can know that if the GPS isn't going to be so great, maybe they don't want to drop JDAMs [GPS-guided bombs]."
Tallant's team also provided the Marines with a continuously operating system warning of a threat many might find surprising: incoming ballistic missiles. Nations such as China, Russia, and North Korea may not have all their missiles aimed at the United States; they may have at least some aimed where U.S. forces are massed, like the Marines in Afghanistan.
Because the Marine Corps does not possess its own dedicated space units, the 117th has been supporting Marines in Afghanistan and Iraq continuously over the past 10 years. "We're one of the most frequently deployed National Guard units in the context of organized units for a full-tour, boots-on-the-ground, combat theater deployment," says Lieutenant Colonel Bortolutti.
In addition to directly supporting U.S. and coalition forces, the teams train others in using unclassified space assets. They've trained Afghan forces to create maps and other imagery products for security and combat operations so the nation will have these skills after Americans leave. Captain Jeff Wilson, a member of CIT 4, spent nearly 150 days traveling throughout five countries training local forces, including those of Iraq and Afghanistan, in using commercial imagery.
Because the 117th is a National Guard unit, specifically a Colorado unit, its members also provide expertise for domestic operations, including disaster relief, recovery, and emergency response planning. The 117th sent teams to help with the 2013 West Fork wildfires as well as flooding within the state.
Regardless of how it's deployed, the 117th has a vantage useful to any combatant. "Space is the new high ground," says Tallant, a reference to the centuries-old axiom that to win a conflict—be it against a human or adversary or nature—a force fights best from above.