Return of the Light Brigade
To meet the demands of 21st century warfare, militaries are reaching for a Vietnam-era weapon.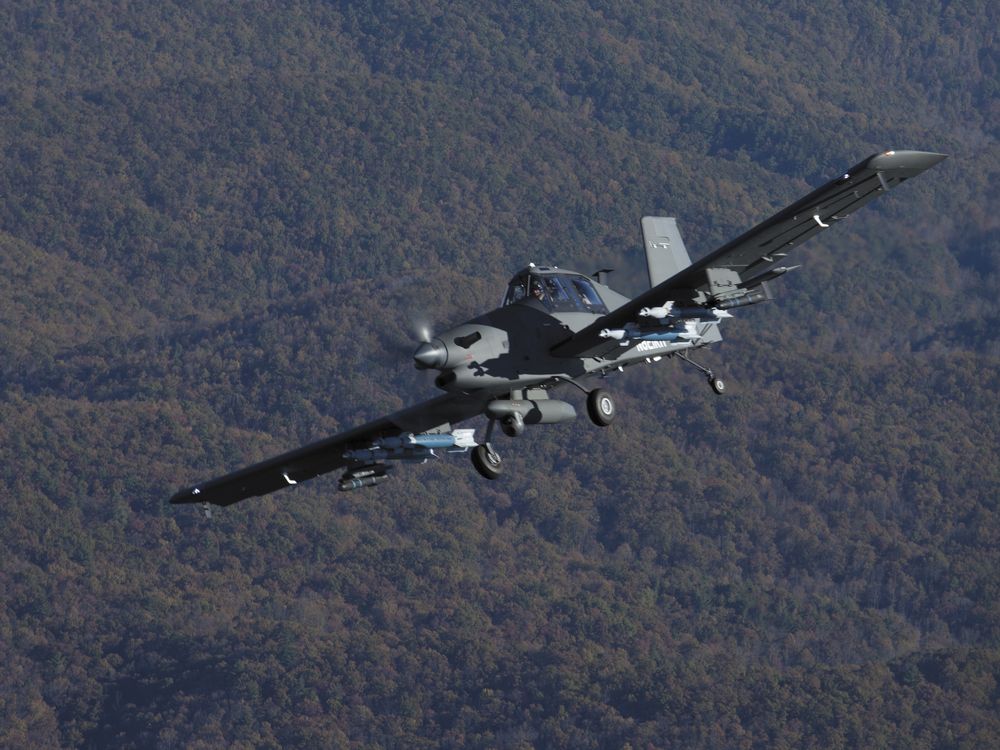 Twelve thousand feet below, the North Carolina countryside slides serenely past as I watch from the rear cockpit of an airplane designed for a mission very different from the one it's flying. Ordinarily this Ayers Thrush S2R-660 single-engine turboprop would be buzzing just a few feet over fields, dispersing a steady stream of pesticides. But this is no ordinary cropduster. On the factory floor of the Mooresville, North Carolina-based company Iomax, the agricultural workhorse has been transformed. It is now a heavily armed Iomax Archangel, and I survey the landscape through a Wescam MX-15 infrared targeting turret and 17-inch display monitor.
I find a good practice target: a long, skinny building, roof hot and glowing in the infrared. Today, I've decided, we are hunting chicken coops.
Up front, Iomax pilot Alan Wilkes, a former F-16 pilot and Air Force Special Operations Command veteran, can see the target I've chosen on his own monitor, and gently banks to the left to keep the chicken coop off our wing. Hanging from the Archangel's six underwing hardpoints are enough laser-guided munitions—rockets, bombs, and missiles—to level a half-dozen chicken coops, and a flare and chaff dispenser is ready in case the chickens fight back with surface-to-air missiles. Even if we held onto our heavy weapons load—waiting perhaps for a more significant target to appear—we could orbit over this territory for up to five hours. This is the essence of the light attack mission, a capability the U.S. military all but gave up two decades ago. Light attack aircraft are today in demand, but none fly for U.S. forces—yet.
One of the first countries to recognize that cropdusters could be useful in combat was the United Arab Emirates, coincidentally also the first non-NATO nation approved to purchase Predator XP surveillance drones. (Seen by U.S. military leaders as an ally in the multi-nation battle against the Islamic State, the UAE air force has also bought around 80 F-16s.) In 2006, Erik Prince, founder of the private military company Blackwater, learned the United Arab Emirates was shopping for inexpensive light attack airplanes to support its special forces. Prince, then director of Presidential Airways, a Blackwater subsidiary, offered to develop a weaponized version of a cropduster. Presidential bought an Air Tractor AT-802A, yanked out the cropdusting equipment, added six hardpoints, and attached gun pods and dummy bombs. The prototype, displayed at the 2009 Paris Air Show, was to be transformed into the first of 24 production aircraft for the UAE, but the deal fell apart. The UAE turned to Iomax: Could that company perform the mods instead? Indeed they could, and the 24 became known as AT-802i. But Iomax had proposed major changes during assembly, which Air Tractor declined. Competitor Ayers obliged, and the result is the Iomax Archangel that I experienced in North Carolina. The UAE liked the concept enough to order 12 new Archangels, in addition to AT-802s. The UAE's former cropdusters, modest as they are when compared to its formidable F-16s and Predators, are already at war in foreign lands: Commercial satellite pictures and snapshots shared on social media show the airplanes over Libya, where they've bombed Al Qaeda-linked militants in Benghazi; over Yemen, attacking Houthi rebels; and over Egypt's Sinai Peninsula, being used against ISIS-affiliated groups.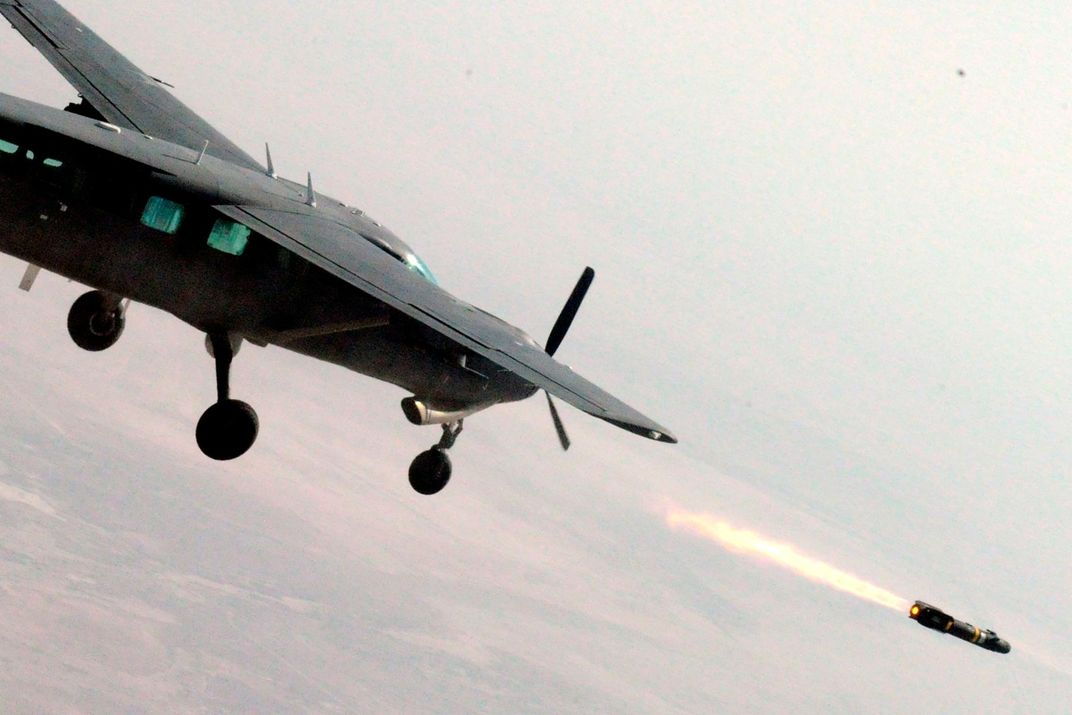 Supply or Demand?
Colonel Mike Pietrucha's job is to research how the Air Force can do its job better. A member of the Air Force Chief of Staff's Strategic Study Group and a former F-15E back-seater, Pietrucha has combat experience both in the air and on the ground. In 2008, Pietrucha co-authored a report advocating that the Air Force restore the light attack mission (which he called Observation/Attack-X, or OA-X). Nine years later, he's still advocating.
"I'm not so much a light attack advocate as I am an airpower advocate," he says. "For the majority of the missions we do the majority of the time, light attack makes sense." And the Pentagon does recognize light attack's utility: Despite not having any such aircraft in the inventory, the U.S. government is one of light attack's largest customers—on behalf of others. The United States bought four AT-802s for Yemen, but in 2015, after rebels took control of large swaths of Yemeni territory, diverted them to Jordan.
Following the 2001 U.S. invasion of Afghanistan, the Afghan air force needed to be rebuilt from the ground up. With air supremacy all but guaranteed (the Taliban has no air force, and little in the way of anti-aircraft armament), and given the limited capabilities of a fledgling air force in a developing nation, the Afghans had little use for the pointy jets flown by the U.S. Air Force. They needed something inexpensive, easy to fly and maintain, and able to stay in the air for hours of surveillance but pounce on nearby targets as opportunities arose. In 2010, the United States announced the Light Air Support (LAS) program to supply Afghanistan with 20 of the most appropriate airplanes (and train crews to fly and maintain them). Two types, the Embraer A-29B Super Tucano and Beechcraft AT-6 Wolverine, emerged as the main contenders, and the competition between them was tight. The Super Tucano is established: More than 200 fly as trainers as well as light attackers for air forces around the world, including in such restive nations as Colombia and Indonesia. The AT-6 Wolverine is a new modification of an established airplane. The T-6 is the United States' primary military trainer (itself a derivative of the Pilatus PC-9) for both the Air Force and Navy, so virtually every U.S. military pilot knows it. It is praised for its flyability and performance, and it adopts electronics from the A-10 and F/A-18. But critics point out that the AT-6 is not as well suited for operations on rough, austere airfields; it is also dinged for critical blind spots in its sensor turret. The Super Tucano, on the other hand, is bigger, heavier, and more expensive.
Pietrucha flew backseat evaluations of both airplanes and claims no preference. "If I was a sales guy, I could make a strong case for either one," he says. "And if I worked for either defense contractor, I could make a case against the other guy's airplane.
"The A-29 I characterize as a 'bruiser,' " Pietrucha continues. "Rugged airframe, some decent electronics and decent sensors." Of the AT-6, Pietrucha says, "What you got was a very elegant solution that [by adopting equipment from existing U.S. airplanes] had already been paid for from a weapons and comms standpoint. So I characterize the AT-6 as a 'fencer.' " The Super Tucano won a 2011 flyoff, to which Beechcraft objected, saying it was biased; the Government Accountability Office agreed, and in 2013 a new analysis resulted in another Tucano win, to which Beechcraft again objected, but this time was overruled. All 20 Super Tucanos have been delivered, most based at Georgia's Moody Air Force Base for pilot training; eight are now in Afghanistan, where they fly operational light attack missions.
Of course, the United States is also fighting in Afghanistan, and involved in similar battles against insurgents elsewhere, and even before the services looked for light attack aircraft to export, they studied light attack for their own needs. The Light Air Support contest to supply Afghanistan emerged from the wreckage of a U.S. Air Force attempt to buy OA-X for its own use. "Most aviators who are younger, and have the kind of combat experience in Iraq and Afghanistan and other places that we have, immediately see the value of the light attack aircraft," says Pietrucha.
It seemed like a common-sense idea: Instead of operating the hyper-capable combat airplanes currently used for close air support missions—A-10s and F-16s—which are built to best enemies with far greater capabilities than the Taliban has, buy 36 light attack aircraft and save the Air Force as much as $300 million a year in fuel and operations costs alone. The F-35A, meant to eventually replace the F-16, costs $98 million each, according to Lockheed; that amount could buy at least four light attack airplanes. Beyond gallons of fuel and stacks of dollar bills, there would also be savings in lives: Tell the Army how much jet fuel you need trucked across Iraq or Afghanistan, and the Army can tell you how many casualties to expect from insurgent attacks.
In 2009, the Air Force, drawing on the OA-X requirements, announced a competition for up to 100 aircraft, to be used on light attack/armed reconnaissance (LAAR) missions. As would later happen in the Afghan LAS contest, LAAR was quickly narrowed down to the AT-6 Wolverine and the A-29 Super Tucano. (Iomax's modified cropdusters lack the required ejection seats.) Barely a year after the LAAR announcement, however, the Air Force did an about-face, and the buy was reduced to 20, then canceled altogether.
What Pietrucha didn't know in 2007, as he drafted the OA-X report, was that others in the military were working on solving the same problems. The burden of counterinsurgency fell heavily on Special Operations Command, which usually demands something different from their close air support: SOCOM operates in small groups that depend on airborne assets to tell them—quietly—what's nearby and destroy it if necessary. "Ideally, you'd like to do your business and get out of there without anybody knowing," says a retired Army special forces officer, who requested anonymity because he is not authorized to speak. "Even if you could get the support from an F-15 or F/A-18 or F-35, you probably would not want to use it against the targets that we're going after in many cases." But SOCOM doesn't "own" any assets; it relies on the services to provide aircraft, and the Air Force's solution is a fleet of Lockheed Martin AC-130 gunships, which are well equipped but enormous and plodding­—and expensive.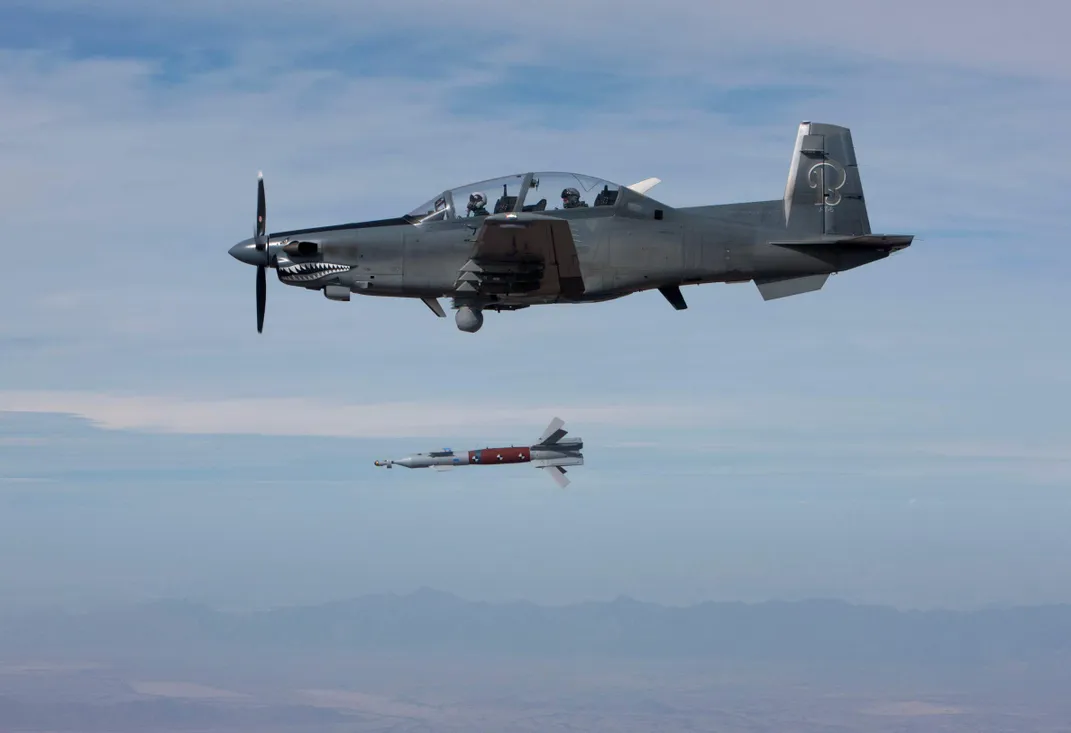 Eager to see how light attack aircraft might fit into their special operations, the Navy leased a Super Tucano from Blackwater in 2009 for a program called Imminent Fury. After modifications at Naval Air Station Patuxent River, Maryland, "We took the airplane and flew it out to [NAS] Fallon, Nevada, went down into Dixie Valley, utilized some representative [man-portable surface-to-air missiles], did the analysis, and said 'survivable,' " says Seamus Flatley, who managed the Super Tucano program for Blackwater subsidiary Presidential Airways. "From there we modified it with a FLIR [forward-looking infrared camera], eventually purchased some .50-cal guns, and we began to do weapons test releasing and everything else with the aircraft." Trials culminated in intense simulations that included flying in cooperation with Air Force special operations aircraft and having Navy SEALs (among others) guide the airplanes onto targets. The Tucano proved so reliable and well suited for long-duration close air support missions, Flatley says, that in 2010, Special Operations Command made plans for a follow-on, Imminent Fury Phase 2, in which four A-29s would be leased from Embraer to fly in Afghanistan. The proposed Afghanistan deployment was called Imminent Fury 2, and it quickly ran into Congressional opposition: Wichita, Kansas-based Hawker Beechcraft was testing the competing AT-6, and the Kansas Congressional delegation quickly moved to cancel the Navy program, citing its single-source, noncompetitive choice of airplanes. The attempt to send Tucanos also ran afoul of Senator John McCain of Arizona, who passionately argued that the Navy was trying to bypass Congress by using funding marked for urgent operational requirements where there were none. Instead of leasing the Super Tucanos for tests in Afghanistan, Imminent Fury Phase 2 became a test of two Vietnam-era OV-10 Broncos borrowed from NASA—both former State Department crop-sprayers—upgraded with new weapons, avionics, and communications gear, on the ranges near Fallon.
In 2011 the Navy tried again to send Tucanos to war, this time under a new program called Combat Dragon 2 (a nod to a program that resulted in the A-37 Dragonfly, the trainer converted into a light attack warrior for use in Vietnam). This deployment was also blocked in Congress, but with support from the commander of Central Command (then Marine General James Mattis), the Navy again turned to the OV-10s from Imminent Fury 2's Nevada tests. In 2015, the two OV-10s were quietly deployed to Iraq for use against ISIS. According to Central Command, the missions in Iraq generally began as surveillance over the frontlines, using the Bronco's new FLIR turrets. When the OV-10s—or nearby special forces—found something worth targeting, the Broncos attacked with guns and rockets.
"It wasn't about the OV-10," says Navy Captain J.B. Walton, a former F-14 and F/A-18 crewman who took part in both Imminent Fury 2 and Combat Dragon 2. While Walton wasn't allowed to discuss operational details with me, in an article titled "Bronco 12 Cleared Hot" in the June 2016 issue of Proceedings magazine, published by the Naval Institute, he describes one of his Iraqi missions. After hours of high-altitude observation (from the back seat), Walton reported that he and a pilot attacked two boats loaded with weapons, using laser-guided, 2.75-inch Hydra rockets. When a rocket detonated within inches of their boat, two insurgents were killed and their cargo destroyed. The crew of the second boat dove into the water and tried to escape to shore, but a second rocket attack ended the attempt.
His OV-10 experience taught Walton that while they're no replacement for the pointy jets, light attack aircraft can "be an absolutely fantastic bridge, a complementary asset to the fight that's already out there. The goal was not to replace any of those aircraft, it was to provide more synergy [and] a better comms path….Can we provide incredible fire support, incredible ISR [intelligence, surveillance, and reconnaissance], and do it spending just a little less money? I think light attack is the way to do it."
But regardless of its evident usefulness, light attack still faces opposition. The Navy was barely able to conduct the Imminent Fury follow-ons, Imminent Fury 2 and Combat Dragon 2, due to Congressional opposition, which on the surface stemmed from two major circumstances: First, the chosen Tucanos were designed and built in Brazil, not the United States, and second, the program did not invite companies to compete for selection. But there may be a longer-standing opposition stemming from more basic issues in the way aircraft are procured for the U.S. Air Force.
Outlook Hazy
During the Vietnam War, the Air Force—equipped to fight the most potent Soviet technology—realized its fast, capable jets weren't suited to light strike missions. It started the first Combat Dragon program, which produced the A-37. The Marines saw the same problem and adopted the OV-10, also borrowed in small numbers by the Navy. After the United States withdrew from Vietnam, light attack was put aside in favor of airplanes thought better suited to fight the Soviet Union should the cold war turn hot, like the F-16 (meant to defend airspace against MiGs) and A-10 (to blunt massed tank attacks).
Military planners can only try to anticipate the nature of future warfare. But their visions become requirements for airplanes that can easily take a decade or more to field, during which time the world changes in ways impossible to predict. The Gulf War, fought against Soviet-equipped and -trained Iraqi armies, drove home the need to be prepared for "conventional" warfare, with counterinsurgencies thought distant and unlikely. As a result, the military, intent on keeping well ahead of other advanced militaries, invested in projects like the F-22 and F-35, both of which boast technologies suited to sneaking into airspace bristling with advanced surface-to-air missiles and fighting their way out.
Following the attacks of 9/11, the United States—to the great surprise of many—again faced enemies against whom high-tech equipment was of little use. The attacks of the Taliban and Iraqi insurgents were similar in some ways to those of the Viet Cong in South Vietnam: unpredictable, hit-and-run ambushes by small groups of fighters—often armed with little more than AK-47s and improvised, remote-controlled bombs—who blend into the civilian population. "What this brings up is a greater discussion of aircraft," says Pietrucha. "People often make the mistake in thinking that we can build or buy a perfect airplane…. Each of these airplanes looks different and has different capabilities because their design point was different. And you optimize for one thing and you don't optimize for another. So that's kind of a long-winded way of saying you can't build a one-size-fits-all airplane."
Since the future may very well include war against a technologically advanced military, U.S. planners believe they have no choice but to field the latest and greatest. "We need a sophisticated air force to give us air superiority, and we've always operated under that condition," says the retired Army special forces officer. "No one is going to tell them not to. Sometimes you just wish that they were a little more geared toward what the ground guy is."
That wish may yet come true. For a time the U.S. Air Force considered replacing the A-10 with two different ground attack airplanes: one high-end to attack technologically advanced tank armies, and a light attack airplane for Taliban-like fights. The idea was quickly shot down as impractically expensive, but Imminent Fury and Combat Dragon tests give proponents ammunition. One proponent is retired Marine General James "Mad Dog" Mattis, who ran Central Command from 2010 to 2013 and was said to support the Combat Dragon deployment to his area of operations. "Even if you just had four squadrons," says Mattis, "you would have a sustainable model to keep them deployed for a couple of years, in the middle of Africa or someplace, rotating the squadrons in and out. But whether the services would buy into it? They seem to, at least on the aviation side, be very invested and focused on the highest end of capability."
In the meantime, the aerospace industry is undergoing a light attack surge. The Super Tucano is preparing to enter service in Lebanon, Nigeria, and Mali. The Beechcraft AT-6 has yet to sell, but parent company Textron recently introduced the Scorpion, a twin-engine jet built specifically for light attack missions. Iraq and Lebanon fly weaponized, U.S.­-funded Cessna Caravans, originally designed for small-number passenger transport or light cargo hauling. A South African company is testing a dedicated light attack/reconnaissance airplane called AHRLAC. Iomax is readying another order for the UAE, this time for Thrush-based Archangels. Even Erik Prince still wants light attack airplanes: His new company Frontier Services Group, according to the website The Intercept, hired an Austrian company to arm Thrush cropdusters and send them to Africa. (The deal fell through because it violated weapons export regulations.) Still, the U.S. military hesitates, and light attack manufacturers will just have to be content with small fry as they wait for the biggest fish in the pond to swim their way.