Texas - Nature and Scientific Wonders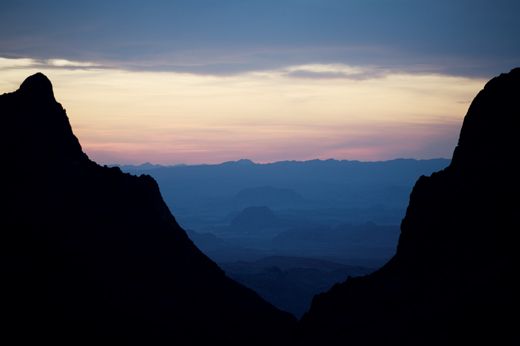 The Seven Natural Wonders of Texas
Texas is famous for vast cattle ranches and oil booms, but our natural wonders are what awe and inspire travelers.
Natural Bridge Caverns
Located 13 miles north of San Antonio, Natural Bridge Caverns is one of the world's premiere show caves and Texas's largest natural attractions. Visitors can view more than 10,000 different formations in its underground chambers. More than 250,000 tourists a year visit this Texas treasure that was recently named to the National Register of Historic Places by the U.S. Department of the Interior for sites that have an important role in preserving cultural history.
Enchanted Rock
Located just outside the Texas Hill Country town of Fredericksburg, visitors are invited to backpack, camp, hike, rock climb, picnic, bird watch and star gaze in this Texas state park, which is the second-largest granite dome in the United States. The formation rises 425 feet above ground (1,825 feet above sea level) and covers 640 acres.
Big Bend National Park
Hailed as one of America's largest national parks, Big Bend National Park encompasses more than 800,000 acres along the Rio Grande River in West Texas. The park ranges in elevation from less than 2,000 feet along the Rio Grande River to nearly 8,000 feet in the Chisos Mountains and encompasses massive canyons, rock formations and vast desert expanses.
Padre Island National Seashore
Visitors are sure to soak up plenty of sun on the Padre Island National Seashore, which is the longest remaining undeveloped stretch of barrier island in the world.
The Meteor Crater
Visitors can travel back in time in Odessa, where they can see the 550-foot meteor crater, the second largest in the nation, which was the result of a barrage of meteors crashing to the earth 20,000 to 30,000 years ago.
Big Thicket National Preserve
Nature enthusiasts will want to visit this national preserve where the southwestern desert meets the eastern hardwood swamps and coastal prairies meet the northern piney woods. The preserve is home to diverse plant communities including orchids, cactus, cypress and pine, as well as many species of birds, insect-eating plants and a wide variety of wildlife.
Palo Duro Canyon State Park
Famed as the second-largest canyon in the United States, the colorful slopes of the Palo Duro Canyon span approximately 120 miles long, 20 miles wide and 800 feet deep.
Outdoor Adventure: Not Just For Cowboys
Whether you are looking to camp, hike, bike, golf, swim, fish, hunt, horseback ride, bird watch or experience just about any other outdoor activity you can think of, Texas is the place to be.
With more than 267,000 square miles to explore, cyclists find many diverse and thrilling rides in Texas, whether it is through the mountains of West Texas or on the trails of the Piney Woods.
Texas also has a number of excellent spots to pitch a tent and spend the night under the stars. State parks, national parks, sandy beaches and nature preserves offer campers a vast variety of areas from which to choose.
One of the most majestic sites for camping and hiking is Palo Duro Canyon State Park in North Texas. If adventure is on the agenda, visitors have their choice at Big Bend National Park in far West Texas that encompasses more than 800,000 acres of mountains and desert along the Rio Grande River, where visitors enjoy hiking, camping, wildlife and more.
The fish are sure to be biting in the more than 90 freshwater lakes and saltwater bays of Texas. From tournament fishing for black bass to fly fishing for rainbow trout, Texas offers fishermen more than any other single state. Deep sea fishing excursions from South Padre Island, Corpus Christi and Galveston offer fishermen a chance to bring home a prize sailfish or shark as a souvenir from their day in the Gulf of Mexico.
For visitors who want to get their feet wet, Texas offers numerous swimming, rafting and scuba diving adventures. Located just 110 miles off the coast of Freeport, the Flower Garden Banks National Marine Sanctuary is a scuba diver's paradise and a world premier diving destination.
With more than 600 species of birds to see and catalogue, Texas is arguably the birding capital of America. Famed birding areas in Texas include the Gulf Coast, Texas Hill Country and the Piney Woods of East Texas. Texas is also home to the World Birding Center, a network of nine birding sites dotted along 120 miles of river road from South Padre Island west to Roma along the Rio Grande River of South Texas.
Happy Trails: Discovering Texas Wildlife
Wild treasures in Texas go far beyond cattle, cactus and coyotes. In addition to a world-class bird-watching experience, adventurers who hike, bike, kayak or even camel trek their way through Texas will find opportunities to chase rare butterflies, spot an endangered ocelot, boat with dolphins or watch sea turtles make their nests.
The Rio Grande Valley is a canvas of color and a haven for nature and bird enthusiasts. The World Birding Center in Mission serves as a global model for conservation and ecotourism and is home to rare Altamira orioles and plain chachalacas. Just down the road, the International Butterfly Park serves as an 85-acre refuge attracting native flora and fauna as well as more than 290 species of butterflies. Weslaco's Valley Nature Center is not only home to hundreds of bird and butterfly species but also 23 varieties of dragonflies and damselflies. Santa Ana National Wildlife Refuge, the "jewel" of the U.S. National Wildlife refuge system, in Alamo, rounds off some of the Valley's wildlife attractions. This refuge boasts 12 miles of walking trails and a seven-mile tour road that is open to both drivers and bicyclists.
Texas's Gulf Coast draws whooping cranes and waterfowl galore, particularly in Rockport at the Aransas National Wildlife Refuge, which hosts the world's last natural wild population of whoopers along with nearly 400 other bird species. Sea Turtle, Inc. on South Padre Island allows visitors to see endangered sea turtles and learn how its staff rescues and rehabilitates the turtles before releasing them back into the wild. Just across the island, the Dolphin Research and Sea Life Nature Center offers guests the opportunity to feed creatures including starfish, octopus and sea horses. The center also offers dolphin-watching boat tours.
In the Texas Hill Country, the endangered golden-cheeked warbler and black-capped vireo are on display each spring along with other rare songbirds; and fall brings sandhill cranes to the Panhandle Plains region.
Outdoor enthusiasts are sure to fall in love with the rugged beauty of the Big Bend Region. Anchored by Big Bend National Park and Big Bend Ranch State Park, visitors can take in dramatic vistas while enjoying hiking, camping, river running, horse riding, camel trekking, mountain biking and jeep touring. The park also has more than 450 bird species—more than any other national park. Float or raft down the Rio Grande River or for an out-of-the-ordinary touring excursion, contact the Texas Camel Corps for a Camel trek through the desert.
Tee Off in Texas
With a mild climate, a storied past and more than 900 golf courses strewn across rugged desert mountains, rolling green hills, piney woods and seaside links, Texas is blazing a trail in the world of golf. As lush public, private and resort courses spread across the Lone Star State, Texas is fast becoming a destination hotspot and golf-lover's getaway.
Some of the top names in golf course design have left their mark on the Texas golf landscape, including Tom Fazio, Arnold Palmer and Robert Trent Jones. Golf Schools in Irving and Austin boast such famous namesakes as Byron Nelson and Harvey Penick.
If visitors do pack their clubs while visiting Texas, they won't be alone. We count more than 70 of the top PGA players as Texas residents. And many of the courses are stops on the tour itself, including the Shell Houston Open in Houston, the EDS Byron Nelson Championship in Irving, the Crown Plaza Invitational at Colonial in Fort Worth, the Valero Texas Open in San Antonio, the FexEx Kinkos Classic in Austin and the Tour Championship in Houston.
In addition to first-rate golfing, Texas's golf resorts and destination cities boast an assortment of leisure activities, including world-class spa facilities, shopping and fine dining.
From the Gulf Coast to the Big Bend, visitors can play an unforgettable round of golf in Texas.
Just for Kids
Texas's wide open spaces are matched in size only by the imaginations of its young travelers. Children of all ages can explore their biggest dreams here—or just get lost in the thrill of a theme park or the warm sun shining down on the Gulf of Mexico.
"Lil' pardners" looking for a taste of the Old West can hop into the saddle at any of the more than 100 Texas dude ranches with cattle, cowpokes and authentic chuck wagon dinners. Bandera, "The Cowboy Capital of the World," is just northwest of San Antonio and offers such experiences. Families vacationing in urban areas can add a dose of cowboy flavor to their trips with an evening at the rodeo or a two-step lesson at an authentic dance hall.
Young travelers have much to experience at Texas's world-class museums, zoos and aquariums. The Lone Star State houses everything from natural history and children's museums to a tribute to Dr. Pepper. Kids can discover the past at the Bob Bullock Texas State History Museum in Austin, blast off to new worlds entirely at NASA/Johnson Space Center in Houston or spy the night skies at the McDonald Observatory in West Texas. While in West Texas, another can't-miss night wonder is the famous Marfa lights.
More new worlds are waiting underwater in the Lone Star State. The 600 miles of Texas beaches on the Gulf of Mexico are among the most calming and beautiful in the nation. Ideal family activities include parasailing, boating, dolphin watching, bird watching, building sandcastles, deep sea fishing and just relaxing on the pristine beaches.
Texas also has hundreds of old-fashioned freshwater swimming holes scattered throughout the state, from Barton Springs Pool in Austin to San Solomon Springs in Balmorhea State Park. The state is also home to numerous lakes perfect for swimming, boating, jet skiing and fishing.
Another outdoor activity for the whole family has a simple recipe—a tent, a cooler and the beautiful Texas scenery. Texas has plenty of parks, RV sites and cabins to set the stage for an evening under the stars. Beginning and experienced campers alike can enjoy hiking, backpacking and rock climbing from Palo Duro Canyon, in the Texas Panhandle, to the Piney Woods of East Texas.
Those wanting to get their adrenaline pumping need look no further than Texas's theme parks, each with monster roller coasters, stunt shows, musical productions and fun rides for all ages. In addition, Texas is home to some of the nation's best water parks. Families can also spend lazy days floating along Texas's many lazy rivers, including the Comal, San Marcos, Frio and Guadalupe.