Searching for a Mother-in-Law Sandwich
Eager enthusiasts track Chicago's indigenous—and sometimes endangered—food traditions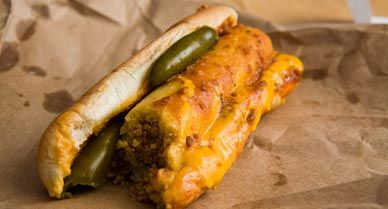 Cruising the streets one day with food writer Mike Sula of the Chicago Reader, I caught a glimpse of what you might call the underbelly of the city's rich gastronomic culture. It's not always a pretty sight.
On Western Avenue, we drove by a little diner where you can order a French fries sandwich. "It's actually a sloppy, disgusting mess, dipped in gravy, smothered in cheese sauce," Sula said, "but some people love them." In fact, he told me, there's a thriving subculture of Chicago gourmands who dote on such oddities—the kind of folks who appreciate an old hot dog stand with a hand-lettered menu board, especially if they stumble upon some rare and pleasing twist on the familiar standbys.
Ever heard of a Freddy? It's an Italian sausage patty on French bread with red sauce, mozzarella and sautéed green peppers. "That one's localized in a really tiny area—there are only six places were you can get it," says Peter Engler, a devotee of esoteric Chicago street food. He waxes rhapsodic about a double cheeseburger called the Big Baby, also unknown beyond a small patch of the South Side. "It's a double patty—two one-sixth–pound patties on a sesame bun that's toasted on the griddle so the grease spatters a little bit," Engler says. "The cheese is always in the middle. It's put on as it's cooking. And the condiments are essentially invariant: greasy grilled onions on the top, pickle, ketchup and mustard on the bottom, always in that order."
Engler and his fellow travelers flock to establishments like Fat Johnnie's, a venerable shack offering a long list of curbside favorites slathered with all the trimmings. What truly endears Fat Johnnie's to the cognoscenti, however, is that it's one of perhaps ten places in the United States—all of them on or near Chicago's South Side—where you can still order a bizarre sandwich called the mother-in-law: a beef tamale on a hot dog bun with chili ladled on top. It's "the evil stepbrother of the hot dog," author and chef Anthony Bourdain said in a recent installment of his TV series, No Reservations—"disturbing in design, yet strangely compelling."
A mutant snack like the mother-in-law definitely needs a champion, and it has found a worthy one in Engler, a Buffalo, N.Y.–born mouse geneticist and amateur food historian who has lived on the South Side since the 1970s. Like a dedicated bird-watcher, he talks about "sightings" of indigenous—and often endangered—species of street food. The mother-in-law is his whooping crane, spotted owl and band-rumped storm-petrel all rolled into one. Along with sympathetic food journalists and bloggers—especially on a Web site called LTH Forum (it stands for Little Three Happiness; don't ask)—he has succeeded in calling attention to this rapidly vanishing sandwich. "Engler has single-handedly rescued the mother-in-law from oblivion," Sula said.
The pony-tailed Engler pursues his quarry with high seriousness. He earned a Ph.D. in microbiology and immunology, conducted research for many years at the University of Chicago and contributed papers to scientific journals such as Mammalian Genome. When the subject turns to tamales, he demands precision. It bothers him that some people make no distinction between the mother-in-law and the more widely available chili tamale. "Be careful," Engler warns, "a chili tamale that's not called a mother-in-law is not a mother-in-law." Despite all his efforts, however, the mother-in-law remains shrouded in a certain mystery.
Take the name "mother-in-law" itself. With Mother's Day coming up, we urgently sought some clarity about this. Where does it come from? "The story I got from the owner of Johnnie's and a few other people," Engler says, "is that both types of mother-in-law give you indigestion or heartburn." Folk food expert John T. Edge offered some alternative theories not long ago on National Public Radio. He told of a South Sider who conjectured, "Well, it's got a fierce bite, just like a mother-in-law." Another possible explanation is that mothers-in-law "aren't easy to handle," Edge said. (At this point, chivalry demands that I rally to my own lovely mother-in-law, Florence Grace, who could never have inspired such calumnies.) Admits Engler, "Who knows where the truth lies."
And where did the sandwich originate? Engler and others believe it traces back to the Mississippi Delta, just like Chicago blues. Tamales were very popular there at the time of the Great Migration of the 1920s, when hundreds of thousands of Southern blacks moved to Chicago and other Northern cities. In 1936, the legendary Delta bluesman Robert Johnson recorded "They're Red Hot," a saucy ode to the tamale. "Indeed, along with catfish, they may just be the archetypal Delta food," writes Edge, who is president of the Southern Foodways Alliance at the University of Mississippi.
It's unclear how the tamale, a staple of Mexican cuisine, became the hot dog of the African-American South. "Isn't this just an aberration?" Edge asks in an essay posted on tamaletrail.com. "Like finding curried conch in Collierville, Tennessee or foie gras in Fort Smith, Arkansas?" Not really, he suggests. In the early 20th century, Mexican laborers had begun to migrate from Texas by way of Arkansas to find work in the cotton harvest. There they would have encountered black farmhands, who may have adopted the tamale as their own. Engler has yet to connect all the dots. So far, he hasn't been able to document the existence of the mother-in-law before the 1950s. "My dream is someday to find a picture of a hot dog cart in the 1930s with a sign saying 'Mother-in-Law,'" he says.
What's more, if the mother-in-law did arrive in Chicago as an African-American specialty, that's no longer the case. Today it's more prevalent in the largely white Southwest Side, in areas like Marquette Park. Fat Johnnie's owner is a Polish-American who was initiated to the mother-in-law by a Lithuanian vendor, and the factory that provides the majority of South Side tamales was founded in the 1930s by a Greek family.
Chicagoans don't even agree that it should be served on a bun at all. Some prefer their mother-in-law served up in a cardboard French-fries boat. "Sometimes they're called a tamale boat or a tamale sundae," Engler says. Then there's the humdinger, which is a mother-in-law with melted cheese on top, and the Mighty Dog, which he describes as "a chili-and-cheese-covered hot dog cradled in a split tamale, all nestled in a poppy seed bun."
I don't know about you, but I'm starting to understand the part about heartburn.