Passion in the Poconos
Home of the heart-shaped tub, the Pennsylvania mountains once rivaled Niagara Falls as a honeymoon destination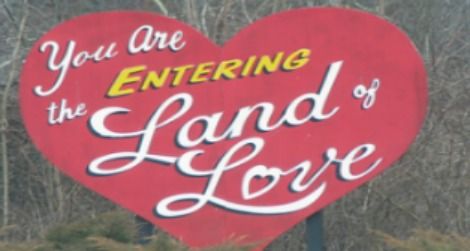 No place tells the whole quirky story of American vacationing better than the Poconos, a region of hills and vales on the west bank of the Delaware River about 100 miles from both Philadelphia and New York City. The history is well covered in Better in the Poconos, by Lawrence Squeri, describing the area's birth as a rustic family resort in the 19th century and later catering to specific clienteles with hotels for Jews, Italians, Catholics, Quakers, African-Americans, singles, even trade unions. The advent of highways and the family car made the area all the more accessible to urbanites in search of modestly priced country pleasures, and then came World War II, which changed the game in the Poconos. In its aftermath, just-married veterans arrived with their brides, bringing new celebrity to the Poconos as "the honeymoon capital of the world."
Rudolf Von Hoevenberg's The Farm on the Hill was the first resort for honeymoon couples; opened in 1945, it offered constant group activities—get-acquainted parties, hayrides, volleyball—for newlyweds still unused to each other. By 1960 the Poconos rivaled Niagara Falls as a honeymoon destination, attracting over 100,000 couples a year who arrived with freshly minted marriage licenses and slightly wilted bouquets.
But times change, as do social norms. Before long people without licenses started knocking at the door and the rules were relaxed to accommodate them, gradually turning wholesome old mom-and-pop-style honeymoon resorts into hot spots for couples, with lots of libidinous trimmings.
Enter the heart-shaped bathtub, invented by one Morris Wilkins who'd served as an electrician on a submarine during World War II. He partnered up with a friend in 1958 to buy an 18-room hotel on Lake Wallenpaupack and proceeded to convert it into Cove Haven, a couples resort with new bells and whistles. According to Morris' nephew, Doug Wilkins, who still works as a manager at the resort, the renovators focused immediately on the bathrooms, feeling that they could use some "livening-up." Morris drew the plan for the first heart-shaped tub in his basement, then found a local company to make a mold and install them.
"He was a great entrepreneur," Doug told me, "and all the stars were aligned. It was on the cusp of the sexual revolution; the whole thing was very avant-garde."
Some bridal magazines rejected Cove Haven advertising because they thought it too racy. When Life magazine arrived in 1969 to shoot a two-page spread of a couple spooning in a heart-shaped tub surrounded by mirrors, the photographer could only keep himself out of the picture by using the camera's timer function. The image testified to what Life called an era of "affluent vulgarity" in America, which of course only made heart-shaped bathtubs more popular.
Too bad Morris didn't get a patent. Pretty soon all the couples resorts in the Poconos had to have them. Undaunted, Morris went on to create seven-foot champagne glass whirlpools, still a top-of-the-line amenity at Cove Haven and its sister resorts Paradise Stream and Pocono Palace, among the last remaining couples resorts in the Poconos, now owned by Starwood.
Yes, even love pales as a vacation theme in America. Outmaneuvered by more exotic honeymoon places, the Poconos has mostly moved on, though weddings and anniversaries are still big business. The regional visitors bureau has lately focused on marketing the area as a natural destination for skiers, hikers and other outdoors enthusiasts, and after much local resistance, gambling arrived there a few years ago, transforming the site of the old Mount Airy Lodge, opened in 1898, into the Mount Airy Casino Resort.
But as I discovered on a trip through the Poconos a few weeks ago, there's still a sign that says "You Are Entering the Land of Love" on the driveway leading to Pocono Palace and room for two in a heart-shaped tub.