Dazzling Dubai
The Persian Gulf kingdom has embraced openness and capitalism. Might other Mideast nations follow?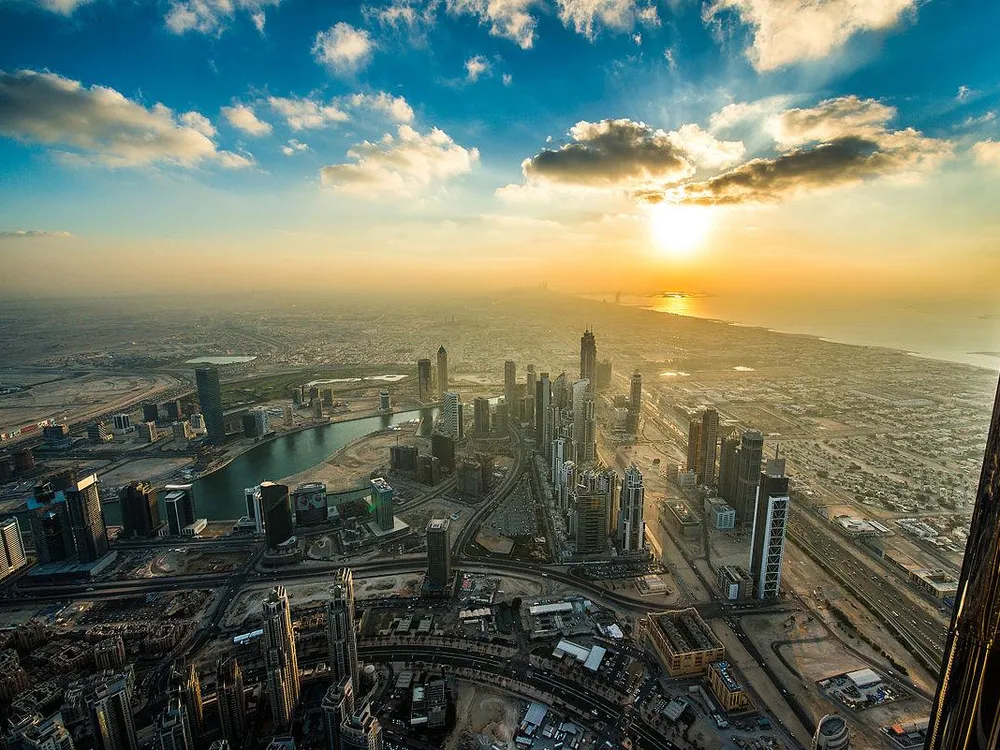 At the sheikh rashid terminal of Dubai International Airport—a glittering temple of Ali Baba eclecticism and gateway to this 1,500-square-mile principality on the Persian Gulf—a visitor steps onto a carpet patterned after wind-ruffled desert sand, passes goldtone replicas of palm trees and continues past a shop-till-you-drop duty-free store where one can buy a bar of gold or a raffle ticket for a Maserati. Afew steps away stands the special departure gate for Hajj pilgrims en route to Mecca. They have their own Starbucks counter.
Beyond the terminal lies a startling skyline: high-rise hotels and office buildings of stainless steel and blue glass springing straight out of the desert, the backdrop to a waterfront where wooden dhows laden with Indian teak and spices from Zanzibar sail out of antiquity. Only ten minutes away, in the mind-numbing vastness of Deira City Centre, Dubai's largest suburban-style shopping mall, children in traditional Arab robes lose themselves in American video games. Veiled women, swathed in billowing black and sporting gold bracelets and diamonds, shop designer boutiques for thong underwear, garter belts and stiletto-heeled Italian shoes.
Islamic fundamentalists may rage at the West in many parts of the Arab world, but Dubai has embraced Western ways. Once a drowsy, flyblown haven for gold smugglers and pearl divers, the little emirate today is racing to realize a vision of itself as the Singapore of the Middle East: a high-tech oasis of trade, tourism and tolerance in a region long shell shocked by political and religious extremism.
"The royal family here wants to position Dubai as an innovative leader and a global player, and they're determined to make that happen in their lifetime," a Dutch-born Dubai businessman told me over a cup of Arabic coffee the first morning of my stay. "The speed and magnitude of what they've accomplished is staggering. These people never experienced an industrial revolution. They've gone almost straight from a nomadic life on camels to the world of cellphones and faxes, absorbing the new with incredible efficiency." Yet, he cautions, "don't be fooled by all the stainless steel and glass. At its heart this remains a deeply traditional society."
"Dubai is the best unkept secret in the Middle East," says Youssef Ibrahim, a former correspondent for the New York Times and an expert on the Middle East who recently set up shop as a consultant in Dubai. "What's been created here is an absolutely irresistible attraction: a safe, sophisticated, very international city-state with completely free enterprise and all the pleasures of life, located next to the largest reserves of the world's most vital strategic commodity—oil. It's not only a Mecca for world trade, it's the best listening post in the region."
It is also a regional anomaly, an absolute but highly dynamic monarchy that has created an economic powerhouse out of little more than vision, geography and will. The emirate has neither elections nor a constitution, but its flexible, enlightened legal system incorporates elements of both Islamic and secular law in civil and criminal matters. The rulers stress the positive guiding precepts of the Prophet Mohammed, including reducing prison sentences for inmates who familiarize themselves with the Koran. Despite the country's adherence to the principles of Islam, the emirate is tolerant of infidels, permitting Dubai's hotels to sell liquor. Like its sister states in the United Arab Emirates (UAE), Dubai opposed the recent war in Iraq but confined its disapproval to providing humanitarian aid to the Iraqi people rather than demonizing the West.
Only slightly larger than Rhode Island, Dubai is but one of seven ministates in the UAE, a loose federation of monarchies stretching 370 miles from Saudi Arabia to Oman.With the exception of Abu Dhabi, the other states—Sharjah, Ajman, Umm al-Qaiwain, Ras al-Khaimah and Fujairah—are even smaller. The entire region was a British protectorate from about 1820 to 1971.
"Dubai is sui generis," says New York Times foreign affairs columnist Thomas L. Friedman, the veteran Middle East correspondent and author of the bestselling Longitudes and Attitudes: Exploring the World After September 11. "There are no other Dubais in the Arab world." But it may, he says, provide a cultural and economic template for that world's future.
Russian tourists flock to Dubai for the sun and beaches, British vacationers for tax-free shopping, and French businessmen for the kingdom's booming trade in fiber optics and information technology. But greeting all who arrive at the InterContinental Dubai is a slight, white-bearded figure in Arab robes. Seated with a platter of dates and a brass coffeepot beneath a small striped canopy in the lobby, he fulfills an ancient role: welcoming the weary desert traveler into the Bedouin encampment and offering the hospitality of the tribe. Never mind that travelers dismount not from camels but from desert-model BMWs and Mercedes sedans equipped with TVs and air-cooled seats.
Although Western dress is as common as the modern architecture here, at least half the population wear traditional Arab garb—the men in white or checkered head scarves (gutra) and the long-sleeved neck-to-ankle white tunic, or dishdasha; the women in black caftanlike abayas, arms and head covered. Many of those women, moreover, will be veiled: some totally, others displaying only their eyes, still others eyes and forehead.
"Veiling is a highly personal decision here," a Dubai woman told me. "Those who veil tend to look on it as something like a raincoat they throw on when they leave the house." When, as it sometimes happens, the breeze from a passing vehicle lifts an abaya to the ankle, that gust of wind may reveal spikeheeled, Italian leather sandals, or jeans and running shoes. What appears most remarkable is the ease with which Dubai women in purdah mingle with bare-midriff and miniskirted women, Arab or not—thigh to thigh in a hotel elevator, for example, as the piped-in crooning of Christina Aguilera inquires, "Voulez vous couchez avec moi?"
Dubai's women have the same legal and educational rights as men and hold many public sector jobs. Sheika Maitha bint Mohammed bin Rashid Al Maktoum, the 23-year-old daughter of Dubai's crown prince, Sheik Mohammed bin Rashid Al Maktoum, even competes in karate.
Pragmatic open-mindedness has also prevailed in the disposition of Dubai's territorial boundaries. As late as the 1940s, tribes in the region warred over disputed borders; such demarcations were submerged when the UAE was formed in 1971. Those tribal borders still exist on administrative maps: someone has to know which sheik owns which oil well or who pays for which streetlight. But for me, a map showing Dubai's exact boundaries was almost impossible to find. "Sweetheart, there are no borders!" says Mary Bishara, an Egyptian marketing manager for an Emirates Airline subsidiary. "That's what makes this such a remarkable country." A knowledgeable expat eventually sketched Dubai's boundaries for me on a UAE map.
Such demarcations, in any case, may well be beside the point. "We want people to work, live and travel where they wish in a UAE free of the past," says Ibrahim Belselah, the government official who led Dubai's preparations for the 11,000-person World Bank and International Monetary Fund annual meeting scheduled to take place there in September (after this issue goes to press).
Today, tribal warfare takes the form of economic competition. Abu Dhabi, with 86 percent of the UAE's land and enough oil reserves to last 150 years, may be the richest of the emirates, but Dubai is where the action is. Supertankers crowd its shipyards, which constitute one of the world's largest container ports. Arab playboys boogie through the night at gilt-edged nightclubs and bars in some 300 hotels. Tiger Woods has played in its golf tournaments. There are camel races, horse races and powerboat races. Thirty years ago, Dubai's students attended traditional Islamic schools where, in paper-scarce classrooms, they scratched Koranic verses onto polished cattle bones. Today, 37 percent of the population is linked to the Internet, and municipal agencies etch their Web site addresses onto marble facades of downtown headquarters.
"I've spent a lot of time in Kuwait, but there's little sense of the incredible energy you feel here," Tor Svelland, CEO of a Norwegian software company, told me. "I remember being in Hong Kong in the early 1990s. It was just like this. People here see only possibilities."
This kind of thinking can lead to a mind-reeling brand of over-the-topism, best exemplified by the Palm project, a mega-development now taking shape off the JumeirahBeach and its tourist hotels southwest of town. There, Dubai's beachfront is being radically expanded through the creation of an intricate sand island constructed in the shape of a date palm. The trunk will stretch three miles; a surrounding, crescent-shaped breakwater will extend nearly seven miles; some of the 17 frond-shaped peninsulas will jut out more than a mile into the gulf. The complex will sprout 2,500 beachfront villas, up to 2,400 shoreline apartments, 49 hotels, and a water park, replete with performing killer whales and dolphins. The $1.5 billion project, begun in July 2001, is scheduled to open in 2005. Its developers boast it will be visible from the moon. And there's a second Palm project already under way nearby.
From earth, the best place to watch the Palm emerging from the waves is the restaurant atop the nearby Burj Al Arab (ArabianTower) hotel, 54 stories of architectural swagger designed to look like a racing sloop sailing under full spinnaker. Opened in 1999, the Burj so symbolizes Dubai's soaring aspirations that it adorns the emirate's license plates.
Not everyone loves the Burj ("a bit flash for my taste," sniffed one British expat), but it does function as a mirror of the once and future Dubai. Accommodations include a $7,500-a-night royal suite (Bill Clinton has stayed there) and the least expensive suite, a $1,000-a-night duplex larger than many houses I've lived in. With the help of off-season rates and a marathon bout of Internet comparison shopping, I managed to eke out a few days there at the bargain price of $682 a night—a discount coinciding with the Dubai Shopping Festival, held in January. No cutbacks were evident in the five-star service: iced French champagne, mirrors above the parking lot-size bed, 11 telephones, including one at the bidet and one by the Jacuzzi, and a remote-controlled TV that permitted me to identify a visitor from a floor away or open the door for my personal butler, Eddie, a Filipino who appeared distressed I wouldn't let him serve me dinner or unpack my clothes.
Among the 1,200-member staff (which includes 20 chauffeurs for the hotel's ten Rolls Royces) are 6 men devoted entirely to maintaining the hotel's floor-to-ceiling tropical fish tanks. The 15-foot-tall aquariums flank the entrance escalators and serve as the centerpiece for the ultra-sheik Al Mahara restaurant. There, moray eels and sharks glide past your table, eyeing relatives swimming in hoisin sauce and sauvignon blanc.
For Dubai shoppers, one lobby boutique offers Burj-style bargains: a gold-filigree model of Columbus' flagship, the Santa Maria ($150,000); a rock-crystal cobra with ruby eyes battling a lapis lazuli mongoose ($35,000); and a fist-size falcon of turquoise with a diamond-studded beak on a gold base embedded with 55 rubies ($125,000). The lobby window held the shop's pièce de résistance: an elegantly cut woman's vest (size 8) composed of links of solid gold, set off by the occasional tasteful diamond: $1.2 million.
Excess on this scale might suggest Dubai is little more than an Arab Côte d'Azur drunk on development. But the most compelling aspect of the emirate is not the wealth itself, but where it comes from and how it's used. Unlike Abu Dhabi, which produces more than 85 percent of the UAE's oil (the emirates' total reserves rank fourth in the world), Dubai never had large amounts of oil. Its production, which peaked in 1991 at 410,000 barrels per day, provides less than 10 percent of its income. When the United Arab Emirates was formed 32 years ago this December, Sheik Rashid bin Saeed Al Maktoum, the late father of Dubai's present rulers, realized he could not gamble his little principality's prospects on oil revenues. The future, he believed, lay in making Dubai the great marketplace of the Middle East; he set out to minimize bureaucracy and create tax-free trading zones. Businesses need offices: Sheik Rashid calculated that Dubai's traditional families could profit mightily by developing and renting—but continuing to own—real estate.
"The man could hardly read and write, but he was a genuine genius and a true visionary," says a European veteran of those days. "He slept in a room over his office by the shipyard so he could appear at all hours to tell the workers: 'Streamline your procedures, cut the red tape and make things move faster.' He had a few very honest advisors who had worked for Shell and British Petroleum, but he was the real driving force. And his lesson is still followed. Government paperwork that takes four days in London takes four hours in Dubai."
"What Dubai demonstrates overwhelmingly to the rest of the region is the importance of leadership," says the Times' Friedman. These days, Crown Prince Sheik Mohammed bin Rashid Al Maktoum, 54, the charismatic, black-bearded third son, actively promotes Sheik Rashid's vision. His oldest brother, Sheik Maktoum bin Rashid Al Maktoum, 60, is the ruler of Dubai and vice president of the UAE. His older brother, Sheik Hamdan, 58, deputy ruler of Dubai, also serves as finance minister of the UAE. But it is Sheik Mohammed who is Dubai's most visible leader.
"There is one very, very important Arab in Dubai and that is Sheik Mohammed," Friedman goes on. "What gives me great confidence in Dubai both for its future and as a positive example for the rest of the region is not just the vitality of his leadership but the type of people he surrounds himself with and promotes. They are not at all the sycophants and hangers-on you usually see around a monarch. They are amazingly able and dynamic people."
In addition to his role as heir apparent to his brother, Sheik Mohammed also serves as defense minister of the UAE. In this capacity, he oversaw the deployment of 4,000 troops to Kuwait this past February. Though the UAE opposed the war and advocated giving U.N. inspectors more time to find Iraq's famously elusive weapons of mass destruction, the sheik made clear that UAE forces would help protect Kuwait.
Exemplifying a rare instance of Arab unity—the emirates act as a single entity in conducting foreign affairs, although each emir remains sovereign within his own principality—the UAE serves as a voice of moderation in the often fractious politics of the region.
Sheik Mohammed appears almost daily on the front page of the Gulf News—attending an Arab summit, welcoming Jordan's King Abdullah II to the Burj Al Arab (Abdullah, attending a conference on investment in Jordan this past January, described Dubai as an economic model for his country), or launching some bold, usually quirky, endeavor. "We don't worry about completing a project," he told me when I caught up with him after he had won an 80-mile endurance horse race through the desert. "Completing projects I leave to others. As soon as we start, I'm thinking, 'What will be the next?' "
Strolling Dubai's tidy but traffic-clogged city streets or driving its immaculate four-lane freeways through the desert, one can only wonder just what the sheik might dream up next. At night, the shores of Dubai Creek, a riverwide body of water winding through the city, sparkle with festive lights. Traffic overpasses shine in the glow of yardhigh palm trees constructed entirely of tiny lights. By day the two EmiratesTowers, one an 1,150-foot office building and the other a five-star hotel, each topped with a dramatically tilted triangular roof, dominate the urban skyline.
Beneath the high, arched roof of the fabric souk (market), shop owners sell everything from pashmina shawls to Teletubby dolls. In the crowded, multiblock gold souk, where every shop glitters with bracelets and necklaces, Indian and Pakistani merchants will tell you gold is cheaper in Dubai than anywhere in the world. Sheik Mohammed, however, says he is prouder of the huge Jebel Ali tax-free port and business zone down the coast; and of Dubai Internet City, the largest information technology complex in the Middle East; and Dubai Media City. He wants MediaCity to be the region's hub for news organizations from CNN to Al Jazeera.
"When I came five years ago, not so much of this was here," a Pakistani cabdriver told me one afternoon as we inched through traffic. "It feels like it's all new." With construction barreling along just about 24 hours a day year-round, the demand for labor has attracted foreign workers, who make up 80 percent of Dubai's one million population. "I work very hard and long hours," my driver said. "But it is very safe and stable. Both the work and the pay are far better than I could find in Karachi." The expatriates include Indians, Filipinos, Pakistanis and workers from countries throughout the Middle East, who take jobs in construction; act as maids, waiters and shop clerks; perform maintenance chores and oversee many of Dubai's ingenious efforts to make its desert bloom.The guest workers fill a number of professional slots as well.
To Mary-Jane Deeb, an AmericanUniversity professor and Arab world specialist at the Library of Congress in Washington, the number and diversity of the foreign workers in Dubai offer the greatest proof of the society's success. "People who are fighting each other elsewhere in the world, like Pakistanis and Indians, work comfortably together in Dubai," she says. "All religions are countenanced, and even though Islam exerts a powerful influence in Dubai, it's an extralegal role."
For all its concrete, Dubai remains, inescapably, a desert locale. The morning haze, visible everywhere, is more often the powder-fine sand of Arabia than the moisture from the gulf seen in the photograph that opens this article. Occasional sandstorms, reducing visibility to a block or less, can last for days, to be typically followed by an emirate-wide washdown.
Despite several factory-size desalination plants that run around-the-clock on Dubai's coast, water remains a precious commodity (roughly 30 cents a liter for drinking water, compared with 24 cents for gasoline). Even so, Dubaians make heroic efforts to maintain fountains, lawns and flowers. Networks of black plastic irrigation hoses snake along almost every roadside. "You see," said a Dubai real estate executive with a matter-of-fact wave of his hand, "every plant must have its own water tap."
The day Sultan Bin Sulayem, chairman of the Palm project, took me on a tour of his emergent island complex via boat, foot and all-terrain vehicle, he proudly pointed out enormous Dutch dredges fountaining sand from the gulf bottom, and cranes hefting Volkswagen-size boulders from barges to construct a breakwater. But he seemed most delighted by a scrawny, foothigh plant growing next to a freshwater tap at the construction workers' barracks. "Some people said nothing would grow on this salty sand," he said. "But some worker dropped a seed from the mango he had for lunch and look: it is now growing a tree!"
On a nearby sandbar—one of the Palm's 17 peninsular fronds—he showed off more than a dozen plots where researchers are testing salt-tolerant plant varieties. The plots represent a microcosm of a $3 million-a-year research effort at the InternationalCenter for Biosaline Agriculture a dozen miles away. There, for the past four years, scientists have been working to identify crops and landscape plants that use salt water.
"There is a huge difference in what it takes to make salt water drinkable, compared to what it takes to make it just pure enough to grow crops," said Saeed Al Mussallam, commercial manager of a residential development on the outskirts of Dubai, as we drove through landscape that could have been in Nevada. "Today what you see here is desert. Come back in a few years and it will all be olive trees and orchards."
It would be easier to regard such claims with skepticism, were Dubai's other transformations less dramatic. Obviously, some of these plans won't work. But who's to say which will fail? Not the roughly 200,000 citizens of Dubai, who won't hesitate to tell you they are living well.
One morning toward the end of my stay, I drove out into the desert with a guide, Yousif Assad, bound for a resort about 45 minutes southeast of the city. There, Sheik Mohammed has set up a 30-room eco-resort (rates can go up to $1,400 a night) to serve as an environmental model for Dubai's future developers as well as a preserve for the emirate's fast-vanishing desert. Admittedly, the tranquil Al-Maha Resort offers a rarefied experience: each suite has its own swimming pool; in the evening, guests ride camels to a nearby ridge to sip champagne and watch the sun go down behind the dunes.
Assad, the son of a camel breeder, leads tourist excursions into the desert. "But not because I have to," he says, but "because I want to. I am Bedou and without the desert I am nothing." He says he appreciates what the government has made possible, which includes grants of money and housing for newlyweds as well as excellent schools and a booming economy. When he injured his leg playing for one of Dubai's official soccer teams, the government sent him to Germany for seven months of surgery and rehabilitation. He never paid a dime. "That's because our sheiks are generous. They share money with the people. You think that happens in Saudi Arabia? Those sheiks, they share nothing."
For some reason, I recalled a scene from Lawrence of Arabia in which Sheik Auda abu Tayi, played by Anthony Quinn, shouts to his cheering followers, "I am a river to my people!" When Sheik Mohammed emerged from the desert to win the endurance horse race, cheering Emeratis had swarmed around his horse as they did around Quinn's in the movie.
Maybe, I thought, Dubai is nothing more than a benevolent Arab tribal monarchy in modern dress. Then I remembered Saif Sultan al Shamsi, a marketing executive I met in Sheik Mohammed's tent the afternoon of the race. Al Shamsi was dressed in a sand-colored dishdasha and white head scarf; with his easy charm, he would have appeared at home anywhere in the world. As we sat amid pillows and Oriental rugs, dining on an exquisitely prepared buffet featuring dishes from beef tournedos to curried shrimp and pastries, Al Shamsi talked about his year in the United States, when a chilly New York winter sent him fleeing to Tucson and a more familiar clime.
"Were you buying horses there?" I asked, thinking of the millions in equine bloodstock just outside the tent. "My friend, I don't do horses," said Al Shamsi, smiling indulgently. "I love golf. And I love my Harley."