8. Sedona, AZ
Sedona's reputation precedes it, all vibes and vortexes, shamans, psychics and healers, such as the one who plays for patients lying under his grand piano. But before all the seekers started arriving, it was a town devoted to the fine arts, set against some of the grandest scenery in the West. Still is, once you look past the razzle-dazzle.
Approaching from the south on Highway 179 or from Flagstaff to the north along State Route 89A, you feel your jaw drop as pinnacles, hoodoos and buttes rise—crimson, carmine, burnt sienna, depending on the slant of the sun. The effect makes you want to paint a Sistine Chapel even if you can't draw a straight line.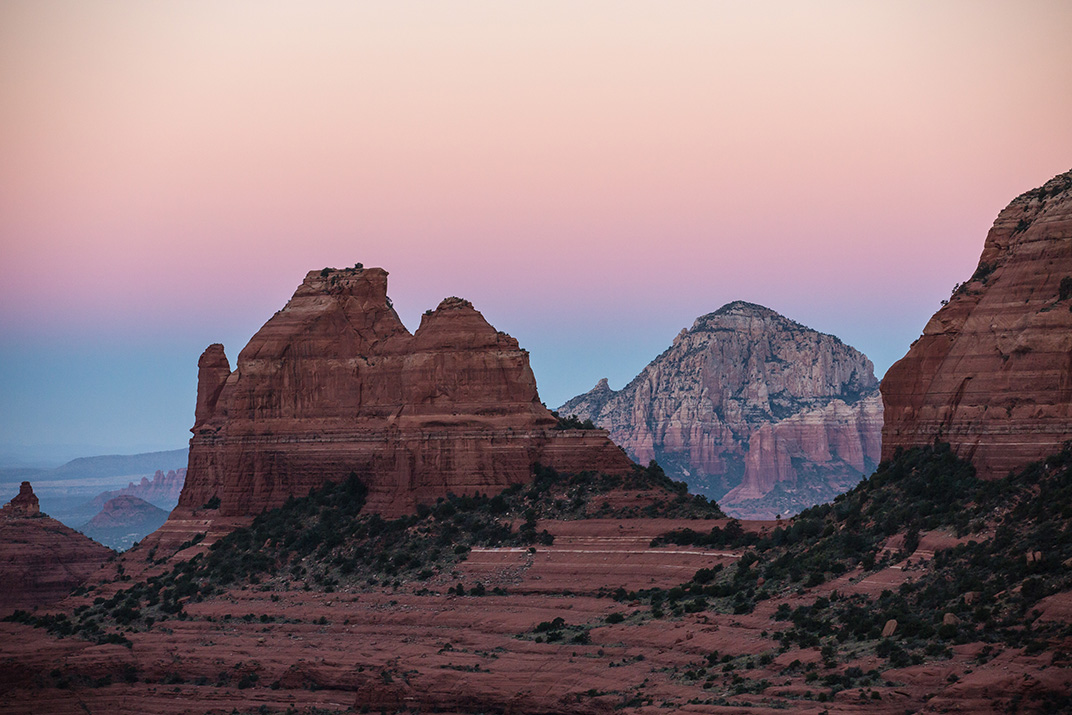 People have been feeling that way since the 12th century, at least, when artists from a Native American group known as the Southern Sinagua etched images of frog-men thought to be shamans in the rock that became part of the old V-Bar-V Ranch, now part of the Coconino National Forest and considered by archaeologists one of the best rock art sites in Arizona. Today exquisite Navajo weavings appear in Sedona galleries like Garland's, which has been showing rugs in the bright red Ganado or muted Wide Ruins patterns since 1976.
Uptown has restaurants, hotels, shops and public artworks like bronze cowboys and rearing horses; West Sedona is more of the same, plus a McDonald's with teal-colored arches, in compliance with municipal design guidelines. But the most distinctive structures are the sheer-walled Chapel of the Holy Cross, thrusting up from a 1,000-foot red rock plinth; the art-gallery village of Tlaquepaque, a graceful Mexican-inspired maze of shops; and the Church of the Red Rocks with wraparound views proclaiming the glory of God's creation. Senior pastor there, George Ault, says, "It's natural for people to come to a place of beauty and read spirituality in it."
Starting around 1950, it was a natural place for artists, including the German Surrealist painter Max Ernst, who lived with his wife Dorothea Tanning in a hand-built cabin, and the Egyptian sculptor Nassan Gobran, founder of the Sedona Arts Center. In an old fruit-packing barn, the SAC is an outlet for some 120 local artists, as well as a school and programs that include the popular October Plein Air Festival. The Western artist Joe Beeler co-founded Cowboy Artists of America in Sedona in 1965. The renowned ceramicist Don Reitz settled on a ranch west of town around the same time, as did the sculptor John Henry Waddell, still casting monumental human figures in bronze at age 93.
On the first Friday of every month free trolleys take visitors to galleries specializing in classic Western painting, Navajo-inspired jewelry, contemporary pointillism, hyperrealism, abstracts and New Age-inspired works, what with their angels, Buddhas, golden koi fish, tarot imagery and Native American motifs. The Goldenstein Gallery has hosted showings of haunting photographs of ancient rock art by Susie Reed and striking Zen calligraphic portraits by the Chinese-born painter Alok Hsu Kwang-han. The gallery's owner, Linda Goldenstein, says there's one word for Sedona art—"eclectic."
- SS