Truman Capote, America's Author-Celebrity
Just a few decades ago, one of the country's biggest superstars was a writer. Capote's story goes from pariah to celebrated socialite and back again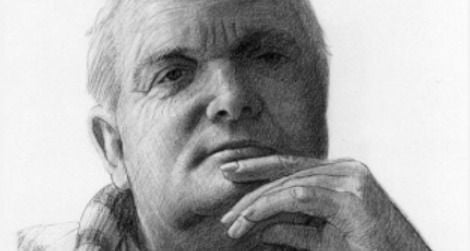 In postwar America, there was once a time when a writer could be a superstar. In the late 1960s, author Truman Capote had reached the pinnacle of the jet set, lunching with New York socialites and throwing a masquerade ball that many called the social event of the sixties. Capote's crossover fame is scarcely rivaled by any celebrity today, according to Amy Henderson, a historian at the National Portrait Gallery. "In television there were three networks, people watched the same stuff, they saw the same movies. It was a different time. Everything is now so much more fragmented that it's hard to find one person who bridges all those segments," she says.
"He was in the magazines, on the TV, in the newspapers' social columns. He was a creature of the moment," says Henderson.
Eventually, though, it would all come crashing down for Capote. After struggling through depression, alcoholism and drug abuse, he died at the age of 59 on this day in 1984.
Capote's thirst for fame and motivation to write both stemmed, in part, from his essential oddness. "He was only 5′ 3″, he was a little elfin creature. But he was very amusing, and he liked being that social butterfly," Henderson says. He discovered his ambition to be a writer as a child, and worked diligently at developing his craft from the age of 11. "He said that, where other kids would go home and practice the violin or piano, or play ball, he would come home from school and write for about three hours," says Henderson. "I am guessing that he was so different from other kids that it was an escape mechanism for him."
As a writer of short stories, his timing couldn't have been better. "It was the heyday of short fiction, and that was a wonderful coming together of his real talent and the time," Henderson says. After having several short stories published, he got a contract to write his first novel, Other Voices, Other Rooms, and its arrival triggered an uproar. "That created a sensation, partly because of the content—the prose was great, but he also frankly talked about homosexuality," says Henderson. "And then there was this amazing photograph of him on the back cover: it's Truman on the sofa, like a little doe, looking right in the camera."
Afterward, Capote continued his ascent by writing theater, non-fiction and the novella Breakfast at Tiffany's, which he eventually adapted into a film starring Audrey Hepburn. But he was truly catapulted into pop culture's center stage with the publication of In Cold Blood, his "non-fiction novel." After being inspired by a brief New York Times article about a murder in Kansas, he unexpectedly decided to move to the small town of Holcomb and write about the story. He was joined by Harper Lee, his childhood friend and author of To Kill A Mockingbird, who served as his research assistant and was crucial in building relationships with the locals. "Out there in the wheat fields, someone like Truman Capote, coming with his full length fluffy mink coat and his long cigarette holder, he's not going to be instantly acceptable," Henderson says.
In Cold Blood was both an innovative creation and a massive mainstream success. He was at the forefront of the New Journalism movement, in which authors experimented with many of the customs of journalism to create compelling narratives from real-life events. Capote reported the story truthfully, but also embellished it by creating atmosphere and speculating on characters' emotions. Although this drew criticism from some, it generated massive sales and provoked admiration from many in the reporting business. "My dad was a reporter," Henderson says, "and I remember him reading this book and being wowed by it."
After the book's success, Capote concentrated on enjoying his celebrity rather than producing literature. "The social high point of his life was the November 1966 ball he threw for Katharine Graham in New York, the Black and White Ball," says Henderson. "Everybody came wearing masks. It was the social event of the sixties." But Capote's instinct for writing the story sabotaged his elite status. After working for years on a memoir he called Answered Prayers, published excerpts showed that he revealed intimate secrets about many of his high-society friends. Henderson says, "He published part of this tell-all memoir in 1975, and most everyone slammed the door on him. So his social outlets and all of his wonderful connections were gone.
Finding himself in the same position he'd been in as a child, so many years earlier—a social outcast, on the outside, looking in—his already-present dependence on alcohol and drugs was exacerbated. A 1989 play called Tru depicts Capote's final days. "He's all alone now, in his United Nations Plaza apartment, his wonderful luxe apartment, and nobody will speak to him," Henderson says."He's alone there with his pills, his vodka, his cocaine and chocolate truffles." As his health problems were complicated by his drug habits, he sank ever deeper into depression. On August 25th, 1984, he died of liver cancer at the age of 59.
Despite the tragedy of his end, Capote largely achieved his chief goal in life. "He didn't seem to want to be known as the greatest writer of mid-twentieth century," says Henderson. "I didn't see anything in what I read that said that was his mission. What he really wanted to be a famous celebrity."