The Stories Behind Holiday Songs
This Sunday, at the National Museum of American History, three theatrical performers sang a version of "Have Yourself a Merry Little Christmas"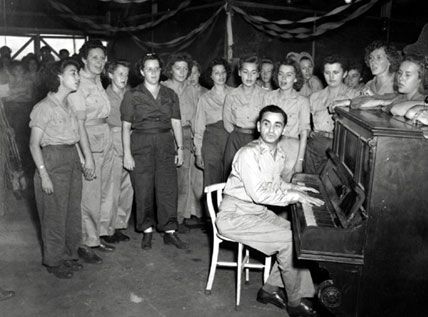 This past Sunday, on a stage in the foyer of the National Museum of American History, three theatrical performers sang a version of "Have Yourself a Merry Little Christmas" I had never heard before—the original version. "Have yourself a merry little Christmas / It may be your last / Next year we may all be living in the past," they crooned. "Faithful friends who are dear to us / Will be near to us no more."
Dark, right? Off-putting, for sure. Had I not heard the singers preface their performance by saying they were going to sing the more melancholy, original lyrics, I would have thought them perverse for tampering with the coveted carol, as passing museumgoers might have. But the rest of the audience and I, in the know, gasped simultaneously at the first departure from the more familiar lyrics and then broke into nervous laughter at the rest.
​
So the story goes, Judy Garland, who sang the song in the 1944-film Meet Me in St. Louis, found the original lyrics too depressing for wartime. Hugh Martin, the songwriter, somewhat begrudgingly revised the song to have a more optimistic bent. Among other tweaks, "It may be your last / Next year we may all be living in the past" became "Let your heart by light / Next year all our troubles will be out of sight." And, in 1957, at Frank Sinatra's request, Martin changed the penultimate line, "Until then we'll have to muddle through somehow," to "Hang a shining star upon the highest bough." (The name of Sinatra's album, with his version of the song, was A Jolly Christmas, after all.)
To hear the stories behind more holiday classics from the World War II era, attend a showing of the museum's 20-minute "Home for the Holidays" musical program, scheduled at 11 a.m., 1 p.m., 3 p.m. and 4 p.m. on December 24 and 26-31.