Dorothy Liebes, the "mother of modern weaving," didn't just make fabric. She left an indelible mark across the world of design, influencing architecture, interiors, high fashion, commercial clothing and even the automotive industry. But her work has long been overlooked—a trend the Cooper Hewitt, Smithsonian Design Museum, in New York City hopes to remedy with a new exhibition titled "A Dark, A Light, A Bright: The Designs of Dorothy Liebes." The show surveys Liebes' five-decade career, which was full of color and collaboration, including partnerships with such high-profile artists as fashion designer Bonnie Cashin and architect Frank Lloyd Wright.
But at the beginning, all she had was a little red loom.
Liebes was born Dorothy Wright in Santa Rosa, California, in 1897. The daughter of two teachers, she continued her parents' trade by studying art education at San Jose State Teachers College, where she focused on painting. A professor told Liebes her paintings resembled textiles, encouraging her to consider experimenting with another medium. After graduating from college in 1919, Liebes studied weaving at Chicago's Hull-House, a settlement house co-founded by reformers Jane Addams and Ellen Gates Starr that hosted practical and artistic classes. The first loom she bought was small, wooden and—as she was never one to shy away from color—painted vibrant crimson.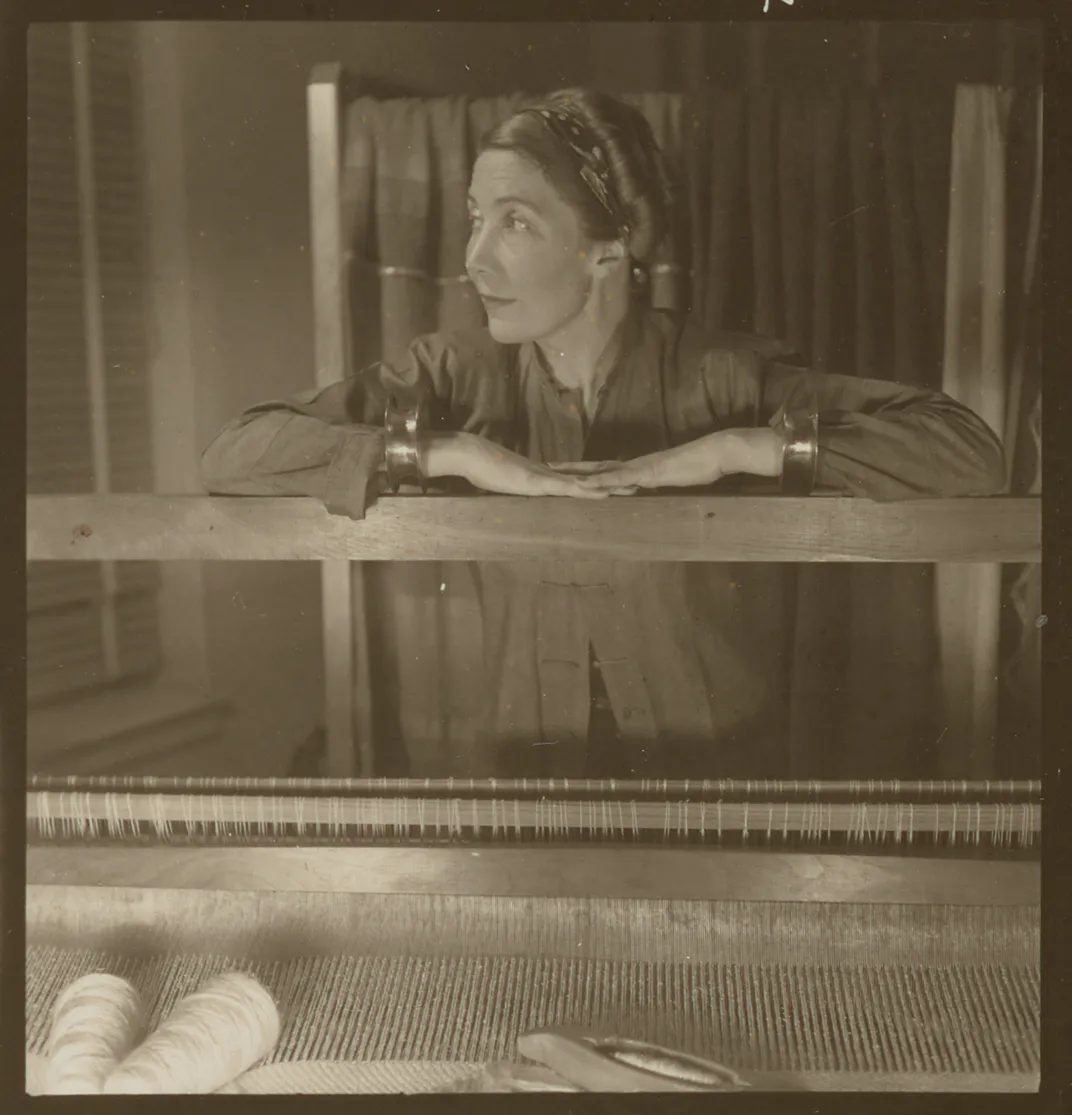 After teaching art for a few years, she earned a second bachelor's degree in decorative art, architecture and applied textile design at the University of California, Berkeley, followed by a master's degree in art education from Columbia University. She met Leon Liebes, heir to a San Francisco department store, at an appointment where she sold him fabric yardage, and they married in 1928. The next year, Liebes traveled abroad to learn traditional weaving styles in France and Sweden. (She would go on to study in many other countries, including Italy, Mexico, Guatemala, Japan and India.) Upon returning to the United States in 1930, she opened her first weaving and textile design studio on Powell Street in San Francisco and began gathering a team of weavers to assist her.
Leon enjoyed his wife's weaving but wanted her work to be a hobby, not a business, in line with societal expectations for elite women of the era. He insisted Liebes give up her textiles career. But she had known from the start that she wanted to design professionally. In 1930, she separated from her husband, and in 1934, she established Dorothy Liebes Design, Inc., continuing operations on Powell Street until moving her studio to San Francisco's Sutter Street in 1942 and New York City in 1952.
Liebes called her studio a "laboratory." Her fabrics were works of alchemy, incorporating materials that were uncommon in popular weaving, like metals and feathers. Both of her San Francisco studios were close to Chinatown, and she often went there to scout for materials "because they had unusual things that she could buy relatively inexpensively," says exhibition co-curator Susan Brown. Liebes explained her choices in a 1944 article for Woman's Day:
Once upon a time, we were confined to just animal or vegetable materials—grasses, flax, cotton, wool, and, loveliest of all, silk. But we have learned that this is a great, wide, beautiful and resourceful world. … We can weave with unlimited materials—string, trimmings, braids, ribbons, oilcloth, cork, wood strips, reed, lace, paper, pine needles and leather. We can use all kinds of scraps, which is not only good citizenship in the conservations sense, but conducive to exciting and interesting textures.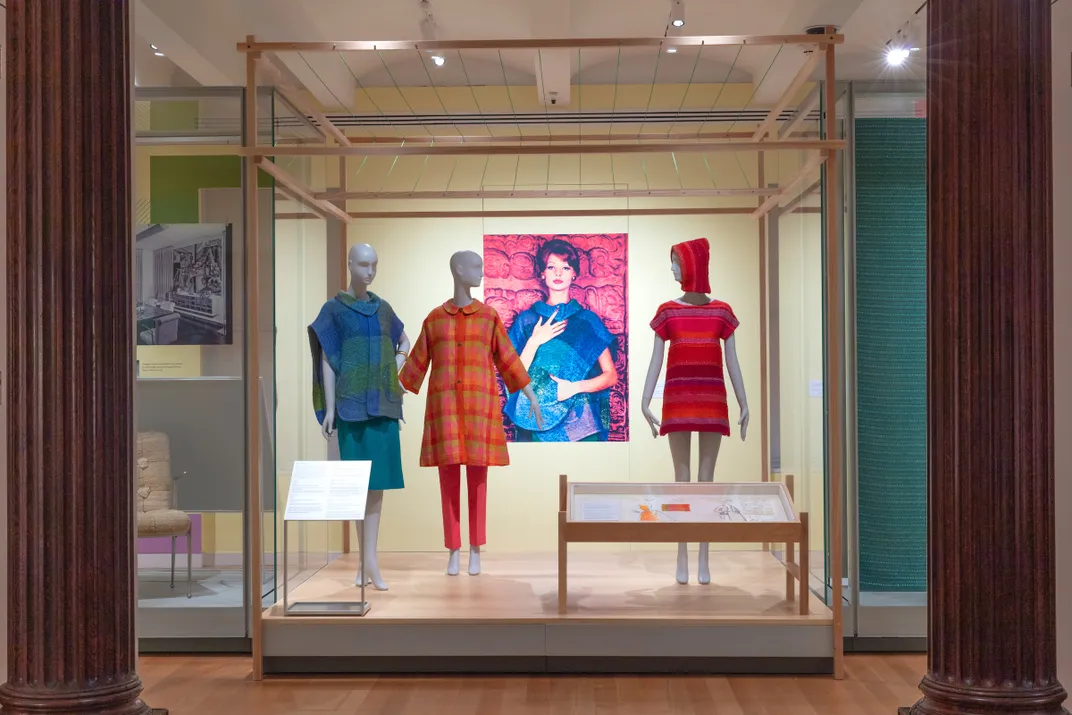 The artist completely embraced color, which she called "the magic elixir." Especially in the beginning years of her career, she was all about the hand-loomed look and gravitated toward bold textures. As a 1938 California Monthly profile noted, "Liebes textiles cannot be produced in quantity. The essence of their value is their individuality and the care with which each order is made." Once in the hands of the buyer, the fabrics—from drapes to upholstery to dresses—required corresponding amounts of care.
In A Dark, A Light, A Bright: The Designs of Dorothy Liebes, a collection of essays published to accompany the exhibition, John Stuart Gordon, an art historian at Yale University, writes that early Liebes fabrics necessitated light wear and "the attentions of domestic staff." Made of luxurious materials and crafted with delicate ornamentation, like wide loops of hanging threads, the textiles were delicate and plush. They were not easy to clean. They were pieces of art.
---
The exhibition takes its title from Liebes' signature recipe for a good color combination. "A dark, a light and a bright" might refer to a black dress on a fair-skinned woman wearing red lipstick, Brown says. One of Liebes' signature techniques, weaving light-reflecting material into her fabrics, played into this philosophy. "She always thought metallics were the best way to enhance any color," Brown adds.
Liebes' designs included such materials to create a "play of brilliants," as lighting designer Richard Kelly described the style in a 1952 lecture. (In A Dark, A Light, A Bright, co-curator Alexa Griffith Winton defines "play of brilliants" as "sparkles … used to entice and delight the eye.") Her creations were so singular, the public recognized them by what became known as the "Liebes look": "the use of brilliantly colored and richly textured weaves, often incorporating metallic threads," according to Winton.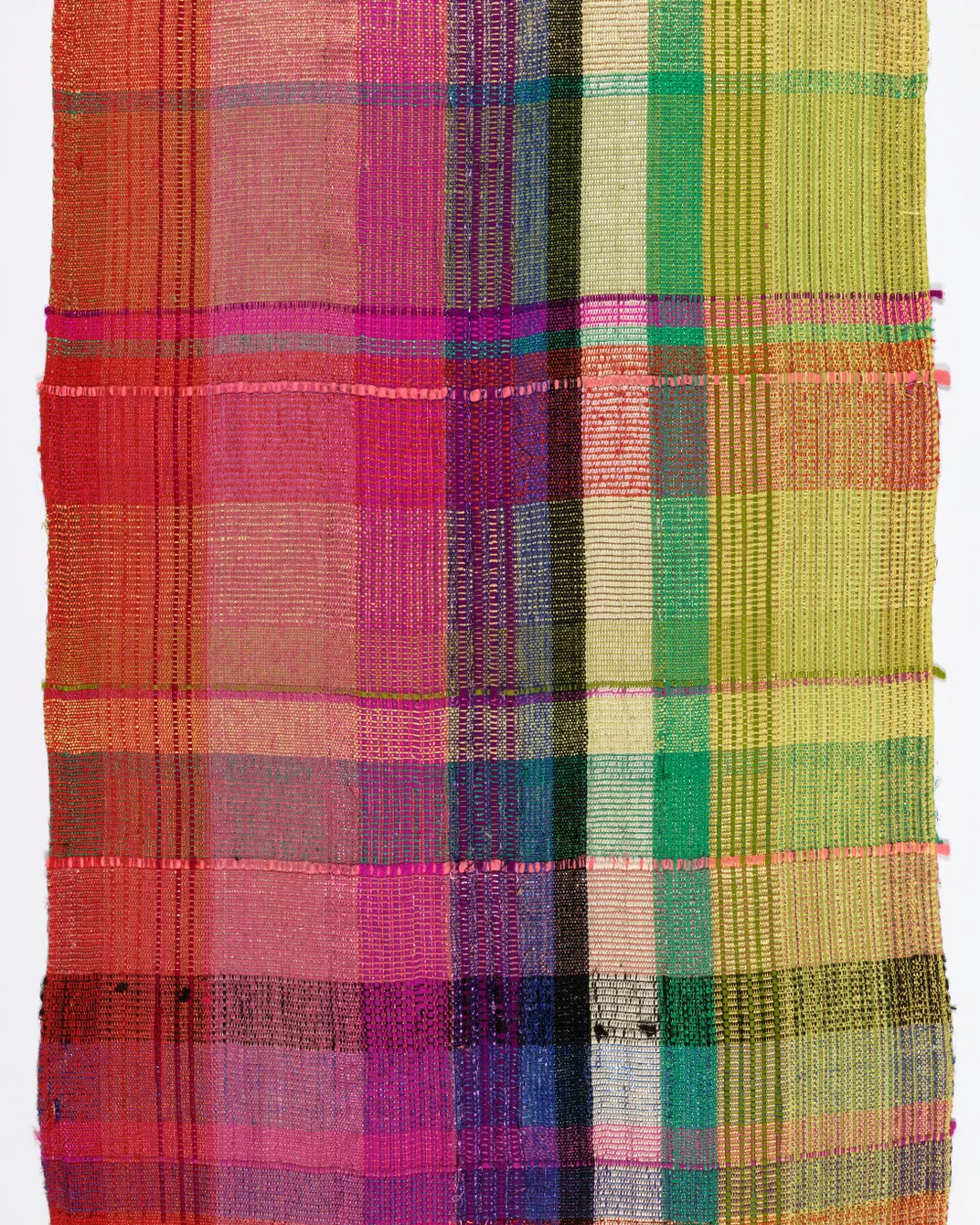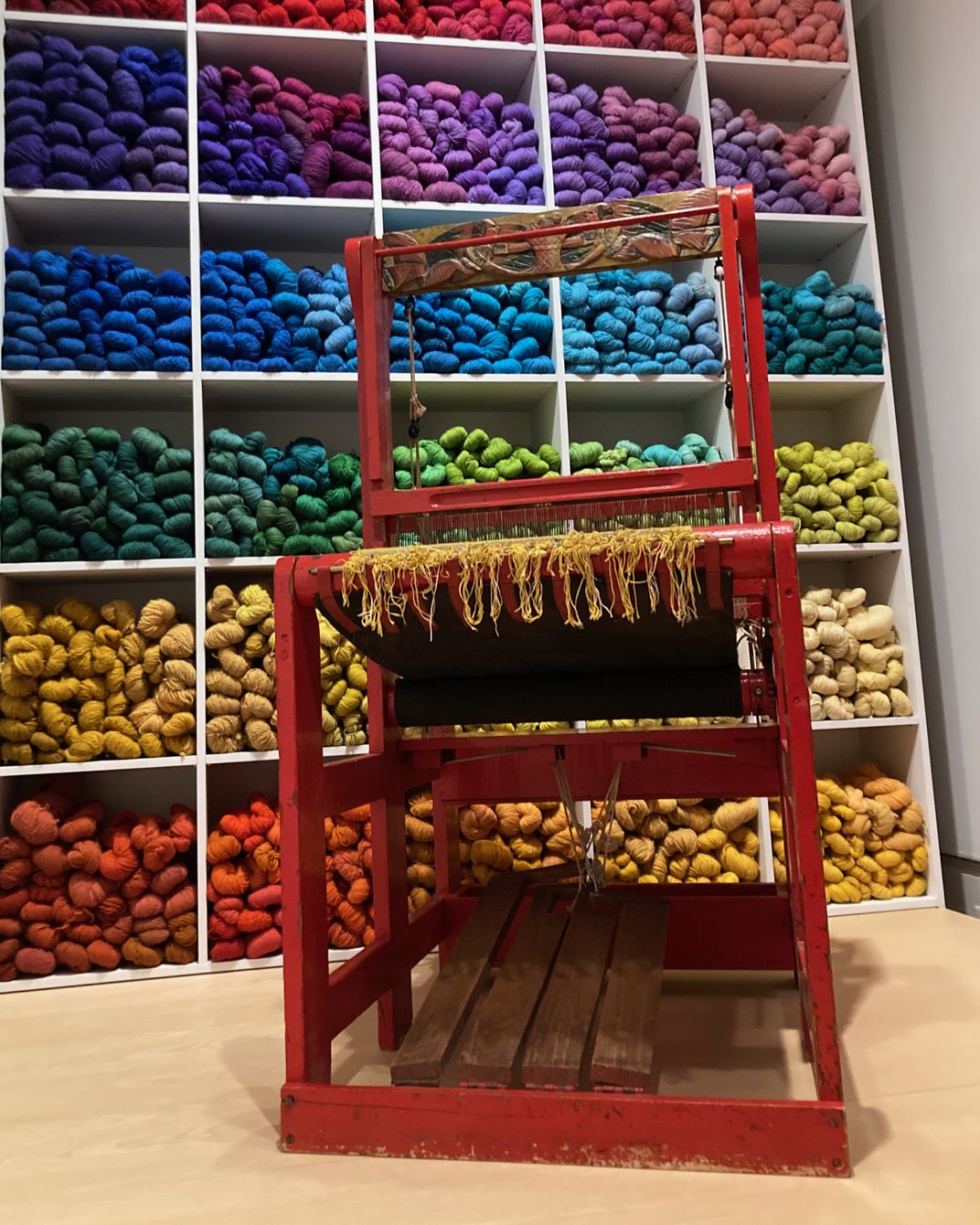 Ironically, the marriage that ended on account of Liebes' ambition also helped advance her career. Leon was a well-connected man, and guests who visited the couple's San Francisco apartment saw Liebes' work on display, helping expose her designs to the art world. Shortly after the couple split up, architect Timothy Pflueger asked Liebes to design curtains for the San Francisco Stock Exchange. She found she enjoyed examining blueprints and learning about Pflueger's vision for the project. "From this starting point, Liebes saw her textiles not as mere yardage to be purchased in bulk but as an intentional and thoughtful contribution to a space," Gordon writes.
In the 1930s, architectural trends favored open, minimal interiors of simple shapes, enclosed by sheets of glass and metal frames. The Museum of Modern Art labeled this movement the "International Style." Designs "promoted structural clarity amid the social uncertainties of the Depression," Gordon writes.
Liebes' textiles brought balance to the era's stark architecture. "A glass box building is a gorgeous object," Gordon tells Smithsonian magazine. "[But] it can be very difficult to inhabit because light is pouring in and heating interiors and bleaching surfaces, and you need something to mediate that."
As Liebes came into her own in the late 1930s and early '40s, austere modernism was on its way out, and she became part of a zeitgeist considering how to humanize conceptual architecture. Where buildings were hard and cold, Liebes' textiles were warm and soft. As Winton writes, Liebes' use of disparate materials helped her "create a range of woven window treatments and screens that worked to break up the light from these massive panes of glass."
Gordon, for his part, says, "Her genius was creating a tension between her textiles and the architecture." Liebes' designs "were textured, they were bright, they had reflective and matte qualities, and they created a foil to glass panels and sheer plaster walls."
---
The first decades of Liebes' career were filled with custom textile commissions for specific sites—often the residences of wealthy, influential people. In 1937, she designed fabrics for billionaire art collector Doris Duke's Honolulu residence, Shangri La, in what Gordon calls "a magical installation, because she is rhyming her textiles with the architecture." Liebes also contributed blinds and upholstery to the Royal Hawaiian Hotel in Honolulu.
For Henry Dreyfuss' 1950 design of the Plaza Hotel's Persian Room, Liebes made deep blue and green curtains, woven with metallic strands and—at the request of the architect—tiny electric light bulbs. Two years later, for the United Nations Delegates Dining Room in New York, she created room-dividing screens that incorporated the blue hue of the organization's logo. She also collaborated with famed architect Wright, contributing drapery and upholstery fabrics to the Frieda and Henry J. Neils House in Minneapolis.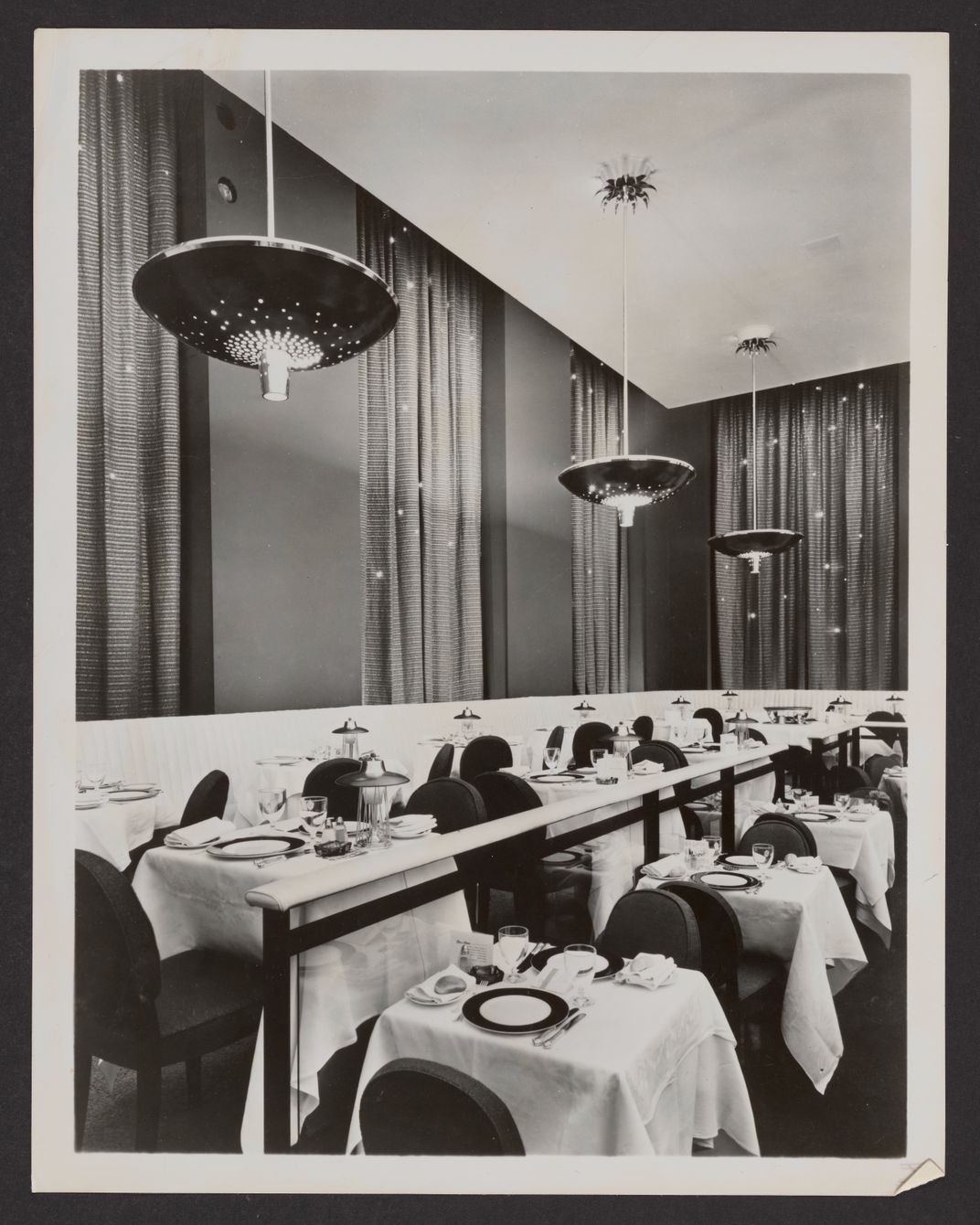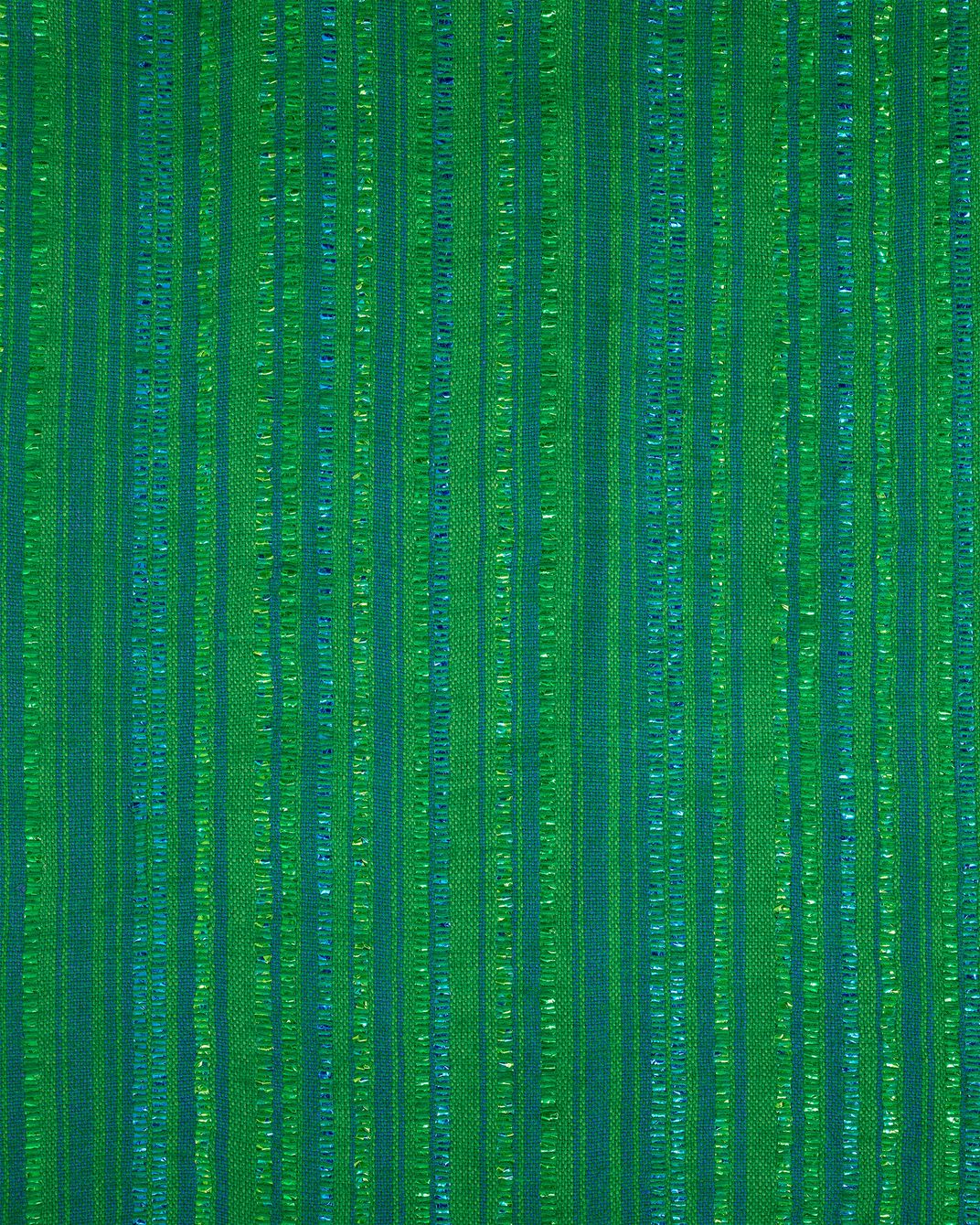 "Frank Lloyd Wright was known for being a control freak," says Gordon. "He would make the furniture, the dishes, even the clothes for the people who lived in his houses. It's remarkable that he decided to outsource some textiles and have someone else's name in his work."
Beyond her long list of contributions to interior design, Liebes also applied her unique eye to fashion. In the exhibition, impeccably dressed mannequins sport garments designed by Cashin and produced using Liebes' textiles. The two creators were longtime collaborators; Cashin sought out Liebes' work throughout her career, referencing the weaver's textiles in her preliminary garment sketches.
"You could tell … that [Cashin] had the textile in mind when she designed the garment, and the skirts, certainly, are designed to show off the fabrics," says Brown. The curator adds that the artists were not only collaborators but also close friends. "They would go tromping around the galleries and museums every Saturday—put on their comfortable shoes and go."
---
Even as the worlds of elite fashion and interior design embraced Liebes' innovations, she felt called toward other ventures: namely, those that would bring her closer to the general public. She lamented that quality fabrics and opulent colors were mainly available to the rich. Liebes believed that beautiful designs should be accessible to the middle class, and she set out to bridge that gap. Brown says, "In the late '30s, she was already really committed to making the fabrics more affordable and making good design accessible at all price points."
In 1940, Liebes partnered with the Goodall Worsted Company, a cloth manufacturer in Sanford, Maine. She worked as a designer, stylist and colorist, advising the company about the best ways to translate her hand-loomed designs to a power loom so they could be produced en masse for lower prices. A few years later, she stepped into another role that would shape the remainder of her career. She helped usher in a new era for fabrics: the rise of synthetics, or machine-made textiles like polyester or rayon.
Liebes started working for the Dobeckmun Company in 1946, as a brand ambassador for Lurex, a synthetic metallic yarn that would soon become a staple in her own work. In 1963, she lauded Antron nylon, a human-made fabric from chemical company DuPont, in a television commercial. Consumers trusted her judgment, as her work was widely known and celebrated. Her textiles were exhibited at museums and schools throughout her career, and she often appeared in mainstream media like House Beautiful and House & Garden magazines, radio programs, and television shows. As art critic Arthur Millier wrote for the Los Angeles Times in 1941, "Her words are the magic kind that make things happen."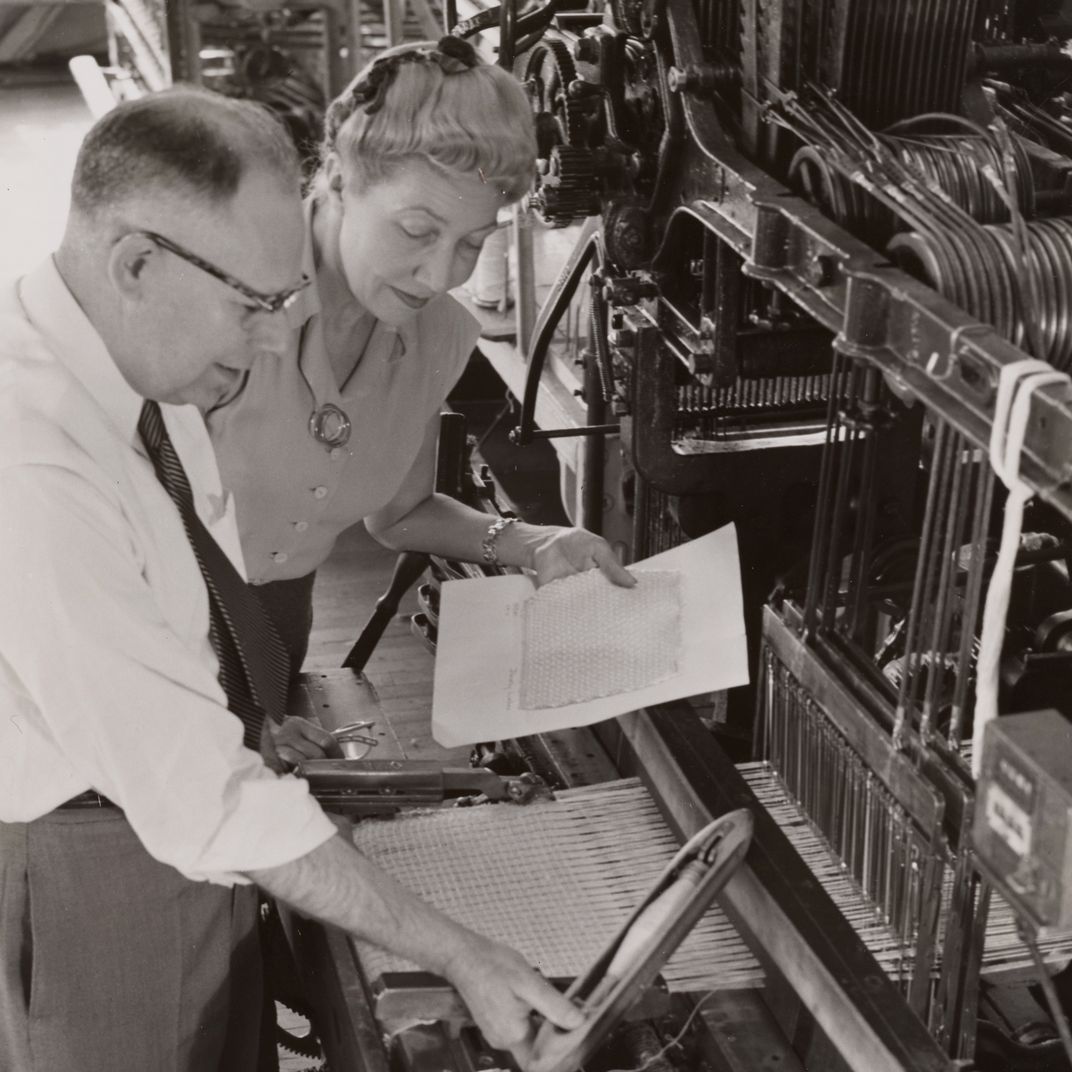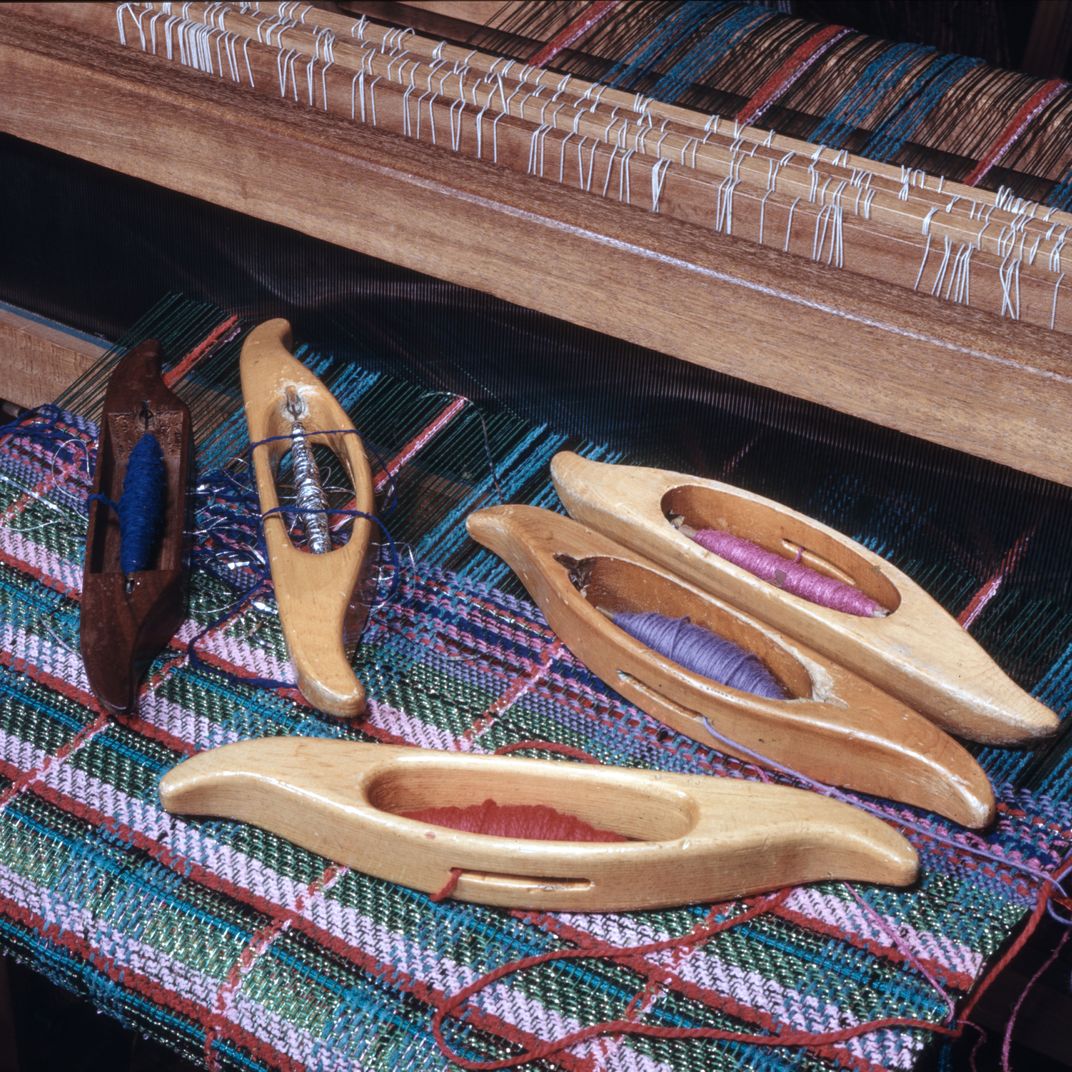 By the 1970s, the "Liebes look," with its emphasis on metallic threads and intricately woven designs, graced "blankets to bedspreads, draperies, furnishing fabrics, wallpapers, ceramic tiles, area rugs, lampshades, automotive fabrics and aircraft upholstery," writes Monica Penick, a design historian at the University of Texas at Austin, in A Dark, A Light, A Bright. Many of these designs incorporated synthetic fabrics, like the upholstery Liebes created for the 1957 Plymouth Fury, which complemented the car's gold-and-white exterior.
Brown says Liebes was delighted by her industrial success. "We ended up having to cut it from the show, but at the very end of her career, she got a job working for Sears," the curator adds. "And she said, 'This is my proudest moment, to see this fabric for sale at Sears for $4 a yard, because mass production is what has increased the standard of living for all Americans.'"
Today, Liebes is lesser known than many of her collaborators. As Winton writes, the designer's legacy "proved vulnerable to the reflexive prejudices of architecture and design scholarship, which until recently has tended to devalue the status of both women and textile design." And while Liebes' work was documented during her lifetime, black- and- white photographs failed to showcase her abilities as a colorist.
Still, Gordon says, "People who know Dorothy Liebes are obsessed with her." He deems himself and other contributors to A Dark, A Light, A Bright "die-hard fans." By the time of Liebes' death at age 74 in 1972, she had made an unprecedented contribution to the world of textiles, influencing design trends across classes, industries and time.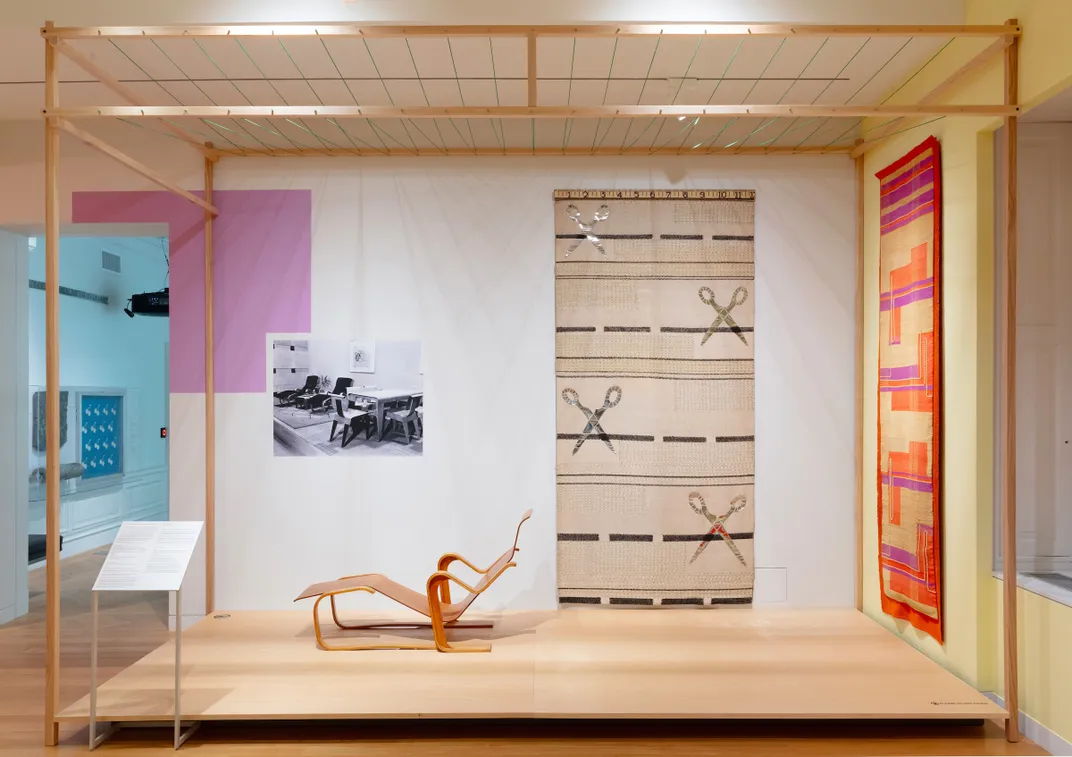 "We argue that she is the first person to be working at the scale that she did, across these different fields," says Winton. In the DuPont commercial, which is featured in the exhibition, Liebes mentions "the hand-loomed look that is so popular today," downplaying her own role in promoting this trend. Brown sees echoes of Liebes' work in today's fashions, not to mention its literal presence in vintage Cashin items that still fly off the racks.
Visitors to the exhibition can examine Liebes' life's work on a timeline, see and listen to her in films and advertisements, read about designers and weavers she taught and inspired, and look up close at her detailed fabrics. Handwoven drapes accompany photos of the spaces they occupied, like the blue, green and metallic stripes that graced the S.S. United States' first-class lounge, and samples made for industrial clients are juxtaposed with advertisements for synthetic materials, like the shimmering panel Liebes wove to display a new Lurex color palette titled "Birthday Party."
"We just finished writing this book, and we could write another book immediately," says Brown. "She had a huge, very prolific, very long career, a very connected career. There's much more that can be said, and we hope that this is the first of many explorations of her impact."
"A Dark, A Light, A Bright: The Designs of Dorothy Liebes" is on view at the Cooper Hewitt, Smithsonian Design Museum, in New York City through February 4, 2024.