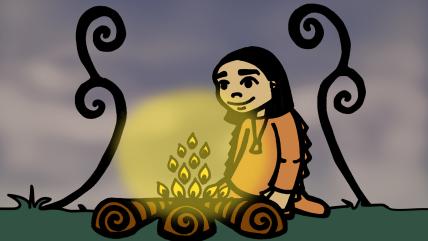 Despite a long, illustrious history of viewing animated film, I'm hard-pressed to recall any that feature American Indians, let alone films made by them. Disney's "Pocahontas" immediately springs to mind. But that musical blitzkrieg and its irresponsible historiography does nothing but make this native Virginian's eyes roll. Consequently, I met news of the National Museum of the American Indian's "Animation Celebration!" series of short subject animation with excitement. (What's your favorite animated short? Might I recommend the simply sadistic "Billy's Balloon" by Don Hertzfeldt?)
The selection of films, however, makes for a jarring movie-going experience. Instead of focusing on one tribe or geographic region, films from different parts of the U.S. and Canada are represented. In addition, some films preserve indigenous tongues while others ply their storytelling craft in English. Work from high school students is screened alongside that of more experienced animators, inviting unfair comparisons.
Noteworthy were the two films, "Maq and the Spirit of the Woods" and "Wapos Bay," mainly because of their association with the National Film Board of Canada. (The NFB encourages the filmmaking endeavors of indigenous peoples, and in 2001 it co-produced the live action film "Atanarjuat," the first to be written, directed and acted by Canadian Inuit.)
"Maq" is an interesting extension of oral storytelling traditions. Told by a narrator, the animation is not the primary means of conveying the story. Instead, the visuals are ornamental and meant to enhance the listening experience. "Wapos Bay" is a Canadian television series that has enjoyed past screenings at the Museum of the American Indian.
Detailing the lives of a Cree family in Saskatchewan that tries to blend cultural traditions with modern living, it was refreshing to see stereotype-free representations of American Indian characters take center stage. (And fans of Art Clokey—the animator who gave us Gumby, among other things—will appreciate the show's visual style.)
More animation from the National Film Board of Canada can be seen here. (For additional American Indian-themed animation, check out "The Owl Who Married a Goose;" Also be sure to check out the NFB's work with aboriginal filmmakers.)
"Animation Celebration!" continues at the National Museum of the American Indian through June 30. Screenings are held daily at 12:30 and 3:30 and are free to the public. Seating is first-come, first-served.
(Still from Maq and the Spirit of the Woods ,Directed by Phyllis Grant, Produced by Michael Fukushima, Kent Martin © 2006 National Film Board of Canada. All rights reserved)