You Can Stay in a Re-Creation of Shrek's Swamp in Scotland
The treehouse sits on a historic estate that's been used in "The Crown," "Outlander" and more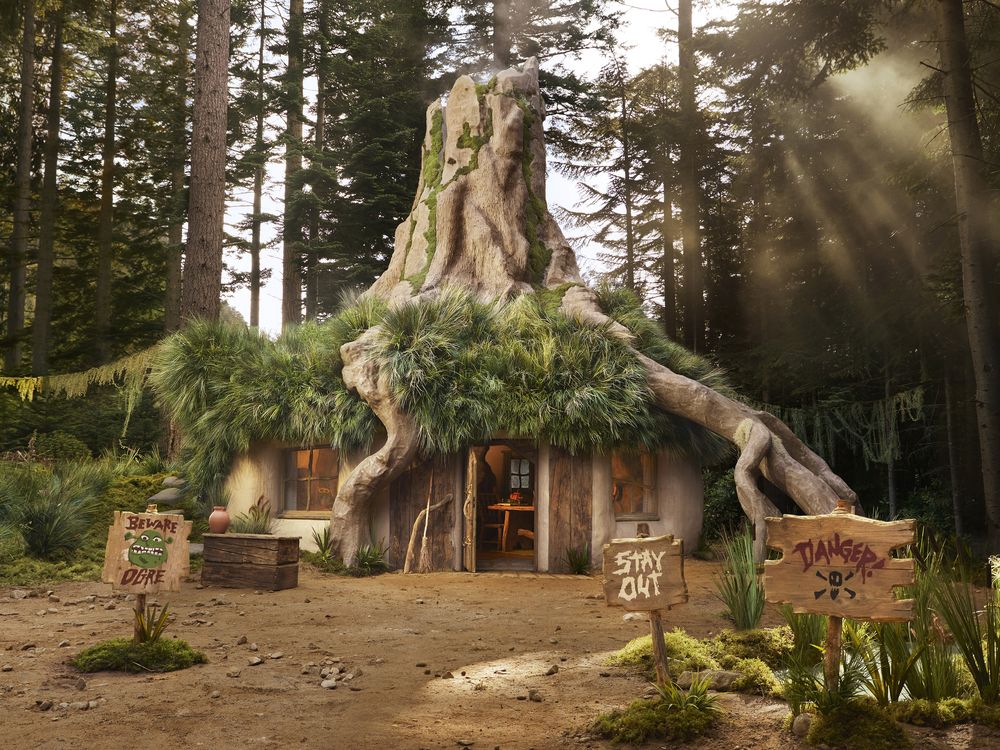 DreamWorks Animation's famous green ogre never wants any visitors, but a few of his fans will soon get the chance to stay in a faithful re-creation of his swamp.
Since the animated movie Shrek premiered in 2001, its characters have become pop culture mainstays. Shrek was the first film to win an Academy Award for Best Animated Feature when the category debuted in 2002. The tale spawned three more animated sequels and later spun off into a series featuring Antonio Banderas as a Zorro-esque talking cat. It even inspired a Broadway musical that toured in Seattle, New York and Chicago.
Now, Ardverikie, a historic estate located in the Scottish Highlands, is listing Shrek's moss-covered swamp house on Airbnb for a two-night stay starting on October 27. The "treehouse" can hold up to three guests and will cost $0 a night—"a nod to the priceless refuge Shrek's Swamp has provided fairytale creatures of all kinds," per a statement attributed to Donkey, Shrek's best friend.
"I'm swamp-sitting while Shrek's away this Halloween, and I'm absolutely delighted to invite you in for a fairytale stay," says the fictional sidekick in the Airbnb listing. "Oh, and never mind the 'BEWARE' signs. They're probably for decoration."
The house brings many details from the film to life, including Shrek's rickety door, his wooden bed and table and a fireplace made from a tree's roots. Airbnb's statement boasts that it also features the ambiance of "earwax candlelight," a stack of waffles for breakfast and Shrek's "trusted outhouse" for the bathroom. Fans interested in snagging the rental can request to book starting on October 13.
The treehouse was built on Ardverikie's vast 38,000-acre estate, which is located on the shores of Loch Laggan in the Central Highlands of Scotland. The estate is notably home to Ardverikie House, a 19th-century Scottish baronial house that's changed hands countless times over the years. Among its inhabitants was James Hamilton, the Marquis of Abercorn, who brought Queen Victoria to the house as his guest for three weeks in the summer of 1847.
Shrek isn't Ardverikie's first brush with Hollywood. The grounds have also been featured in various TV and film productions, including the James Bond film No Time to Die, Starz's Outlander and Netflix's The Crown.
The whimsical treehouse is just the latest offbeat rental offered on a limited basis as a marketing tactic. Earlier this year, in a bid to promote European heritage tourism, Airbnb announced a one-night stay in the Palais Garnier—the opera house that inspired Phantom of the Opera. Over the summer, ahead of the Barbie movie premiere, the company rented out Barbie's DreamHouse for two separate one-night visits.