What Was Found Inside the Oldest American Time Capsule
Historians in Boston have just cracked open a brass box originally buried in 1795 by Paul Revere and Samuel Adams
Back on July 4, 1795, none other than midnight-rider Paul Revere and Samuel Adams, who was then Massachusetts' governor, laid a time capsule in the Massachusetts State House in Boston. The event was a big to-do. Fifteen white horses (one for each state of the union) pulled the capsule to the ceremony, where a 15-gun salute accompanied its entombment within a cornerstone by Revere, Adams and fellow revolutionary William Scollay.*
In December 2014, the capsule was re-discovered by workers attempting to fix a water leak. Historians debated whether or not it should be removed, but the fact that water was seeping into that part of the building ultimately cinched it. To ensure preservation of its contents, it was decided that the time capsule would be opened.
There was an initial fear that the capsule's contents hadn't survived the centuries, particularly because the whole thing had been opened once before—in 1855, while repairs were done to the State House. At the time, 19th century "preservationists" had reportedly washed most of the capsule's items in acid. However, they also enclosed all of the materials in a brass box—a more reliable vessel for the collection than the two heavy sheets of lead originally used. 
To the delight of historians, an x-ray performed last month suggested that the enclosed materials—thought to include paper and coins—were intact.
The 10-pound capsule was finally opened last night at the Museum of Fine Arts in Boston in front of a crowd of press and history enthusiasts, after Pam Hatchfield, the museum's Head of Objects Conservation, spent about five hours delicately loosening the screws that held down the lid. Inside, conservators found a well-preserved collection of Revolutionary-era artifacts, as well as some dating to the first opening in 1855.
*This sentence was updated for accuracy—it originally stated the horses pulled a brass box, but the brass box came later.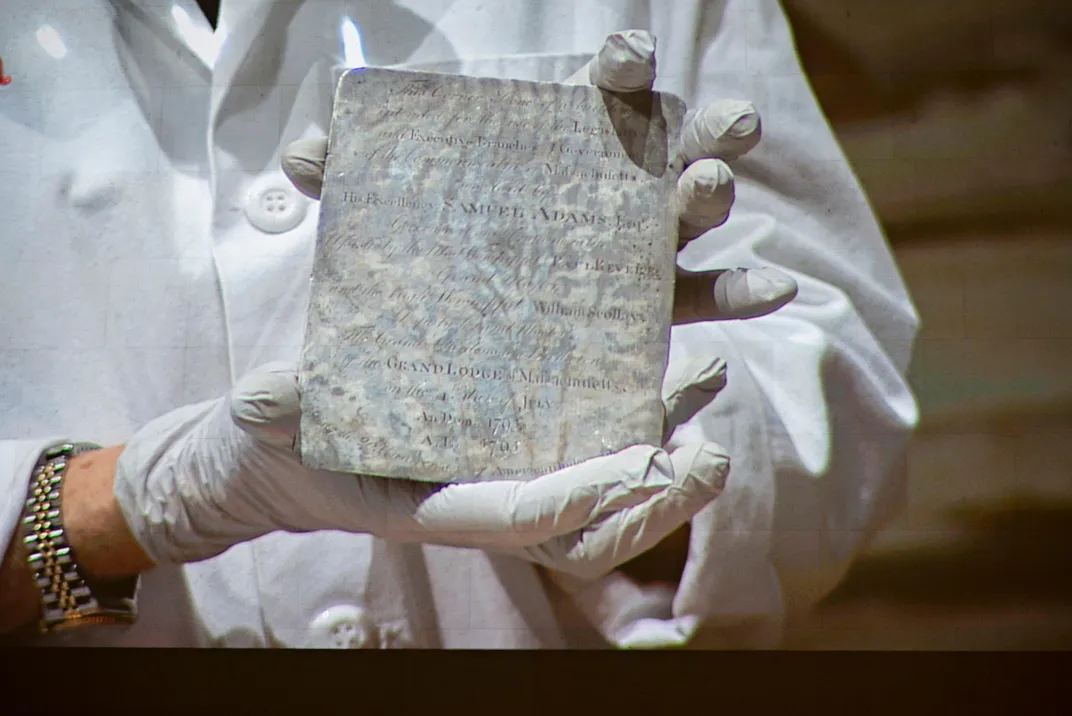 There were over a dozen coins, including a one-shilling piece from 1652, as well as a half-cent, a 3-cent, a dime, a "quar. dol" and a half-dollar coin. A Saturday morning paper and the Boston Traveler newspaper (priced at 2 cents) were discovered in readable condition.
Also within: The title page of the first volume of the Massachusetts Colony Records, a paper impression of the Seal of the Commonwealth, a medal depicting George Washington and a silver plaque commemorating the erection of the State House. Conservationists will be hard at work over the coming months working to preserve the materials and record their details.
It has been a pretty good year for American time capsules: In September, a 113 year-old capsule was discovered inside the head of a golden lion statue perched at the top of the Massachusetts State House. But not all that is buried is particularly old: in October, the 200th birthday of Perryopilis, Penn., was commemorated by opening a capsule originally sealed in 1976.