Pokémon Takes Over the Van Gogh Museum in Amsterdam
The franchise and the 19th-century Dutch master both took inspiration from Japanese art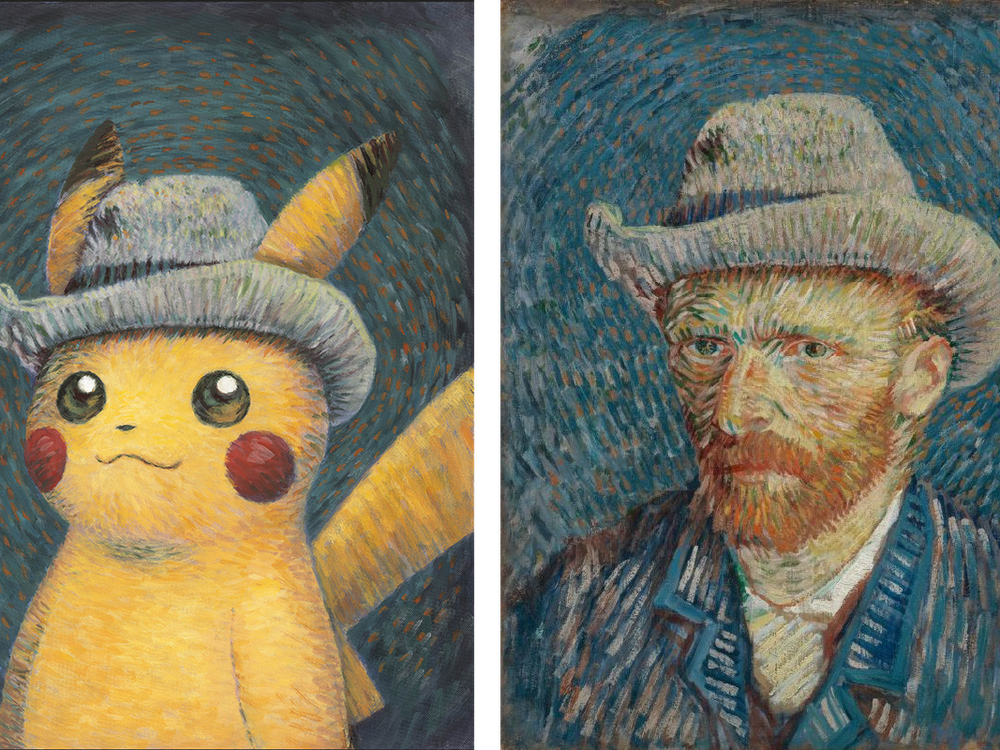 The hat is familiar, its drab gray material rendered in rows and rows of short, thin lines. But under it, where you might expect to see the brooding, bearded face of Vincent van Gogh, you'll find a furry yellow face with large eyes and iconic red cheeks.
Pikachu has taken the place of van Gogh in this portrait, one of six paintings now on display in "Pokémon x Van Gogh Museum," a new exhibition at the Van Gogh Museum in Amsterdam. 
The show is billed as a way to get children interested in the works of the 19th-century Dutch master. "This collaboration will allow the next generation to get to know Vincent van Gogh's art and life story in a refreshing way," says Emilie Gordenker, the museum's general director, in a statement from the museum, per Google Translate.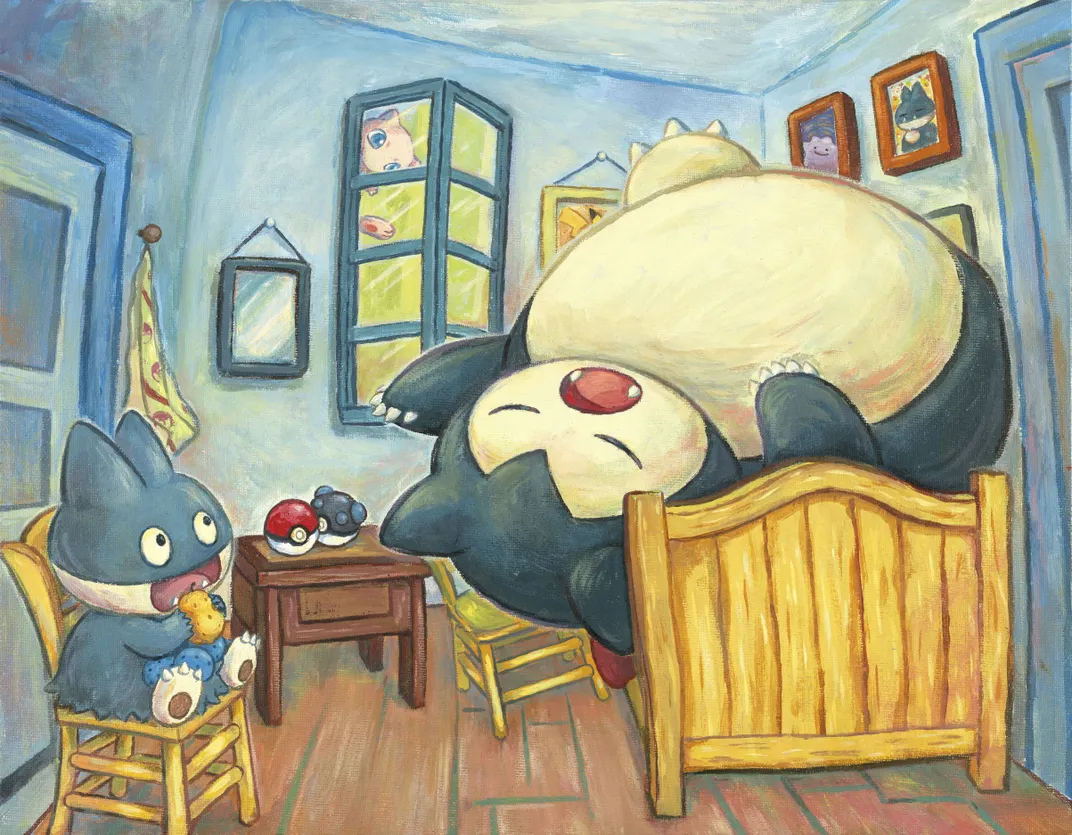 But when the exhibition opened last week, it was adults—many of them scalpers hoping to make a profit—who stormed the museum's gift shop, purchasing merchandise to resell. "The regrettable behavior of a small number of visitors was not anticipated," a museum spokesperson told Hyperallergic's Maya Pontone.
The Van Gogh Museum might seem like an unlikely partner for the Pokémon Company, but museum officials emphasize the many ways that Japanese art influenced van Gogh's style. As he wrote in a letter to his brother, Theo, in 1888, "We wouldn't be able to study Japanese art, it seems to me, without becoming much happier and more cheerful."
The museum previously explored this connection in 2018, when it staged an exhibition titled "Van Gogh and Japan." It examined the artist's interest in Japanese Ukiyo-e prints, distinctive artworks from the Edo period of Japanese history that had grown in popularity across Europe during van Gogh's life. Nearly 50 of these paintings and woodblock prints hung alongside the works they influenced in the Van Gogh Museum.
"It's hard to imagine what his works would have looked like without this source of inspiration," Nienke Bakker, curator of paintings for the museum, told Nina Siegal of the New York Times in 2018. "It really helped him to find the style that we all know."
Pokémon, meanwhile, is also rooted in Japanese folklore going back hundreds of years. For example, the face of the franchise is that small electric-type mouse named Pikachu, who evolves into Raichu. Both of those Pokémon are based on raijū, the "thunder beasts" of Japanese mythology. The mythology around these creatures also dates to the Edo period.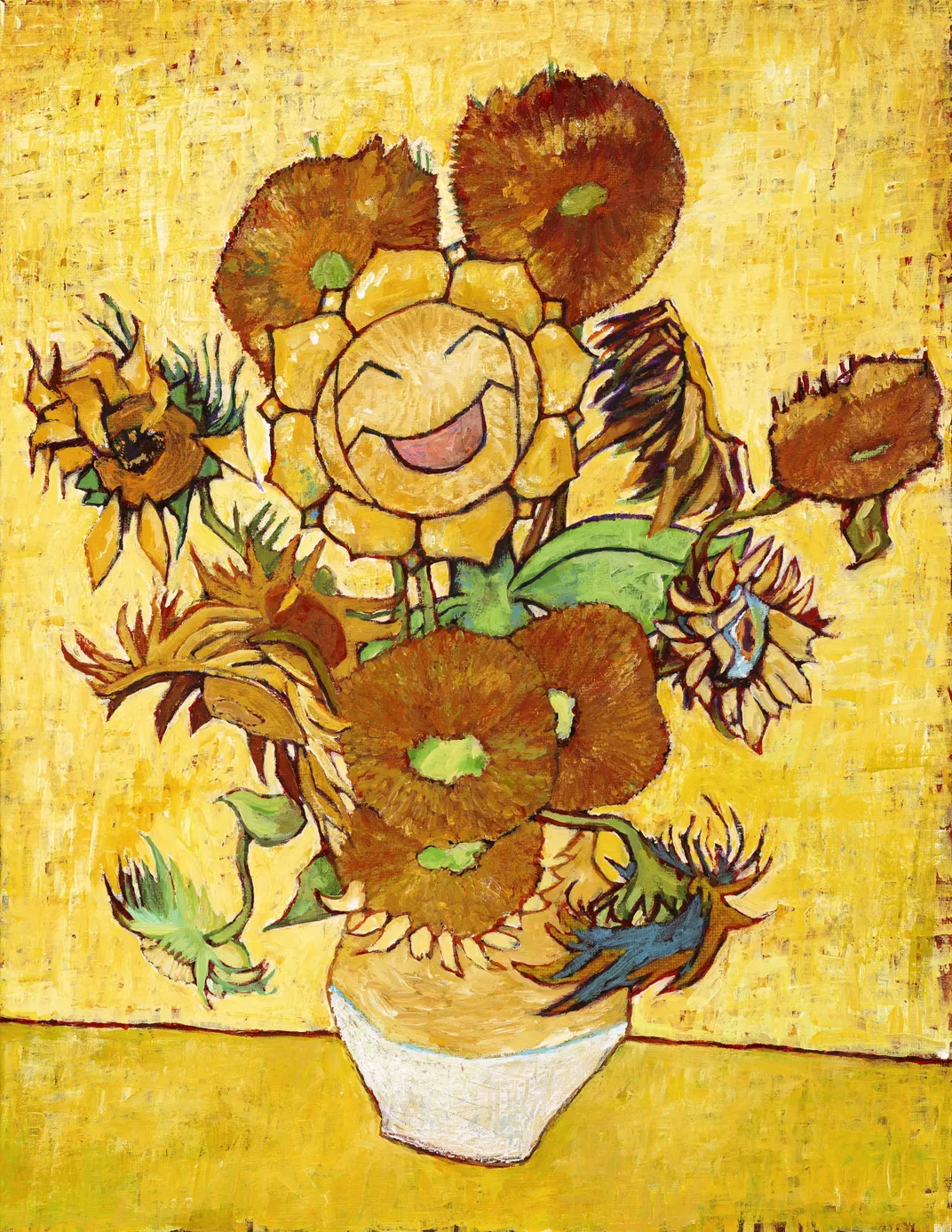 In recent years, several other museums have partnered with Pokémon to promote engagement with art and science. Over the summer, for example, an exhibition called "Pokémon x Kogei" opened at Japan House Los Angeles, showcasing more than 70 artworks reimagining Pokémon using traditional Japanese art techniques.
Pokémon characters have previously made appearances in other iconic works of art. In 2018, in honor of an exhibition on Norwegian painter Edvard Munch, the Tokyo Metropolitan Art Museum released special Pokémon cards placing Pikachu, Eevee and others inside The Scream.
The new exhibition in Amsterdam also includes a museum-wide scavenger hunt to learn more about van Gogh and his works. In the museum's restaurant, an instructional video will teach children how to draw Pikachu themselves.
"There is a strong link between the inspiration behind Pokémon and some of Vincent van Gogh's most famous works," says Mathieu Galante, head of licensing at the Pokémon Company, in the museum's statement. "With this collaboration, we hope that children will discover and delve into the world of art through the fantastic works of van Gogh and Pokémon."
"Pokémon x Van Gogh Museum" will be on view at the Van Gogh Museum in Amsterdam through January 7, 2024.