This Mummy Had an Angel Tattooed on Her Leg
A 1,300 year old Egyptian mummy was found to have the tattoo of an angel on her inner thigh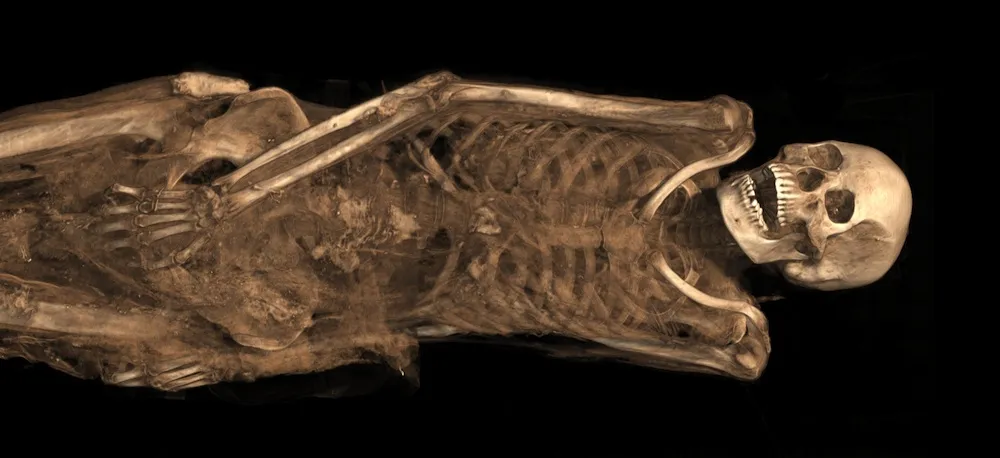 The British Museum is taking an in-depth look at eight different mummies from the Nile valley—and, to closely examine its subjects, the museum gave the mummies CAT scans. One, a 1,300-year-old mummy of a Sudanese woman, was found to have the tattoo of an angel on her inner thigh. The tattoo was formed from the Greek letters for the name Michael, and scholars think it's a representation of the archangel Michael. 
Here's what it looks like:
From the Telegraph:
"The scan of the Sudanese mummy showed her internal organs are remarkably well preserved," said Dr Antoine. "We can only speculate why she had a tattoo. Perhaps for protection."...

It is not clear who did the tattoo in ancient Sudan, and whether it was visible to other natives.

High up on her inner thigh, it may or may not have been out of view. And for all its scientific expertise, the British Museum admits to being unclear as to what exactly was the fashionable length of skirt worn by an ordinary Nile dwelling female in AD 700.
The mummy is being displayed as part of the British Museum's new exhibit, Ancient Lives: New Discoveries, which opens to the public on May 22 and runs through November 30th. The exhibit spans 4,000 years.
Other mummies with tattoos have been found around the world, in locales from Peru to Europe. Reasons for tattooing in ancient times ranged from decorative to therapeutic. They could also convey social status or membership to a particular group or class.