Lisbon Artists Are Teaching Graffiti Classes for the Elderly
Grannies learn about street art history and how to tag walls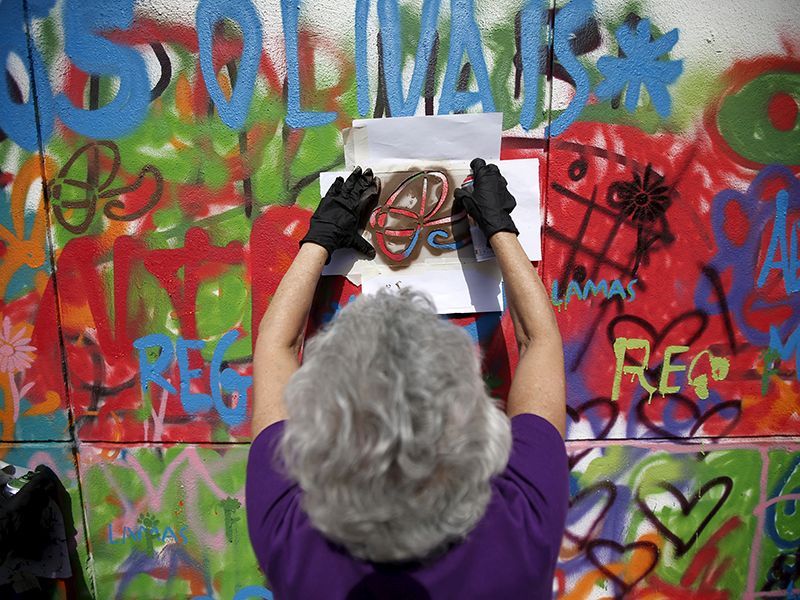 Graffiti might seem like an art form of young people, but in Lisbon, Portugal, street art is bridging generational gaps.
A program called LATA 65 proves that street art is fun for all ages, as Kate Sierzputowski writes for This is Colossal. The name derives from the Portuguese word for "can" and the age requirement for project participants. Through the workshop, older people interested in learning about graffiti can take classes in the history of street art, learn how the art form has developed in Europe and master techniques such as tagging and stenciling. Armed with their new skills, they take to the street to create their own graffiti and work on group murals.
Now in its third year, the urban art workshop is the brain child of two Lisbon-based artists: architect Lara Seixo Rodrigues, who also runs a local street art festival called Wool Fest, and Fernando Mendes, a designer and co-founder of Cowork Lisboa. For Rodrigues, the idea for the project originated at a city street art festival in Covilhã, Portugal, in 2011. Rodrigues recently spoke to Pierre-Anthony Triollet of the French art and culture website focuSur on the subject. "We quickly learned that the people who were the most receptive, who were the most interested in the techniques, the material, the way to work and the history of these walls, were older people," he told Triollet. (The interview is in French).
Chatting with Mendes, the two decided to take up the challenge. Working with a community center in Lisbon, they began their first 15-day workshop in 2012. Today, they work with groups of seniors all over Portugal, with the possibility of expanding to other countries as well. The average student is 74, but they have students as old as 92, Rodrigues told Troillet.
To see samples of LATA 65, visit the group's Facebook page, and watch the graffiti grannies and grand-dads in action in the video below: