Five Things to Know About Bob Dylan
When it comes to awards, the times are a' changin'—and now the iconic musician is a Nobel laureate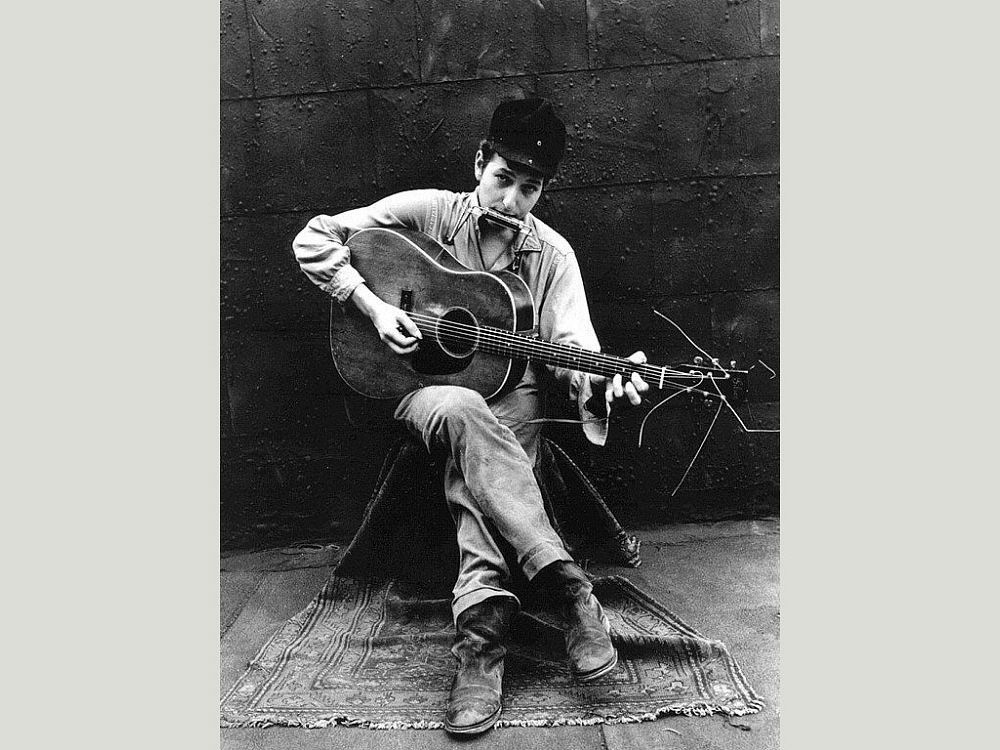 This morning, the Nobel Prize committee announced the winner of the 2016 Nobel Prize in Literature: Bob Dylan. It's the first time a musician has ever won the award, and the announcement was a shock to the bookies and betters who predict prize winners each year (Dylan's odds were 50/1 according to the British betting firm Ladbrokes). But how did the 75-year-old go from humble Minnesotan singer-songwriter to a literary giant with the reputation of what one Nobel committee member called "the greatest living poet"? Here are five things to know:
Dylan isn't his only name 
You know him as Bob Dylan, but he was born Robert Allen Zimmerman. He grew up in Duluth and Hibbing, Minnesota, and in high school, his ambition was to "join Little Richard." It was during his brief stint attending the University of Minnesota in Minneapolis that the singer-songwriter got his start as a folk singer, performing in Dinkytown. But he eventually turned his back on his name—and left his homestate for New York.
He flirted with the stage name Elston Gunn or Elston Gunnn (though he spelled "Gunn" with two ns in his autobiography, others claim he used that third n). But finally, "Bob Dylan" was the name he went with. In 1962, he made the legal change. As The Washington Post's Elizabeth Thomson writes, the name was likely taken from the TV show "Gunsmoke," rather than the poet Dylan Thomas. He left Minnesota for New York in 1961, and Minnesotans have had a tortured relationship with Dylan ever since—especially when it was announced earlier this year that his archives would be at the University of Tulsa near a museum honoring his idol, folk legend Woody Guthrie.
He's a legendary borrower
Dylan's Nobel Prize in Literature is based on his words, but those words have borrowed heavily from other literary and musical influences. Like other musicians, Dylan has long remixed and quoted everything from spirituals to blues to jazz to poetry. He even entered folk singing because of someone else's work: When he heard legendary black female singer Odetta doing her thing on "Odetta Sings Ballads and Blues," he reportedly ran out of the record store, bought an acoustic guitar and memorized all of her songs.
He's also occasionally been accused of plagiarism. Passages from his album Modern Times echo those of a Confederate poet named Henry Timrod. (Dylan, who famously sang the words "don't steal, don't lift" in his 1965 song "Subterranean Homesick Blues," defended himself by implying that he had rehabilitated Timrod's reputation and saying that quotation was "part of the tradition.") For decades, it was thought that he had lifted the song "Blowin' in the Wind," which is based on a spiritual, from a New Jersey high schooler named Lorre Wyatt (in fact, Wyatt claimed he wrote the song after lifting it from Dylan and performed it at a high school show). And more recently, his rival and fellow performer, Joni Mitchell, alleged that he is a "fake" and a "plagiarist."
Music isn't his only art
You might not realize that Dylan dabbles in another art form: He has long been a visual artist. Not only did he create cover art for two of his 1970s albums, but in 2007, his work was exhibited in public for the first time. Since then, he has published several books of drawings and paintings and had several major gallery shows. But copycat claims have dogged him in the art world, too: As The New York Times' Dave Itzkoff reports, The Asia Series, his 2011 exhibition, "raised questions about whether some of these paintings are based on Mr. Dylan's own experiences and observations, or on photographs that are widely available and that he did not take." The gallery denied the claims, and Dylan still paints. His first permanent public art work is actually set to be unveiled in Maryland later this year. 
Though The Guardian's Jonathan Jones complains that "his paintings are not masterpieces, and we would not be looking at them if he were not famous," others disagree. The Brooklyn Rail critic Robert C. Morgan viewed The Asia Series as "direct and inhabited" and saw a "completeness" to what he has started producing as an artist. And his paintings and drawings are prized by fans who find it hard to speak to or get autographs from him. Just don't look for over connections to his music: As Mickey Ross, who curated a Dylan exhibition, told Fast.Co.Create, he "feels that his art is a complete standalone situation…you're not going to see an image of blowing in the wind or a man playing a tambourine."
He has a surprising academic legacy
You may not be able to find references to Dylan's favorite songs on canvas, but there's one place you may see them: in academic papers. Everyone from law professors to scientists have snuck Dylan lyrics into their articles, and in 2014 The Guardian's Sean Michaels revealed a 17-year-long bet that explains why articles about things like non-neural cells have titles cribbed from Dylan's songs. Apparently, a group of Swedish-based scientists challenged one another to see who could quote Dylan the most before retirement—and, presciently, told Michaels they thought Dylan deserved a Nobel Prize in Literature.
He has a Pulitzer, too
Speaking of prizes, did you know that Dylan has a Pulitzer to his name? In 2008, he was given a special Pulitzer Prize "for his profound impact on popular music and American culture." The award was part of an ongoing effort on the part of the Pulitzers to acknowledge more non-classical artists, beginning in 1997 when the prize committee awarded Wynton Marsalis the first-ever Pulitzer given to a jazz artist. Since then, writes Howard Reich for Nieman Reports, the organization has made its criteria broader and changed its scoring.
Of course, not everybody was excited about the changes, which swept through public opinion like the proverbial rolling stone. "It's like giving Elvis Presley a tuxedo," novelist Jonathan Lethem told Itzkoff. "It doesn't exactly fit." The storm of criticism is already being replicated with the Nobel committee's announcement—the committee is being accused of overlooking women (none of whom won a Nobel in any category this year) and minimizing the literary achievements of traditional novelists, among other things.
The kerfuffle will probably look more like an idiot wind than a major crisis in artistic recognition. But what does Dylan himself think of the honor? So far, he hasn't responded, but since he's currently on a U.S. tour, he'll have plenty of opportunities to weigh in. Then again, he could decide that he ain't talking…and turn his back or refuse to speak as he has at other shows. Either way, it's time to get used to Dylan as a Nobel laureate—one of a rare breed of just 579 winners in history.