Fashion Made From Cow Poo Wins Innovation Award
Mestic looks to manure to produce bioplastic, paper and fashion-forward textiles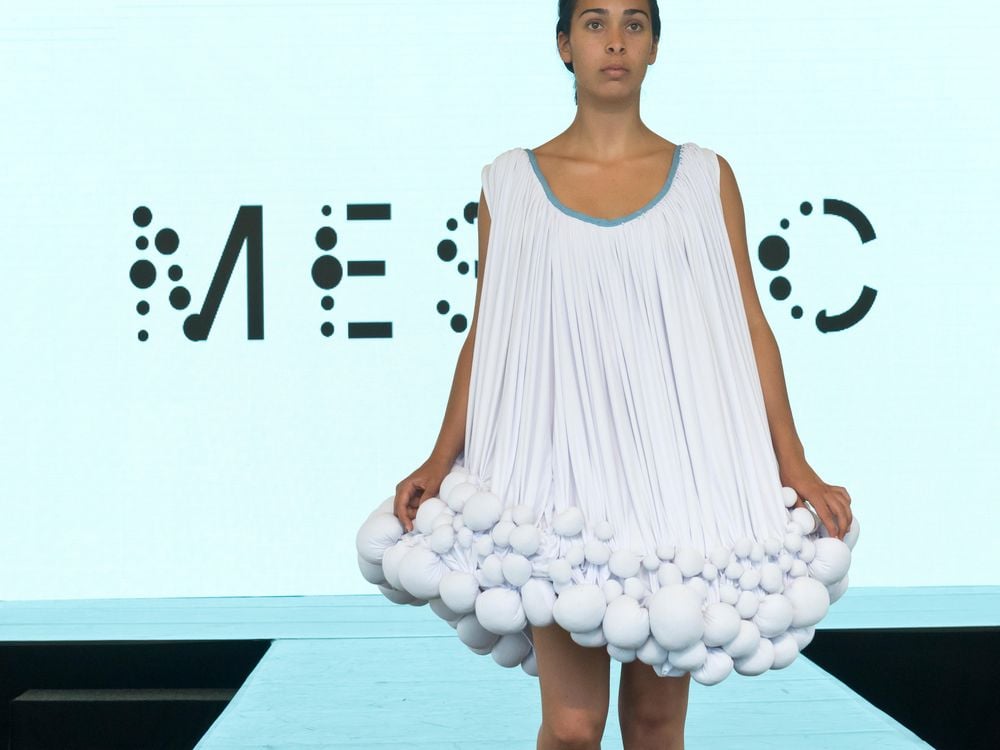 Clothing designers have certainly found some creative ways to make sustainable fashion in recent years—like spinning graduation gowns out of recycled bottles or making shoes out of illegal fishing nets. But a fabric that recently received a Global Change Award from fashion mega-retailer H&M might just take the cake: it's made out of cow manure.
Jamie Feldman at the Huffington Post reports that Dutch artist and entrepreneur Jalila Essaidi, who specializes in bio-based materials, was one of five fashion innovators who received the award, meant to encourage "game-changing ideas that can help reinvent the entire industry."
Essaidi calls her pre-digested fabric Mestic. According to her website, she was inspired to create the bio-fabric in 2016, after learning that Dutch dairy cows were exceeding sustainable limits of phosphate production.  According to a video, after Essaidi and her team take manure from farmers, they separate the dry manure from the wet manure. The clean cellulose is extracted from the dry and chemicals that can break down the cellulose from the wet. That is then processed into a cardboard-like material. Another acid from the manure is added which turns the mix into something similar to a liquid plastic that can be processed into plastics or textile fibers. 
"[M]anure, in its essence, is easily considered the most vile substance we know," Essaidi says on her website. "'Mestic shows that even this most disgusting matter is inherently beautiful."
The Global Challenge Award was established by the H&M Foundation in 2015 as part of its efforts to ramp up sustainability in the clothing industry. Last year the brand announced an initiative to sell only 100 percent recycled or sustainably sourced clothing by 2030, though there's no word on how much, if any, of that will be manure-based.
It's not a completely altruistic move. The fashion world in particular has come under scrutiny in recent years as the "fast fashion" trend has taken off. Retailers like Forever 21, Topshop and H&M are driving a rapid turnover of styles of cheaply made clothes, which, Jared Miller at Newsweek reports, means anything over a year old is hopelessly dated and essentially seen as trash. But producing clothing is a resource intensive business—growing cotton and other fibers take lots of land, huge amounts of pesticides and water while synthetic materials are usually derived from coal, natural gas or oil. Miller reports that 84 percent of unwanted clothing in the U.S. ends ups in landfills or incinerators, with secondhand stores glutted with fast fashion to the point where they will often turn those donations and consignments away.
However, if brands can make that disposal fast-fashion sustainable, they can go on with business as usual without all the guilt and criticism. "The holy grail for sustainability in fashion is closed-loop sourcing," Marie-Claire Daveu, chief sustainability officer of the luxury company that owns brands like Gucci and Stella McCartney, tells Maya Singer at Vogue. "Reuse old materials. Make new materials out of old materials. Recapture the fibers."
Ellie Pithers at Vogue UK reports that other winners of the Global Challenge Award, who each receive about €150,000, include a faux-leather made out of grape skins left over from the wine making process, a company with a process for extracting the toxic dye from old jeans to make new jeans and a fabric that traps atmospheric carbon in its fibers.