Can Antiquities Looting in Syria Be Stopped?
The Islamic State is selling antiquities to fund their fight, now a secretive group is trying to protect those cultural treasures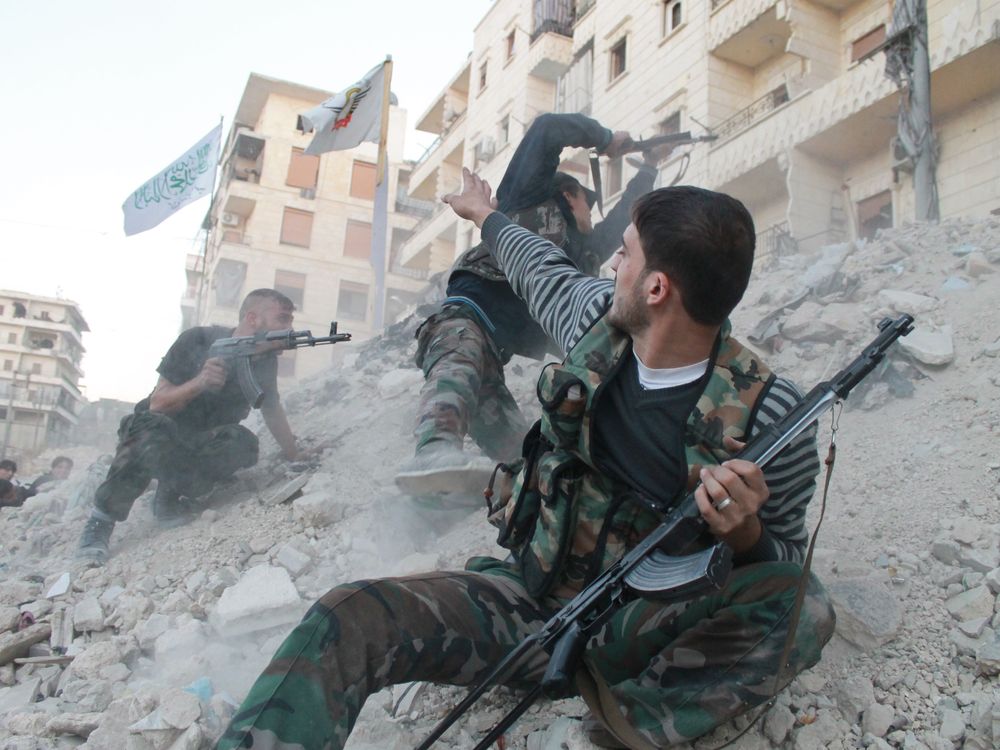 During World War II, a group of art historians and other academics, dubbed the "Monuments Men," helped protect historical buildings and art from acts of war. But sites of cultural heritage are always threatened by conflict. In Syria, Islamic State militants have taken to looting with bulldozers as part of the effort to finance their war to build a new state, reports The Wall Street Journal. 
"What started as opportunistic theft by some has turned into an organized transnational business that is helping fund terror," Michael Danti, an archaeologist from Boston University, told the Journal. "It's the gravest cultural emergency I've seen."
Civilians are also encouraged by the Islamic State leaders to loot. The group's "worldview sanctions destroying artifacts considered idolatrous," the Journal reports. Or selling them:
Ancient cities such as Homs and Aleppo have been reduced to rubble. Roman, Greek, Babylonian and Assyrian sites have been destroyed by fighting and looting, and five of the six Unesco World Heritage sites in Syria have been seriously damaged.

Some of the country's grandest museums have been plundered or are at risk, including the Mosaic Museum in Idlib province, filled with Roman-era works. In the markets in southern Turkish cities like Gaziantep, Roman vases robbed from graves are being sold by the boxload.
The trouble stem from the money these cultural artifacts can bring: 
Last year, an Iraqi intelligence official claimed Islamic State had made as much as $36 million from looting a single area around al-Nabek, a Syrian city that contains several early Christian sites known for their icons and wall mosaics.
In an attempt to preserve some of the country's treasures, a new group of "Monuments Men" have assembled. A Damascus University-trained archeologist and a colleague started cataloging damage in 2012. The Journal writes:
The group is now a 200-strong network stretching across rebel-held Syria, the archaeologists said. But unlike World War II's monuments men, the Syrian specialists have few resources and are seldom supported by armed units. Aided by smugglers and fixers, they travel unarmed through rebel-controlled territory, navigating a maze of armed groups including Islamic State; Jabhat al-Nusra, Syria's al Qaeda branch; the U.S.-backed opposition; and the Syrian regime.

"The regime knows us and is looking for us," because of work done to expose looting by Syrian government loyalists, said the Damascus-trained archaeologist. "Other groups could kill us if they knew what we were doing, so we move in the shadows."
They also work to teach rebel groups to "be more sympathetic to cultural heritage," even going so far as to meet with the emirs of some Islamist groups. But the work is dangerous and the degree of success uncertain.
The International Council of Museums published an Emergency Red List of Syrian Cultural Objects at Risk in 2013 to make potential buyers aware of the loot's possible origins and its importance. UNESCO continues to highlight developments threatening the country's cultural heritage.
The looting just adds to the list of violence in the war, including beheadings, starvation and a death toll of more than 200,000 people.