A Rare Look Below the 'Doomsday Glacier' Reveals Surprising Melting
Researchers sent a robot through 2,000 feet of ice to study the quickly receding ice shelf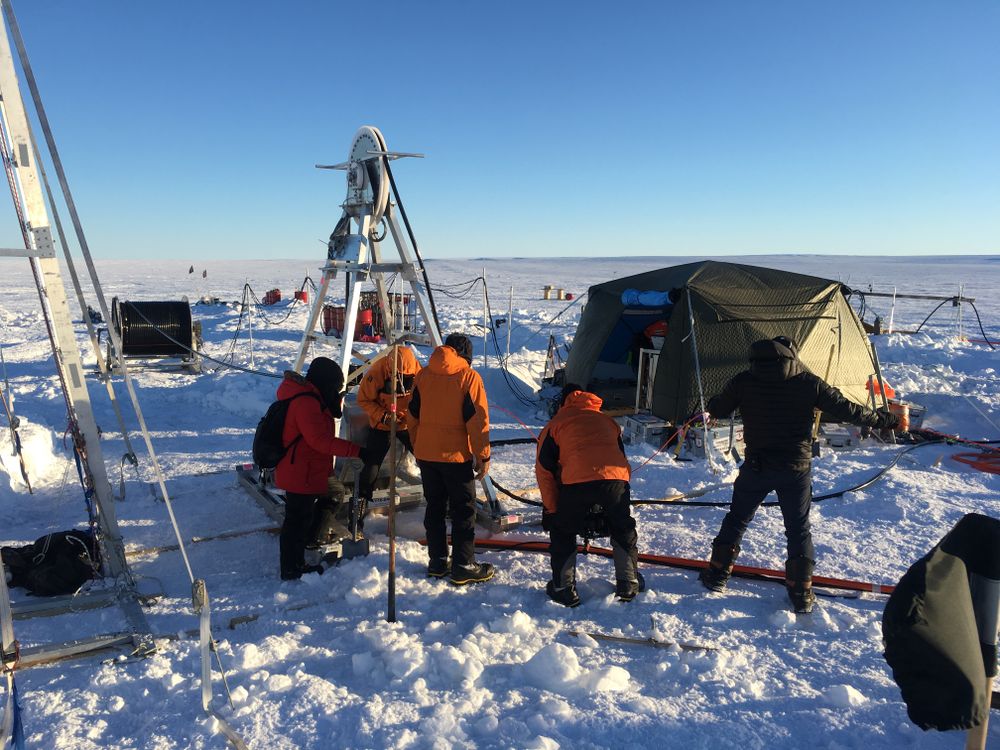 Scientists took the first close-up look at the underside of a Florida-sized glacier in West Antarctica, revealing some troubling trends. With the help of a 13-foot-long underwater robot, they discovered the glacier's ice shelf is melting in a more complex manner than previously thought, according to two new studies published this week.
Officially called the Thwaites Glacier, the icy behemoth has earned the nickname "Doomsday Glacier," thanks to its significant potential to contribute to sea level rise. If the whole thing were to liquefy in the coming centuries, global sea levels would rise by about two feet, and more of Antarctica might be left vulnerable to melting.
Research teams from the International Thwaites Glacier Collaboration used hot water to bore a nearly 2,000-foot-deep hole in the ice, then lowered the cylindrical robot, called Icefin, into it. Below, Icefin revealed the glacier's ice shelf—the portion that floats on the ocean's surface—has both flat and ridged areas on its underside. The findings indicate that melting is proceeding more slowly than expected on the flat portions but occurring more rapidly in cracks and crevasses that extend upward into the glacier.
After news last summer that Thwaites, which has retreated more than eight miles since the late 1990s, is melting at its fastest rate in thousands of years, a slower-than-expected rate of melt could sound like good news. However, the researchers caution that their results aren't cause for celebration.
"Our results are a surprise, but the glacier is still in trouble," says Peter Davis, an oceanographer at the British Antarctic Survey and a lead author of a study published Wednesday in Nature, in a statement. "What we have found is that despite small amounts of melting there is still rapid glacier retreat, so it seems that it doesn't take a lot to push the glacier out of balance."
Indeed, Thwaites continues to be one of the fastest receding glaciers and least stable ice shelves in Antarctica, and it is currently responsible for roughly 4 percent of the overall sea level rise of 1.5 inches per decade.
Through the rapid melting of the crevasses, deterioration of the glacier has actually been able to occur under milder conditions than predicted. "That means that it takes less to get this degree of change," explains Britney Schmidt, an Earth and planetary scientist at Cornell University and lead author of the other new study published in Nature, to Wired's Matt Simon.
Schmidt and her team found that on flat parts of the ice shelf's underside, a layer of cold, fresher water provides a buffer between the ice and the warmer ocean below, resulting in a less rapid rate of melt than computer models had previously predicted. However, crevasses and sloped portions have more vertical surfaces that allow more of the warmer water to get closer to the ice. This incursion of warm water weakens the ice further in already weak areas.
"There's a fear that if you're widening these rifts and crevices under the ice, you can destabilize the ice shelf, which could lead to greater disintegration over time," Davis tells Wired.
Understanding how the glacier is melting "gives us an important look at processes affecting the crevasses that might eventually break and cause loss of much of the ice shelf," says Richard Alley, a glaciologist at Pennsylvania State University who wasn't involved in the research, to Seth Borenstein of the Associated Press.
The findings from the studies will be used to fine-tune models predicting the massive glacier's future and make projections about sea level rise more accurate, a critical part of protecting coastal communities and mitigating the effects of climate change, Davis tells Laura Paddison of CNN.
"Despite it being so remote, the consequences of what happens on Thwaites will impact everybody," he tells the publication.