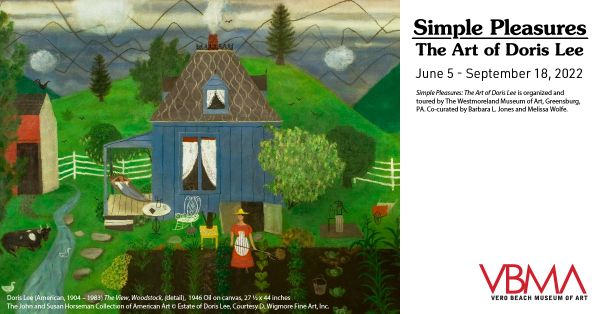 Vero Beach Museum of Art
3001 Riverside Park Dr., Vero Beach, FL 32963 - United States
Renowned as being the largest cultural arts facility of its kind on Florida's Treasure Coast, the Vero Beach Museum of Art offers visitors the chance to view world class exhibitions from regional and international artists. See five art galleries, two sculpture parks, museum store, and Museum Art School. Don't miss the chance to introduce young art lovers to the children's galleries and the Art Zone an interactive children's space. For more information visit the www.vbmuseum.org website!
Exhibits
Fred Wilson, The Way the Moon's in Love with the Dark (2017)
Now thru December 31, 2019
Post-Front Rotunda
The chandelier by Fred Wilson entitled The Way the Moon's in Love with the Dark is on view in the front Rotunda and provides an exciting introduction for our visitors, engaging them from the moment they enter the Museum.
Simple Pleasures: The Art of Doris Lee
June 5 - September 18,2022
Holmes and Titelman Galleries
Simple Pleasures: The Art of Doris Lese presents the first major critical assessment of works by the artist Doris Lee. In response to the rise of Abstract Expressionism in the decades after World War II, Lee deftly adsorbed these innovations into a continuation of her own visual style. Lee's work reveals a remarkable ability to merge the reduction of abstraction with the appeal of everyday and offers a coherent visual identity that successfully bridged various artistic 'camps' that arose in the post-World War II era.
Simple Pleasures: The Art of Doris Lee is organized and toured by The Westmoreland Museum of American Art, Greensburg, PA. Co-curated by Barbara L. Jones and Melissa Wolfe.
Participation in Museum Day is open to any tax-exempt or governmental museum or cultural venue on a voluntary basis. Smithsonian magazine encourages museum visitation, but is not responsible for and does not endorse the content of the participating museums and cultural venues, and does not subsidize museums that participate.