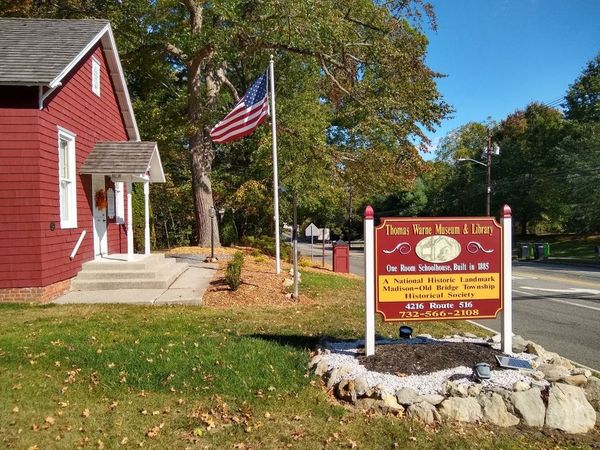 Thomas Warne Museum & Library
4216 Route 516, Matawan, NJ 07747 - United States
We are the Madison-Old Bridge Township Historical Society which houses the Thomas Warne Museum & Library. The museum has a gallery which displays artifacts of the history of Madison-Old Bridge Township including a unique collection of Warne and Letts Pottery.
Our Cedar Grove School is the second oldest surviving one room school house in the State Of New Jersey and was built in 1885 and is available for viewing by the public. The Cedar Grove School is a US National Historic Site and State of NJ Historic Site. We give tours and invite you to visit us and become a member.
Exhibits
One of the largest collection of Warne and Letts Pottery from the Colonial Era. Displays of local artifacts of the history of Madison Township-Old Bridge Township. Model of the Cottrell Apple Cedar Mill that made Browntown Applejack. WWI artifacts and Nike Missle Base photos and Cold War Spy story from the 1950's
Participation in Museum Day is open to any tax-exempt or governmental museum or cultural venue on a voluntary basis. Smithsonian magazine encourages museum visitation, but is not responsible for and does not endorse the content of the participating museums and cultural venues, and does not subsidize museums that participate.