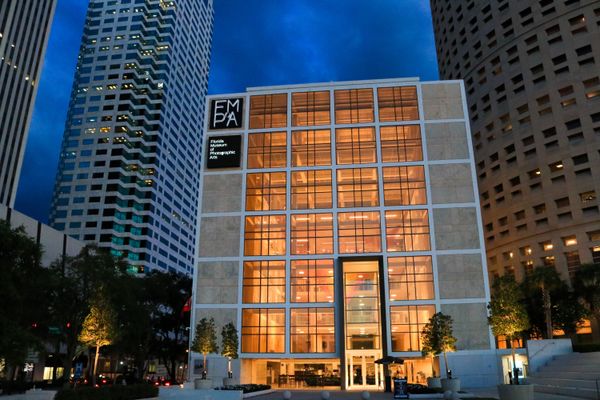 The Florida Museum of Photographic Arts
400 N. Ashley Drive Cube 200, Tampa, FL 33602 - United States
The FLORIDA MUSEUM of PHOTOGRAPHIC ARTS is a museum dedicated to exhibiting important photographic art as central to contemporary life and culture. FMoPA collects, preserves, and exhibits historic and contemporary works by nationally and internationally known photographic artists. FMoPA also enriches the community by operating outreach programs to educate children and adults.
Exhibits
Bremner Benedict – Hidden Waters / Desert Springs / Uncertain Future
Bremner Benedict's project is an artistic investigation, part art, part research, into the springs of the Sonoran, Chihuahaun, Mojave, Great Basin deserts and the Colorado Plateau. The critical importance of these waters and their ecologies in the face of climate change and population pressures is under-recognized making their survival precarious. By visually interpreting the science her intent is to raise public awareness to the potential of water scarcity.
Jeff Whetstone – Batture Ritual
Jeff Whetstone's photographs and videos explore the micro- and macro-economies and ecologies along the Mississippi River's batture near New Orleans, Louisiana. "Batture" is the French-creole term for the thin strip of weeds, trees, and mud between the water's edge of the Mississippi River and the tall, hardened levees that contain its floods.
Sea to Shining Sea: Photographs from the Permanent Collection
The song America the Beautiful describes the sweeping majesty of these United States. This exhibition starts with this premise and expands to include the playfulness and eclectic beauty of this country and its people. The photographs were captured between the years of 1972 and 2018 by American photographers. Artists include David Freese, Clyde Butcher, Joan Gentry, Don Kirby, Benjamin Dimmitt, Bruce Davidson, Bruce Dale, Mick Briscoe, Joan Gentry, Loren Nelson, and Bud Lee. Especially now when so much of our natural environment feels at peril, it is good to be reminded of the beauty that surrounds us, and the expressions and interpretations that accompany it.
"And crown thy good with brotherhood from sea to shining sea."
Members Show
Museum members can submit photographic art to the show by August 31. There will be five categories featured in this year's exhibition: Portraits, Conceptual, Documentary, Nature, and Abstract. The exhibition will be on view in September and October 2021.
All submissions will be installed in the museum's Community Gallery. Winners from each category will receive a prize awarded by our sponsors.
To participate in the show, each artist must already be a member of the museum or sign up for a membership at the time of the exhibition.
Participation in Museum Day is open to any tax-exempt or governmental museum or cultural venue on a voluntary basis. Smithsonian magazine encourages museum visitation, but is not responsible for and does not endorse the content of the participating museums and cultural venues, and does not subsidize museums that participate.