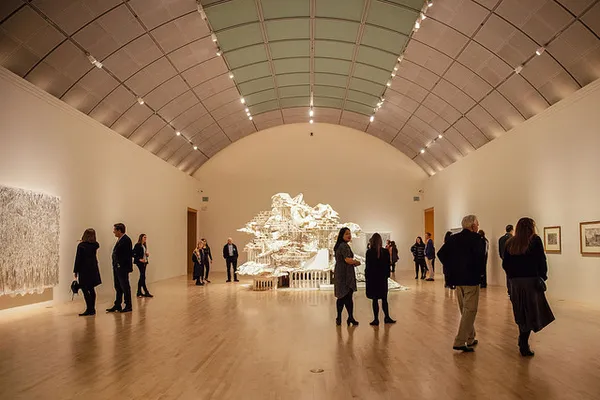 San Jose Museum of Art
110 South Market Street, San Jose, CA 95113 - United States
The San Jose Museum of Art celebrates new ideas, stimulates creativity, and inspires connection with every visit. Welcoming and thought-provoking, the Museum rejects stuffiness and delights visitors with its surprising and playful perspective on the art and artists of our time.
Exhibits
Hito Steyerl: Factory of the Sun
August 6, 2021 – November 27, 2022
SJMA presents the landmark video installation, Hito Steyerl's Factory of the Sun (2015). Interweaving genres of video games, internet dance videos, news reportage, and documentary film, the installation tells the surreal story of workers whose forced moves in a motion capture studio are turned into artificial sunlight. Factory of the Sun probes the pleasures and perils of digital image circulation, while exploring possibilities for collective resistance when surveillance has become routine in an increasingly virtual world.
Break + Bleed
June 24, 2021 – April 3, 2022
Like the break of a line or page and the bleed of various elements beyond the edge or boundary of a certain area, the artworks in Break + Bleed oscillate between ideas of linearity and geometry and overlapping planes of color and form. Drawn primarily from SJMA's permanent collection, the exhibition features artwork by Josef Albers, Karl Benjamin, Linda Besemer, Tony DeLap, Sam Francis, Sonia Gechtoff, Helen Lundeberg, Brice Marden, John McLaughlin, Ted Stamm, Frank Stella, Patrick Wilson, and Leo Valledor, among others.
South East North West: New Works from the Permanent Collection
October 30, 2020 – October 3, 2021
Reflecting the high-tech interests, lively cultural diversity, and innovative spirit of Silicon Valley, this exhibition features artworks by 30 artists from 11 countries, from internationally renowned figures to those working in California and the Bay Area as well as emerging practitioners. The exhibition highlights a dynamic array of paintings, sculptures, photographs, works on paper, and new media acquired by SJMA in the last five years.
Participation in Museum Day is open to any tax-exempt or governmental museum or cultural venue on a voluntary basis. Smithsonian magazine encourages museum visitation, but is not responsible for and does not endorse the content of the participating museums and cultural venues, and does not subsidize museums that participate.