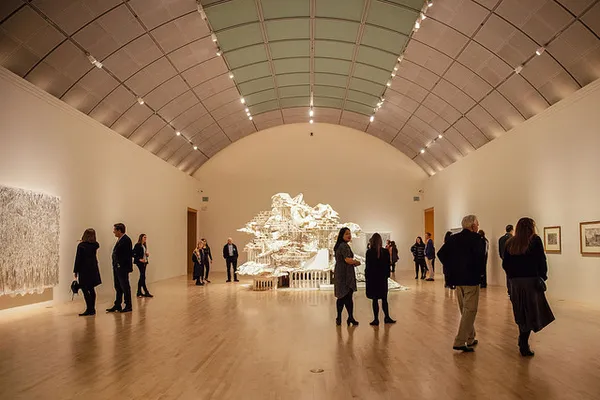 San Jose Museum of Art
110 South Market Street, San Jose, CA 95113 - United States
The San Jose Museum of Art celebrates new ideas, stimulates creativity, and inspires connection with every visit. Welcoming and thought-provoking, the Museum rejects stuffiness and delights visitors with its surprising and playful perspective on the art and artists of our time.
Exhibits
Jean Conner: Collage
Organized by SJMA, Jean Conner: Collage is the artist's first solo museum exhibition and brings long-overdue recognition to her extraordinary and fanciful collages. Primarily made from images cut out of such large-format color magazines as Life and Ladies' Home Journal, Conner's vivid, pictorial worlds feature playful arrangements of animals, nature, religious symbolism, aquatic environments, food, women, dancers, and divers.
Brett Weston
Recognized for his bold, abstract compositions of western landscapes and natural forms, Brett Weston was a leading photographer of the early twentieth century. Spanning the 1930s through the 1970s, Brett Weston features fifty-one photographs drawn exclusively from SJMA's permanent collection that highlight the photographer's enduring motifs and technical experimentation.
Kelly Akashi: Formations
Kelly Akashi is known for her materially hybrid works that are compelling both formally and conceptually. Originally trained in analog photography, the artist is drawn to fluid, impressionable materials and old-world craft techniques, such as glass blowing and casting, candle making, bronze and silicone casting, and rope making. The exhibition encompasses artworks made over the past decade and features a newly commissioned series in which Akashi explores the inherited impact of her family's imprisonment in a Japanese American incarceration camp during World War II.
Evergreen: Art from the Collection
SJMA's newly dedicated gallery space celebrates the Museum's collection as both a gift to and a product of its community and provides ongoing access to San José's only publicly held art collection. Located in the Museum's historic building, the gallery presents select holdings that highlight the growing collection and the numerous San José stories it tells.
Hito Steyerl: Factory of the Sun
SJMA presents the landmark video installation, Hito Steyerl's Factory of the Sun (2015), a joint acquisition with the Hammer Museum in Los Angeles, the Museum of Contemporary Art in Chicago, and SJMA. Interweaving genres of video games, internet dance videos, news reportage, and documentary film, the installation tells the surreal story of workers whose forced moves in a motion capture studio are turned into artificial sunlight.
Beta Space: Trevor Paglen
Beta Space: Trevor Paglen will feature the artist's first sound piece, a new public commission titled, There Will Come Soft Rains (2021), installed in SJMA's historic clocktower and resounding into the streets of downtown San José from 8am–8pm on the hour, as well as sunrise, solar noon, and sunset.
Participation in Museum Day is open to any tax-exempt or governmental museum or cultural venue on a voluntary basis. Smithsonian magazine encourages museum visitation, but is not responsible for and does not endorse the content of the participating museums and cultural venues, and does not subsidize museums that participate.