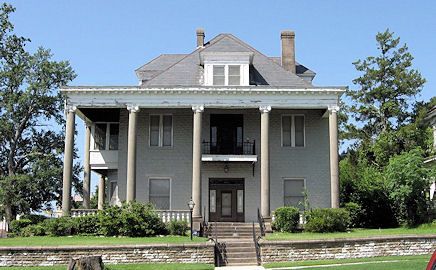 P. J. Ahern Home
403 Laurel Street, Texarkana, AR 71854 - United States
The Ahern home was designed in the Classical Revival style by the Burdsal Company based on a floor plan designed by Mr. and Mrs. Ahern. The first floor consists of a central hall, music room, parlor, library, dining room, kitchen, butler's pantry and powder room. The second floor consists of four bedrooms, two baths, a nursery room and a sleeping porch added in 1918. All six children slept on the porch during the summer.
The original gas and electric combination chandeliers still illuminate the home and gas and electric sconces can be found in the library and parlor. The wood work was never painted and, once a year, Mrs. Ahern personally oversaw the cleaning of all woodwork. There are six gas fireplaces in the house, four on the first floor and two upstairs; each has a unique mantle design with Italian tile in various colors.
In 2005, the Texarkana Museums System assisted the Ahern family in placing the family home on the National Register of Historic Places. Through the efforts of Eleanor Horrigan, the youngest daughter of P. J. and Mary O. Ahern, the house was preserved and plans were made to use the home as a living history museum . In July 2011, this dream became a reality and the Texarkana Museums System acquired the historic property and was excited to finally have a property on the Arkansas side of the twin cities.
Exhibits
Guided tour times will be at 11:30; 2:30 and 4:25
Participation in Museum Day is open to any tax-exempt or governmental museum or cultural venue on a voluntary basis. Smithsonian magazine encourages museum visitation, but is not responsible for and does not endorse the content of the participating museums and cultural venues, and does not subsidize museums that participate.